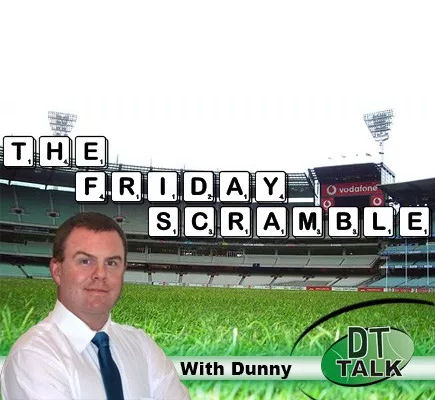 What an absolutely amazing weekend of Footy we saw last week. Friday and Saturday we had 5 games decided by less than a goal, we had some almighty Fantasy and Supercoach scores and we saw Gaff do his best Mike Tyson impersonation on Andy Brayshaw. Not only did he end Brayshaw's season he also ended the seasons of a number of coaches, particularly in draft leagues. He certainly made my job in the DT Shiva that much harder!
Anyway, my issues aside, there are no tomorrows for the losers now in Fantasy, RDT and Supercoach. The double chances have all been used up and we are now into the knockout phases. That means just one thing! Plenty of Scrambling!!
Gaff's Gaffe!
In the limited trade forms of the game, this is the very reason that we save trades for the finals. You just never know what will happen. The big question now is…. who the hell do we bring in for him? Obviously this will be different for every team as you will all have differing amounts of cash and different players in your midfield already. But let's have a look at some of the options that you have to replace him.
In AFL Fantasy we are lucky that he is the 7th highest priced midfielder so you can get up to the second most expensive player in Cripps and it will only cost you $32k. The only player that needs a heap of cash to get to is Tom Mitchell.
If I had to put the options in an order I would look at the following guys.
Clayton Oliver. He has been fantastic lately and with an average of 110+ he is pretty hard to go past.
Josh Kelly. Since returning from injury he has been great and doesn't look like slowing down.
Patrick Cripps. In a fairly ordinary Carlton side he is the one shining light. Look for him to continue his solid form.
Jack Macrae. Another player that went down for a while with injury and he is now looking like he is back to where he was early in the season when we all jumped on him. You will actually make $30k by downgrading to him.
In Real Dreamteam I would be looking at Macrae, Matt Crouch, Stephen Coniglio or Dayne Beams. In Supercoach Matt Crouch is the same price as Gaff and a good option or you could look at Taylor Adams, Dusty or a smoky like Seb Ross.
Finals Thoughts
No second chances for anyone now. It is do or die. In Supercoach and RDT there isn't a great deal of point saving trades now. If it means avoiding a donut you just do it. If you have more than 2 trades left at this stage and no forced trades to make this week then you can comfortably use one as a luxury trade. At most I would be keeping one trade per week for the next couple of weeks. Other trades should be used to make sure that you get through to next week.
Captains in finals. Here is somewhere that you can use a few tactics. Now we all know that the smart thing to do is just follow what Calvin tells us to do (right? we all just blindly follow him don't we?). But if you think that you are the Underdog then you may want to go with a unique captain. This is where you might consider a Grundy or a Gawn. Maybe you go a Clayton Oliver or even Jack Macrae. If you can jag a roughy as your captain that has a massive day then you could just pull off a miraculous victory.
I spoke a few weeks ago about checking your opponents team and either negating a unique or creating a unique. This is really only a tactic you can use if you have 6+ trades in SC or RDT. In AF of course with your two per week you can certainly do this if you have no other issues to contend with.
Selection Table
A quick run down of my thoughts of the highlights from selection last night.
Toby Nankervis is out injured. This is an opportunity to trade him up to Grundy if you have the cash.
Tim Taranto returns which is handy for owners that held him.
Toby Greene is out again injured but I don't think too many people have him at the moment.
Matt Kreuzer is back in the side which is great for those that have him in draft.
Joel Smith is out injured. This will hurt those that have been relying on him as a cover down back for guys like Hibberd or Savage. Well now the time has come to try and get a trade done.
Things to Remember
Don't overthink things. Just get your best team out on the park and play things smart.
If you are the underdog just do everything you can to win. Be a bit strategic if you need to be. Check your opponents team.
Don't worry about next week, you have to get through this week first.
Best of luck this week everyone. With a bit of luck you have the week off after a big win next week. If not then get down and dirty and get the win.  Catch you all for the Prelim Finals next week!