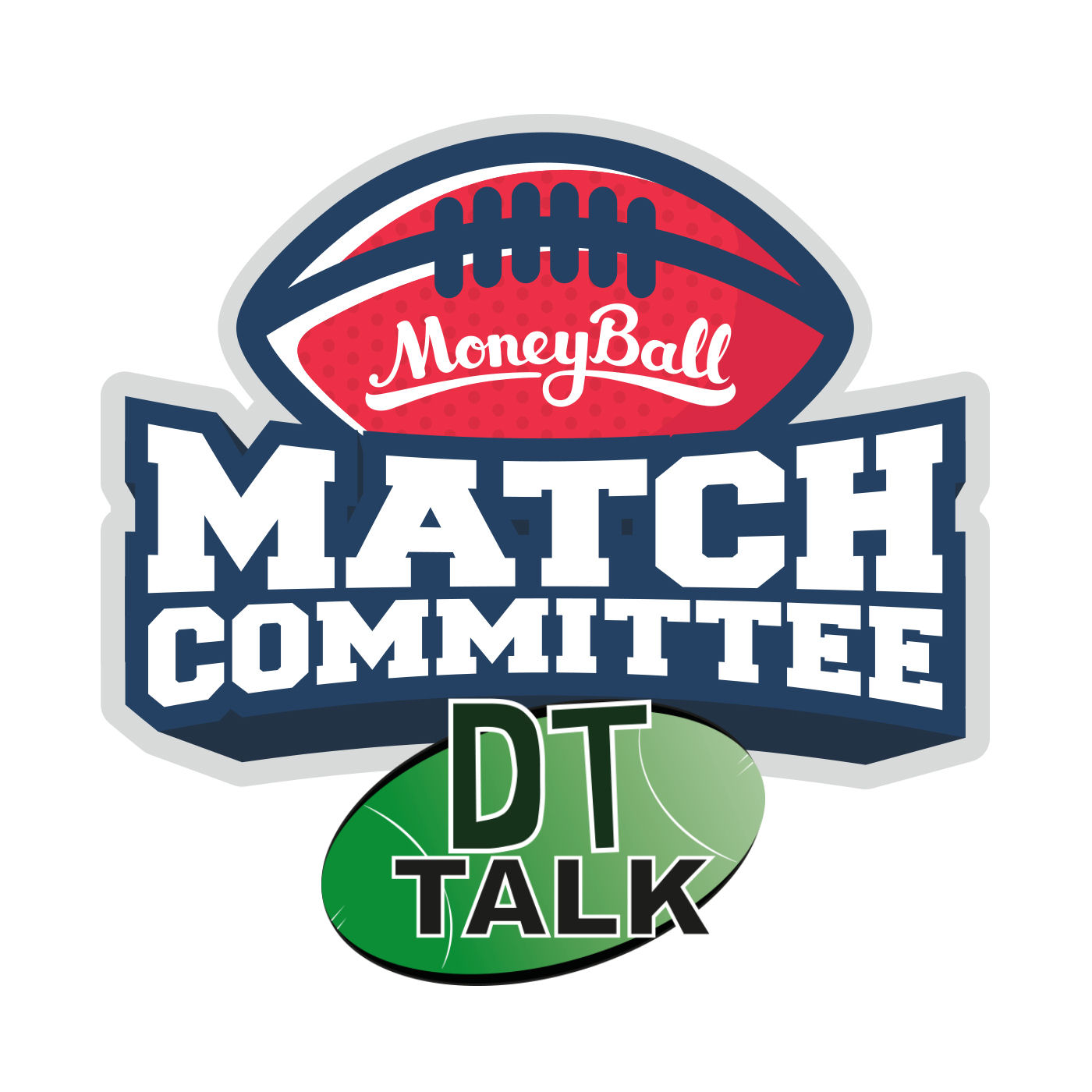 Tbetta here, and welcome to the self-proclaimed top resource for keen Aussie rules Moneyball punters! DFS (Daily Fantasy Sports) is taking off around the world and Moneyball have the perfect platform for you to turn your AFL Fantasy prowess into cold hard cash. Signing up is easy – head to moneyball.com.au and you could be ballin' within minutes.
If you're unsure how DFS works, be sure to head to the 'Help' section for all the info you need to start cashing in on your AFL Fantasy knowledge.
Click here to subscribe on iTunes.
Richmond vs Essendon
BEST PICK: Devon Smith ($9,600 FWD)
Against a champion side that slows the game down and rarely lets anyone – from either team – accumulate easy touches, get yourself a tackley boi! Devon Smith leads the league in tackles by the length of Scott Lycett's neck, and he's currently in the midst of an incredible 17-game streak of laying 6 tackles or more. You have to get creative to reach your fantasy ceiling against a team like Richmond, and Smith has the tools to get there – he's reached double-digit tackles on 7 occasions this year, even hitting the scoreboard with multiple goals on 4 occasions too.
My point is, he doesn't need 30 touches like a Merrett, Heppell or Zaharakis to belt out a 120… which is lucky, because Richmond makes it incredibly hard to do these days. The cherry on the cake is that Devon averages 107 in his last 3 games against Richmond, including 129 on the reigning Premiers earlier this year. Lock it.
BEST VALUE: Jack Graham ($5,300 MID)
With 3 top-line midfielders out, the next tier of Richmond onballers are a big target area in DFS tonight. Graham has been named in the nominal ruck-rover position, so he'll definitely be given a swathe of midfield minutes to allow him to build a big total. The young bull pumped out a career-high 108 in the only game in his career where he's played with Cotchin out, so I have high hopes for Graham this evening.
BEST VALUE: Reece Conca ($7,100 DEF)
Along with the pure defenders in Rance, Garthwaite, Grimes and Broad, Richmond have named Houli, Short, Vlastuin, Ellis and Conca. 9 players simply don't fit into 7 defensive rotations, so I'm tipping Conca (and possibly Ellis) to spend significant time through the guts on Friday night. Conca's last three games before getting injured were scores of 104, 104 and 92 – and those were built in hybrid roles, too. After a long layoff due to a dislocated ankle injury, Richmond have brought him straight back in after one VFL game where he scored 88 AF in limited game time. They're confident in his body if they're picking him over the clearance specialist in Anthony Miles, and that confidence snowballs into my selection of Reece tonight.
BEST RETHINK: Jack Riewoldt ($7,400 FWD)
Essendon are the hardest team for key forwards to score against this season, which makes Jack a strong fade candidate – especially after that monster 192 from 10 goals will have him on everyone's radar this weekend. Riewoldt struggles against Essendon historically too, failing to ton up in his last 9 meetings with them and managing just the single goal for his 39 AF against Bombers earlier this year.
Collingwood vs Port Adelaide
BEST PICK: Brodie Grundy ($10,800 RU)
Grundy is such a transcendent ruckman that he's essentially a great pick any old week, but he's especially tasty this Saturday. Port has been the easiest team to score RUC points against since Round 15 (allowing a hefty 15 extra points on top of their opposition ruckman's normal output)  – and that's with Ryder playing the majority of those games. Of course, if Ryder is a late withdrawal with that pesky Achilles and someone like Dougal Howard or Billy Frampton has to face him, then you're basically printing money with this selection.
My biggest concern was finding out whether Grundy was the kind of cat that likes to beat up on the nerdy kids, and I can officially put those concerns to rest. Check out Grundy's scores against the other teams in the Top 3 for RUC points conceded since Round 15:
PTA (+15.4 avg) –    ?
SYD (+14.7 avg) – 150 from 57 hitouts
FRE (+14.3 avg) – 131 from 48 hitouts
BEST STAT: Jack Crisp ($7,800 DEF)
You can keep whipping Crisp now that Jeremy Howe is missing again. Crisp averages a solid 85 from 17 games alongside the high-flying defender, but his scores without him supercharge to 114, 105 and 109 this season. I'm pretty confident that Scharenberg's absence is a boost for him too despite the lack of data for stats to back it up, so I'll be looking to capitalise on Collingwood's mounting injury toll at this particular entry point.
BEST STAT: Justin Westhoff ($8,700 MID)
Unfortunately, I can't see any scenario where Dixon's broken ankle results in a sustained scoring boost for Westhoff. Port opted to bring in two defenders in Hombsch and Bonner rather than replacing Charlie with a like-for-like, suggesting that the Hoff's naming at Full Forward in the Teamsheets is a foregone conclusion. History suggests the utility will take a hit to his scoring moving forward, as his last 4 games without Dixon resulted in scores of 51, 87, 71 and 73 – all with him languishing as a key forward target.
BEST RETHINK: Chad Wingard ($8,100 MID)
As I've preached in this article before, Wingard and airplanes don't mix. His healthy average of 89 AF at home drops sharply to just 70 outside of South Australia – which is consistent with his 2017 season where it was an even more alarming contrast with a 31 AF differential. With a disgusting 76-point average over his last 6 games at MCG, you're only picking him if you're fading the chalk and even then, it's a huge gamble.
Geelong vs Fremantle
BEST PICK: Patrick Dangerfield ($9,600 MID)
It's all engines firing for Danger these days, averaging a brisk 116 in his last 5 after ticking along at just 99 previously in 2018. Everything is showing green for Danger in Round 22 – Geelong need to win to secure a Finals berth, Danger loves playing at GMHBA and he loves playing the Dockers even more with most recent scores of 147, 130, 118 and 134 against them.
BEST STAT: Sam Menegola ($9,300 MID)
Do you believe in revenge games? Menegola scored 124 in his only game against Fremantle – the club who didn't give him a game and delisted him after 3 seasons on their list. Fast forward to the closing rounds of 2018 and he's been averaging a casual 113 over the past month – the most of any FWD in AFL Fantasy.
Outside of the stats and tunnel-visioning to this week, I really like Menegola for his ability to walk all over the weaker teams. He's pumped out scores of 120+ against all of Gold Coast, Carlton and St Kilda this year, and with Geelong in the hunt for every percentage point, he won't be taking his foot off the gas this weekend.
BEST VALUE: Cheap Rucks
Ryan Abbott ($3,500 RU) was excellent on debut a fortnight ago with 97 AF from 27 hitouts, 7 tackles and 2 sausage rolls. There's a fair chance that'll be his typical output as a solo ruck too, given that he averages a spicy 108 from his last 6 VFL outings. He's in must-pick territory here.
You can definitely fire up the double-ruck strategy here though, with Sean Darcy ($5,500 RU) a serious consideration for your FLEX slot. The big fella pumped out 93 last week and will only have another inexperienced ruck to bounce off. Darcy delivered an 80-point score against the Cats last year in his AFL debut, amassing 40 hitouts – it wouldn't surprise me to see him improve on that this Saturday.
BEST RETHINK: Joel Selwood ($8,600 MID)
There's not much to love here for Joel. He's only produced 1 ton in his past 5 games this year and, coincidentally, only 1 ton from his last 5 games at GMHBA. Add to the mix a possible Banfield tag and you've got yourself a very risky proposition, as Selwood's scores in his last 2 games with a tag are just 73 (Knight) and 70 (Harmes).
GWS vs Sydney
BEST PICK: Rory Lobb ($6,000 RU)
Once again, we target Callum Sinclair's ruck opponent, after Grundy (150), Witts (132), Goldstein (125), and Nankervis (131) all went bonkers on him within the last 7 weeks. After Lobb busted out a 131 last week from 40 hitouts against a decent ruckman in Sam Jacobs, he's definitely in the slab of ruckman that can hit those heights on their day.
Even without the Sydney softness factor, I'd be picking Lobb because he thrives as a ruckman compared to playing as a key forward. Over the last 2 years:
When winning less than 20 hitouts: 61 AF
When winning over 20 hitouts: 88 AF
BEST STAT: Tim Taranto ($7,800 MID)
Josh Kelly's absence is huge boon for him and his midfield time, a trend we've been tracking all year. He averages an extra 11 points when Kelly misses, ticking along at 97 AF – but crucially, he's only gone under 93 once from the 6 games that qualify. If you're on board with the extra midfield time, you'll love looking at Taranto's scores this year when collecting just a modest 22 or more touches: 112, 91, 120, 100, 97, 114, 98 and 102. He's too cheap to ignore in my opinion.
BEST RETHINK: Callan Ward ($8,900 MID)
Curiously, Kelly missing has the opposite effect on Ward:
Last 4 games with Kelly: 102 avg
Last 4 games without Kelly: 72 avg
The is likely due to the "next man up" approach teams take with not just target tagging but extra attention at stoppages, and it won't get any easier for him this week with the George Hewett tag looming. Ward's scores with a shadow are just 49 (Jacobs tag) and 73 (Steele tag) this year, so I'd be giving him a miss this weekend.
Gold Coast vs Brisbane
BEST PICK: A Gold Coast Midfielder…
With Hall, Hanley, Martin all missing this week – someone has to score points in that midfield. Michael Barlow ($9,100 MID) is the obvious guy to talk about here as a high-profile inclusion, and it doesn't hurt that he's averaged 156 in the NEAFL this year. We all know what the guy can do at AFL level, and he's done it recently with a 102-point average to close out last season. But with his price, Gold Coast's form and reading about his ordeal with a Bell's palsy, I'm looking to pivot away from a what will be a popular pick on a sentimental level.
I actually like Brayden Fiorini ($7,900 MID) much more, especially from a value perspective. He churned out 110 AF from 29 touches last week against Richmond and boasts that juicy 114 from 27 touches earlier this year in the first Qclash.
BEST STAT: Alex Witherden ($8,400 DEF)
Gold Coast concedes the 4th-most marks to opposition teams, and like Whitfield, Witherden scales extremely well with that stat. In fact, when Withers hits 10+ marks this year, his scores read 123, 127, 138 and 123. Wow. The Rising Star contender pumped out a career-high 14 marks amongst his 123-point gem against the Suns earlier this year, so he's got significant runs on the board.
BEST VALUE: Eric Hipwood ($5,000 FWD)
In what could easily become a Gold Coast Backline Rule in the same fashion that Brisbane earned the moniker last year, the Suns are conceding easily the most points to key forwards over last 5 weeks. Obviously, Riewoldt's 10 goals and 192 AF adds a coat of paint to that stat, but the trend is undeniable. Hipwood has shown he can go big with 110 AF from his 6 goals against Carlton a month ago, but let me be clear – this is a "go big or go home" type of pick that I'd be reserving for GPP's.
BEST RETHINK: Dayne Zorko ($9,700 MID)
Beware the Touk Miller tag, Part II. Zorko managed just 55 AF under his watchful eye last time around, so surely Dew goes back to a winning formula this weekend? Taking a bigger picture view of things, Zorko has just 1 ton in his past 4 games against the Suns, so I'd put his name in the scrap heap and focus on his namesake Dayne Beams ($9.4000 MID) with the expectation that he'll get off the leash while Zorko is tamed.
St Kilda vs Hawthorn
BEST PICK: Lewis Pierce ($4,300 RU)
Like Abbott who we talked about above, Pierce's 85 in his first game for the season (27 hitouts and 18 touches) could be the areas he'll operate in as a sole ruckman to close out the season. He was cruising at 110 AF and 41 hitouts from his past 5 VFL games, so it would be a difficult argument to claim it was a fluke. A crucial dimension to this slate will be picking the 1 or 2 cheap rucks that'll get the job done, and Pierce has his name firmly in the ring alongside Darcy and Abbott for the Saturday Special.
BEST STAT: Seb Ross ($9,900 MID)
Ross loves playing under the roof, averaging a huge 118 at Etihad compared to just 93 away from his favourite ground. It's the two belters of 160 and 143 over the past fortnight that's really promising, because you can carve up and dissect the stats any way you want, but form is king.
BEST VALUE: Logan Austin ($5,000 DEF)
Nathan Brown's suspension is a huge boost for Austin, resulting in a role change earlier this year that was obvious to both the eye test and a stats-based approach:
With Brown: 6 marks, 57 AF
Without Brown: 9 marks, 93 AF

Carlton vs Western Bulldogs
BEST PICK: Jack Macrae ($10,100 MID)
Macrae has never failed to reach the ton against Carlton in his entire career, filling his resume with scores of 113, 109, 101, 123 and 145. While impressive, historical stats often mean little as the landscape of the AFL evolves – which encourage me even more here. Macrae has never been a better player than he is right now, and Carlton has never been more hopeless, conceding the 2nd-most points to MID's over the past 5 weeks.
If you think he, like me, that racks up on Sunday, here's a little bit of stat porn for you; Macrae's scores with 32+ touches this season: 128, 145, 151, 155, 144, 133, 112, 132 and 118.
BEST STAT: Jackson Trengove ($6,300 FWD)
Trengove is thriving in the #1 Ruck role, and with no changes to their ruck structure, he's worth thinking about again:
With Boyd or English in team: 3 hitouts, 60 AF
Without both Boyd & English: 17 hitouts, 85 AF
Carlton are the 3rd-easiest team to score RUC points against since Kreuzer last played in Round 17, so he's got no worries from a DVP perspective here.
BEST VALUE: Matthew Lobbe ($6,900 RU)
Crisis creates opportunity. Kreuzer's heart arrhythmia is Lobbe's gain and he's taking full advantage of his chance, averaging 86 AF from 4 games this year filling in for Kreuzer.
Bulldogs are the third-easiest team to score RUC points on this year, in no small part due to ranking #1 for hitouts conceded to their opposition. De Koning is a spanner in the works, but I'm tipping he'll be looked after in his AFL debut with a pinch-hitting relief role. Lobbe should be fine.
BEST RETHINK: Kade Simpson ($8,400 DEF)
The forward tag is a serious concern here, as Simpson was clamped down on by Caleb Daniel back in Round 6 and finished with just 69 AF from a paltry 3 marks. While he can still find the footy as a sly veteran, Simpson really needs those +6 combos to flourish – his scores with 3 or fewer marks this year reads just 66, 69, 61, 112, 72, 60 and 72.
West Coast vs Melbourne
BEST PICK: Dom Tyson ($7,000 MID)
The accumulator is finally pulling his finger out lately with 96 and 98 over the past fortnight. He's averaged a monstrous 133 in the VFL this year (30 disp, 6 marks, 11 tackles per game) and his previous AFL work is proof that he has another gears or two left in him. With career scores of 111, 94, 99, 127 and 100 against West Coast, this could be his prodigal son moment for fantasy coaches.
BEST VALUE: Scott Lycett ($7,400 RU)
It's a big call, but I think Lycett is the value play over Gawn this week for the following reasons:
Gawn's calf niggle is a concern and it's seemingly affecting his scores in a measureable way:
Last month: 12 touches, 95 AF
Previously: 17 touches, 115 AF
Gawn isn't the restrictive ruckman he used to be.

Roughead

(101),

Stanley

(99) and

Witts

(90) have all performed against him in the past month – and the first two would likely be lined up at Centrelink if they tried to call themselves ruckmen at a rival club.
3. Lycett is dominating as a sole ruck, averaging a cheeky 95 without NicNat this year. In fact, his form line of 94, 103, 114 gives him the 2nd-highest average for all ruckmen over the past 3 weeks. That's a spicy meatball.
BEST RETHINK: Clayton Oliver ($10,300 MID)
Beware the Hutchings tag, the dreaded virus that holds star players to 21 points less than their typical output. Only one player (Titch with 135) has scored more than 103 in Hutchings' 11 tags this year. Hutchings has a good track record with Oliver too, holding him to just 84 in their individual arm wrestle last year.
Oliver is good enough to break free of Hutchings' hold, but at $10,300, there's much higher yield options on a 5-game slate without the obvious tag risk.
Adelaide vs North Melbourne
BEST PICK: Matt Crouch ($9,900 MID)
North gave up 3 lots of 40-disposal games last week (Hunter with 44, Macrae and Daniel with 40) which suggests that you need to have a look at Crouch as the best accumulator in Adelaide colours. Matt's scores with at least 32+ touches this year reads 123, 106, 103, 116, 120, 117, 121, 123 and 134, so The Better Brother is in a great spot here.
BEST VALUE: Mason Wood ($6,200 FWD)
The talented utility filled a Tom Lynch type of link role last week and dominated with 100 AF to his name. With a career-high 123 against the Crows last year in a similar role as the roaming 3rd tall, the planets could be aligning here for another sneaky ton. Risky pick though, so save Wood for GPP's only.
BEST RETHINK: Shaun Higgins ($8,600 MID)
The Riley Knight tag looms, so you can wipe Higgins from your player pool with scores of 99, 98 and 75 in tags this year to go with a form drop of 88, 81 and 80 in the past few weeks. Knight typically holds targets to 21 points less than their average, so Missy will need to play out of his skin to reach triple-digits here. It's a pass from me.
Want to win a trip to the AFL Grand Final? Of course you do!
Always remember to gamble responsibly. If you're having problems with your betting, you can get help at Lifeline or talk to someone at Gambling Help Online.