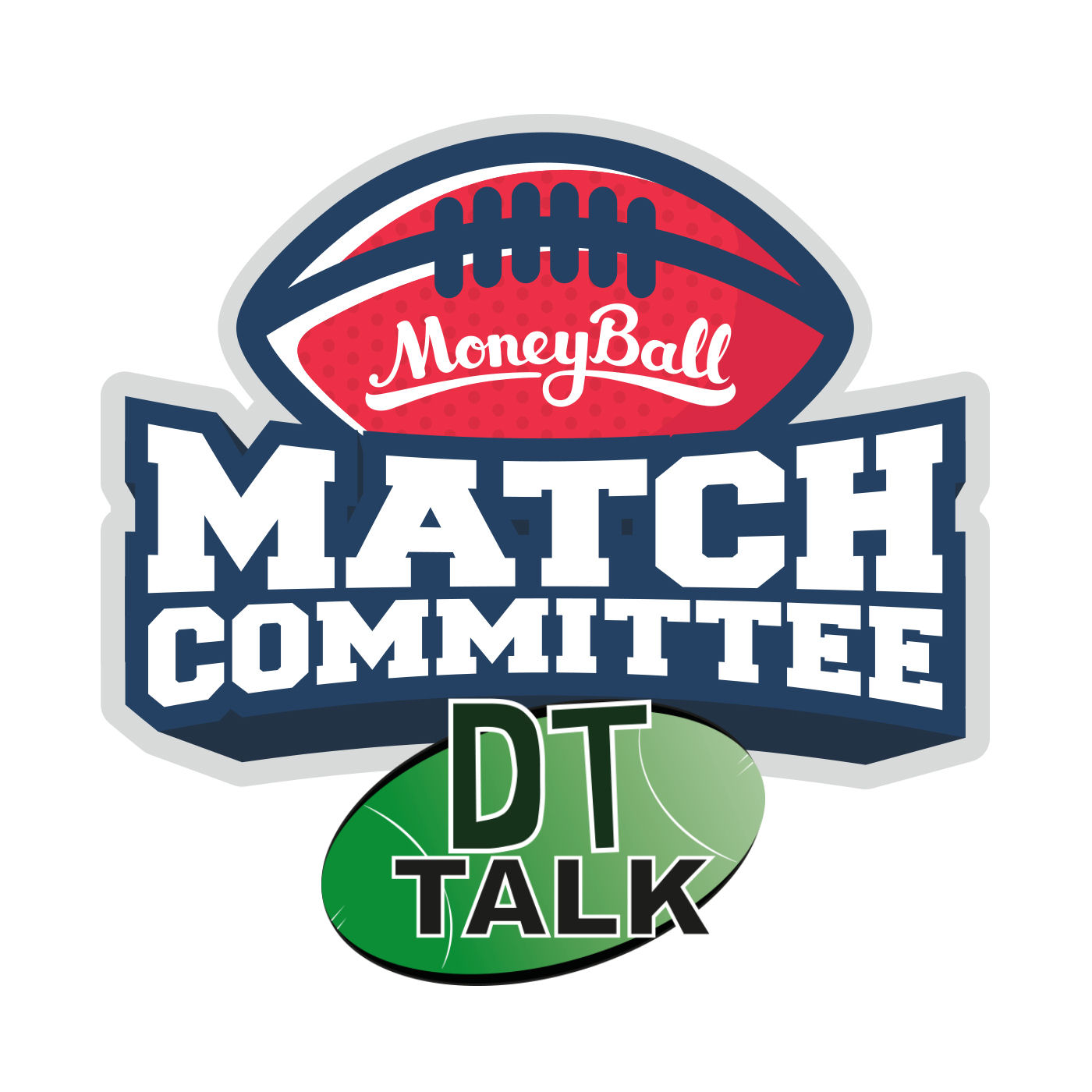 Tbetta here, and welcome to the self-proclaimed top resource for keen Aussie rules Moneyball punters! DFS (Daily Fantasy Sports) is taking off around the world and Moneyball have the perfect platform for you to turn your AFL Fantasy prowess into cold hard cash. Signing up is easy – head to moneyball.com.au and you could be ballin' within minutes.
If you're unsure how DFS works, be sure to head to the 'Help' section for all the info you need to start cashing in on your AFL Fantasy knowledge.
Click here to subscribe on iTunes.
Essendon vs Sydney
BEST PICK: David Zaharakis ($9,400 MID)
Zaka's form looks much worse than it actually is, thanks to a 12-point score as he nursed his collarbone all those weeks ago, and it's caused his price to plateau beneath what his most recent scores of 113, 133, 143 and 101 suggest it should be. The Swans are bleeding and with a 111-point average against the historically stingey powerhouse club, Zaharakis is worth a look on Friday night.
BEST STAT: Tom Bellchambers ($6,900 RU)
Sydney has been allowing the most points to RUC's over the last 5 weeks, with Nankervis (131), Goldstein (125), and Witts (132) all dunking on them within the past month of action. Bellchambers himself has pumped out 93 and 99 in the past fortnight, so he's certainly got runs on the board for selection confidence.
BEST VALUE: Mitch Brown ($5,500 DEF)
Brown finds himself playing up forward with Daniher out, and now McKernan joins him with a nasty pigrope injury. Brown hasn't shown much this season (which means he'll be highly unique) but I like his match-up here: Sydney conceded the 2nd-most points to Key FWD's over the past 5 weeks, with Riewoldt (136), Hawkins (88), Brown (104) and Wright (93) all exceeding value against the Swans in that time.
BEST RETHINK: Hewett's Target
The stats (thanks, DFS Australia) say Hewett is the best regular tagger in the game, restricting his target's scores by 24 points off their regular average. You'd be smart to avoid whoever he heads to on Friday night.
Merrett's 98 avg → 74 AF this week?
Heppell's 101 avg → 77 AF this week?
BEST RETHINK: Lance Franklin ($8,500 FWD)
We have a harsh match-up here for Buddy, with Essendon giving up the least points to Key FWD's over the past 5 weeks. The other metrics aren't pretty either; he's managed just 78 points per game in his last 4 versus the Bombers (his 2nd-worst form line against any team), while ticking along ton-less and with just a 74-point average in his last month of football. If there's any player in the competition that can transcend a tough match-up on any given day, it's Buddy, but I'd be restricting him to just GPP's this week.
Geelong vs Brisbane
BEST PICK: Mitch Duncan ($9,400 MID)
Duncan loves playing the Lions with scores of 123, 114, 128 in his last few against them, and is just starting to heat up again this year with a season-high 124 last week. The most noticeable aspect of his bounceback last week was that his seagull game was back in full force with a juicy 11 marks. Duncan's scores with 8+ marks this year: 110, 93, 115, 108, 105, 111 and 124. I'm interested, especially as he's in the same price bracket but without the same name-brand value as Danger, Ablett, Selwood and the ilk, so he'll be unique.
BEST PICK: Dayne Zorko ($9,600 MID)
The famous 181 game was posted against the Lions in the corresponding game last year, posting 34 touches, 12 tackles and 4 goals that day as the Cats curiously refused to tag. Geelong has only sent out jobs thrice this year, letting Sloane (111) and Oliver (136) run free over the last fortnight, so all signs point to another game of freedom for Zorko.
BEST STAT: Tom Hawkins ($7,900 FWD)
With Harris Andrews in the side from Rounds 1-12, Brisbane conceded the least points to key forwards of any club. Tomahawk is all the rage at the moment, but he hasn't even reached 90 in his last 4 against Lions – even through their record-breaking backline woes last season. He's a strong fade candidate here for mine.
BEST RETHINK: Rhys Stanley ($7,500 RUC)
The Lions are conceding the least points to RUC's since the MBR's, with no ruckman reaching even a modest 80 against them in their past 6 games. So while Stanley's averaging 99 over his last 5, I don't see him getting close to that under the watchful eye of Stef Martin this weekend.
Richmond vs Collingwood
BEST PICK: Taylor Adams ($8,700 MID)
The last time these teams met, Collingwood's on-ball division absolutely dominated despite a43-point loss, with Treloar (147), Phillips (128) and Pendlebury (125) all going large. Adams didn't play that day due to injury, but he's back in the fray now and in ripping form too with 135 last week from 28 touches and 10 tackles. Those tackles are super encouraging for Adams, as he's scored 82, 124 and 135 when racking up 6+ tackles this season.
BEST VALUE: Jayden Short ($7,300 DEF)
He's simply dominating off half-back with a 94-point average over his last 8 games, as it's another case of "next man up" for Richmond's impressive system. He particularly loves playing without Houli, as you can see from his splits from his last 16 games:
With Houli: 19 touches, 3.5 marks, 69 AF
Without Houli: 23 touches, 6.3 marks, 95 AF
BEST RETHINK: Jack Crisp ($8,400 DEF)
There's no kind way of putting it – Crispy Boi has stright-up sucked ever since Collingwood's defence reshuffled to cover the loss of Dunn. As you can see from the numbers below, he's hasn't come out the other side well at all:
First 13 games (with Dunn): 24 touches, 6 marks, 94 AF
Last 4 games (without Dunn):  19 touches, 4 marks, 67 AF
GWS vs St Kilda
BEST PICK: Lachie Whitfield ($9,100 MID)
St Kilda gives up the most marks to their opposition this year (99 per game), with Whitfield ranking as GWS's best mark-collector with a frosty 6.5 per game. This is a huge statistical boon for Whitfield as he's posted scores of 114, 123, 126, 120, 150, 114 when racking up 8+ touches this year – not-so-coincidentally his 6 highest scores for the season.
BEST STAT: Stephen Coniglio ($9,600 MID)
Last four versus the Saints: 132, 123, 115 and 112. Last four this season: 118, 104, 111 and 116. Coniglio has arguably the most consistent numbers in the competition this year and I expect he'll star again tonight, especially as he registered 9 tackles against STK earlier this year. Cogs scores when laying 6 or more tackles this year reads 146, 121, 112, 111, 123, 118 and 116. Huge.
BEST VALUE: Dawson Simpson ($5,300 RU)
The Saints have conceded the 2nd-most points to RUC's this year, and Dawson has the ruck mantle all to himself at a bargain price – what's not to love? The big fella is coming off 109 (46 hitouts and 7 tackles) in a similarly easy match-up against a Ryder-less Port, and already has runs on the board with 81 AF from 37 hitouts on the Sainters earlier this year.
BEST VALUE: Rowan Marshall ($4,600 FWD)
This is an interesting one. 2 weeks ago, the Saints went from a Longer solo-ruck division to a Hickey/Marshall combo and that's done wonders for the pinch-hitter. You have to take a serious look at Marshall for under $5k here, as his output in this new set-up has been impressive:
2 goals, 8 marks, 23 hitouts – 114 AF
1 goal, 7 marks, 14 hitouts – 88 AF
Gold Coast vs Carlton
BEST PICK: Marc Murphy ($9,800 MID)
As we know, Gold Coast gives up easily the most points to MID's and Murphy should have a red carpet towards cashing in on that with Cripps in Brownlow-type form and first cab off the rank in terms of a tag. Murphy pumped out 114 (30 touches, 7 marks) on the Suns earlier this year, which was 2nd-highest score for the season, and I expect him to be in that real estate again this Saturday night.
BEST STAT: Brayden Fiorini ($7,800 MID)
Carlton has conceded the most points to MID's over the past 5 weeks, so can the Reserves Wonderkid translate his lower-level form to the big time? I'm talking 43 touches, 13 tackles and 2 goals in the NEAFL last week for an eye-popping 180 –  and that's after a casual 168 last week. Fiorini was actually going quite well at AFL level before being dropped too, averaging a solid 97 from his past few. If you're chasing ceiling, you've turned to the right guy.
BEST VALUE: Aaron Young ($5,900 FWD)
Carlton have conceded the most points to FWD's over the past month, and the season-ending injury to Liam Jones makes it even tougher for a backline that was already struggling. Young is the kind of guy that feeds on these easy match-ups, averaging 89 this year when kicking multiple goals. He'll be unique here, and I love his upside.
Adelaide vs Melbourne
BEST PICK: Angus Brayshaw ($8,700 DEF)
Crows was the team Brayshaw had his career-high 166 on earlier this year, thanks to 37 touches, 14 marks, and 3 goals to really announce himself as a DFS darling. The Crows concede the 2nd-most points to MID's this year, and despite his 'DEF" status in Moneyball, that's where he's spending all of his time. It's a vanilla tip, but it doesn't make it a bad one. Take the easy victory here.
BEST STAT: Clayton Oliver ($9,900 MID)
Oliver is the 2nd-highest averaging player over the past 3 weeks, but what do the tea leaves say about him in Round 19? Well, the Crows have allowed the 3rd-most disposals & the 2nd-most tackles this year, which are Oliver's absolute bread and butter. Clayton's scores this year when notching at least 29 disposals and 6 tackles is bananas: 125, 114, 122, 119, 135, 141, 121 and 136. That includes 31 touches, 10 tackles and 119 AF against the Crows earlier this year, so provided that his quad is okay – he received treatment at training during the week – then he's in for another belter.
BEST RETHINK: Sam Jacobs ($7,400 RU)
Jacobs was absolutely destroyed by Gawn earlier this year, managing just 49 AF from 21 hitouts – his lowest hitout tally in a full game since Round 12, 2014. Add that to the fact that he's coming off scores of just 76 and 57 in the last fortnight, and it's going to be a no from me, Dawg.
North Melbourne vs West Coast
BEST PICK: Andrew Gaff ($10,200 MID)
We always talk about how much he loves playing in Perth, but it's fair to say he loves crossing the Bass Strait too, notching scores of 135 and 125 in his last two games in Tassie! He's the 2nd-highest averaging player over the past month and walks into a Jacobs-less North after pumping out 144 the last time he faced the Roos. I dare you to even try and find a negative slant here.
BEST STAT: Todd Goldstein ($8,400 RU)
Ruckmen against the Eagles without NicNat this year has been a gold mine, with Roughead and Lobb both posting 82 AF – pretty good for part-timers! It's not like Goldy needs the extra help either, averaging 110 over his last 5. Goldstein's last 4 against West Coast looks like 106, 93, 106 and 90 and, of course, Naitanui was jogging around against him for most of those. Lycett will struggle to contain the beast this Sunday.
BEST VALUE: Jack Redden ($8,600 MID)
Redden will be on everyone's Christmas List this week on the back of 143, 135 and 110 leading into this clash. He's finally starting to reach his potential in West Coast colours, posting a very even spread of numbers in similar fashion to his famous fantasy days running around in a Brisbane strip:
Best year as a Lion in 2011: 24 touches, 5.5 marks, 7.5 tackles (109 avg)
Since Round 6 this season: 27 touches, 6 marks, 5 tackles (108 avg)    
BEST RETHINK: Shaun Higgins ($8,900 MID)
Hutchings is coming for ya Missy! It won't be pretty either, with Hutchings ranked as the 2nd-best tagger this year, restricting his targets to scoring 19 AF less than their average each week. Higgins hasn't reached the ton in any of his past 3 games with a shadow, so I'm fading hard here.
Western Bulldogs vs Port Adelaide
BEST PICK: Jordan Roughead ($5,900 RU)
Roughead has been required for ruck duties this past fortnight for scores of 101 and 82, and we should expect to see more of him in there again with Boyd back out of the side. From Port's  perspective, without Ryder, they rank as the leakiest team to RUC's this year, with Sean Darcy (103) and Dawson Simpson (109) the recent beneficiaries. Historically speaking, Roughy's played as the #1 Ruck in his last two games against Port for scores of 88 and 85, and I'll absolutely take that value again here.
BEST STAT: Ollie Wines ($9,200 MID)
The Bulldogs have conceded the most points to MID's over the past month, forming the bulk of the 9 tons they gave up to West Coast last week – on top of the 6 they gifted Port back in Round 13. Wines' last 5 against the Bulldogs (100, 115, 117, 106 and 137) is too tasty to ignore here for a greedy punter like myself!
BEST VALUE: Josh Dunkley ($7,600 FWD)
Dunkley initially underwent a midfield role change when Macrae was out. Dunk stayed in when he returned because The Bont was out, and he'll stay in again with Dahlhaus the latest casualty. I don't know about you, but these numbers are irresistable:
Pre-Bye (as a FWD): 16 touches, 5 tackles, 82 AF.
Post-Bye (as a MID): 25 touches, 7 tackles, 100 AF.
BEST VALUE: Hayden Crozier ($6,500 FWD)
Like with Dunkley above, I can't resist what Crozier has been doing with a simple tweak in personnel around him. The former Docker has been dominating ever seen Suckling went down with injury:
Pre-Bye (with Suckling): 13 touches, 3 marks, 51 AF.
Post-Bye (no Suckling): 24 touches, 7 marks, 95 AF.
Fremantle vs Hawthorn
BEST PICK: Tom Mitchell (11,700 MID)
Did you know: Titch is now the only player in AFL Fantasy history (since 2000) to have posted two scores over 185… and he's done both within the last month. He boasts a lowest score of 104 against Fremantle in his career, so feel free to throw fat stacks of cash at him as per usual here.
BEST STAT: Jack Gunston ($7,500 FWD)
The last time Gunston played Freo, he played as a backman and reeled in 35 disposals, 8 marks and a sausage roll for 132 AF – easily the highest score of his career without kicking at least 4 goals. Gunston was slightly disappointing with just 72 last week against Carlton playing both FWD/DEF roles at times, but I'll rationalise that but pointing out that he had a season-low 3 marks. I'm calling it a statistical quirk rather than a result of his role change, which means he has plenty of room for growth this week!
BEST VALUE: Jon Ceglar ($5,900 RU)
97 from 37 hitouts against Carlton last week and receives a giant boost with Sandilands ruled out for another few weeks. RUC's have averaged 102 against Freo in the last month without him, so I'm expecting Ceggars to push triple-digits this Sunday.
BEST VALUE: James Worpel ($3,700 MID)
The Worpedo notched a career-high 32 touches last week to finish with 88 AF and shapes as another high-value option as close to basement bounty this week. While 32 touches won't be his expectation, I do love his fantasy game – Worpel averaged 93 across his last 3 VFL games this year, and ticking over at 106 AF at TAC Cup level last season. Easiest pick you'll make this week!
Always remember to gamble responsibly. If you're having problems with your betting, you can get help at Lifeline or talk to someone at Gambling Help Online.