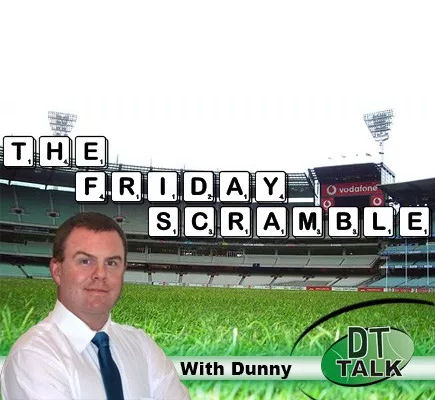 Just three rounds to go now before the traditional fantasy finals start. That means you have just three weeks to get yourself into that top 8 (ideally the top 4) so that you can take out your league. But well before we get to that point we have some issues to deal with this week and look at some strategy in the run home. So without further ado Let's Scramble!
Thursday Loophole (The Last Time)
So last night was our last Thursday night game for the season. And this means it was our last chance to play the loophole (unless you are a Supercoacher of course) for this season. So, let's have a look at how Calvin's options went.
Joel Selwood – 73  as he was tagged this week.
Mitch Duncan – 87 from just 23 possessions
Paddy Dangerfield – 151 and the top score in the game. Take this and lock and load it!
Matt Crouch – 94 whilst he still had 30 touches.
Rory Laird  – 122 from a career high 43 touches.
The line was set by Calvin at a very specific 123 points and based on that the only one that we would take this week is Dangerfield. However, if you are a bit nervous about the rest of your team you could be more than forgiven if you took Laird's score as normally we would set the line at 120.  Now of course the decision is entirely up to you. If you want to use your own line then go for it. Of course with your line you need to consider who you have as your captain options later in the round.
Trading Strategy
One of the questions we are seeing a bit lately is what people should do from here on out with their trading. Should they be consolidating their bench cover or should they be side swapping their underperforming premiums.
As always the answer to this question is going to be different based on whether you are playing AFL Fantasy or one of the two limited trades versions of the game. I am going to sort of talk a bit generally here but will mention if a strategy is more suited to one type or another.
Rookie Pickups.
I am still seeing a lot of questions on facebook and twitter from people asking about should I get rookie A or rookie B. At this stage of the season I am trying not to get rookies unless I am desperate to get some cash to do another trade. This is more likely to be relevant in AFL Fantasy unless you have a ton of trades in the others. If you are planning to bring a rookie in then for me the biggest factor for you is job security. There is no point bringing a guy in that is only going to play one game then get dropped again. This means that you don't have any bench cover if that happens.
We know that the deeper we get into the season the chance of a late out grows and also the chance that you lose more than 2 players to injury/end of season surgery in a week also grows which makes the bench covers even more important. For me at this stage of the year their break even or ability to rise in price is secondary. If they are getting a game each week and have reasonable scoring ability then that is the key.
Premium Sideswapping.
Before we had two trades per week we would always say no to this. But now that we have two per week it is certainly a viable option. However, if you are going to do this make sure that you are more than happy to keep the player you trade to. I know that sounds obvious but a lot of players will look at trading for a matchup or a one week injury like Heeney from last week and then plan to get the original player back the following week. But, we know that anything can happen and if you then cop a couple of injuries the following week you may not be able to get the original guy back in.  So always make sure that if you bring someone for that one week that if you have to you are ok with keeping him.
If you are playing the limited trades versions of the game then the answer is a little different. Here we still don't side swap premiums unless they are out for three weeks plus then you keep them and try and use your bench as cover. If you have no bench and it means a donut then you can consider making that sideways trade but that is generally the only circumstance you want to be thinking about that.
Selection Table
Not a bad week for us at selection, there were no surprises and we have only seen players come in with not much in terms of fantasy relevance going out that we didn't know about already.
Kade Simpson makes his return from that late out last week. Hopefully he isn't a late out again this week.
Logan Austin hurt his calf last week in the game against Port and looks like missing a week or two so trade in AF.
Joel Smith finds himself out of the side injured again. He has been a bit of a bust for us this year unfortunately.
Marcus Bontempelli is out as we knew earlier in the week as he had to have his appendix out after training the other night. This should see him miss a couple of weeks so he is probably a trade out.
Jack Macrae is back! But don't go and rush him back in just yet. His BE is massive so he should drop in price over a couple of weeks and he will be ripe for the picking just before finals.
Toby Greene is back as well! But I wouldn't go picking him either.
Both Kennedy and Darling are back in for the Eagles which will certainly help those that have these guys in draft leagues.
Heeney comes back in as we expected after that one week out with his concussion.
Things to Remember
If you are using the loophole this week make sure that you use someone who isn't even an emergency for your loophole captain.
As always RDT and SC trades are sticky today.
Beware of late outs, it is this time of year they start to become a little more common
Best of luck everyone for this week. Just a couple of weeks to go to finals so hopefully you are well entrenched in that top 8 now and if not, don't give up. Anything can happen. I for one am glad this was the last Thursday night for us as whilst it is good to watch footy on a Thursday it does make being a fantasy coach just that little bit harder!