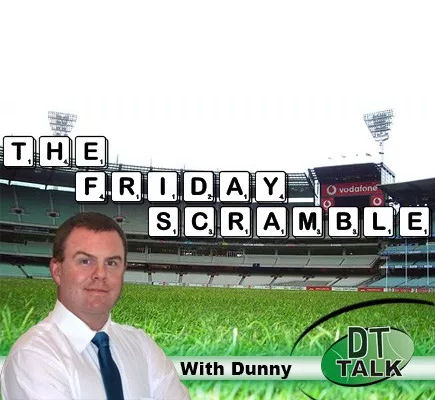 If it isn't one thing it is another. Come on Fantasy Gods, what the hell are you trying to do to us?  I am sure there is more than one person out there that went Macrae to Treloar and then to Fyfe! I must say that it is starting to get a bit ridiculous. So, just when we thought it was safe to look at our teams again we go and lose Fyfe.  So if there wasn't any other reason to do it, we have one now, Let's Scramble!!
Another Thursday Night Loophole!
Another chance at the loophole and how did you go? As always let's have a look at who was on offer last night and how they went.
Calvin's Choices
Mitch Duncan – 100   Not enough for us to take this week.
Paddy Dangerfield –   76   Yuck!
Jake Lloyd – 112   A good score but not enough to take with Titch to come.
Joel Selwood – 127   The only score that is even worth looking at this week. You can take this one if you are worried about Titch.
Gazza Ablett – 54  Yuck! Yuck!
If you didn't pick one of Calvin's players the only other players that got over 100 were Callum Sinclair with 116 and Luke Parker with 111. The line this week as set by Calvin was 125. As always there is the risk of someone like Titch going massive! But hey, he could have a low score or get to 200. So the only score really worth considering is that of Jelwood. If you are nervous then take it.
Another word of advice when taking the VC score is to make sure you pick someone that isn't even on the emergency list. I know there were quite a few coaches caught out last week when Paul Ahern was a late inclusion for the Kangaroos.
Fyfe…. What do we do?
So the word from down Freo way is that he is going to be out for a month. So this could be 3 or it could be 4. Who knows. There are a few different scenarios so I will look at them here.
AFL Fantasy. This is the simplest one. He is a must trade here. With two trades a week there are no excuses for holding him.
RDT/SC with more than 4 trades left. Here I would strongly consider trading him out. Whilst you have limited trades I am going to guess that you don't have much quality on that bench nor are they going to be 100% to get a game each week.
RDT/SC with 4 or less trades left. This gets a lot more tricky. You still have 7 rounds to go after this one and with the increased occurrence of injuries we are having you may still need to replace players later on. This call will depend on your bench and how your team is going.
In the limited forms of the game the one thing that I would make sure you have crystal clear in your mind is that you are a 95% chance to not have Fyfe back in your team this year. You can't trade him out with a plan to get him back in (unless you are really flush with trades). With 6 or less you simply won't be able to do it. Of course if another premo goes down from about round 20 onwards you could bring Fyfe back in but the thing here will be that how strong will he come back! We know that some people can take a bit of time to get going again after a soft tissue injury.
As for who to bring in for him. Look for some value and also look for someone that has a good run home and that is where Cal's Scale of Hardness comes in. If you have a 50:50 decision to make then I always take the guy that has the better run home. And remember this table isn't based on the AFL Ladder but it is based on who is giving up the most Fantasy points to their opponents.
Selection Table
There have been a heap of changes this week with some coaches swinging the axe and some players just getting themselves injured!  We have already talked about Fyfe and we know that Heeney was out last night so here are the other things that I thought were noteworthy from the teams this week.
Matty Kreuzer comes back in to the side which is a bit earlier than some thought he might. If you held then it will be a welcome relief.
Logan Austin returns for the Saints against his old side. But really don't rely on much more than bench cover for him.
Bailey Rice finds himself omitted, if you have him then look to trade him out.
Jimmy Webster returns this week which will be a welcome return for some coaches.
Darcy Byrne-Jones returns after sleeping in last week. Not sure that he is in too many teams though.
Charlie Spargo comes back in!  Some great bench cover again for us, but don't trust him on the ground if you need a rookie.
Sean Darcy will be relevant in draft leagues as he comes in to cover for Sandi who is still out and may be out for a couple with that calf injury.
The Kangaroos have named quite a few this week with LDU, Jacobs and Preuss all coming into the squad.
Similarly the Suns have done the same with Brodie, Heron and Ah Chee all coming in and Ainsworth missing along with Dawson. None of these blokes should be on the ground though.
Sam Murray finds himself back in the Collingwood squad but I am doubting many of you have held him this long.
Lachie Keefe is also back in the squad this week for the Giants, if you have him he is probably only bench cover though.
Patton looks to be out now for the year with another ACL which is sad news for him.
Things to Remember
You should be looking to have no rookies left required to play on your field now (except for injury cover like Heeney) anymore, that is where you should be focussing your trades.
I've said it before and I'll say it again. Trades in SC and RDT are sticky today. You can't reverse them.
With all those squad changes on Sunday make sure that you are checking the final teams tonight at about 5pm EST to see who is in and who is out before making your final choices.
Just 4 games til finals so if you are only playing for leagues then you may want to start looking at your opponents and where you sit on the ladder before making your trades.
Looks like a great weekend of footy this week with some good games to be played. Hopefully they live up to the hype. We saw some great scores last week and with a bit of luck this would be the way things continue for the remainder of the season.
Just check your league settings in your leagues as some of them might be playing finals sooner than you think!