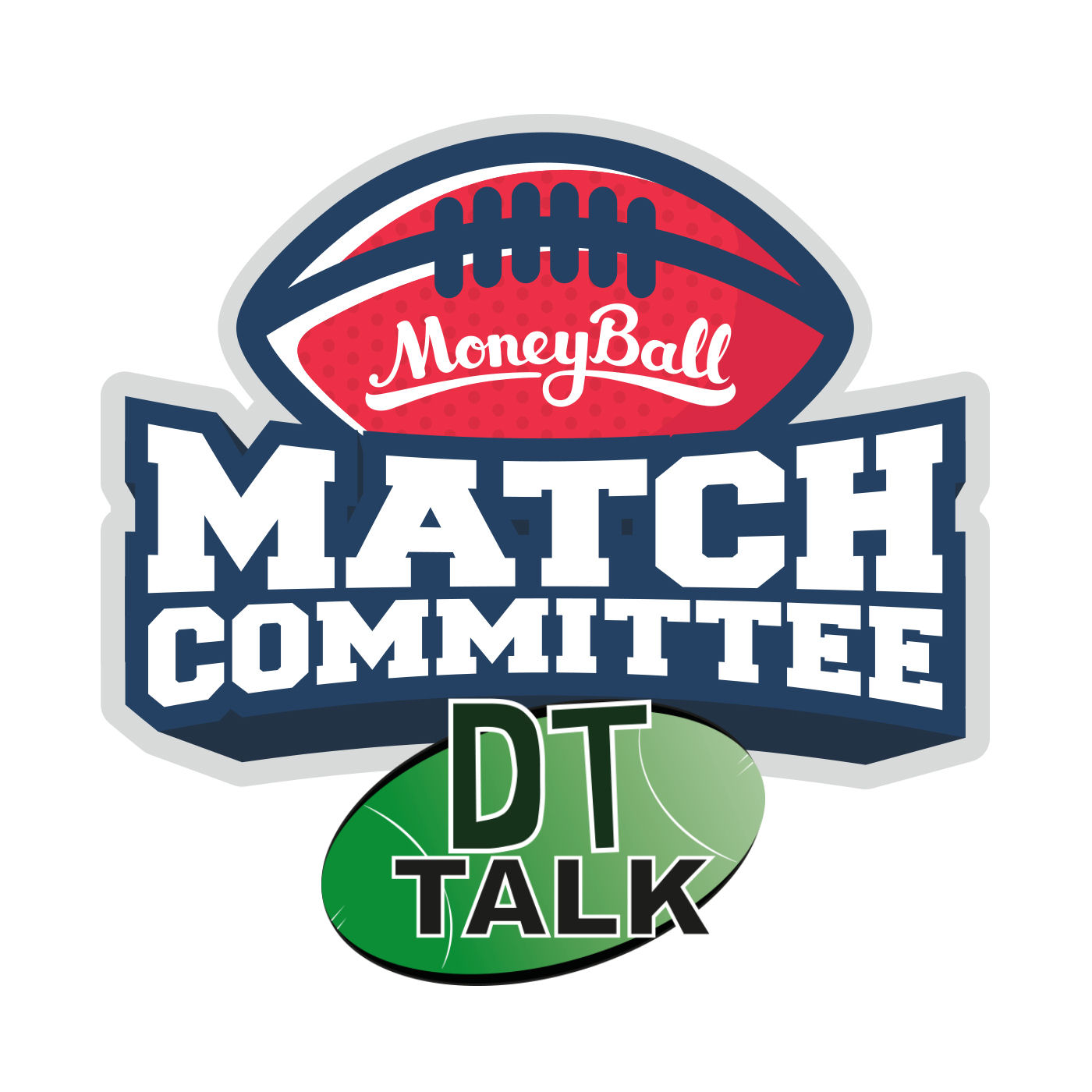 Tbetta here, and welcome to the self-proclaimed top resource for keen Aussie rules Moneyball punters! DFS (Daily Fantasy Sports) is taking off around the world and Moneyball have the perfect platform for you to turn your AFL Fantasy prowess into cold hard cash. Signing up is easy – head to moneyball.com.au and you could be ballin' within minutes.
If you're unsure how DFS works, be sure to head to the 'Help' section for all the info you need to start cashing in on your AFL Fantasy knowledge.
Click here to subscribe on iTunes.
Richmond vs Adelaide
BEST PICK: Sam Jacobs ($7,400 RU)
What a difference a week makes! Big Sauce pumped out 108 against the Eagles last week, which is extremely impressive as it's the the first time that any ruckman has exceeded 88 against the Naitanui/Lycett combo this year. Richmond concedes the 2nd most points to ruckmen this year (mainly because of Nankervis' lacklustre ruck work, allowing the 5th most hitouts at 45 per game) so he has another ton dished up on a silver platter here – if he wants it.
Plus, if you're the superstitious type, you'll love that Jacobs loves playing the Tigers.
Highest score of 2017: 158 vs Richmond (50 hitouts, 26 touches)
Highest score of 2018: 120 vs Richmond (40 hitouts, 20 touches)
BEST STAT: Dustin Martin ($8,100 MID)
Dusty busted out a 127 on the Crows earlier this year – which just so happened to be his highest score for the season and his only offering above 111 for the season. Obviously, the game before that, he had a fair game too as he won the Norm Smith in a Premiership against this same club. Martin has been a shadow of his Super Saiyan 2017 output, and it might be clutching at straws but he is technically on the improve; he's ticking along at 86 MB over his last three, compared to just 68 in the three games before that.
Dusty's got another big ton brewing up inside him, and he's finally cheap enough to start hedging our bets.
BEST VALUE: Jayden Short ($7,100 DEF)
Short was already performing with Houli out, averaging 92.2 over his last 5 games… but now he becomes vital to Richmond's defensive system with Vlastuin suspended for 1 game and Conca out indefinitely with a dislocated ankle. Given that Adelaide have conceded the most points to DEF's over the past 5 weeks, I can't see any scenario where Short doesn't see a fat slice of the fantasy pie this Friday night.
BEST RETHINK: Matt Crouch ($9,200 MID)
The Better Crouch was back in sizzling form last week with a 120, which was actually his highest score since the 123 he threw together in Round 1. However, he'll be playing with a fractured hand this Saturday, and that simply has to cap his ceiling in some tangible way. $9.2k is a fair chunk of your hard-earned salary to be spending on a bloke with only one functional mitten.
Brisbane vs Carlton
BEST PICK: Dayne Zorko ($9,600 MID)
Zorko has polled 5 Brownlow votes in his last two games against Carlton for scores of 125 and 119, so you could say he has the wood over the "sprouts". After a painfully slow start to the season, Zorko has actually evolved into one of the most potent fantasy threats on every slate he's available; since Round 7, Zorko has pumped out the 3rd most fantasy points (behind Titch and Grundy, of course) with 119 per game. Carlton will be easy pickings this week, unless they've somehow unearthed a dedicated tagger since last weekend.
BEST STAT: Patrick Cripps ($9,500 MID)
How good is Crippa going this year? Well, he's ranked #1 for Contested Possessions at 18.1 per game, which is spicy enough for world-record pace – the best over a season was Dangerfield last year with his 17.9 per game in a campaign that netted him 33 Brownlow Votes. Cripps has to be in your player pool against teams like Brisbane, where one of his herculean efforts might actually get the Blues over the line.
BEST VALUE: Hugh McCluggage ($6,600 MID)
He's an awkward price, but the numbers don't lie; McCluggage has quietly taken a large stride towards his eventual stardom. His last 5 uninjured scores read 83, 81, 71, 111 and 102, punctuated by a 28-point score due to an early Achilles injury. Luckily, that keeps his price low for us, so jump on Hugh while he's enjoying a nice purple patch.
BEST RETHINK: Matthew Kreuzer ($8,700 RU) and Andrew Phillips ($5,200 RU)
Brisbane have conceded easily the least points to opposition ruckmen over the past 5 weeks, and a timeshare situation won't improve the situation. The last time these two played together was when Kreuzer was being similarly eased back into things earlier this season and he ultimately finished with just 70, while Phillips had just 38 of his own. It's Stef or nil in the ruck slot from this game.
Port Adelaide vs St Kilda
BEST PICK: Patrick Ryder ($8,100 RU)
St Kilda has conceded the most points to ruckmen this year, and this is a well that you simply need to keep going back to as no RUC has failed to reach 80 against St Kilda this year. Goldstein (117), Grundy (135), and Gawn (111, 135) are amongst those who've taken that to the next level, which Ryder is a red-hot chance of doing this week, Achilles permitting.
BEST STAT: Robbie Gray ($7,600 FWD)
He's the most frustrating man in fantasy, but do you want an excuse to pick Gray in DFS this week? Check out his last 4 efforts against the mighty St Kilda:
124 – 25 touches, 4 goals, FWD, 2 Brownlow Votes
121 – 37 touches, 1 goal,   MID,  3 Brownlow Votes
125 – 26 touches, 4 goals, FWD, 3 Brownlow Votes
98 – 27 touches, 1 goal,   FWD, 3 Brownlow Votes
So even if he plays up forward this week – which has undoubtedly been a massive handicap on his fantasy output – he's still highly pickable. Those numbers prove that Gray can throw down the hammer on the Saints in any role.
BEST VALUE: Port Replacement Defenders
Hartlett's injury allowed DBJ to prosper, so who benefits now that Pittard has bitten the dust too?
Dan Houston ($6,400 DEF) posted his 2nd-best score for the year with 93 last week, collecting 22 disposals and 9 marks with some key personnel missing. Likewise, Jack Trengove ($6,600 DEF) was terrific in his first game for his new club with 92 MB from 21 disposals and 8 marks. Port making 4 changes and Trengove surviving the chop speaks volumes for his value to this club moving forward, and his role was very loose last week. I like it.
BEST RETHINK: St Kilda Players.
Port are the most restrictive team in the competition, so give St Kilda's blokes a wide berth as a general rule. They're ranked:
#1 Hardest team to score

Total AF

points against this season

#1 Hardest team to score

Tons

against this season (2.4 per game)

#2 Hardest team to score

DEF

points against this season

#2 Hardest team to score

MID

points against this season

#1 Hardest team to score

FWD

points against this season
Melbourne vs Fremantle
BEST PICK: Max Gawn ($9,800 RU)
No Sandilands. That's all you should really need to hear, because Gawn will dance upon the graves of a uncoordinated Apeness and an underdone Darcy. In fact, the last time Gawn faced the Dockers without Sandi, he posted 43 hitouts and 110 MB – and he's an even better player now than he was back then. Gawn is the only player to have scored 135+ on 5 occasions this year outside of Tom Mitchell (8 times), and he might just add a 6th this weekend.
BEST STAT: Lachie Neale ($9,300 MID)
Fyfe's injury cleaves open some value for Neale, so strongly consider him moving forward. On top of averaging 114 over the past month and boasting career scores of 117, 123, 125, 123, 130 and 119 against the Demons, here's what Neale has done since 2015:
With Fyfe: 28 touches, 100 AF
Without Fyfe: 34 touches, 112 AF
BEST VALUE: Angus Brayshaw ($8,500 DEF)
Brayshaw hit a 47-point road bump against Pies a few weeks ago when he was quizzically asked to tag… Remove that and his last 5 scores look like 101, 166, 133, 103 and 116. Fremantle have given up the 3rd-most points to MID's this year, and even though Angus is named as a defender, make no mistake. He's a midfielder now and he's smashing it.
BEST RETHINK: Fremantle Stacks.
Melbourne give up the 2nd least tons (2.6 per game) of any team this year, which is enough on it's own to turn me off most of the blokes in purple. But when I discovered that Freo have only won 1 of their last 9 games without both Fyfe/Sandi, with an average losing margin of 46 points, that dislike turned into a strict fade outside of Neale and possibly Walters.
Western Bulldogs vs Hawthorn
BEST PICK: James Sicily ($8,100 DEF)
For a famed hothead, Sicily has been remarkably consistent with scores of 90, 109, 91 and 94 coming into Round 16. The interceptor starred against the Bulldogs last year, posting 124 on them – which also happened to be the highest score of his career up until then. He reeled in 12 marks that day, which is a excellent omen in the hope that he matches up similarly this week – Sicily's scored 111, 135, 104, 90 and 109 in games where he's reached a modest 8 marks this season.
BEST STAT: Jaeger O'Meara ($8,400 MID)
Jaeger averages the most tackles of any player over the past month at 9.3 per game, and that's building the foundation of a speedy 107-point velocity over the past 5 weeks. DVP suggests that the Bulldogs are easy prey (conceding the 2nd most points to MID's over the past 5 weeks) so I'm expecting the Jaeger Bomb will be going off again this weekend.
BEST VALUE: Ben McEvoy ($7,600 RU)
The Bulldogs have been allowing the most points to RUC's over past 5 weeks, which is a very predictable side-effect of refusing to pick an actual ruckman. With Boyd as their sole ruck over the past 3 weeks, Ryder (102), Goldstein (118) and Stanley (104) have all eclipsed the ton and their respective averages. McEvoy enjoys playing the Bulldogs as it is too, dunking on them in recent times with totals of 96, 96 and 122.
North Melbourne vs Gold Coast
BEST STAT: David Swallow ($8,700 MID)
Swallow has a strong record against his brother's former club, pumping out 103, 109 and 111 in his last few against North. When these teams met in Round 1, Jacobs tagged Lyons instead and Swallow was allowed to run free. After scoring 123 against the Pies last week (31 disposals, 6 marks, 6 tackles), Swallow's form is hot enough that the Roos might flick the tag over to him instead. There's certainly value in the Gold Coast MID's here, the trick is just figuring out who doesn't get the tag.
BEST VALUE: Paul Ahern ($4,300 MID)
According to Freako: "Ahern was the 2nd-ranked Roo in the 2nd half vs Bombers". Add that to his 92 MB on debut and you can feel good about his realistic ceiling for the salary. Ahern has been named on a wing this weekend, so it's all systems go with the soft Gold Coast match-up.
BEST RETHINK: Shaun Higgins ($9,000 MID)
Missy is a prime target for the Touk-Touk Tag after averaging 109 over last 5 games, and the rampant Brownlow talk only makes it that much more likely. Touk's victims this year include Zorko (55), along with Titch (84) and Sidebottom (81) over the past two weeks, so his attention is no joke. I'm fading here.
West Coast vs GWS
BEST PICK: GWS Midfielders
They dominate the Eagles over the past two seasons, just check out these numbers without comment:
Stephen Coniglio ($9,500 MID) – Last 4 vs West Coast: 121, 97, 121, 111.
Josh Kelly ($10,600 MID) – Last 3 vs West Coast: 111, 130, 119
Lachie Whitfield ($8,800 MID) – Last 3 vs West Coast: 130, 128, 98
Callan Ward ($8,500 MID) – Last 4 vs West Coast: 120, 113, 126, 104.
BEST STAT: Andrew Gaff ($10,000 MID)
Much like his affinity to the wide open expanses of Subiaco Oval, Gaff loves playing at his new home! His last 7 scores at Optus look like 120, 122, 120, 110, 107, 102 and 114, so Gaff ticks the "cash games" box… As well as GPP's, as only 3 players this year have scored over 145 on multiple occasions this year; Titch, Macrae and Gaff.
BEST VALUE: Replacement Forwards
Who kicks goals in this game? Between both sides, we're missing Patton, Cameron, Greene, Kennedy, Darling, LeCras, Ryan. That's a lot of firepower left in the warehouse.
Jamie Cripps ($6,700 FWD) – 90 and 104 in the past two weeks. Big role without LeCras.
Nathan Vardy ($6,500 RU) – Last 4 times he's kicked multiple goals: 88, 105, 78, 81.
Rory Lobb ($5,700 RU) – Only Key Forward left standing for Giants. 3 goals last week.
Harrison Himmelberg ($5,200 FWD) – 3 highest scores for the year (91, 71, 75) have come in the last 3 weeks. Averaged 45 over the first 11 games so he's seen a definite role change.
BEST RETHINK: Dylan Shiel ($8,400 MID)
Shiel is the one exception to the Giants' domination over West Coast's midfield. Thanks to his ability to break games open, he was tagged earlier this year to 78 by Hutchings – which makes it 5 games running where he hasn't reached 100 against West Coast.
Essendon vs Collingwood
BEST PICK: Taylor Adams ($8,500 MID)
Treloar out injured last week and Adams hits 30 touches for the first time this year – coincidence? It was "only" 101 for Taylor last week, but it's worth noting that he was the highest-scoring MID for Collingwood in a low-scoring fantasy affair. 30 touches is the magic number for Adams as over the last 2 years, he's registered 151, 137, 107, 148, 115, 116, 97, 105, 151, 124, 128 and 101 when reaching that threshold.
BEST STAT: Steele Sidebottom ($10,000 MID)
Steele loves a Milestone game:
50th:   106 AF
100th: 105 AF
150th: 131 AF
As for his 200th… Does he cop another tag, like he did from the Bombers in Round 5 this year? Sidey has been shadowed twice this year, to 77 (Devon Smith) and 81 (Touk Miller) – which unsurprisingly are his 2 lowest scores for 2018. I'd be concerned.
BEST VALUE: Kyle Langford ($6,900 FWD)
Langford has been unleashed into the midfield since the MBR's, which has resulted in scores of 93 and 102 over the last fortnight. The opportunity was opened up with Zaharakis' injury, and Langford has seized that with his average has increasing from 74 to 88 since.
BEST RETHINK: Jordan De Goey ($7,400 MID)
With Dunn injured, Mihocek moves back and guess who might be the guy who plays more FWD?
Rounds 1-11:   Played primarily forward, 75 average.
Rounds 12-15: Played primarily midfield, 91 average.
As we know, De Goey is a really tough match-up as a mid-sized forward and Collingwood simply need another marking option alongside Cox to compete. He'll need to kick a bag here to return value (which isn't out of the question by the way, with hauls of 5 and 6 goals already this year), so I'll be looking at a less risky alternative with a crucial MID slot.
Always remember to gamble responsibly. If you're having problems with your betting, you can get help at Lifeline or talk to someone at Gambling Help Online.