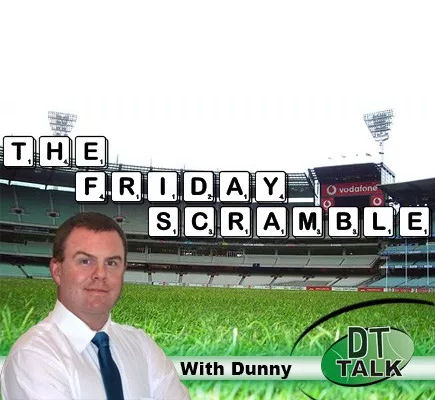 Well the byes are over finally and we can get back to regular rounds of footy which will hopefully mean a return to good scoring, however, going by last nights game I wouldn't be too sure of that. It always seems to me that we see a horror round either before or after the byes which makes us wonder if they are really all over. Well we are one game down with 8 left to come this week and plenty of changes and things to worry about, so let's not wait any longer…. let's Scramble!
Thursday Night Loophole.
Well it was quite a game last night but did you take the VC option? Let's see how Calvin's VC options went.
Buddy 61  Not his night even though he kicked 4 goals. He didn't do much else (and may get a holiday thanks to that throat hit on Rance)
JPK 121  He was great with 37 touches and 9 tackles. It meets the line set by Calvin. I would probably take it.
Dusty 90  Started very slowly on just 24 at the half as he was tagged by Hewett. Don't take it.
Parker 106 Nearly got to the line but did spend some time off the ground after hyper extending his elbow and that really hurt his scoring.
Lloyd 123  33 touches and 8 marks. If I had him as VC I would be locking that in.
Calvin set his line at 120 this week and we saw some pretty poor scores from a few of our stars in this one but some great ones too, it all comes down to who you have and who you went with. I am always a bit risk averse and I would look at Lloyd and JPK as points in the bank and good insurance in case our captain pick fails.
Hope you didn't go with Heeney who had a concussion early in the second quarter (but was still out there until early in the third but hardly touched it in that time).
Post Bye Strategy
Now that we don't have to worry about the Byes anymore there are a couple of things that I usually look at when I am trading a player in. Here is a bit of a list of the things I worry about.
Strength of Schedule. Who are they playing for the remainder of the year. And I don't mean whether they are playing a top 8 or bottom 4 team, it is all about how many fantasy points their opponents are giving up. Hopefully we will be seeing Cal's scale of Hardness return soon and this will help you work out how well we think they should score.
Role Changes. What is the players role at the moment, we have now seen 13 games from everyone and we should now have a good handle on the roles. But as players are getting injured and may be out for the season then look at what that could mean in terms of a role change for other players. For example, what does Treloar being out now for an extended time do to players like Sidebottom or Pendlebury.
Who do they play in the Fantasy Finals? Do they have a really good run in the last four weeks of the season.
Recent Form. Don't stress too much about overall average, but how have they gone recently. Some of them may have had a role change or they could have returned from an injury. I look at the last 4-6 games to get a good indication.
One thing I am not too fussed about is their break even. If it is a player that I believe will be in the top scorers the I will pick them when I am able to bring them in. Their price fluctuations from that point mean nothing as you don't plan on trading them out of the side.
Selection Table
Quinton Narkle is set to make his debut for the Cats tonight. Just what we needed, a basement price player to bring in for AF.
Marc Murphy returns finally and whilst I wouldn't be bringing him in for salary cap games it is music to the ears of those that own him in Draft leagues.
Matty Kreuzer is out as we suspected. If you don't have any bench cover in the rucks (like most people) then he is a trade for me. If you can avoid a donut then do it. The key will be how many trades you have left in RDT and SC but I generally trade for donuts.
Laird and Sloane both return for the Crows. Laird would still be in most teams but I wouldn't be rushing to bring Sloane in my team at the moment.
Treloar is out as we knew, but the key selection news for Collingwood is still no Murray, if you still have him it is probably time to trade him now.
Lobb returns for the Giants at the expense of Cameron.
Tim Smith. Seriously!  In and then Out again. I have no confidence in him anymore, the problem is he hasn't really made enough cash to justify trading him out.
Spargo has been named in the squad for the Dees. Hopefully he can take the spot that has been vacated by Smith!
Jimmy Webster is officially out which is disappointing as he has had a good season so far.
Logan Austin has been omitted which is what most of us feared. He did rise quickly and made us some cash but we were worried about his job security.
Michael Walters returns from suspension and should be the one to take the spot vacated by the injured Blakely. Let's just hope he doesn't hit anyone this week.
Redman misses with that injury he picked up last week. Kobe Mutch has been named in the squad. Is it too much to ask for him to take that spot?
#AskDunny
@pkd73 Is it worth bringing in Phillips/Crouch if it means I can trade Doedee to Blakely or go with Kelly and still field Doedee for another week? AFL Fantasy

— Craig (@Subdubb) June 27, 2018
With Blakely out this one becomes a little easier, but really I would have probably gone with the second option anyway at this point. I would be bringing Kelly into your side if you can as he doesn't seem to be having any lingering effects of that groin injury. I don't mind keeping Doedee, he is doing a good job and has excellent job security.
Treloar and kreuzer, and now 5 out in backline. Was supposed to get last 2 rooks off field this week.

— Adrian Boogaard (@boges11) June 28, 2018
Sometimes the Fantasy gods just keep on giving don't they! Not sure what advice I can give you here mate other than just plug the holes as best you can this week and look forward to round 16!
Love the work Dunny. Narkle or Sier or any of the other rookies?
Who is your best couple of players who will break out in the second half of the year? Parker, Martin etc

— Dale (@dpc888) June 28, 2018
Cheers Dale. In AF I will be bringing Narkle in as I have some non playing rookies on the bench doing nothing and I just want to cash them in and I wanted a rookie to get the biggest bang for my buck. Are they ever likely to get on the field? I bloody hope not!
As for a breakout player for the second half of the year. I think based on last night Parker could definitely be one of them. He got beaten around a bit but still managed to get over the 100 mark. I don't know about Dusty, he is getting a lot more attention this season. Last night he was on just 24 at half time but piled on 42 points in the third quarter. I think that with Treloar out we will see Sidebottom lift a bit and I am expecting a better second half of the year from Dangerfield too. He hasn't been himself this season and the more he plays with Gaz and Selwood both in the team the better they will all get at working together.
Things To Remember.
Don't forget that Trades are Sticky in RDT and SC today. I know I say it every time we have partial lockout, but if it saves just one of you it is worth it.
In RDT and SC don't be quick to sideways trade if you have less than 8 trades left at this point, you will need those trades as we get closer to finals.
Not long to go now until Fantasy Finals, check your run home and your position on the ladder, you may be able to carry an underperformer for an extra week to save a trade.
That's it from me this week folks. Hope you all have a fantastic Friday and enjoy having 9 games of AFL on again after the boring bye period that saw just one game on a Sunday! I look forward to seeing some big scores again this week after the pain of the previous three weeks (just not from my opponents hopefully). And if you don't have a ticket to see Warnie, Roy and Calvin in Melb later in July, go and get yourself one, you will have a fantastic night!
See you all next week!  Cheers Dunny