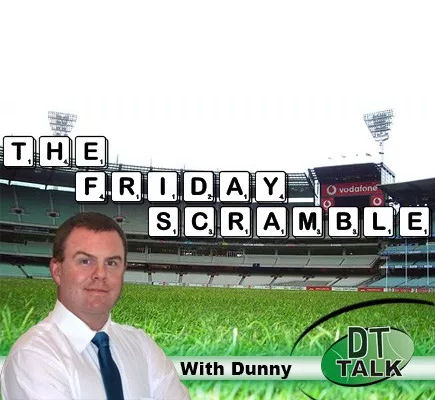 We've done it! We have made it to the last of the dreaded bye rounds and I  for one am bloody happy about that! I have had a terrible time in the byes this year whereas normally I do quite well. I think the issue we have had this year is that we have had so many of our premiums we were relying on either get injured or suspended during this time and some of the rookies we thought were locks were getting dropped. It has been an absolute nightmare, but as I said it is all over after this week thankfully. So let's have a look at the mess we have to deal with this week and let's do our best and scramble!
Captain's Loophole
Another Thursday means another chance for the loophole. Who did you take?  Did you take Calvin's suggestions, if you did then here is how they went and what you should do. But first, no wonder tipping footy is so bloody hard, certainly didn't see that first half from the Bombers coming, impressively they were able to hold it for the rest of the game and get the win.
Elliot Yeo – 117
Andrew Gaff – 114
Zach Merrett – 103
None of these scores really meet what we need. Ordinarily in a multi bye round we would take 117, but with the Pig playing in his UTAS pen you just need to take him. He will go nuts against the hapless Suns, I think we needed a score of 125+ to take the VC score this week. Given Yeo was the top scorer I won't be taking anyone from this game.
Jack Macrae…. Oh No!
There's nothing worse in this game than selling the farm to bring a bloke in only to have him go out injured a week or two later. And to make matters worse he had a low score which means he has dropped in value. We are just lucky that he came from such a high base. This meant that you can basically get in anyone you want for him. The question is should you be trading him out? In AF there is no question to answer, yes you must trade. With two trades a week and we are already struggling for numbers this week he is a must trade.
In Supercoach and RealDreamTeam the answer is basically the same. We have been told it is going to be three to four weeks and to top that off one of those is one of the nastier multi bye rounds. Our golden rule is usually more than two weeks says trade. Given it is a soft tissue injury we are always unsure as to how long they can take and then once they come back we don't know how long it will take them to get back to peak form.
So, who do you bring in? Well that will really depend on who you have in your team already. Given his price you can get pretty much anyone and hence just take the best player available that you don't have and that isn't on the bye this week. My top picks would be Mitchell (but you all have him right?), Treloar, Oliver maybe or even Coniglio if you traded him out earlier. But really there is plenty of options out there. With DPP you can do a heap of different options.
Selection Table
As usual team selection has given us joy and heartache! Let's have a look at the key ones.
Tim Smith returns!  Hoorah!!  This will certainly help some of us this week.
Charlie Spargo is out! Booo!! I am sure I wasn't the only one hoping that he would hold his spot. I am going to hold him I think as he does provide that mid/fwd option and should come back in at some stage hopefully.
Coniglio comes back in after that concussion. We all knew he would return after their bye and should slot straight back in to that midfield.
Jeremy Finlayson is back in the side but I think most teams have traded him out by now.
Toby McLean isn't in or out, he held his spot, but I would be very concerned as to him being a late out though. I won't be trading him, but it is a risk.
Aaron Naughton returns. Do you still have him? A bit of good luck to you if you do!
To be honest there wasn't a great deal of big news in the ins and outs this week.
Partial Lockouts
There seemed to be a bit of confusion last week from some people about the way the partial lockouts work. In RDT and SC it is pretty simple. All trades are now sticky. You can't reverse any trades even if the players haven't played yet.
In AF you can still reverse trades today but ONLY if they don't involve one of the players that played last night. Now if you have made one trade involving a player from last night that made you money that you needed to do a trade that doesn't involve those two teams then that can't be reversed either.
Things to Remember
Don't destroy your team for a few points. If it means trading out someone you want to keep to cover a donut that will only get 30-50 points, make sure you have a strategy to fix it. You don't want to destroy your team chasing a few points this week.
Before making a drastic trade, check your opponent's team. You may not need to do something if they can't field a full side.
Only 6 rounds now til finals start, time to be setting your team up for that finals campaign.
Good luck this week everyone and I for one am looking forward to having a full side to pick from next week.  Have a great weekend and see you all next Friday!