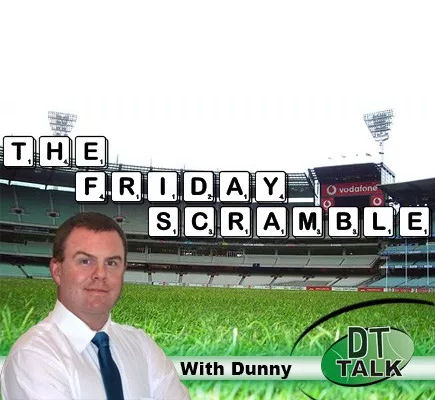 Bloody hell, what sort of a round was that one! It was all over the shop with some of the lowest scores I think I have ever seen (mine included, I had a shocker). Well, don't get too settled, this week probably won't be much better for us unfortunately. But that won't stop us having a crack again this week and we have the added fun of using the captain's loophole.  Did you have a crack at it last night? If you did we can have a look at that while we are busy Scrambling!
Thursday Night Captain Loophole
I know that by now you all know how this works and you have been reading what Calvin told you all on Wednesday. So I won't go over it here. So, let's look at who Calvin picked and see how they went.
Jack Macrae – 44 Did a thigh injury and we didn't see him in the second half.
Toby McLean – 49 He copped a heavy hit in the first 5 seconds of the game to the shoulder and never looked right after that.
Tom Rockliff – 128 OINK OINK OINK!!!  The Pig was on fire. Take this score to the bank.
Justin Westhoff – 105 The Hoff could have had so many more points as he tried to give goals away. If you don't have Titch or Fyfe you could consider using the Hoff.
Lachie Hunter – 68 Nope, not the night to take this one.
Other guys you may have used. Ollie Wines with 137 and Chad Wingard with 124. Anyone else you would probably not take unless you don't have much else then Robbie Gray's 105 could be worth it.
If you didn't have any of these guys or the one that you picked failed then you should go ahead and pick a captain as normal. If I had to pick one, I would do exactly what Calvin suggests and that is go with Tom Mitchell. The Crows have been giving up some scores lately and there is no reason that Titch can't go big for us this week.
Bye Round Strategy – The Middle Round
This is probably fairly obvious but I thought I might say it anyway, and that is, clearly your trade in targets this week should be from those clubs that have already had their bye rounds…. right? Well not necessarily (we will get into that in a minute). But yes, you should be looking for players from Port, Gold Coast, Carlton, Hawthorn, West Coast and Western Bulldogs because they are all bye free and will play through the rest of the season for you.
There are some exceptions to this rule though. Let's say for example that you have 20 players this week and you are comfortable that all will play (clearly that is not the case if they play for Geelong who love a late out). If that is the case and you have someone on your bench that isn't playing this week and you need some cash to do an upgrade. You could safely go for someone like Ahern who is on their bye because it won't hurt your bye strategy at all given you already have enough players on the field this week.
Similarly if you are well set up for next week and you don't need to worry about numbers (then you are really brave) you could look at doing a trade of one of your defenders who is already on a bye next week and bring in someone that will also be on the bye in that same round (say Jake Lloyd). You aren't losing anything because your bye structure hasn't moved you have just change the player that you are using this week and you have set your team up to be in a better position once the byes are over. Clearly this is a risky move just in case we have the same sort of carnage that we had before round 11, but if you are willing to take the risk you can certainly improve your side without having to wait until round 15 to do it.
Don't forget to sub your blue dots onto your bench. Round 13 byes:

? @brisbanelions
? @CollingwoodFC
? @EssendonFC
? @GWSGIANTS
? @melbournefc
? @NMFCOfficial

RULES: best 18 scorers (from on field 22) will count towards your weekly score, three trades.#AFLFantasy pic.twitter.com/6TiDO46MGd

— AFL Fantasy (@AFLFantasy) June 12, 2018
Break Evens. Do we really care about them anymore?
Well yes we do, but not quite as much as we did early on in the season. We are now getting to the point in the game where the guys you are picking are going to be with you for the rest of the season and what their price does then doesn't really matter. The only thing we really are interested in when it comes to Break Evens now is the amount that someone costs us when we bring them in. If you can wait a week and get someone for a cheaper price then absolutely yes you should consider that.
But let's say you are looking at your team and you have someone you have decided you aren't going to trade out like a Shane Savage or a Michael Hibberd because you are either really short on trades in RDT or SC or alternatively you think they will score well for the remainder of the season. In that case you shouldn't care whether or not Hibberd's BE is 20 or 200 and equally you shouldn't care if his price is $250k or $500k. If he is staying in your team until the bitter end then it makes no difference at all.
Now before anyone jumps up and down, I am not saying that you totally disregard BE's and prices for your players but you simply need to pay attention to different things as the game moves into the second half of the season. Priorities change as you aren't really bringing players in now for cameo roles, they will become your star attractions.
So what do we care about now?
The most important thing now when bringing in the rookies is their Job Security and their likelihood of being there for you as the season winds down. As we get further and further through the season, particularly in RDT and SC, you will need to rely on these blokes as some players may get rested up before finals or sent off for surgery if their team's season is shot. It is these rookies you are bringing in now that can make all the difference for you as we get to the pointy end of the competition.
I am still a big advocate of focusing on getting your team right for the post bye portion of the game rather than simply plugging holes with any old player. Because you may think that you can simply offload them when the byes are over, but you may have other more pressing issues that mean you can't trade them out as easily as you wanted to and you could be stuck with someone that you don't really want for a long period of time.  Trust me, we have all been there and done that before.
Selection Table.
Once again I have a quick look at some of the more key ins and outs this week.
Luke Shuey returns and just in time to help out those teams struggling for numbers!
Liam Ryan good to see him back this week, could be a sneaky downgrade if you need someone.
Jack Darling missing for 3-5 weeks. Trade him.
Fyfe and Sandi both return to help plug some holes.
Walters screwed us over by getting suspended. I am holding though, he will be fine when he returns after their bye.
A trio of rookies omitted at the Suns with Heron, Brodie and Scheer all out.
Billings returns! But don't expect numbers like he had in the VFL. He will be good against the Suns, but he doesn't get to play them every week.
Ed Phillips misses!  Aarghh!!!  Just what we didn't need. He was plugging a hole for some of us and he hasn't really made enough cash for us yet either.  He also has the bye next week. If you need to trade him do so.
Lachy Murphy for the Crows misses, if you are still holding, this is the time to trade.
Dusty returns for the Tigers! Thank the Footy Gods for that!  I for one need him back.
Things To Remember.
Partial Lockouts are in effect. This means that in RDT and SC you can no longer reverse trades for this round. All trades are now sticky! In AF you can reverse trades as long as they don't involve anyone from last night's game.
Captains Loophole. If you plan to use it make sure you understand it. Check Calvin's Captains as he put a very simple explanation at the top of his article this week. Remember, you can use a player on a bye for the Captain if you like.
Rubbish Captain Score. As Warnie explained on the podcast. If you have 19 players and your Captain scores say a 5 and ends up on 10 points (double 5) and that is your 19th best score, then that is it, your VC does not get doubled.
That's about it for me guys, been a late one as I am not normally out at the footy on a school night, could be a long day at work today! But hey, it's all worth it if there is footy on.
I just want to give a shout out to those people that jump into the comments and help out those with questions. Someone rightly pointed out last week that I don't often get on and answer your questions in the comments. This isn't because I don't care or don't want to, it is simply a function of me having to be at work during the day on a Friday and then from work I go straight to junior footy coaching so I simply don't get any time to have a look before lockout occurs. If I can get on and answer a few I certainly will but I can't often do that due to work commitments. So I am sorry but what I do love is that you all get in there as a community and help each other out.
All the best this week, the only solace we can take is that after this round we only have one more of these nightmarish rounds to go and then it is back to normal transmission with all of our players available!  See you all next Friday!!