The Milkmen Discuss – Round 13
What's the situation with our Cash Cows? Miles and Peter are all over them.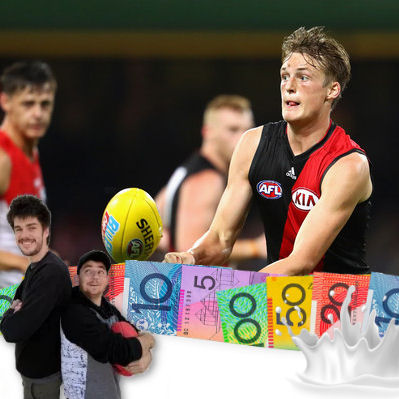 The second round of byes is all done and the relevancy of this section should be becoming less and less for your teams. Still, we're here to take all of your questions and provide a quick debrief of the round that was. Without further ado, let's look at what went down in Round 13.
Those That Matter 
Port Adelaide vs Western Bulldogs
Like last week, Port Adelaide were again irrelevant from a rookie perspective and it sure makes it a lot more easier on our end to write up about. No real signs of any rookies coming through from their reserves other than another strong game from Dom Barry ($299,000 MID BE 38).
Western Bulldogs have the same old players coming through but with their fresh bout of injuries we could possibly see a few new names this week. For those of those that have been running around for a while, Ed Richards ($397,000 DEF BE 50), did his bit to try lift the team with three goals and 66 points during a new role up forward. It's worth noting that he did not spend the whole game up forward but still managed to get 64% of his possessions there. Billy Gowers ($357,000 FWD BE 62), definitely spent a lot of time up forward and continued the trend amongst a lot of our rookies at the moment where the scoring looks to have slowed down. Only 11 touches and four marks this week in the same role he's been playing all year. In his defence the conditions did not suit his game and can't be held against him for his score of 53. Roarke Smith ($282,000 DEF BE 41) started on absolute fire with a 24 point first quarter but could only add 14 more from there. Absolutely no regrets in telling people not to get him but his job security is as good as they come with an injury crisis down at the kennel.
Sydney Vs West Coast
You got to love when a rookie steps up when you need them most (we call that the Fritsch manoeuvre) and Ben Ronke ($429,000 FWD BE 65) used his four tackles and two goals to do just that as he helped himself to 80 points. With the potential for Fritsch to play at F6 for a lot of our sides the necessity to keep Ronke around is not great. Can still look to offload him to a Ahern type this week if you have Fritsch and Guelfi coming back in to your forward lines. Just make sure you clap him out. We were surprised with how good hands Tom McCartin ($239,000 FWD BE 23). It will be just St Kilda fans luck if this  McCartin brother ends up coming good a lot faster then the other version over at St Kilda. 59 points for the big man this week and plenty of promise.
All promise for Jake Waterman ($374,000 FWD BE 63) looks dead and gone. Put quite frankly the man looks tired and in need of another bye. With rumours that Kennedy could miss this week and Darling already on the sidelines absolutely no danger of him being dropped though. Luckily, the same thing can be said for Jarrod Brander ($243,000 DEF/FWD BE 44), Willie Rioli ($362,000 FWD BE 70) and Liam Ryan ($357,000 FWD BE 25) who all looked out of place against the toughened swans. The scores for the trio were 47, 34 and 58 points respectively. Ryan is easily being judged the most harshly there as it was his return game from a long time off (10% of coaches still have him which is surprising). We did find it funny though the amount of times the camera would flick to him and he would be struggling for breath. Think he came back one week too early. Brander played predominately up forward for those who did bring him in, but it wasn't until a sporadic snap in the last quarter you were able to remember he was actually playing.
Carlton vs Fremantle
As always, a lot to get through with Freo games so let's get to it:
Andrew Brayshaw ($437,000 MID BE 50) – Been following Fremantle very closely all year and easily the best game this kid has played and boy was it when we needed him most. Took full advantage of the domination by Fremantle on the day. Still played his smaller amount of game time but had 20 touches, five marks and a goal for 96 points. Will be moved on this week by a lot of coaches but it was a great farewell game by the kid.
Adam Cerra ($427,000 MID/FWD BE 42)– Took a while to get going and was never going to be able to perform as well as last week but continued his strong form regardless. Loves been a link in the chain which was showcased by his eight marks on the way to 72 points.
Stefan Gir0 ($253,000 MID BE -4) – Was not expecting much from this kid in his second game but was very impressive especially early on. Played predominately on a half forward flank and his three inside 50s were very composed. 17 touches for his 71 points.
Bailey Banfield ($449,000 MID 55) – Was very quiet in the second half but still managed 61 points. Another cash cow that has more than done his job for his teams and the bye this week marks a perfect time to say goodbye. Will be missed.
and From Carlton:
Pat Kerr (235,000 FWD BE 9) – Can actually put his game down to the lack of supply up forward for the Blues and he had to come quite far up the ground to start getting touches. No goals is the main reason that his score ended up on 49 points. Still an option for those looking for a cash grab up forward if he manages to hold his spot this week.
Paddy Dow ($399,000 MID BE 53) – As solid as he has been in recent time and as long as Marc Murphy is on the sidelines we see no reason why that will decrease. Here's hoping he can help out for one more week in a clash against the Pies. 15 possessions and 65 points.
Lochie O'Brien ($333,000 MID BE 47)- Trumped his junior counterpart by one point so we naturally assume that he's been ripping in to Dow at training about that fact this week. Ran through the midfield and had 66 points of his own.
You know what, that wasn't as bad as it normally is for Fremantle.
Gold Coast vs St Kilda
Nick Holman ($457,000 MID/FWD BE 60) looked on track for another great score before the ball did not fall his way in the last quarter during St Kildas surge. Went in to half time around 60 and ended up on 68. Before that though, Holman looked great and was applying elite pressure up forward with five tackles. Unfortunately he's playing that role so well he should be kept up forward for awhile. In any other team we would say that's a good thing but unfortunately the Suns are just going horribly at the moment. We were very impressed with Charlie Ballard ($267,000 MID/FWD BE 14) during his score of 67. He would be in line for a third position if that was an actual thing as he spent the whole game down back. Unlike Holman, the last quarter momentum to St Kilda helped his cause and he ended up with 16 touches and most importantly eight marks.
The fleet of St Kilda rookies were highly dissapointing outside of Hunter Clark ($396,000 MID BE 40) who earnt himself a rising star nomination and a great reward for the 2% of coaches that have held this long. Something gives us the feeling that 2% of coaches may have given up already. Bailey Rice ($341,000 DEF BE 36) can blame the head of Martin for his poor score of 36. He was looking good for a 60 odd once Jimmy Webster went down early on. Unfortunately his day was cut short but is still a great option for our defence benches going in to the back end of the season. Can be kept with confidence this week if you don't need to trade for bye reasons. The same can't be said for Logan Austin ($391,000 DEF BE 40) who, as reported on this website before, only had a 7 point effort after quarter time. I'm surely not the only one who was thinking at half time he was going to whip out another monster second half. It wasn't to be at all unfortunately. Can be moved on and hold Rice. Josh Battle ($232,000 FWD BE -9) put in another solid effort for the Saints. A real option in RDT once the byes conclude but probably missed the boat in AFL Fantasy. Interestingly got majority of his 12 possessions on the wing but also kicked 3 goals. This was the main reason he got himself to 66 points.
Hawthorn vs Adelaide
Another easy game to report on as one side had no relevant cash cows floating around. The other side in Adelaide had a key name we were very interested to see how they went. For those regular to the article you'll know we are talking about Patrick Wilson ($185,000 MID/FWD BE 12). Actually found it difficult to work out his exact role in the side as he took so long to work his way in to it. The last quarter was promising and when he got seven of his 12 possessions. If there weren't so many names returning for the crows we'd be giving him a pass mark but unfortunately we don't think he did enough to hold his spot when the artillery arrives. Can thank his five marks for helping him score 51 points. Still love the kid and how he goes about it, so remember the name none the less. Tom Doedee ($450,000 DEF BE 64) was once again just so solid down back for the Crows as he made his way to 71 points. Another serviceable cash cow that coaches will be looking at moving on this week and boy has he more than done his job.
Geelong vs Richmond
When Dangerfield and Ablett struggle to get a good score you know it's not going to be good news for the second tier midfielders there at Geelong. Tim Kelly ($496,000 MID BE 70) had seven clearances, six tackles and surprisingly only 76 points. Jordan Cunico ($473,000 MID BE 58) wasn't far behind with 70 of his own points and 19 possessions. Unfortunately the other rookies from the Cats just couldn't get in to the game. It's worth noting that Jack Henry ($357,000 DEF BE 35) seems to be playing a lock down role more and more consistently so can't be trusted on our fields if you are looking in to the crystal ball and who to keep for your backline bench.
The game was suited to the way that Jack Higgins ($371,000 MID/FWD BE 56) plays perfectly and he didn't seem to fully cash in. Finished with zero goals for the game but did have a set shot on goal that he should have converted for at least a score. As a result only found himself on 58 at the end of the game. Making his debut for the club as a late replacement for David Astbury, Ryan Garthwaite ($182,000 DEF BE 13), played a key position role on Tom Hawkins. Not much to get excited about here although it was great to hear after the game he was reduced to tears once hearing he would debut. Was still serviceable and finished up with nine touches, nine one percenters and 47 points.
So What Now
With teams close to completion following the bye, we understand our article will diminish week by week from here on in but that won't stop us from keeping an eye on all those juicy cash cows. Even if it becomes a part of the planning for 2019. There are plenty of options for coaches to trade in this week and special attention should be given to who the Western Bulldogs name to replace some of their injured stars. Here's hoping its a rookie or two.
From the players returning off the bye or already having had their bye, our top priority to target is:
Joel Smith
Mason Redman
Paul Ahern
Dylan Clarke (if named)
Ballard/Kerr
We switched around Joel Smith and Redman from our post from last week, mainly due to the fact that we do like Smiths' job security more.
FOLLOW US ON TWITTER:@TheMilkmenDT specialising in cash cow selections but still here to talk all things AFL fantasy.