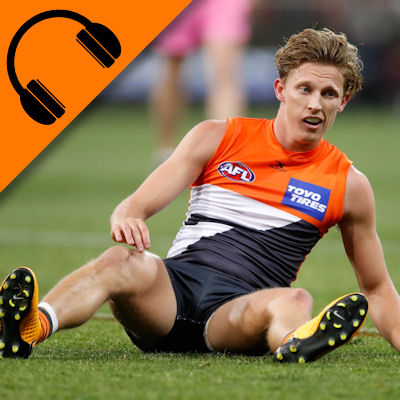 Tom Mitchell. He's the most popular player in AFL Fantasy Classic and, quite unbelievably, he went up $45,000 from an already ridiculously high starting price. Scores of 156, 137 and 148 meant that he was the set-and-forget captain option for the year.
That was until Sunday afternoon.
Melbourne sent Nathan Jones to the most recent Fantasy Pig to be snouted and unfortunately, he was held to 83 points at his sty, the MCG. The tag was an issue for Mitchell as he wasn't able to score as freely as he did last season and during the opening three rounds.
This week he comes up against Ben Jacobs. The North Melbourne stopper accounted for Patrick Cripps (76) last weekend and held regular 100 plus scorers Clayton Oliver (88), Seb Ross (91) and Jarryd Lyons (84) to modest totals.
Cash cow Bailey Banfield is not only racking up solid scores himself, but restricting others. The Docker spent time on Lachie Whitfield in round four, restricting his influence at half-back to a score of 66. Previously he held Zach Merrett to 78 and Aaron Hall to 14.
Geelong's Scott Selwood is always a worry when he matches up on one of your gun midfielders. Port Adelaide have had Brad Ebert and even Tom Rockliff play negating roles this year.
Will we need a new skipper for round five when Jacobs takes on Mitchell? 64 per cent of the competition will need to tune into what Calvin has to say on this week's episode of the Official AFL Fantasy podcast as The Traders talk taggers.
Also in this week's podcast:
News from around the grounds, including Magoos News
Trade tips for round five
Your questions answered
Click here to subscribe on iTunes. (Please leave a rating and review to help us move up the charts).
Round 4 Fantasy Classic Winner
Andi Xu's team, "Drug Dealer"
Fantasy Points FOR and AGAINST (season)
CLUB
PTS
FOR
>100
FOR
>120
FOR
PTS
AG
>100
AG
>120
AG
ADE
1659.3
4.5
2
1530
3.3
1.5
BL
1465.5
1.8
0.3
1610
3.5
1.8
CAR
1442.3
2.5
1.3
1639.8
3.5
1
COLL
1649.5
4.5
1.8
1523.5
2.8
1.3
ESS
1528.3
2.8
1
1621
3.8
1.5
FRE
1560
3.8
0.8
1628
3.5
1.3
GC
1529
2.3
1
1583.8
3
1.3
GEE
1594
3.8
1
1479.8
2
1
GWS
1686
4.5
1.8
1522.8
3.3
0.8
HAW
1568.8
2.3
1.3
1517.5
3.5
0.5
MELB
1529
3
1
1521.5
2.5
0.8
NM
1498.5
2
0.3
1547.3
2
0.3
PA
1617.3
2.8
0.8
1526.8
2.3
1
RICH
1468.8
1.8
0.3
1570.5
2.8
1.5
STK
1558.5
2.8
1.5
1623.8
3.5
1
SYD
1518.3
2.3
0.8
1584.3
3.3
0.8
WB
1589.5
3.3
0.8
1551
3
0.3
WC
1621
3.5
1
1502.5
2.5
1