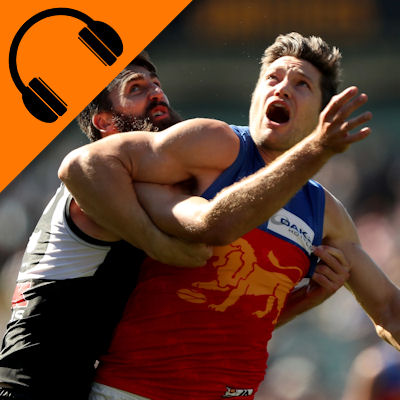 Brisbane Lions ruckman Stefan Martin is the toast of AFL Fantasy coaches this week. The big man is behind Max Gawn, Nic Naitanui and Brodie Grundy on the ownership table however, the 16 per cent of coaches who backed him in are stoked with his output against a ruck-less Port Adelaide.
Martin finished with 49 hitouts (Justin Westhoff won 15 as the Power's ruck) and added 30 disposals, seven marks and seven tackles to his stat line to post a career-high 177 Fantasy points on Saturday afternoon at Adelaide Oval.
It appears that rucks coming up against Port Adelaide are in for a field day.
Click here to see Fantasy points conceded by position.
So far Aaron Sandilands (111), Callum Sinclair (93) and Martin (177) have enjoyed playing the Power while Patrick Ryder is on the sidelines. The Saints and Cats are also clubs that you can expect your ruck to score well against based on the data from the opening three weeks.
Solo rucks is where it's at in Fantasy. You want your ruckman to go about it alone.
At the start of the season there was some trepidation around picking Grundy with Mason Cox in the side. Cox has played two of the three games (he was suspended in round two) and Grundy is the top scoring ruck thus far. Cox has been playing as a deep forward with limited time on the ball.
Melbourne and Brisbane Lions have conceded the least amount of points to rucks. Gawn and Martin have been dominant – although they nullified each other in round two – winning the majority of hitouts and collecting ball around the ground.
Also in this week's podcast:
News from around the grounds, including Magoos News
Trade tips for round four
Your questions answered
Click here to subscribe on iTunes. (Please leave a rating and review to help us move up the charts).
Round 3 Fantasy Classic Winner
Ashley Simpson's team, "Master Clashers 223"
Fantasy Points FOR and AGAINST (season)
CLUB
PTS
FOR
>100
FOR
>120
FOR
PTS
AG
>100
AG
>120
AG
ADE
1705.7
4.7
2.7
1487.3
2.7
1
BL
1481
2
0.3
1636
4
2.3
CAR
1490.3
3
1.7
1628
3.3
1.3
COLL
1646.7
4.3
1.3
1524.7
2.3
1.7
ESS
1488.3
2.3
0.3
1674
4.7
2
FRE
1592.3
4
1
1583
3
0.7
GC
1595
2.3
1.3
1515.3
2.3
0.7
GEE
1597.7
4.3
1
1484.3
2.3
1
GWS
1660.3
4.3
1.3
1542.7
3.3
1
HAW
1532.7
1.7
1
1554
3.7
0.3
MELB
1569.3
3
1
1469.7
2
0.3
NM
1439.7
1.3
0.3
1630.3
2.3
0.3
PA
1669
3.3
1
1486.3
1.7
0.3
RICH
1447.7
1.7
0.3
1621
3.3
2
STK
1589.3
3.3
1.7
1637.3
4
1
SYD
1567.3
2.3
1
1552
3.3
0.7
WB
1559
3.3
0.7
1611
3.3
0.3
WC
1565
3
0.3
1559.7
2.7
1.3