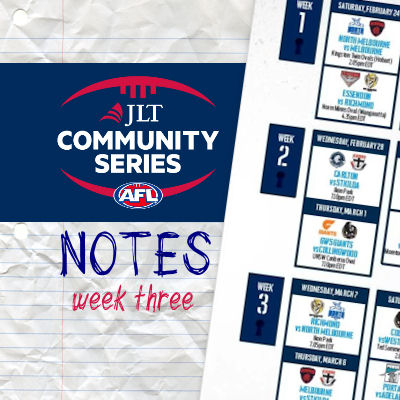 The DT Talk team will update each game of the weekend with our notes from them.
Richmond v North Melbourne – Ikon Park
Wednesday 7 March – by Calvin
Click here for DT Live stats/scores.
Wednesday night football. What a way to kick off the final round of the JLT Community Series.
Firstly, we need to understand that these games are FULL length quarters. The only difference is the amount of players that are used and of course there are way more than normal.
North we're smashed in every department… except for disposals. "High possession North?" I hear you say… we'll yes.
They controlled the ball well (at times) and as a result of this, they had a few players who racked up.
In fact, even though they were 40+ points down with a quarter to go. The four leading players for disposals were Kangaroos. With Shaun Higgins (MID, $665,000) and Jamie MacMillian (DEF, $475,000) leading the way with 21 each. They went on to score 123 and 87 respectively and were pretty bloody good despite the scoreboard. Higgins once again being a pre-season specialist.
Jack Ziebell (MID, $662,000) had heaps of it early and sat on 50pts early into the second quarter. He went on to score 94 and only carries 0.25% ownership. He averaged 94 last year.
The other one in the four was Ben Cunnington (MID, $660,000). 99pts from 77% TOG was pretty solid. He averaged 88 last year and if North were any better… he'd be a red hot chance to push the triple figures this year.
Mid-priced option Ryan Clarke (DEF, $484,000) didn't impress early. He had 17 next to his name at the half and was barely unsighted. He got busy late finishing the game with just 76 thanks to 6 marks.
Sadly Luke Davies-Uniacke (MID, $264,000) disappointed again. This is a tough call on the kid but he played plenty of midfield minutes with stints up forward and didn't get the job done for his Fantasy coaches with a score of 46pts from 76% TOG despite having… 17 touches. He failed to fill the other stat lines and the 12 handballs certainly didn't help. Coaches will be shopping elsewhere now I'm tipping, despite his ability and the job security he has.
Todd Goldstein (RUC, $610,000) only has 2.1% coaches on board and after tonight that might change. At $90,000 less than Sam Jacobs, Goldy was big early before hitting the pine to let Pruess have a run. Goldy had 55 at half time against Nankervis and was great from his 42% game time for 65pts. BANG!
The one that caught my eye was Ben Jacobs (MID, $243,000) who is in the Kangaroo's best-22, without doubt. He will tag! He tagged tonight but not overly hard. At stoppages he would stand next to Dusty or Cotchin but after that, that was it. It wasn't a run with role… but it will be.
He got off to a flyer and scored 30 in the first term which got me interested. After that… he diminished badly and ended the game with a score of 60 from his 76 % game time.
Even though he's rookie-priced, he missed 2017 due to injury but here are his scores from his 7 games of tagging in 2016.
25, 30, 70, 38, 57, 63, 62 = avg. 49
Yes, he's still best-22, but if he does hard tags, he could be a headache (but then again, he's at a rookie price).
Mitchell Hibberd (DEF, $235,000) was solid enough if he is named round one. He scored 32 in the first half and finished the day with 11 touches, and 38 points from 48% TOG. He played four games in his debut season with one good score in there of 87 from 22 touches.  The concern here is the minutes he played. Do they want him? Will he be named round one?
North Melbourne @AFLFantasy grades:
Higgins ?
Cunnington ✅
Ziebell ✅
Goldstein ?, ?
Preuss ?, ?
Williams ?, ?
Clarke ?, ?
Jacobs ?, ?©️?
Hartung ❄️
Davies-Uniacke ?, ?
Hibberd ⏱, 2️⃣2️⃣❓

— Tbetta (@Tbetta9) March 8, 2018
Finally, Dustin Martin (MID, $800,000)… for those who didn't see the game…. Relax. He was in second gear and really just cruised around in the thumping win.
In fact, he sat down with 12mins to go in the game. He was trying to give off goals he'd usually eat from breakfast. So… if you are an owner, disregard his 61 (71% TOG) because he was in "Swanny Mode" out there tonight and will be fit and firing come round.
ADDED PART FOR TIGER FANS
Here is an added part for the Richmond fans who think that I neglected their precious Tigers players. Honestly, it's laughable that I'm dirty from them beating the Crows, they just don't have many players relevant in Classic and a few that might be drafted.
To be critical and abusive in here, about a Wednesday night JLT game because I didn't mention a player you like is pathetic. Have a look at yourself… anyway, I've put together this and hopefully you aren't too upset to read it. My sincere apologies, I should have mentioned more… please forgive me.
Toby Nankervis was solid for his 108. Still… he is not relevant in Classic and only should be slightly bumped up your rankings in Draft. I actually like Nank. Go you legend.
Lambert had 107, but in that he needed 4 goals and some of those were 'lucky' and very much uncontested against a team they absolutely flogged. He scored 2×100+ scores in his last 11 games last year and just like Nank, he is only relevant in Draft.
Short didn't score a single ton last year, in fact his highest score was just 85. He ended the year with scores of 56 and 49 and didn't even play a game in the finals. He scored 105 tonight and is not an option ion any format of Fantasy. For those considering him, he's at $398K in defence … good luck with that.
Caddy managed 88 from a full game and backed up a solid first JLT game. An option? Not for me, maybe a Draft pick up but that wouldn't be till the later rounds. He could average 80 but only clocked up 1×100+ score last year and scored 69 and 60 in his last two finals.
From the others, Cotchin (70) and Ellis (66) both struggled, however, Shai Bolton was impressive early at a rookie price $241,000. I'm sure he'll be best-22, but this spot will be a week to week prospect. He scored a flashy 54, which could have been much better and then again… much worse. He started on fire and then went missing as the game went on. He still remains an option, I like the kid, but obviously comes with slight risk.
Richmond @AFLFantasy grades:
Nankervis ?, ?
Cotchin ?, ✅?
Martin ?
Lambert ?, ?
Caddy ⚠️⛷
B. Ellis ?, ?
C. Ellis ?, ?
Soldo #️⃣2️⃣?, ⏱, ?
Short ?, ?
Graham ⬆️?
Bolton ??‍♂️

— Tbetta (@Tbetta9) March 8, 2018
Melbourne v St Kilda – Casey Fields
Thursday 8 March – by TriggyWiggy
Click here for DT Live stats/scores.
Melbourne and St Kilda played out a high scoring affair at Casey Field on Thursday night, in a game that gave us a good look at fantasy relevant players in all positions.
Melbourne were on top for the majority of the game, except during the third term when the Saints came back to lead at one point, but in the end the Demons showed  greater strength thanks to a dominant performance from their big man Gawn.
Max Gawn (RUC, $605,000) was huge tonight, perhaps inspired by the fact it is Warnie's Birthday! He is probably a must at his price in the ruck. His game high 118 came from his complete dominance in the ruck wining 43 hitouts, and at times he went forward and made his presence felt despite not scoring any goals. If you haven't got Gawn in your ruck, what are you doing?
Mr Consistent, Clayton Oliver (MID, $715,000) has the ability to find the ball at will and if  he can find a way to actually tackle and get some kicks, and marks he could be a Pig down the line, but for now he has had an impressive pre-season and was impressive with his 83 today on the back of his 83 last week. The thing I liked the most was that instead of being put on the bench for a rest, he was allowed to float forward and get extra points by scoring two goals. He could be a great option if you are looking for a unique midfielder.
Playing off Half-Back Michael Hibberd (DEF, $652,000) did enough to lock himself into those teams who had him. Whilst he wasn't his usual junky best only scoring 67, he still managed to find the ball more than 20 times, which is enough for him to get decent scores if it was during the season. Keep in mind teams aren't that bothered about holding the ball in pre-season to see out games.
Mid-pricers Petracca (MID/FWD, $500,000) and Brayshaw (DEF/MID, $462,000) were impressive for their 86 and 89 respectively, and both  got time through the middle. Petracca perhaps stands out as the better option of the two racking up 15 contested disposals for the game, showing that he is playing extended time as an inside midfielder.
Cameron Pedersen (RUC/FWD, $587,000) was consistent without being amazing. He managed to score 70, but didn't show anything that would make him a must consider in our forward lines, and whilst Melksham (FWD, $506,000) exploded in the first quarter with 42 points he went missing for the remainder of the game, which will most likely happen during the season, as it has done in the past.
Corey Maynard (MID, $412,000) could present himself as a decent mid option for those not completely sold on JOM. He attended 22 centre bounces, and recorded 80 from only 65% TOG, on the back of his 57 from 67% TOG last week. If he is given more game time, he could certainly mature into a decent midfielder this season.
With the complete lack of forward options  Bayley Fritsch (FWD, $210,000) has found his way into almost 20% of teams, and his 52 off 64% game time did enough to warrant his place on the field if named in Round 1 considering the lack of rookie options up ground. Simon Goodwin also stated post game that Fritsch is almost certain to start Round 1.
Melbourne @AFLFantasy grades:
Gawn ???
Tyson ?, ?
Oliver ?
Vince ?, ?
Jones ?❓, ?❓
Hibberd ✅?
Brayshaw ?, ?
Petracca ?, ?
Hogan ?
Maynard ?‍♂️, 2️⃣2️⃣❓
Melksham ⛷
Fritsch ?, ?

— Tbetta (@Tbetta9) March 9, 2018
St Kilda at times looked very impressive, as a big batch of players stepped up to show their fantasy relevance.
Jack Billings (FWD, $666,000) was probably the player that most fantasy coaches would be watching this game. He did well enough to justify picking him in the forward line with 82 points, 1 goal and  25 disposals. Whilst the most expensive Saint in Seb Ross (MID, $718,000) did his usual stuff with 93 points from 29 disposals, 12 of which were contested as he showed up almost everywhere around the ground, and Jack Newnes (MID, $621,000) also performed with 78 from 74% game time. Both players should be in for decent seasons once again, Newnes probably being less fantasy relevant now with his MID only status.
Jack (Seriously do the Saints only recruit Jacks?) Steven (MID, $661,000) suffered an ankle injury late on in the third quarter after Melksham landed on his foot, which is disappointing as he was tearing the game apart with a score of 90 despite only playing 48% of the game. He should hopefully be ok though, as he was putting his weight on the ankle shortly after coming off and should be alright in 16 days time for Round 1.
David Armitage (MID, $459,000) looked to be playing in the midfield, but at times looked off the pace. At his price he could still be a decent option though and 74 from a limited 65% game time is a decent score. He didn't scream out as a must have, but keeping in mind his price tag he has to be considered as an M6 or M7.
Roberton (DEF, $636,000) did his usual stuff, and was around when it came to getting some junk, and could be a decent option for those looking for a more unique defender after his 84. Keep in mind he plays Brisbane Round 1 who he averages 117 against. Another more unique option down back is former Hawk Shane Savage (DEF, $578,000) who scored a team high 110 off the back of a massive 20 fantasy friendly kicks and the defender finds himself in less than 700 teams despite playing what looks to be a very fantasy friendly role.
Jack Steele (MID, $654,000) continued off where he ended last year with 109. He also appeared to finally be getting his match fitness up playing 91% of the game. It remains to be seen if the presence of Armitage in the team full time will push him forward though, but from today it didn't look that way.
There were two rookies worth following in the Saints team today. Nicholas Coffield (DEF/MID, $256,000) didn't do his chances of playing R1 any harm with 17 disposals and a decent 60 from 75% time on ground. Hunter Clark (MID, $258,000) showed some slick skills at times, but I don't believe for his price range, and considering the other options in the midfield that he will be 100% fantasy relevant after only touching the football 8 times in 69% game time.
St Kilda @AFLFantasy grades:
Steven ?, ?⛑
Billings ?
Ross ✅
Armitage ?, ⏱, ?
Steele ?‍♂️
Stevens ?, ✅
Savage ?,?, ?
Roberton ?, ?
Acres ?, ?
Hickey ??‍♂️, #️⃣2️⃣?
Coffield ?, ?
Clarke ?2️⃣2️⃣❓

— Tbetta (@Tbetta9) March 9, 2018

Sydney Swans v GWS Giants – Blacktown
Friday 9 March – by Dunny
Click here for DT Live stats/scores.
This game had a ton of fantasy relevance (as evidenced by the number of players I was asked to watch) and thankfully it was a reasonably close contest for most of the game. The game definitely went in waves but it was the Swans who finished up on top, but had it not been for some poor kicking for goal the Giants could easily have won this one. But really the result isn't what matters for us here now is it, I was just glad it was at least a contest!
The Swans had a number of contributers on the night and shared the ball around well which meant there was a good spread of scorers for them on the night. They were missing Hannebery, Grundy, Sinclair, Naismith and Rampe from their squad.
Luke Parker(MID, $636,000) had a slow start to the season last year, this year he is benefiting from a full preseason and was clearly the best on ground. 18 kicks, 8 handballs and a couple of goals was a great night out for him. With Hannebery out of the side he assumed the load in the midfield and loved it! I can certainly see this form extending through into the season and him hitting that form he showed last last year from round 1.
Lance Franklin (FWD, $677,000) played up the ground for most of the night leaving the goal square to Sam Reid and the resting ruckman most of the night. He was pretty even with his contribution across the night with 19 kicks and 0 handballs! Often overlooked but he can score and score well, avoid him all season at your peril.
Robbie Fox (MID, $284,000) had me sitting up and taking notice as he put in 32 points in the first quarter, but he only went on to score a further 43 across the rest of the night. Now, if he is going to come out and score a 75 each week for you then he is certainly worth picking up. My concern is that when guys like Rampe and Grundy return to this side, will he have that same role across the backline (or will he make the best 22 even?).
Nic Newman (MID, $610,000) had a great night with 12 marks and 27 possessions to be the second top scorer on the ground for the night, but was he benefiting from not having Hanners in the team? He did look great with that same level of form we saw from him last season when he was allowed in the team. Either way, despite his big score I think there are a lot of other better options at that price that are tried and tested.
Isaac Heeney (MID/FWD, $649,000) was good for the first three quarters and on his way to a 100+ score, but did only have the 8 points in the last. He also only played 70% game time which you would think is a little low from where he will normally be. Still looked very solid and well worth the selection up forward in your side.
Jake Lloyd (DEF, $649,000) was good without a big score, he only played 62% game time for his 75 points. As with Heeney, this is a low tog for him and we should expect him to be pushing the 90+ scoring range each week. Of his 21 touches, two thirds of them were kicks which shows a very fantasy friendly game.
Darcy Cameron (RUC, $170,000) started as first ruck and was given every opportunity to show that he belonged there and that with the other ruck injuries he was the man. But sadly, he didn't do that. Just the 6 hitouts and 8 touches (two of which came from free kicks) for 28 points. The even more disappointing part was that he wasn't up against one of the big name rucks either and was being monstered by Dawson Simpson. He retains a spot on my bench, but only because he is one of the cheap rucks that might actually get some game time, nothing more than that.
Zac Jones (MID, $556,000) had a good return from his knee injury putting in 82 points from his 56% time on the ground.
Oliver Florent (FWD, $272,000) had a pretty good night with 15 touches for 59 points. But not sure he did enough to make me want to select him at this stage.
Callum Mills (DEF $488,000) played just the 74% game time for 22 touches and 74 points, If he can continue going at a point per minute and pushes that game time up to the high 80's then he is probably worth the risk, but as with Fox, there are a couple of more senior guys coming back into that backline.
The Giants seemed to struggle to be able to stop the Swans when they were going forward and apart from a very angry Phil Davis there wasn't a great deal of resistance most of the time. The Giants were missing Griffen, Setterfield, Scully, Hopper and Lobb from what would be their best squad.
Stephen Coniglio (MID, $663,000) had a great first quarter with 37 points, but went missing in the second before working his way back into things in the last half. He looked very good and was the link up man through the middle providing run and carry. Whilst this is a role that I would expect Scully to play going forward he was still very polished and looks to be over his injury worries.
Lachie Whitfield (MID, $690,000) was big in the second half but really had an all round great game with 29 touches to go with a goal. He led the way comfortably for the Giants and would be a good unique selection if you wanted to do it. There are some big names around that price point, but Whitfield will soon be part of that conversation.
Josh Kelly (MID, $795,000) didn't really stand out to me despite having 26 touches, he just went about his business scoring 19 or more in each quarter. He was just workman like in the way he went about it. I expect this to be the basement score we can expect from him each week as he looked to have another gear to go to once the season proper starts.
Jeremy Finlayson (DEF/MID $170,000) is a player I was hoping to see a big night from given our lack of rookie depth down back. He put in 12 touches from 83% time on ground that netted him just 43 points. He did some good things and his efficiency at 75% would have pleased the coaches, but I just don't know if he did enough to keep his spot for round 1. I really wanted to see a 60+ score from him to feel secure. If he is named round 1 I think he will still be in my side though.
Lachie Keeffe (DEF/FWD $170,000) was copping a bit of heat in the chats I was keeping an eye on during the game, but it turns out he actually played in the NEAFL curtain raiser to this game then had cooled down and was asked to suit up for this game! To me that shows that he probably isn't too far off getting a call up if they think the can do that. He spent the first quarter on the bench (understandably) but came on after that and ended up with 47 points from just 45% time on ground (22 of them in the last quarter). Once again, if he is named round 1 then I would strongly look at picking him up on that performance with those circumstances.
Heath Shaw (DEF, $565,000) was disappointing I thought. Just 56 points from his traditional kick heavy game (16:1). He did give away three free kicks, but importantly for me, he didn't take every kick out which is what we would normally see. I think that his price and what we have seen in the pre-sesaon tells me that he is a risk to be in your side. (sorry Warnie).
Toby Greene (FWD, $644,000) got through the game without being reported which is always a concern for him. But seriously though, 70 points from just 48% time on ground is the real story here. 16 touches and a goal in that short time and he looked very good too. If you are planning to go into the season with him I think he will reward you handsomely.
Zac Langdon (FWD, $170,000) was put together a very tidy game with 49 points from 75% time on ground. This was even more impressive given that he did come from the ground in the second quarter with what looked to be a fairly bad shoulder injury. He may just have done enough to get a round one spot.
Collingwood v Western Bulldogs – Moe
Saturday 10 March – by Matt
Click here for DT Live stats/scores.
At this stage of pre-season every game is Fantasy relevant, and this one was no exception.
The Bulldogs got off to a flyer kicking 6 goals to one in the opening term. This was highlighted in some of the quarter time scores, because after the first break it was all Collingwood. The Fantasy scoring reflected The Pies dominance in the match, scoring 1665 points to The Dogs 1407. Keep this in mind before you lock players in or write others off. Onto the important stuff, who caught the eye?
A few people have been stumped as to why Collingwood traded a second round draft pick for Sam Murray ($170,000 DEF), who has been spending most of his career playing NEAFL for the Swans. Not anymore. It's clear that Buckley had a plan in mind for him and he thrived off half-back. He ended with 24 disposals (16 kicks), 9 marks and was a driving force from the back 50. Murray ticked every box possible and is surely in line for a Round 1 debut. You may not have heard of him, you may not even know what he looks like… Just pick him. Potential Nic Newman V2.0.
Adam Treloar ($761,000 MID) was back to his tackling best and should reward those picking him with another great season. Whether he can break through that 110 mark is still unclear to me, but he's a safe pick. He dominated with 13 clearances amongst his 20 contested disposals and 14 tackles, he's raring to go.
Pendlebury ($767,000 MID) and Sidebottom ($745,000 MID) are 2 guns that shouldn't be judged on their pre-season form. Pendles scored 49 from 50% TOG before putting the feet up, while Sidey looks as fit as ever. Can't go wrong with these guys.
The biggest concern for Brodie Grundy ($748,000 RUC) is the 6 ft 9 problem who goes by the name of Mason Cox ($418,000 RUC, FWD). If you were hoping that Cox might falter and miss Round 1 selection, dream on. Cox even outscored Grundy today, cracking the ton with 12 disposals, 8 marks, 19 hitouts and 4 goals. I'm not saying you should consider him for even a second, however Grundy won't be solo rucking. He'll still be good, but the Cox effect is real.
What role will Taylor Adams ($808,000 MID) be playing this season? Unfortunately that question wasn't really answered today. Nick Maxwell was suggesting that he'll certainly be playing off half-back, but he attended 17 centre bounces and found himself playing through the middle for large parts of the game. It may have to do with Sam Murray's inclusion in the back 6. Either way he will score well, strolling to 85 points from 78% TOG. However the DPP possibility may not be as cut and dry as we first thought. Given he had the second most CBA's for the Pies, classifying him as a 'defender' may be a stretch.
Jack Crisp ($622,000 DEF) was disappointing, scoring 60 from a full game. He will score well this year and average in the 80's, but I didn't see anything to convince me he can step up and become a consistent 90+ average defender. Murray stole a lot of his footy.
Jaidyn Stephenson ($260,000 FWD) shows glimpses of brilliance and I think he'll be selected in Round 1. However he's stuck in the forward half for the Pies and I'm not sure he can average more than 50s. You'd only pick him if there's a serious shortage on forward rookies, you're only paying for job security.
Callum Brown ($285,000 MID/FWD) wasn't a player on my initial watchlist however his 11 disposal second quarter caught the eye. He was quiet for the rest of the match and only ended on 64 points, but may have done enough for Round 1 selection. Even though he's expensive, we're not blessed for forward rookies with scoring potential. Interesting to note that Brown attended 14 centre bounces, of course Pendlebury was missing for a lot of the game. Consider.
As far as the Doggies are concerned I had one question to answer for my own squad, Toby McLean ($603,000 MID, FWD) or Luke Dahlhaus ($624,000 MID, FWD)? It wasn't really answered, perhaps the answer is neither. However if I had to pick a winner it was Mclean. He started like a house on fire, storming to 36 at QT on the back of 11 disposals playing as a mid. He ended the game with 13 CBA's and is a breakout contender, but if you owned him last season you'll know he can go missing. It happened again today during Q2 and Q3. Toby ended with 26 disposals and looks ready to take the next step, whether he can push his average close to 100 is an entirely different question. Dahlhaus was a tackling machine today with 9 hugs, but I saw a lot of signs suggesting he'll be in for a similar year to 2017. An average of around 90 seems about right.
Marcus Bontempelli ($706,000 MID) is all class and will be brilliant again in 2018. Don't judge him based on his game today, he looked good as always. Jack Macrae ($732,000 MID) was everywhere collecting 27 disposals, but only returned 75 points from 81% TOG. Back yourself in, he's a great POD and a great Fantasy scorer. Tick.
The biggest note added to my cheat sheet from this game is next to the name of Tom Liberatore ($507,000 MID). He hasn't been in my team at any stage and I needed to see proof of his return to form and fitness. Wow, I saw it. He had 28 disposals (16 contested), 7 clearances and surprisingly only 4 tackles for 96 points. He had the most CBA's for the Bulldogs with 22 and importantly ran out the full game (87% TOG). Libba ticked every box. Are you brave enough? An average of 100 is on the cards.
Jason Johannisen ($535,000 DEF) did nothing to put off the coaches brave enough to select him scoring 80 from 21 disposals. He was dangerous as always playing off half-back and pushing up onto the wing. Of course tags are the only question for JJ, given it was so successful last season there's no reason coaches would let him run free and dominate. He's too dangerous.
Aaron Naughton ($254,000 DEF) is now pretty much a lock for a Round 1 debut. He was extremely impressive taking 8 marks including 3 contested, looking very composed in defence. He's ready for senior footy and I think he can average 60. You're paying a premium but he will make you $$$!
Bailey Williams ($437,000 DEF) and Hayden Crozier ($467,000 FWD) both played off half back and looked solid before going missing in Q4. They're great late draft options if your league goes deep into the player pool, but I'm not sure they'll score well enough to justify selection in Fantasy. An average of 75-80 is their ceiling.
Are you ready for some JLT madness? It wouldn't be a pre-season game without a generally average player sucking coaches in. Coaches like me. I loved everything Jackson Trengove ($446,000 FWD) did today. Of course Jordan Roughead ($483,000 RUC) is his competition, and he went down with a nasty looking injury at the start of Q2. Keep your eye on how he's progressing, because if Trengove is the sole ruck then lookout. Remember when Stefan Martin was a dirty name? We can thank Leuenberger and Trent West for getting injured because otherwise Stef may never have played his best footy. It's a MASSIVE stretch I know, but Trengove had 24 disposals including 9 clearances for his 100! He was outplayed in the ruck which is admittedly a big concern, seeing as his first job is to be a ruckman… Just don't rule him out. FYI: Trengove averaged 93 in 7 games as a solo ruckman for Port in 2016.
Josh Dunkley ($517,000 FWD) has tempted a few but he's playing mostly as a pressure forward and is unlikely to win enough of the footy to justify selection. He had 11 possessions to go with his 8 tackles today.
Be wary of Matt Suckling ($552,000 DEF) in your draft leagues, when playing up forward he tends to look lost. The Dogs can't seem to figure out where they want to play him, avoid.
Port Adelaide v Adelaide – Alberton Oval
Saturday 10 March – by Tom
Click here for DT Live stats/scores.
Pre-season or not, a showdown never fails to excite the city of Adelaide. It may have just been a practice match, but I guaranteed both sides would've been very keen to get an early victory against their arch rivals. And on a warm Saturday afternoon at Alberton Oval, I was keen to see a good game of footy, after taking the long and potentially dangerous trek to the Port, decked out in blue, gold and red.
I'll kick things off with a look at some performances on the losing side. The Crows and in-particular Darcy Fogarty were on-fire early on, taking a strong 26-point lead into halftime on the back of three goals from the clubs first round draftee. However the Grand Finalists tired after the long break and the Power simply ran over the top and kicked away for a reasonably comfortable victory at home.
Off the back of a fresh cut, Bryce Gibbs (MID $790,000) snuck forward and snagged two majors to go with 20 disposals (12 kicks, 8 handballs), 7 tackles and a mark to finish with 92 Fantasy points from just 65% time on ground. The prized recruit was a touch fumbly at-times today, but looks terrific in Crows colours and will again be up there with the leading Fantasy scorers. Gibbs' ability to play off half-back, in the guts, along the wing and even up forward will prove to be a real weapon for Adelaide. Rest assured, Bryce will score well in any position.
Rory Sloane (MID $754,000) spent just 63% time on ground for a return of 9 kicks, 9 handballs, 3 marks, 6 tackles, a goal and 87 points. He'll face a battle with Matt Crouch and Bryce Gibbs for the leading Crows point-scorer. In what could potentially be his final year in the hoops, Sloane will be ready to roll at Etihad on Friday night, week one.
Just a standard 27 touch outing from Matt Crouch (MID $752,000) this afternoon. Unfortunately his kick:handball ratio (10 kicks, 17 handballs) will always slant towards the latter, however he is again expected to post a season average of 105+. The guy is a jet and should be strongly considered.
Put simply, Rory Laird (DEF $707,000) should be in everyone's starting sides. He was one of many Crows to handball more than they kicked this afternoon. Nevertheless, finished with 23 touches, 4 marks, 1 tackle and 66 points from 73% time on ground.  
Sam Jacobs (RUC $700,000) was beaten by Paddy Ryder today, ending the outing with 31 touches. He could only manage 8 touches and 2 marks and failed to really provide much. Suggest his chemistry with the Crows premier on-ballers will be critical to their premiership tilt.
Darcy Fogarty (MID/FWD $248,000) was brilliant early on, kicking three first half goals. Quite simply, Fogarty put Josh Jenkins to shame today. He presented well on the lead and was able to get on the end of a number of forward 50 entries. He finished the day with 10 kicks, 4 handballs, 8 marks, 2 tackles and 86 Fantasy points from 72% time on ground. Spent time in the backline in the second half which hindered his statistical impact. Darcy will certainly be in contention to feature against Essendon in round one. Would expect him to be included if Tex misses.
Looking comfortable against small and tall opponents, Tom Doedee (DEF $170,000) looks very likely to make his debut in the opening round, having put forward another strong performance. Only managed 33 points today from 83% game time (albeit 2 kicks and 10 handballs) which suggests his Fantasy output won't be massive. However his job security looks solid enough to earn a spot in your squad, either at D5/6 or on the bench.
Lachlan Murphy (DEF $170,000) has defender status but  played up forward throughout the majority of the pre-season outing. Didn't kick a goal today, but his speed, defensive pressure, quick hand-balling and toughness around the contest could see him fill the role of the departed Charlie Cameron.
Recruit Sam Gibson (MID $582,000) led all comers for the Crows, ending the JLT3 clash with 104 Fantasy points from 27 disposals, 7 marks, 2 tackles and a goal in 77% TOG. I'd certainly be in favour of Gibbo replacing David Mackay in the side, however I'm not sure Don Pyke will agree.
As far as the Power was concerned, Brad Ebert (MID $724,000) laid a standard 7 tackles, along with 17 disposals, 6 marks and 85 points from 80% TOG. Ebert isn't on many coaches radars, but he should push toward a 100 point avergae on the back of continued high tackle numbers.
Ollie Wines (MID $703,000) handballed more than he kicked today, but was certainly not the only one to do so. He concluded the days play with a perhaps slightly below-par score of 68, but will be good for another strong year. Chad Wingard (MID/FWD $649,000) was extremely impressive, particularly in the first half, ending with 15 disposals, 4 marks, 1 tackle and a pair of majors for a score of 66 from just 45% TOG. He sat out the final quarter and is one who certainly jumped onto my watch-list for a potential forward line spot.
Paddy Ryder (RUC $646,000) easily got the better of Sauce Jacobs today, with 36 hitouts, 11 disposals, 4 tackles, 1 mark and 86 points from 76% TOG. His impact around the ground was far superior to his Crows counterpart and looked typically classy all game.
Justin Westhoff (MID/FWD $585,000) isn't going to be a popular selection, however he certainly made a strong case for a watchlist spot today. Opposed to Tom Doedee for parts of the day, 'the Hoff' was just about best on ground, finishing with 27 touches, 6 marks, 2 tackles, 1 goal and 109 points. With the lack of forward line options this year, the veteran should be watched.
The second-half belonged to Jack Watts (MID $531,000) who put up a significantly improved effort from the clash with West Coast. The former-Demon slotted four majors after half-time for a total of six. He collected 17 disposals, 5 marks, 3 tackles and managed his first ton as a Power player, with 103 fro, 81% time on ground. Marshall allowed Jack to get free on multiple occasions and he capitalised on the opportunity. Not sure I'm brave enough to get him in at this stage.
Dom Barry (MID $170,000) is making a strong case for round one selection. He amassed 10 kicks, 5 handballs, 3 marks and 51 points from 67% TOG to back up a terrific outing against the Eagles in JLT1. Would suggest he has done all he can to put his name forward.
Unfortunately for the Power, half-back flanker Jasper Pittard (DEF $541,000) succumbed to a hamstring injury which will looks set to sideline him for 2-3 weeks, meaning he will miss the round one clash with Fremantle at the Adelaide Oval. However this opens the door for Dan Houston (DEF $511,000) who was outstanding today. Houston mopped up across half-back nicely, amassing 14 kicks, 10 handballs, 6 marks, 1 tackle and 85 points from 78% TOG. However his awkward price will put many off.
Hawthorn v Carlton – UTas Stadium 
Saturday 10 March – by Sparksy
Click here for DT Live stats/scores.
I don't know how I manage it, but I seem to get stuck with the absolute stinker of a game every week in these write-ups. Nonetheless, on the way home from a day of bushwalks and swimming in lakes I managed to catch the majority of the Blues vs Hawks putting on an atrocious excuse for a game for what looked like 13 people at UTAS Stadium. Whilst there were some good Fantasy numbers, the overall skill level was well down and Carlton let Hawthorn get away with way too much before finishing them off, much more than a decent team would allow, and I believe this may have added to Hawthorn's Fantasy numbers by a fair bit, so take that into account.
I'm going to begin with Hawthorn, and what I love about watching my own team play is that no matter how badly we play there will always be one massive positive to take from the game. That positive is named Tom Mitchell (MID $896,000 BE 127) and boy do I love him. If you are part of the 50.59% that don't own this beautiful pig, get your life together or hit the delete team button. I don't care if he costs you one billion dollars, he is worth every penny and you just can't afford to miss out on those points early. In this JLT game he managed 125 points from 87% TOG and that's without even trying. The biggest lock in the league.
One player I dropped from my team this week but probably need to find a spot for is Tom's best Midfield buddy Jaeger O'Meara (MID $438,000 BE 62). JOM looked total class out there, despite being his usual handball-happy self, and managed a tasty 85 from 78% TOG including a beautiful 8 tackles. I didn't drop JOM for not impressing, just because my team looks better without him, but I truly believe you can't pass him up.
The other Classic-relevant player from the Hawks in non-other than roaming half-back James Sicily (DEF/FWD $523,000 BE 74) and he had an extremely up and down game. Sic managed a reasonable first half, with 52 points at half-time, before an undisciplined, Jed Lamb effected second half gave him just 19 points to finish on 71 from 88% TOG. Honestly, if you're an owner like me I wouldn't be worried too much, the Hawks were very fumbly tonight and Sicily missed at least four easy intercept marks in the second half that he would usually eat up, so don't fret, he'll be fine.
Quickly for those of you who are still trying to push Ryan Burton (DEF $594,000 BE 84) onto me and/or everybody else, 32 from 82% TOG and the lowest scorer for Hawthorn.
Surprisingly, Jack Gunston (FWD $598,000 BE 85) made up for last week's horrible performance by booting 3 goals 2 and taking 9 marks for 112 (87% TOG). Definitely more draft relevant, however he does manage these beautiful scores a few times a year.
The one that really confuses me is Jarman Impey (FWD $403,000 BE 57). He was on fire tonight, laying waste to the Carlton defenders with his pace and helping himself to 3 snags and 104 Fantasy points from 73% TOG. The thing that confuses me is that if Jarman can keep up anything close to this form than he is great value, much like Ah Chee is up forward. However, I just don't know what he's capable of at Hawthorn. He should get much more of an opportunity than he did at Port, however he also managed just 45 points from 77% TOG last week, so I don't know what to think.
Daniel Howe (MID $534,000 BE 76) was good with 91 from 76% TOG however I don't expect this output every week and it's hard to justify picking him as a pure Midfielder.
Luke Breust (FWD $501,000 BE 71) impressed me again with 84 from 70% TOG. Whilst probably not the smartest Classic choice, I'm really liking him as a late pick in draft.
Lastly for Hawthorn, rookie option Oliver Hanrahan (FWD $170,000 BE 24) was as good as his first half last week, playing the last quarter or so for 38 from 36%. Whilst these are good numbers, they are very similar to his first half last week before he got tired and they are against an extremely tired Blues outfit after coming on with fresh legs. Honestly, I don't see Hanrahan getting a game very often, if at all this season, but if he does then he's good for a 50.
For the Blues, the biggest talking point is none other than #1 Ruck option Matthew Kreuzer (RUC $740,000 BE 105). Kreuz had 14 points in the first quarter before he went down with a leg injury (I heard it was ankle but can't confirm), and didn't get back on the field. Whilst he's currently owned by less than 10% in Classic and they can all trade him out without any hassle, this is a huge blow for those who have picked him up in Draft already if this injury keeps him out for a while. Watch and see as I really don't know the severity of the injury, but fingers crossed he makes Round 1.
The Blue that impressed me most tonight didn't even come on until the last quarter, but ex-popular rookie Defender option Cameron O'Shea (DEF $231,000 BE 33) was INSANE in slightly less than a quarter of footy, managing 49 Fantasy points from 24%! Honestly, I didn't really pay much attention to O'Shea until I looked at the Fantasy numbers halfway through the quarter and saw his name down the bottom. He managed 10 disposals and 4 tackles in around 20 minutes of game time which is immense, even against tired out players! One thing I will say against his score is that Hawthorn's forward 50 entry was woeful all game, however he only took 1 mark so even that isn't a huge knock on him. I'm not sure if it's enough to get O'Shea a game, but let's wait and see, because if he is then he's an absolute steal at that price.
Popular premo options Patrick Cripps (MID $692,000 BE 98) and Kade Simpson (DEF $698,000 BE 98) didn't do enough to make me want them in my team, but did enough for current owners to not worry, with 75 (82% TOG) and 80 (88% TOG) respectively. Both players looked good really good at times, with Simpson providing stability across half-back and on the wing and Cripps being a strong body in the middle, also playing a bit up forward. I don't expect either to provide a whole heap of value, and while I don't see Cripps as a Top 8 Mid, Simpson definitely seems like a Top 6 Defender.
Matthew Kennedy (MID $485,000 BE 69) is a talked about mid-priced option and one that I haven't been overly keen on, but he caught my eye tonight with 69 from 77% TOG. Whilst the score itself isn't terribly amazing, Kennedy looked right at home in his new side and showed the talent we all know he has and playing mostly midfield. He was strong in the middle and looked mature beyond his years, definitely one to keep an eye on, but I'm not sure he provides enough value to warrant picking.
Jacob Weitering (DEF $409,000 BE 58) top scored for Carlton with 106 from 95% TOG but, as much as he looked incredibly in charge back there and just dominated all defensive plays, I'm not sure I can bring myself to risk a mid-priced key Defender. I have this feeling that Weitering will manage at least 20 points above his breakeven this season and could be a huge bonus if you have the pair to start with him, but it's not an easy risk to take.
Finally, expensive rookie option Paddy Dow (MID $266,000 BE 38) didn't do much to impress me, managing only 34 points from 68% TOG. I genuinely forgot he even existed until the third quarter where he butchered a kick into the forward 50 and then disappeared back into the obscurity from which he came. From reading the notes last week it seemed like he was a beast and, while he's not in my team, it sounds like he has a semi-reasonable ceiling unlike a certain other expensive rookie from North Melbourne… Based on this game, I'd save the money if you can and go for the cheaper rookies in the middle, however he's certainly not the worst option judging by last week as well.
Geelong v Essendon – Colac
Sunday 11 March – by Magtuto
Click here for DT Live stats/scores.
The game showcased several fantasy relevant players.  The biggest question I have is "how will the Essendon side look with everyone playing in the midfield?".  For me it was also a last opportunity to see the big names like Dangerfield, Duncan, Selwood, Merrett, Heppell and Devon Smith!  As the game unfolded, it was a game more like a war of attrition with players like Dangerfield, Stanley, Zaharakis and Gleeson suffering from injuries. With Danger iced early in the game, it was a good opportunity to see how Tim Kelly would handle a full game of JLT.
Patrick Dangerfield (MID, $849,000) He came off the ground late in the first quarter with a mystery injury (rumoured to be a minor hamstring) and didn't play a further part in the game.  As expected he was busy, he racked up possessions early and scored 34 points from 12 disposals (4 kicks, 8 handballs) in the first quarter. He has had a limited pre-season which doesn't mean much for Dangerfield.  However, if the reports are correct we might not see him in the first round.  Owned by 36% of coaches, a lot of us will be interested to see what the nature and extent of the injury will be.
Mitch Duncan (MID, $793,000) Can we keep saying he is an underrated player in AFL and AFL Fantasy if we keep on talking about him?  In saying that, he stays under the radar and accumulates possession and AFL Fantasy points at will.  He had 38 disposals (18 kicks and 20 handballs) and 6 marks which equated to 132 fantasy points. He will again be a decent and unique option in the midfield this year as he will avoid the tag most games.  Is he too expensive?  I don't think so!  As always, he doesn't get the respect of most coaches, owned by only 1.4% of the teams! I've seen enough – he comes in for me.
Joel Selwood (MID, $670,000) This was Selwood's first game back from an injury which he sustained late last year. If you think he was going to take it easy, then you don't watch footy and you have never seen Selwood play.  At his price, coaches will select him for value. He had a similar output to Duncan with 35 possessions (18 by foot).  Although he pushed hard defensively in the first quarter, he was around the clearances for the remainder of the game.  He had 12 clearances, 7 centre clearance (CC) and 5 in stoppages (ST), which was the highest in the game. The only problem I have with Selwood is that he can get niggled by a tagger.  He also only knows one way to play the game, hard! If you select him this year just be prepared to go through an emotional roller coaster.
Zach Tuohy (DEF, $603,000) Last year, he averaged 86 points as a defender and he will get that again this year, if not better. He played 88% of the game and collected 28 disposals (21 Kicks and 7 handballs).  He played his usual role of playing deep, running off the halfback line, gathering 87 fantasy points.  Only problem I see with Tuohy is consistency.  With a lack of strong rooks in the backline, I would opt for a consistent defender.
Mark Blicavs (MID, $549,000) Rhys Stanley was injured early in the first quarter which meant that he took on the ruck duties for the rest of the first quarter. He played 'second' ruck when Zach Smith was injected into the game.  With Stanley looking more unlikely to play in round 1, he might fill that role of pinch ruckman for Geelong.  He collected 9 kicks, 9 handballs, 4 marks, 7 hit-outs, 8 tackles and 102 points.  He is just at that awkward price and as a midfield, it is going to be hard to select him.  If he gets DPP it's another story.
Zach Guthrie (DEF, $237,000) A second year player for Geelong, he is rookie priced and cheaper than both Coffield and Naughton.  The positive is that he should be in Geelongs' best 22.  Last year he averaged 37 points (Round 15-22). He played 78% of the game and had 14 disposals (4 kicks and 10 handballs).  He didn't make much impact in this game to suggest that he will be a decent option this year. Pass for me.
Tim Kelly (MID, $224,000) Will he be injected in the star-studded Geelong midfield this year? The big question was how will he do with Danger, Duncan and Selwood in the side? He was certainly impressive on his last JLT game with limited time on ground (60%). This week he played 85% of the game and scored 54 points.  In the first half, he was good, he was around the stoppages, contesting the ball.  As the game went on and Selwood was injected in the stoppages, I thought Kelly failed to impact the game which was evident on his score after half time. However, he doesn't look out of place in the Geelong line up and hopefully he will be selected for round 1.
Mark O'Connor (DEF, MID, $193,000) He was on 49 points after the first half with 8 kicks, 4 handballs and 1 goal.  He played 69% of the game and ended up with 69 points. With Ablett and Menzel in the team, it will be hard to find a spot for him in Geelong's best 22.
I'm starting to get convinced that Essendon will rotate a lot of their players in the midfield.  Looking at the game and without knowing the centre bounce attendance data, it looked like it was Geelong's Selwood and Duncan against Stringer, Merrett, Heppell, Myers, Smith, McGrath and Parish. It certainly looked like there was more rotation of players through the midfield for Essendon as compared to Geelong.
Zach Merrett (MID, $825,000) He had a fast start last week before being concussed and this week he again started off with a bang.  This is Calvin's area but hey, he has pig tendencies! He scored 116 points from 72% game time. He collected 30 disposals (8 kicks and 22 handballs) and 9 tackles!  He is currently owned by 18% of coaches and with Dangerfield going down this week will we see this percentage increased?  We know he can score big and score fast.  What we don't know is how he can score with a tagger niggling him.  We saw some of that in the latter part of last year where his scores were decent without being great.
Brendon Goddard (MID, $716,000) Played mainly in the back line last week and was once again in the backline this week. He collected 25 possessions (5 kicks 20 handballs) from 90% of game time. He is a good chance to gain DPP status if he maintains this role.  At his price and as a midfielder, it's a pass for me with or without DPP.
Dyson Heppell (MID, $707,000) There is a plethora of value players that are around the $700K mark.  Heppell is in this group of players. He was very busy in the first half of the game, more specifically the first quarter, but he drifted out of the game in the second half. He had limited game time (75%) but still managed to get 21 possessions (11 kicks and 10 handballs).  He looked like he spent a good amount of time in centre clearances.
David Zaharakis (MID, $702,000) He has an ability to accumulate possessions and fantasy points very quickly. He collected 16 disposals (8 kicks and 8 handballs), 2 marks, and 8 tackles for a total of 83 points from 66% game time.  He didn't play the last quarter of the game due to an injury.  I think there are better options in the midfield and he is a pass for me.
Michael Hurley (DEF, $663,000) A quiet game for Hurley collecting 13 disposals (9 kicks 4 handballs), 6 marks from 83% game time and 55 AFL fantasy points.  Don't panic if you have him on your side, remember it's a JLT game.  He will be a decent option in the backline come season proper!
Tom Bellchambers (RUC, $592,000) He was the sole ruck for Essendon and was against Stanley, Blicavs and Smith. He had 39 hitouts, 14 disposals and 76 points from 73% game time. Nothing to see here, get Gawn.
Devon Smith (FWD, $575,000) Warnie's boy was on show. He played 79% game time and collected 22 disposals (10 kicks and 12 handballs), 5 tackles, and  2 goals which equates to 75 points. Its not a high score by all means, but really I was looking more at what role he played for Essendon. Is he playing a midfielder? He certainly looked like it to me.
Darcy Parish (MID,FWD, $551,000) Part of that big group of players in Essendon that is rumoured to rotate in the midfield.  Although he accumulated 20 disposals, like McGrath he had more handballs than kicks (7 kicks and 13 handballs). He had 91% game time and scored 66 points. He remains on my watchlist…. just!
Andrew McGrath (DEF, $496,000) He played at the edge of the backline, in the wings and the midfield and was in a decent amount of stoppages. He certainly knows how to accumulate possession – nearing 3 quarter time he had 17 disposals. Only problem was that he had 3 kicks and 14 handballs!  He finished up with 24 disposals (7 kicks and 17 handballs) from 80% game time and 59 points.
Jake Stringer (FWD, $403,000) There has been plenty of discussion about Stringer and how he will have more midfield time. He played side to side with Selwood for the whole game.  Just by looking at the game, it felt like he was in a lot of centre bounces.  He had a decent first quarter and scored 22 points. He ended up with 13 possessions (9 kicks 4 handballs) and 48 fantasy points from 81% game time. Not for me and hopefully not for anyone.
Gold Coast v Brisbane Lions – Broadbeach
Sunday 11 March – The Wiz
Click here for DT Live stats/scores.
I had the privilege of sitting down and watching an absolute epic encounter between the two QLD teams….. said no one ever. Heavy rain, mud pits and a scrappy JLT game unfolded. Sometimes I thank the DT gods for this game as I feel this is where dreamteam is best utilised. In a game that doesn't catch the eye, we can focus our energy into cheering on our fantasy relevant players, and actually make something out of a Sunday afternoon.
I have always said that the elite players stand out in the wet, you can tell with the ones who are clean, one grab players and those who keep their feet. Still, It's hard to take anything constructive out of this game due to the conditions, but I tried my best.
Starting with Gold Coast –
Pearce Hanley's (DEF – 509K) shoulder popped out, and with that popped him out of my fantasy scope. He did stand out early with 9 disposals & 36 fantasy points in the first quarter, and a total of 67 in 3qrts showed his ability to score, but his ability to stay on the park is a concern.
Both Jarryd Lyons (MID – 665K) & Brayden Fiorini (MID -589K) remain unique options, both look to have a friendly role in a fantasy sense. Lyons amassed 33 disposals for 106 Fantasy points from just 78% TOG. The latter went 97 points from 76% TOG. They both may be better draft options but consider nonetheless.
For those thinking that these wet conditions wouldn't help Aaron Hall's (MID-690K) fantasy output, you would have been pleasantly surprised. He showed signs of a changed man with a few more defensive efforts which would please Dew. He always knows how to find the footy and howed that with 23 disposals, 6 marks and 103 fantasy points from just 80% TOG. He is a super unique option with a ceiling up there with the best of them. Consider.
It wouldn't surprise me to see Ben Ainsworth (FWD-420K) increase his numbers substantially this year, his body look completely AFL ready and there is no doubting his ability. He posted 50 fantasy points before HT and then faded for a total of 64 points from 74% TOG.
Aaron Young (FWD – 387K) propelled into possible calculations with the lack of rookies in the forward line, his tackling was of note laying 5 tackles for 63 fantasy points, but may not have done enough to warrant selection for our teams.
Rookie Listed Nick Holman (MID – 170K) spent adequate time on ball which is promising and he didn't do any harm for RD 1 selection. If named he should all be on our mid benches at the very least. He scored a respectable 61 from 72% TOG. He had 13 disposals and layed 5 tackles.
Brisbane Lions
Starting with big boy Stefan Martin (RUCK – 703K) He rucked solo, just as we love and wasn't it great to see. The big man moved just as we would expect all over the ground. He dominated today gathering 18 disposals, 31 hit outs and 6 clearances which culminated for 96 fantasy points. He looks to be rucking alone which would make for an interesting pick come round 1.
Tom Bell (FWD – 428K) remains a super interesting option. He is the 2nd best Bell to play the game and is currently ringing in my ears. He backed up his 1st JLT game of 50 fantasy points from 50% TOG with 98 fantasy points from just 68% TOG. Option.
Allen Christensen (FWD – 331K) was so clean with his hands in the wet but didn't find enough of the footy as he and us as coaches would like, don't stress though as he is still a bargain pick at his price, hold your nerve. His score of 46 from 75% TOG isn't a reflection on how he will score in 2018.
The old fossil in Luke Hodge (DEF – 612K) looked like a general across HB. He started his life as a Lion fantastically with 8 disposals and 26 fantasy points in the first term, before hamstring massages and unnecessary rubs took priority. You wouldn't touch him in classic but he might be a draft slider.
For those still eyeing off Alex Witherden (DEF – 604K) I wouldn't be jumping off just yet. He still plays a fantasy friendly role and the Lions still want the ball in his hands. He had 19 disposals which included 17 kicks at 74% disposals efficiency. He scored 80 from 72% TOG.
Dayne Zorko (MID – 805K) is a beast and a true competitor no matter what the situation, he is still an ultra premium option and his current ownership of under 5% isn't a reflection of how good he is in a fantasy sense. He stockpiled 33 disposals, 21 kicks, 6 tackles, 2 goals and 123 fantasy points. Jet.
Mitch Robinson (FWD – 542K) battled hard as usual for his points, posting 20 disposals, 4 marks, 7 tackles and 91 fantasy points. He is absolutely underpriced for what he can produde but his kamikaze game style still has me worried. He has as much potential to be a top 6 FWD as he does getting rubbed out for 6 weeks.
Lastly – we have incorrectly wrote off number 1 pick Cameron Rayner (MID/FWD – 270K) He IS in the Lions best 22 and WILL play RD 1. Cam split his time between the forward 50 and on ball. He tackled his way to 80 fantasy points – which leads me to think that we will have to pay up for his job security. He didn't set the world on fire this JLT series, and his role may limit his scoring, but from watching he did enough to warrant fantasy selection. Just pick him.
Fremantle v West Coast – Joondalup
Sunday 11 March – by Anthony
Click here for DT Live stats/scores.
As a West Coast supporter, this game was incredibly difficult to sit through.
West Coast just looked completely underdone, with many of their star players well below where they should be at this time of the season.
On the other side of the coin, Fremantle looked completely switched on and just moved the ball with ease around the ground against limited pressure.
Fremantle
Lachie Neale (MID $706,000) – Usually we'd be weary of players coming off an interrupted preseason but after today Neale is showing no signs of lag. 154 points from 80% TOG including 3 goals and 2 behinds, Neale relished having silver service from Sandi's ruck work with Fyfe taking the majority of close attention away from him.
Luke Ryan (DEF $530,000) – Ryan could be a bloody interesting pick this year (particularly in draft). With Freo changing their game style back to producing attack from their half back flankers, Ryan is the perfect player for this. Finishing the game with 106 points from 85% TOG tonight saw Ryan finish with 21 disposals, 19 of which were kicks at 100% disposal efficiency! Ryan's disposal out of defence is a weapon Freo should look to exploit.
Nathan Fyfe (MID $686,000) – Considering Fyfe's first quarter saw him sitting on 7 points, finishing on 97 points from 72% TOG was a bloody decent effort. Once again their was a fair amount of junk ball going around for Fremantle but he still had his fair share of contested possessions while rotating between midfield and resting forward. Never really clicked into beast mode but did enough to show he'll still score well with close attention this year.
Connor Blakely (MID $646,000) – Played exclusively across the half back flanks and should definitely gain defender DPP by round 6 if he keeps that up.
Scored 77 points from 81% TOG sitting a kick behind the play as Fremantle's 'get out of jail' kick backward. Then loads up and switches to the run of Ryan or Wilson. Spent a bit of time on the bench having his ankle looked at but finished the game strongly.
Aaron Sandilands (RUC $539,000) – 71 points from 58% TOG was a monster effort from the big man! Sat off the last half as Fremantle's rookie ruck was given the reigns. Provided absolute silver service to his on ball division and then parked across the centre line. Attacked the contest like a younger man and while he'll take balls to start, he's certainly worth the consideration.
Rookie Watch!
Andrew Brayshaw (MID $268,000) – Surely locked away a round 1 debut after today. Shadowed Shuey at most stoppages but won plenty of his own ball. Finished with 82 points from 67% TOG including 3 centre clearances and a team high 9 tackles! Has a very fantasy friendly game style and I'd have no hesitation in starting him on field this year.
Bailey Banfield (MID $170,000) – Another rookie who did his round 1 chances no harm today, knows how to find the ball and Ross reportedly loves his forward half pressure acts. Kick to handball ratio is very fantasy friendly finishing with 81 points from 78% TOG today.
West Coast Eagles
Liam Duggan (DEF $475,000) – Team high scorer today and one of the few players in a West Coast guernsey who can hold their heads high. 83 points from 85% TOG playing across the half back where there was no shortage of ball!
Elliot Yeo (DEF $692,000) – His best scoring last year came as an intercept marking, rebounding defender. This JLT series has seen him playing primarily as a midfielder and that along with his interrupted preseason may be enough to avoid starting with Yeo this year. Today saw him follow Fyfe around for most of the game where he was consistently second to the ball. 76 points from 86% TOG.
Lewis Jetta (MID $472,000) – Could be in line for a DPP upgrade in round 6 to gain defender status. Has played the last 2 JLT games and last weeks scratch match as a defender including being entrusted with kick in duties. Should definitely be on your draft watchlist as a future defender. 71 points from 81% TOG today.
Jack Redden (MID $588,000) – One of the many West Coast midfielders who just couldn't get their hands on the ball today. Finished with 59 points from 84% TOG and could become a lot more unique again after todays output. I'd still be willing to stick with him considering other West Coast mids in Shuey and Gaff were also well down today with 31 points and 68 points respectively.
Scott Lycett (RUC $423,000) – I've seen a few people considering Lycett this week after the news of Vardy's injury and Nic Nat's return timeframe. Unfortunately he was absolutely monstered by Sandi today finishing with 65 points from 77% TOG. Hopefully that was enough to cure those coaches of their midprice madness!
Rookie Watch
Liam Ryan (FWD $220,000) – Was on fire in the first quarter but faded out as forward supply dried up. Still worked up the ground to try get involved and finished with 55 points from 73% TOG. Should be a lock to debut in round 1 and is a worthy option for your forward bench.

Jake Waterman (FWD $170,000) – With Josh Kennedy himself saying today that he's hoping to be back for round 3, Waterman should get his chance to at least play the first 2 rounds but will be back to WAFL once JK comes back. 54 points from 77% TOG, this key forward should only be considered if you're really desperate for a bottom priced forward bench option.
Injuries: Willie Rioli (FWD $170,000) is still struggling with a knee injury and looks unlikely to get a round 1 gig with Liam Ryan well ahead of him.