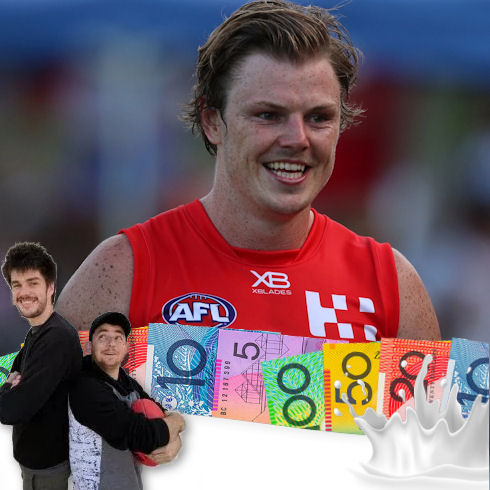 Round 1 of JLT gave us a good chance of seeing most of our key rookies in action. Was some real promising signs and unfortunately some not so promising signs from those we expected a lot more out of.
Without further a do here's a quick summary from each JLT game in round 1 from a rookie perspective.

Click here to subscribe on iTunes. (Please leave a rating and review to help us move up the charts).
North Melbourne Vs Melbourne
Only rookie priced player that put up a decent score in this game was Bayley Fritsch ($210,000 FWD) who scored 69 points. The mature age recruit looked sharp around goals and although Melbourne won't play North every weekend is still looking good for a round 1 spot after this performance. Viney, Jetta and Jetta all did not play but all do not play the same role as Bayley so just needs a good run at it in JLT2 and we officially have a good forward bench option.
For North key rookies Luke Davies-Uniake (264,000 MID) got 31 points, Ben Jacobs (243,000 MID) had 35, Mitch Hibberd ($235,000 DEF) 28 points, Cameron Zurhaar ($234,000 FWD) 33 points and Alex Morgan ($170,000 DEF) 21 points, were disappointing from a fantasy scoring perspective. LDU  played a high half forward role at times and never really looked comfortable but luckily it looks like North will give him time to grow. It was promising that he got 78% game time.
Ben Jacobs looked like at times he was standing next to Clayton Oliver at stoppages. North were a much better team when Jacobs was shutting down key players and will be one to keep an eye on for JLT2 if he does or doesn't play this role. If he does then job security clearly increases and will become a safe bench option. Alex Morgan, who moved across to North for more game time, was the only other rookie at North to get over 65% game time so it's hard to cross a line through all of them (except probably Morgan himself).
Essendon Vs Richmond
Really not much to take out of this game other than Shai Bolton ($241,000 FWD) doing his round 1 chances no harm with a score of 59. He was the only rookie priced player to get over 70% game time and still needed three goals in a 90 odd point drubbing to get to his score. Doesn't exactly point to reliable scoring and once Daniel Rioli is fit can't see Shai lasting too much longer in the team. Jack Higgins ($238,000 FWD) was known as a fantasy beast in his junior days but may need to bide his time in the VFL prior to showing this on an AFL setting after only scoring 25 points. He's already been left out of the team for JLT2. Nank's concussion opened the door for Mabior Chol ($170,000 FWD) to inflate his score for the day but we aren't getting to excited there with still only 47 points.
Essendon just had the one rookie priced player having a run and that was Sam Draper ($170,000 RUC) who scored 44 points. With key position players in Bellchambers, Hurley and Hooker missing, there's not much to be excited about there.
Adelaide vs Fremantle
This was a very interesting game from a rookie perspective. It was also one of the more competitive games of the JLT thus far. Tom Doedee ($170,000 DEF) looked very solid down back, scoring 67 from 70% game time. Right now, he appears to be a no brainer to start with in your backline. The other player from Adelaide who really caught our eye is Lachlan Murphy ($170,00 DEF). It's worth noting that despite his label, Murphy is not a defender. He played as a small forward, kicking three goals and finishing with 60 points from 63% game time. He was clean, provided a lot of spark and was one of Adelaide's best players on the day. As of right now, both these players are sitting in our defence.
From Fremantle, there were three stand outs, Andrew Brayshaw ($268,000 MID), Bailey Banfield ($170,000 MID) and Alex Pearce ($197,000 DEF). Brayshaw's role was fantastic from a fantasy perspective. He played as a pure inside midfielder. This allowed the likes of Fyfe and Mundy to spend a lot more time forward. We can see this trend carrying on into the season. Brayshaw scored 66 from 66% game time. Banfield has shot himself into round one contention by performing well in both the first JLT and also the practice match against West Coast on the weekend. In the JLT match, Banfield scored 65 from 39% game time. He is a mature body that look ready to go. Alex Pearce is a player you would get for job security. He is a key position defender that will play every week if fit. Pearce scored 51 from 82% game time.
West Coast vs Port Adelaide
Dom Barry ($170,000 MID) was the standout. He looked great out there, collecting 20 touches, laying four tackles and kicking a goal on his way to 84 fantasy points. If named round one, which we suspect he will be, lock him in.
From West Coast, none of their rookies set the world on fire. Venables, Ainsworth, Ryan and Waterman were all low scorers. They are still very much on our watch list, but we will need to see much more if they're to be viable options for round one.
St Kilda vs Carlton
What a game for some of our rookies! The highlight of it all was Paddy Dow's ($266,000 MID) 60 point score from only 63% game time. The score included plenty of time in the heart of the midfield, a couple of well executed shots on goals and a centre clearance which resulted in a bullet pass inside 50 on to a teammates chest. Enough to make any fantasy coach proud and made him almost a lock for a berth in Round 1. We do like Harry McKay ($225,000 FWD) based purely on how much he is rated internally but this game didn't show that potential too well where he scored 42 points. Hopefully we get more next from Harry, but he is a key position player that will take time. Lochie O'Brien ($252,000 MID) had a few shaky possessions for 20 points and didn't look AFL ready yet. Not for us at this point.
Whatever Paddy Dow did to help his round 1 chance, than Nicholas Coffield $256,000 MID/DEF) did it one better with his 70 points. Playing predominately a long the half back, he was impressive with his positioning to get the ball and was very composed on the field. Unfortunately for Hunter Clark ($258,000 MID) we don't believe there is enough room in the side for both him and Coffield. He did look good in front of goal to score his 53 points but with Bruce and Billings in the wings it's hard to see Clark holding his spot at this time. We hope anyone thinking about Nathan Brown ($170,000 DEF) as a safe bench option chose to put a line through that plan, as his score of 19 points came from 95% game time.
Collingwood vs GWS
Jaidyn Stephenson ($260,000 MID/FWD) spent a large portion of the game on the ground which is promising (80% game time). However, he did not look half as settled as he did in the JLT game for his 38 points but still deserves another look in JLT2. Jaidyn is more a flashy type player who doesn't look capable of big scores early on. Brody Mihocek ($170,000 DEF)  moved up the pecking order with an impressive performance in defence for 48 points. Another of the mature age types, Brody did average 17 disposals and 7 marks in the VFL last year. However, with Moore and Howe still to come back in it will be interesting to see if Brody can hold his spot. Flynn Appleby ($170,000 DEF) is in a very similar boat despite scoring 49 points.
On GWS's end the most promising performance came from Jeremy Finlayson ($170,000 DEF) with 55 points. The best part of his game was the fact that at time he was trusted with the kick in duties. If Heath Shaw does play a game further up the ground then this reads well for the trust the team has in Finlayson and his job security. A proven scorer in the NEAFL also which just adds to the pro column. Zac Langdon ($170,000 FWD) had 37 points and Lachlan Tiziani  who had 54 points seem to be playing for the same spot. With Greene and Deledio still to get a run it will be interesting to see if there's a spot for even one of them. Although Tiziani played a stronger game on the day, the way that assistant coach has pumped up Zac in the offseason would suggest he may be ahead to fill any void that comes available. For now neither of these players are a lock. Lachlan Keefe ($170,000 DEF/FWD)  didn't do those with him in their team (including us) many favours by only getting 31 points. We do still believe he has a potential fantasy friendly role at GWS if he's needed to relieve Simspon in the ruck so will stick with the faith heading in to JLT2.   
Western Bulldogs vs Hawthorn
The standout from this game would have to be Aaron Naughton ($254,000 DEF). Yes, he only scored 51 from 84% game time, but he looked great out there and seems like he is up to the standard. He is used to playing against bigger bodies as he spent last season playing WAFL. He is an excellent intercept mark and should slot right in. Only downside is that his ceiling is quite low.
Slim pickings from a rookie perspective were on show for Hawks. We would have loved to have seen James Worpel out there as he was an early favourite of ours who showed promise in AFL X. David Mirra was only given less than a quarter of game time, so his 11 points can be excused. Hopefully we can see these potential cash cows get more of a run in JLT 2.
Brisbane vs. Sydney
Not much to report on from a rookie perspective this game. Unfortunately, Cameron Raynor was quite disappointing, only scoring 18 points from 61% game time. We don't think Raynor will be a very high scorer going forward and his price tag of $270,000 is enough to turn us off starting him in round one.
From Sydney, Ryley Stoddart ($170,000 DEF) was quite impressive, scoring 53 from 65 % game time. He showed his athleticism and composure coming out of the backline. We also know Sydney love playing their kids. He is certainly on our watch list. Darcy Cameron ($170,000 RUC) was unfortunately not able to take advantage of the injury to Callum Sinclair and secure a spot in the team just yet. Looks like we may be looking far and wide for a safe ruck bench option again this year.
Gold Coast Vs. Geelong
We went into this game with our eyes fixed on one of our favourites, Nick Holman ($170,000 MID) and he didn't disappoint. Holman scored 80 points from 73% game time. Holman is an experienced big body midfielder who was previously on Carlton's list and last year averaged 26 disposals in the SANFL. He is a fantasy friendly player who loves to tackle and can find the ball. Holman has done his round one chances no harm. If named, get him in.
Tim Kelly ($224,000 mid) did his round one chances no harm, scoring 48 from 60% game time. He also attended a game high 15 centre bounces. The experienced 23 year old certainly looks up to the standard and has plenty of experience versing bigger bodies in the WAFL. Motlop replacement? Teenage midfielders Charlie Constable ($200,000 MID) and Lachie Fogarty ($228,000 MID) were also impressive, both scoring 63 points from roughly 65 % game time. Both of these boys are ball magnets (particularly Fogarty) and probably haven't got the attention they deserve from us, purely because they have been drafted to Geelong where there is no shortage of midfielders. If either of these boys are named round one, they are serious options.
JLT Week 3
Join us next week where we will be providing a brief summary of each game from a rookie perspective again prior to our final write up leading in to the proper season. As for now, our current team of rookies leading in to JLT3 looks like below:
FOLLOW US ON TWITTER:@TheMilkmenDT specialising in cash cow selections but still here to talk all things AFL fantasy.