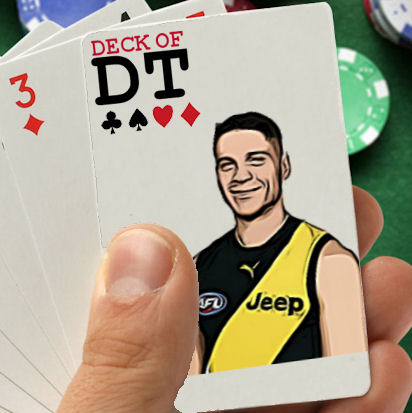 Name: Dion Prestia
Team: Richmond
Position: Midfielder
AFL Fantasy: $577,000
Bye Round: 14
2017 Average: 81.9
2017 Games Played: 19
Predicted Average: 96
Click here for DT Live profile.
Why should I pick him?
As of right now… Prestia is in my team. Yep, go Calvinator.
Although you shouldn't need much more justification than that, I'll let you in on a few secrets about the nuggetty meatball.
Firstly, when players switch clubs they tend to take a while to find their feet. Prestia joined the Tigers last year after a limited pre-season, hear that, a limited pre-season. He went on to average just 81.9, which is a massive drop from the 100, 96 and 95 he has averaged in the past.
This pre-season he is flying. In his own words, he admits that he entered 2017 underdone and after a full pre-season under his belt in 2018, he will hit the ground running from round one.
In his first 8 games last year he averaged just 71. This proves he was cooked before he started. He ended the season (obviously in better nick) with an average of 107 in his last four games and then he entered the AFL finals series where he scored 99, 83 and 128. Boom!
Prestia is the definition of a ROSE. A guy who has averaged well in the past and a guy who is a dead-set bargain this year. Guns and Rookies in the theme that people generally rock with but although Prestia can be deemed as 'mid-priced' the gamble here is certainly slop-sided.
Calvin does big calls so here I go… he will be what Marc Murphy was in 2017 and with only 2.5% ownership, not many Fantasy coaches have caught on to this great find … until now.
Why shouldn't I pick him?
"Cheap for a reason" is the quote you will hear a lot over the pre-season as a 'gamble' like this can burn you.
Running the gauntlet with a guy like Prestia can end your season before it begins. He had some rotten scores last year and if he starts the 2018 season like that then you will be not a happy camper. 55, 54 and 54 where his worst efforts and he only cracked the 100 figure mark on three occasions.
Then we look at this… can Richmond actually back it up? I say no. This could be one of the worst premiership hangovers since the Bulldogs and although that will infuriate some Tiger's fans, lets be real here for a second. They fluked 2017 and might even struggle to make the 8 this year. A massive call but mark my words.
Durability – he has only played in 62% of games over the last three years. He has had his issues. You can't select a guy with this sort of 'durability' as you will be chasing you tail all year with late withdrawals and Thursday night headaches.
Deck of DT Rating.
KING – As I said, I'm on the little nugget. He's easily 10-15 under-priced if not more. He's had a killer pre-season and will only replicate what he did at the end of 2017.
He ticks all boxes. Ended the year in super form. Great pre-season. Averaged over 100 in the past. Under-priced.
Another bonus is that he has the 'good bye'. Which is the last one, and from here he can be upgraded to a guy who has had their bye. By this point he would have made you great coin and act as a stepping stone to a premium of your desire.
Trust me… get on board.
Loading ...
FOLLOW ME ON TWITTER: @CalvinDT for all thing AFL Fantasy (and more). Got something to say about the deck? Use the hashtag… #DeckofDT.