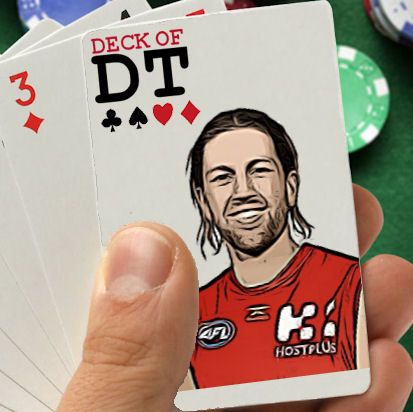 Name: Aaron Young
Team: Gold Coast
Position: Forward
AFL Fantasy: $387,000
Bye Round: 10
2017 Average: 55
2017 Games Played: 13
Predicted Average: 80
Click here for DT Live profile.
Why should I pick him?
Aaron Young can play! I want to start off today by focussing on what he did with the Power before moving north to the Suns.
In 2016, he played 21 games at an average of 75 and last year he floated in and out of the team to average 55. He clearly has the potential to score and if he can get around the 75 mark like he did two years ago, then he's 20pts under-value.
So yes, he came in and out of the Power side last year and failed to really find his role or the ball for the matter. When he wasn't with Port though, he was playing in the SANFL and when I say 'playing' I mean, tearing the league to bits.
Here are his games in the SANFL last year…
107pts – 4 goals and 18 disposals
107pts – 3 goals and 30 disposals
113pts – 2 goals and 28 disposals
135pts – 0 goals and 34 disposals
105pts – 1 goal and 23 disposals
129pts – 1 goal and 33 disposals
173pts – 5 goals and 36 disposals
94pts – 0 goals and 22 disposals
Get out of here! You see that?!
This guy can flat-out score and as I said, back in 2016 he proved this with his average of 75. Now, at this current stage of the year, Young is in my team. Yep, you read that right. I believe he has gone to the Suns to be a midfielder with the occasional role up the ground. With Gaz out, there is extra time in the middle that will need to be used up. This is something I'll be looking at over the JLT.
Why shouldn't I pick him?
1 – Gold Coast has a sh*t bye
In round 10, only the Suns and the Power players have a bye… and for this round, the Fantasy game rolls on without an extra trade and without the 'best 18' rule.
With all these players unavailable, it's like them all being injured at the same time and you have to have a plan in place to cover this.
Many coaches will look to get busy over this bye period, selecting the likes of Barlow in round 11 in preparation for the three weeks ahead. By this stage of the season Young will be too expensive to bring in and a wasted trade.
2 – Mid-price mayhem
Yep, here we are again. $387,000 is a tricky price to be selecting someone when a guy like Rayner (who is over $100K less) could potentially score more or even the same as Young.
This wasted cash will kill your season. This 'difference' is the same difference between Brad Ebert and Zach Merrett or Ben Cunnington and Tom Rockliff. When you look at the combinations you can have with this extra coin, it's nasty.
3 – Matt Rosa 2.0
In 2016, Matt Rosa left the Eagles seeking more opportunities with the Suns. After averaging low 90's in the past, and priced at an average of 74.2 at the time, we saw this as a great chance to snap up the defender hoping he would improve.
Didn't happen.
In the last two years since the switch, he has averaged 75 and 76. Young could be the Rosa of 2018, just like Devon Smith could be the Josh Caddy from 2017. He he he
4 – Will he even play? If so, where?
Now I'm pretty confident he'll play but as to where I'm not overly sure. Surely he gets a crack in the middle with stints up forward… but we don't know. Spending nearly $400K on an unknown player and his role is mega risky at the start of the year.
Deck of DT Rating.
JACK – As I said, Young has averaged 75 before and with the Suns in a friendlier Fantasy role… he could go even bigger. Listed as a forward, the risk with this mid-priced option is minimal at this stage. He's only priced at that average of 55 and we'd all agree he's better than that and currently in my team.
FOLLOW ME ON TWITTER: @CalvinDT for all thing AFL Fantasy (and more). Got something to say about the deck? Use the hashtag… #DeckofDT.
Loading ...