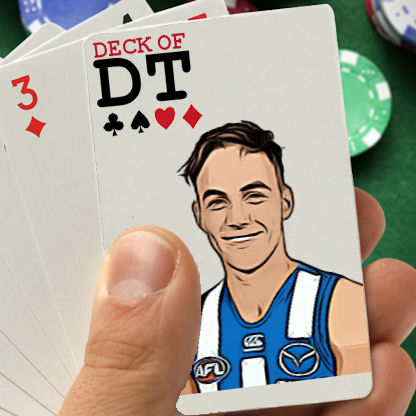 Name: Ryan Clarke
Team: North Melbourne
Position: DEF
AFL Fantasy: $484,000
Bye Round: 13
2017 Average: 68.7
2017 Games Played: 15
Predicted Average: 83
Draft Range: 150+
Click here for DT Live profile.
Why should I pick him?
We all like chasing that breakout player and if they come off, then you have a leg up on the compeition.
Heading into his third season, Clarke had some Fantasy pedigree as a junior. The 31st pick in the 2015 draft went at 98 points per 120 mins in the U18 Championships and a whopping 121 in the TAC Cup in his final season. He racked up plenty of the pill in the TAC Cup averaging 29.8 disposals, 6.8 marks and 4.5 tackles per game. The midfielder was ranked elite in those stat categories as well as goals, score assists and score involvements.
Clarke played six games in his debut season at an average of 55. It included a couple of 'stinkers' with scores of 27 and 22. He slowly built last year for an average of 69 as he adopted a role playing off half-back. Clarke finished the season in that position rackung up disposal counts of 24, 31, 27, 25 and 27 in the final five rounds for Fantasy scores of 81, 101, 85, 78 and 103 – an average of 90.
2018 will be the 20-year-old's third season and the fabled third-year-breakout could be a reality.
During the pre-season, Clarke has been training at half-back and will develop into that role, as well as playing on the wing. Traditionally North Melbourne isn't a club that you'd jump at taking players from. No one averaged more than 95 last season and they're likely to be pretty ordinary once again. Players in the backline can produce decent enough numbers. Luke McDonald – who plays a similar role to that touted for Clarke – five tons and averaged 86 last year.
Monitor what Clarke looks to be doing in the pre-season, but the upside is real. An 80+ average is likely and there could be around 15 points upside in what he's priced at.
Why shouldn't I pick him?
We all like chasing that breakout player and if they fail, then you are at least one step behind the competition… if not more.
Although he's only played two seasons, and just 21 games at that, he's unproven. It is only a small sample of data that has got me excited about improvement. He could quite easily continue to play outside and up forward like he did to begin his career as a Roo. Oh – and at North Melbourne, you're not going to rack up big scores doing that. All of the eggs are in the basket of that half-back role and eventually getting his chance to move inside. Those epic junior numbers were based on him being a contested bull.
Clarke should be a permanent member of North's 22, but he had two separate stints in the VFL last season.
There was also an off-season shoulder injury he was rehabbing. Then, in January playing AFLX, Clarke was helped off teh ground late in the piece by two trainers with a knee problem. Definitely something to monitor in the JLT. If he plays, there shouldn't be any worries with this as his pre-season has been positive on all other accounts.
Deck of DT Rating.
JACK – I really like Clarke. He's got to be a good chance to 'breakout' due to role… and progression. A ball-magnet as a junior and how he finished the year in that projected role all points towards him increasing his output by 10-15 points in my opinion. If he can go 85, then he would be a massive win. Over 80, yep… take that. Under there, then it's a mid-price fail. I've predicted him to go at around 83… which obviously doesn't put him in the mix as a top 10 defender, but a nice stepping stone for a pretty cheap price. I won't be sucked in when drafting him as he should still be available as a bench or even free agent option.
Loading ...
FOLLOW ME ON TWITTER: @WarnieDT for all thing AFL Fantasy (and more). Got something to say about the deck? Use the hashtag… #DeckofDT.