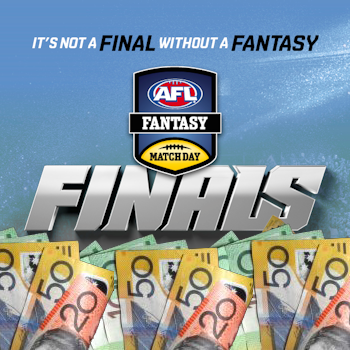 It's finally Grand Final time, with the Tigres to take on the minor premiers in the Crows, and as these last few Matchday rounds have gone, I have basically accepted defeat, as I now understand that Fantasy is a game of luck, no matter which format you're playing. Anyway, we might as well finish off the season so let's take a look at the Matchday prospects for the 2017 Grand Final.
JOIN THE TRADERS' MATCH DAY FINALS LEAGUE: L4SKNT54
Adelaide vs Richmond @MCG
Defenders:
Bachar Houli- Really, he's been the only consistent defender across the last 5 weeks, with a lowest score of 81. He has scored in the 80's in both his finals so I won't be expecting much more than that.
Rory Laird- Laird had a monster game last week as he roamed across half back with ease picking up 32 touches, 15 marks and 127 Fantasy points. We all know the kid is a jet, which is exactly what concerns me. Surely the Tigres put Townsend to him after what Laird did to Geelong last week, and especially without Smith, it seems inevitable. Even though I think he is 50/50 for either a ton, or a 60, I have to back him in simply because Vlastuin and Ellis are both coming off 40's.
Next Best- Nick Vlastuin, Brandon Ellis
Midfielders:
Brad Crouch- Sorry Dusty, just because you've just won the Brownlow, doesn't mean you are going to stroll into my Match Day side after what the Crouch brothers have been doing Fantasy-wise. Brad, has scored 133 and 124 in the two finals, after a 133 in round 23. He seems a big-time player and I have to get in on some of this action before he goes into my 2018 side.
Matt Crouch- Brad's brother is also pretty handy on a football field. His previous scores read, 122, 115, 150, 106, 96, 116, 127, 110, 100, 110, 99, 128, 83, 89, 118, 91, 89, 116, 122, 118  92, 111, 80 and 97. Yes, I just typed his whole season's Fantasy scores, because simply, he is unbelievable. He has a huge ceiling as demonstrated in a 150 in round 23, has amazing consistency with a lowest score of 80 and scored 122 on Richmond back in round six. He's so unlucky that his brother also happens to be a bloody gun, but either way both these guys have to be in your plans for next season. Once again, sorry Dusty.
Next Best- Dustin Martin, Dion Prestia, Trent Cotchin
Matt FTW.#AFLFantasy #AFLGF pic.twitter.com/jvQYNQIBgD

— DT Talk (@DTTALK) September 28, 2017
Ruckman:
Sam Jacobs- Nank happens to be a fwd/ruc, which makes this one rather simple. Added to this, Jacobs had a 158 on Nankervis in round 6, 158! Nothing more to say here.
Next Best- Toby Nankervis (will have to add another fwd)
Forwards:
Tom Lynch- Lynch is one of the most underrated players in both the AFL, and in Fantasy. He gets the job done most weeks, often being the link up man between the Crows halfback/midfield line to the forwards. He has dominated both finals so far, which brought scores of 95 and 117, and had a nice 108 against Richmond last time they met. He's a gun, and I'm not going to doubt him anymore.
Toby Nankervis- Like I said before, Nank is a fwd/ruc, and most fwd/ruc's, especially those who are actually sole ruckman, are usually a must in your fwd lines for matchday.He's had 97, 70, 119 and 140 in his last four and scored 94 on Jacobs in round six. He should be good for an 80, however has the abaility to go 140, which is why he is a perfect Matchday prospect.
Next Best- Kane Lambert, Richard Douglas
---
Feel free to leave any comments below and I'll get back to you! You can find me on twitter @jake_pizzuto. Good luck for your matchday teams!