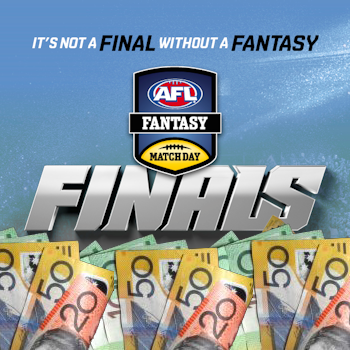 1494 from two games in the semi finals was a pretty solid return from myself IMO. A Sinclair 15 was saved by my call of Duncan captain, who went 160. Once again, I'm going to keep it simply for the prelims and hope that I can move well up the rankings if the Traders league.
JOIN THE TRADERS' MATCH DAY FINALS LEAGUE: L4SKNT54
Adelaide vs GWS @AO
Defenders:
Zach Tuohy- A relatively simply selection to start with, as no other defenders are really jumping out at me. He's scored 88 and 97 in his two finals match ups backing up his season average of 85.6. He scored 87 and 98 against Adelaide this season so all signs are pointing towards a very solid score.
Andrew Mackie- This could very well be Mackie's last ever game, and I doubt he'll disappoint. He has been solid in both finals with scores of 80 and 84. He went 113 against Adelaide back in round 11 and this champion of the game should at least be better than Laird, who has nothing really positive to go off, scoring 63 in the Qualifying Final, and having just 65 and 74 against Geelong this season.
Next Best- Rory Laird, Tom Stewart
Midfielders:
Patrick Dangerfield- Once again, just don't get too fancy, select Dangerfield, and you should probably make him captain too. Don't be too worried about any of this full forward chat, because a) he won't be playing full forward in a close game, unlike the Swans belting, and b) even if he does sit full forward, he'll kick five goals and still score 130.
Mitch Duncan- I hate to leave out Matt Crouch, but I am not capable of leaving out Duncan who went 160 last week as my captain. He is in absolutely ripping form, having gone 160 and 131 in his finals, as well as three scores over 117 in his last four matches in the home and away season. He won't drop below 100, and he will probably push 130 again. I love both the Crouch brothers here, but these two Cats are unstoppable at the moment.
Next Best- Matt Crouch, Brad Crouch, Scott Selwood
Ruckman:
Sam Jacobs- After strong consideration of Zac Smith, who is also in great form, I've decided to back in Jacobs, because of the fact that he is up against Smith, who, let's face it, isn't the hardest ruckman to score on in the league. Sauce has had 93 and 101 on Geelong this year and I'm happy to back in the big fella.
Next Best- Zac Smith, Rhys Stanley
Forwards:
Sam Menegola- Last week, Menegola was back in the guts as Danger sat forward a lot more. Menegola proved why he will be one of our first selected fwds next year if he plays through the midfield, with a score of 132, backing up games of 131, 132, 110, 120 and 103 in his last five games of the home and away season before knocking up just a 54 in the Qualifying Final when he was in the forward line again. It really depends on where he plays, and considering it worked so well last week, I can't see any reason why Chris Scott would change it. I'm expecting another epic score.
Tom Lynch- A 117 in the Qualifying Final, backing up his scores against Geelong of 83 and 90, there should be no reason as to why Lynch would go sub 80, and in my books that's a tick. Keep Greenwood in your sights as well, who has good form, good scores vs Geelong, and always plays well at home.
Next Best- Hugh Greenwood, Darcy Lang

Richmond vs GWS @MCG
Defenders:
Nick Vlastuin- Vlastuin has been super consistent over the last eight weeks, recording just one sub-80 score, and proved that he did have the ceiling with a 107 in the Qualifying Final. He scored 87 on GWS last time they met and I think he is safe for a 90 at least.
Bachar Houli- I'm not super confident with Houli here, but I much prefer him over Williams or any other defender. He had 81 in the first final and scored 86 on GWS in round 9. Probably won't be at his prolific best, however should be good enough to earn a spot in our Matchday sides.
Next Best- Zachary Williams, Brandon Ellis
Midfielders:
Stephen Coniglio- This man is seriously on fire, having proven his ceiling with 134 and 121 in his two finals. He finally looks close to full fitness and a fit Coniglio can average 110+ in a season. But for this game, it looks just as good. I'm backing him in over both Kelly and Dusty.
Josh Kelly- Another player who has shone in both finals, with scores of 126 and 119. He doesn't need much more of an explanation but the reason he is in here is because I think he is the safest of Dusty, Ward, Prestia and himself to go over 110.
Next Best- Dustin Martin, Dion Prestia, Callan Ward
Ruckman:
Toby Nankervis- He is the only ruckman playing, so I'm not going to waste my time, or yours. Also, he could be very big against Lobb so you could consider making him skipper.
Forwards:
Toby Greene- The kid is a jet, and it doesn't matter whether they win or lose, he will still egt you a decent score. Saying he is too reliant on goals for his fantasy score is a joke, because quite simply, he does score goals week in week out. It's like saying Tom Mitchell is too reliant on disposals… Anyways, I'm just going to pick Greene as he's pretty safe for an 85+, and there aren't too many other fwds who are catching my eye.
Kane Lambert- We all remember what Lambert has done this season, since moving into the midfield and backed up his second half of the season with a 98 in the Qualifying Final. I don't think he quite has that ceiling like he did during 2017, however he is a much better pick than Caddy IMO who could score 30 or 120.
Next Best- Kane Lambert, Jon Patton
Feel free to leave any comments below and I'll get back to you! You can find me on twitter @jake_pizzuto. Good luck for your matchday teams!