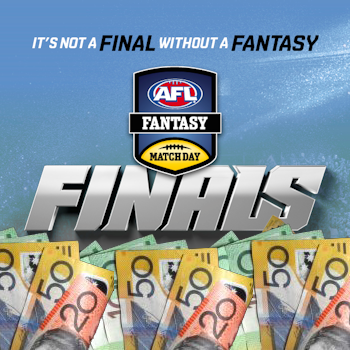 Well it was an absolute shocker for me in the first week of finals, picking up just 2,781 points in the four matches played. I've learnt my lesson, and that is, to not overthink things too much, and base my picks on form and the player that they are. Let me know how you went last week in the comments below!
JOIN THE TRADERS' MATCH DAY FINALS LEAGUE: L4SKNT54
fantasy.afl.com.au
Geelong vs Sydney @MCG
Defence:
Jake Lloyd- A fairly straight forward pick to start off with, as I have also learnt from week one that chasing the biggest scorers doesn't always work from a rankings point of view, and safety is the best way to go if you don't think you have a realistic chance at winning the money. Anyways, to put it simply, Lloyd is safe for a 90, and with only a couple other defenders scoring decently in the first week of finals, I'm happy to take that, and who knows, maybe Lloyd is back to his early season form, after taking 14 marks last week for 108.
Zak Jones- I may have just contradicted myself, as Jones could be considered point chasing, and a huge risk to start with, however, Jones' last month has been pretty awesome as a defender. Prior to his 96 against the Bombers, he had 93, 82 and 94, so hopefully he can continue this consistency against a tougher opponent this week against the Cats. What is concerning though, is that he scored just 64 against Geelong in round 20, and he could produce a similar output if he is forced to play a negating role. I'm by no means happy with picking Jones, but with Tuohy the only other real option, Jones is the best bet IMO.
Next Best- Zach Tuohy, Callum Mills
Midfield:
Mitch Duncan- Duncan has been nothing short of a jet this year, and proved that with a 131 last week even though his team got demolished. What's just as impressive, is that he scored 120 on Sydney in round 20, has a lowest score of 91 and has a great ceiling, having scored over 117 ten times this year. This man is a superstar.
Patrick Dangerfield- I have strong consideration to Scott Selwood for M2 after a 131 against Sydney last time they met, a 110 last week and some consistent scoring since returning. However, I then remembered what I had previously said, about keeping it simple and not point chasing, so when I saw Paddy Dangerfield sitting on the midfield list, I didn't really need to look at any stats, and plonked him straight in. Don't overthink it, a 115 is a worst case scenario.
Next Best- Scott Selwood, Josh P Kennedy
Ruckman:
Zac Smith- He was a very easy choice after looking at the fwds available, and therefore needing Sinclair in the fwd line. He's gone 103, 100, 89, 74 and 96 (vs Sydney) in his last five and is a pretty safe bet as the sole ruckman for Geelong.
Next Best- Sam Naismith (if not including Sinclair (fwd))
Forward:
Callum Sinclair- Once again, Sinclair should be on for an ok score, or at least better than any other fwds, who all have putrid history against the opposition, or shocking recent form. 99 and 90 in his last two plus a 94 and 117 recently are promising scores, however a couple 50's in the last few rounds of the home and away season aren't convincing. Don't be surprised if he's putrid, but I think he'll be fine.
Tom Hawkins- He's actually been pretty good recently, with scores of 72, 98, 93 (vs Sydney) and 158 in his last four. Whilst Grundy seems like the perfect matchup, Hawkins must've done something right after scoring 93 against them a few weeks ago. Once again, not convinced, but better than Buddy (37 against Geelong last time), Heeney (70s and 80s mostly since round 15) and any other fwds you can name.
Next Best- Isaac Heeney, Kieran Jack
GWS vs West Coast @SPO
Defence:
Zachary Williams- Like last week, there aren't too many defenders to pick from, from either of these two sides. Williams looks the safest, even with quite a few 70s to his name in recent weeks. He scored 100 last week and has a season average of 83. I'm not really sure what else I can say here.
Jeremy McGovern- I'm backing in the two highest scoring defenders from last week, and yes, I know that McGovern won't score another 121, but he should be alright once again, after a brilliant game in the first week of finals, taking 15 grabs. He only had 88 and 60 against GWS this year so don't expect miracles. These defenders are killing me so far!
Next Best- Shannon Hurn, Heath Shaw
Midfield:
Josh Kelly- Unlike last week, I'm going to back in the guns a bit more, like I have with Danger, and now Kelly. He proved me wrong with a 126 last week against an insanely good Crows outfit, and has 111 and 130 against West Coast this year against his name. Last week against Eagles, Gray, Ebert, Wines, Boak and SPP (98) all tonned so don't think that Kelly and his fellow Giants mids aren't going to have another field day like they did in round 22.
Stephen Coniglio- Another who proved me wrong last week, after I said that his ceiling wasn't high enough since his return. He had a whopping 134, and to go with a nice 97 against Eagles in round 22 (keep in mind he was nowhere near full fitness), Cogs should be up there with the highest scorers of the night.
Next Best- Callan Ward, Matt Priddis, Luke Shuey
Ruckman:
Dawson Simpson- Now this is where the team crumbles, unless a certain ruckman can make a remarkable come back from an ACL injury, but I highly doubt that. Simpson SHOULD come on for Mummy, who is ruled out for the rest of the season, and to be honest, I have more faith in Simpson than Vardy. Simpson has played two games this year. His first, a 98. His second, a 59. If we get good Dawson, then it won't be too bad, especially against the Eagles ruckmen, but if we get bad Dawson, then He'll still probably outscore Vardy, who is pretty much always bad. I'm going for it, assuming he plays.
Next Best- Nathan Vardy
Forward:
Elliot Yeo- His history against GWS this year is great, with 118 and 113 (going directly head to head with Greene). Even though he had just 77 last week, I think he should still do well against GWS, which was arguably his best game of the season back in round 22. I'm pretty much sold if I'm honest.
Toby Greene- Yeo's head to head matchup also played pretty well against him, scoring a cheeky 92 in round 22, after scoring 114 against Eagles in round 10. He managed 79 last week, in a team who were flogged, so if GWS can give him a little bit more service then Greene should be 90+ at a minimum. He seems like a finals player to me!
---
Feel free to leave any comments below and I'll get back to you! You can find me on twitter @jake_pizzuto. Good luck for your matchday teams!