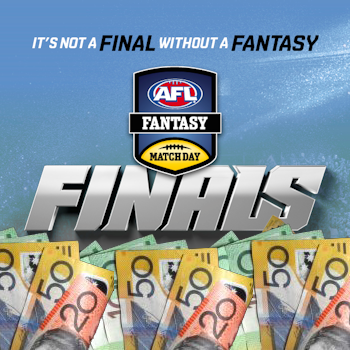 AFL Fantasy Classic and Draft formats may be over, however you can still play the quick and easy Matchday formats, where you have a chance to win $1,000 every weekend of the finals series. To make sure you have the best chance to win, I will be going through each and every game of the finals series to give the both the locks and the uniques who can go huge, to give you a big chance at the money. Players for each position are in the order that I would be selecting them in. Hope you enjoy!
JOIN THE TRADERS' MATCH DAY FINALS LEAGUE: L4SKNT54
fantasy.afl.com.au
Adelaide Crows vs GWS Giants @AO
Defence:
Rory Laird- A fairly straight forward pick up, who should be the highest scoring defender in this game. He scored a whopping 142 against the Giants in round one, his highest score of the year and averages 90.7 in his career at the Adelaide Oval. In the last six weeks, the Giants have given up a considerable amount of points to opposition half backs, Stewart (77), Yeo (113), Murphy (82), Vince (119), Ryan (138) and Ellis (84), so I am very happy in backing in Laird here.
Zachary Williams- Once again, Hurn (95), Hurley (108), McVeigh (89) and Lloyd (88) have all been solid half backs against the Crows in recent weeks, and Williams had a nice 106 against them in round one. Williams is averaging 85 over his last three and I think he could be decent. However, if he is forced to play a shut down role on Eddie Betts then it could be worrying. Unless Shaw plays on Betts then I can't really see anyone else other than Williams going to him, which may hurt his fantasy output. He just gets the nod as D2, mainly because there is no one else jumping out of their skin, however I'm not confident.
Next Best- Brodie Smith, Heath Shaw
Midfield:
Matt Crouch- Crouchy loves playing the Giants, who are his fourth highest team to score against, and had a pretty standard 97 against them in round one. His five-round average of 119 is simply way too hard to ignore and hasn't dropped below 106 at Adelaide Oval since the byes. He tonned in both finals last year, and I can't see any reason why not to pick him. Jet.
Rory Sloane- This is a super risky one, but hey, that's what Matchday is about, trying to get the team that could get you the highest possible score of the game. I know that Sloane scored just 68 against them in round one, however I'm not too sure who actually tagged him, and as I go through the Giants midfield I can't see anyone that will be able to. He has gone 149, 153, 97 and 124 in his last month, with that 149 coming from a Hutchings tag last week. It could be a new Rory Sloane which really excites me for this match. Keep in mind that Sloane is in some doubt this week after surgery on his appendix so if he doesn't get named then I will be jumping straight to Brad Crouch.
Next Best- Brad Crouch, Josh Kelly, Stephen Coniglio
Ruckmen:
Sam Jacobs- With ruckmen, all you really need to look at is their history versing the opposition ruckman, as they will be playing on the same guy for basically the whole game. Jacobs has averaged 87.6 vs the Giants which beats Mumford who has averaged 78.1 against the Crows. Jacobs form has also been amazing which is just a bonus. Enough said, pick Sauce.
Forwards:
Toby Greene- There are little good forwards to get excited about in this game, however Toby Greene is just too much of a jet to leave out of this team. Adelaide may be his fifth hardest team to score against, and he may have scored just 72 against them in round one, but it's Toby Greene, and I've got a sneaky suspicion that he lives for finals footy. Plus, there aren't too many other good forwards around him to take his spot as F1.
Brett Deledio- Lids looked good last week with a 102 against the cats backing up a solid 82 vs the Eagles. He has averaged 102 from 11 games against Adelaide and while I really don't want to do it, there isn't much other option to put at F2. I'll reluctantly start him, with Jenkins and Lynch not exactly ideal players to have either against the Giants.
Next Best- Josh Jenkins, Tom Lynch
Geelong vs Richmond @MCG
Defence:
Bachar Houli- Houli is in some ripping since returning from a four-week suspension, where he has especially bounced back in the last three, 84, 128 and 101. That 101 was against the Cats just three weeks ago where we know that he has figures to back up selection as D1 in our matchday team. Geelong are his fourth favourite team to score against, and his form along with opponent suggests he's an easy pick for this one.
Brandon Ellis- Like Houli, Ellis has the form this season, along with a respectable 88 against the Cats a few weeks ago. He has only dropped under 84 once since round 10 and will definitely be good for a 90 this week. He's very safe but with no other defenders jumping out at me, I think we'll have to stick with the two Richmond half backs.
Next Best- Zach Tuohy, Nick Vlastuin
Midfielders:
Patrick Dangerfield- Is there really any point of our M1 for this qualifying final? No, there's not, but if you aren't already convinced then here are some stats. Danger is averaging 123 in his last three, and apart from a game where he sat at full forward for an 88, he hasn't dropped under 112 since round 8. He scored 130 on the Tigres just a few weeks ago and loves the big stage, where he has averaged 116.5 in his last four finals. You might regret not putting the 'C' on him here.
Mitch Duncan- I'm not sold on any M2 for this game, even though there are a ton of great players to pick from. Duncan has had a stellar season, averaging 112.6 points with a lowest score of 91, and should easily be able to get a solid score against the Tigres, who in my opinion lack any real wingers who will be able to get near Duncan. Missing the Tigres game through suspension gives us a bit of uncertainty, but that's what makes him exciting for me. He only just edges out Dusty, who for some reason I can't see scoring over 130. A POD who I never had this season, so I have to pay him some respect!
Next Best- Dustin Martin, Scott Selwood
Ruckmen:
Zac Smith- Believe it or not, Smith is averaging 84.6 this season and hasn't been to bad over the last five either, with an average of 94 if you don't mind! There aren't too many good fwd options in this game so by moving Nank fwd and Smith into the ruc, I think you can maximise your points.
Forwards:
Toby Nankervis- Nank the tank is back. With Soldo out in the last two, Nank has been epic with scores of 140 and 119. It is completely irrelevant that he only scored 70 against Geelong last time they met, because he was basically playing as a centre half forward. Unless Soldo is named, then don't even hesitate with Nank, and you could do a lot worse than chucking the 'C' on him too.
Sam Menegola- Before you say anything, yes, I'm super worried about Selwood coming in, however with Lambert just about the only other fwd you can consider, I'm happy to pray that Menegola's form is enough to keep him in the guts. 131, 132, 110, 120 and 103 are the numbers he has produced without Selwood so hopefully Chris Scott can acknowledge what he's done when he gets midfield time. Worst case scenario is about an 80, which is probably the best-case scenario for any other fwds.
Next Best- Kane Lambert, Jacob Townsend
Sydney vs Essendon @SCG
Defenders:
Michael Hurley- Likely returning from injury, I still think that Hurley should be the highest scoring defender in this one. He rarely has poor games, and is averaging 108 in his last three. He scored 105 against the Swans back in round 14 and there is no real reason why you shouldn't back him in. Don't overthink it.
James Kelly-  I don't want to, but I have to. With the exception of Hurley, there are no other defenders who have shown any recent form, and with Kelly scoring 86, 90 and 94 in his last three, it just has to be him. He only had a 63 against Sydney this season but like I've just said, it's not like we have any better.
Next Best- Jake Lloyd, Nic Newman
Midfielders:
Zach Merrett- Many of you will know about Merrett's disappointing last eight weeks of the season, but I think that like last week's 144, he will have a big influence on this game. Sydney aren't the Dockers, and I doubt that Merrett will have 31 touches and four goals again, but he could go bonkers against the Swans, who aren't known to tag. Murphy (115), Sloane (153), Fyfe (107), Selwood (131), Duncan (120) and Menegola (120) have all been insane against the Swans over the last few weeks, and unless he gets tagged, he should be able to do what Duncan, a very similar player, did to the Swans in round 20.
Josh P Kennedy- Since returning, JPK has been nothing short of brilliant, and his scores of 130 and 105 reflect that. He is a big stage player, averaging 119.5 in his last six finals matches, added to the fact that he scored 118 against the Bombers in round 14 this year, JPK should tear up the small bodied Bombers midfield of Heppell, Merrett, Zaharakis and Watson (yes he's a big body, but he can't run).
Next Best- David Zaharakis, Luke Parker, Brendan Goddard
Ruckmen:
Tom Bellchambers- A very, very easy selection in the ruck department. Bellchambers loves to bully teams without a real recognised ruckman, scoring 116 (Brooksby) and 114 (Griffin) in his last two. The likely duo of Sinclair and Tippett are just that, where Bellchambers should feast on hitouts and move around the ground with ease. Tippett and Sinclair are also both not the best fantasy scorers at all, so lock in Bellchambers and forget about it.
Next Best- Callum Sinclair, Kurt Tippett
Forwards:
Isaac Heeney- There are little good fwds to pick from in this game, with all but one decent option scoring well in this match earlier in the season. That man was Heeney, who scored 122 against the Bombers, however that was before his nine-game run where he tonned up just once, against Fremantle. As much as I hate to say it, there are no other fwds who I expect will definitely outscore Heeney, so we may just have to hope that he can recapture his brilliant start to the season.
Lance Franklin- His inconsistency would've killed Classic and Draft coaches this season, but guys like Franklin are perfect for your matchday teams. A 171 last week leaves us with no other choice than to pick Buddy, who I think may bully the Bombers one man defence that is Michael Hurley. He could be putrid, but he could be amazing, I'll take the risk.
Next Best- Joe Daniher, Tom Papley, George Hewett
Port vs West Coast @AO
Defenders:
Jasper Pittard- The defenders for both these teams are so bad fantasy wise that Jasper Pittard is going to easily be my D1. He will probably score 80, which is more than I think any other defenders in this game will get. He has a last three average of 78, and scored 113 against the Eagles in round seven, followed by a 58 in round 16. Please Jasper, please.
Hamish Hartlett- 86, 82 and 88 in his last three actually don't look too bad, and was solid against the Eagles both times this year, scoring 86 and 78. Once again, I can't see him scoring anything over 90, but I also can't see him dropping below 70.
Next Best- Dan Houston, Jeremy McGovern
Midfielders:
Brad Ebert- Up against his former side, who are also his favourtie team to score against, Ebert should be able to go 115 minimum, after scoring 113 and 126 on them already this season. The Eagles midfield is an absolute fantasy gold mine, with opposition midfielders dominating recently with Matt Crouch (150), Sloane (149), Brad Crouch (133), Kelly (130), Whitifiled (130), Ward (113), Murphy (117), Steele (124), Acres (120), Beams (144), Bastinac (120) and an array of others dominating, whether they're a good player or not. Ebert should be up there with those scores, and even if Hutchings does try and tag him, Sloane easily brushed him aside last week. I would love to captain him, but a certain ruckman looks in prime position for that spot.
Chad Wingard- Back at the Adelaide Oval, and against a weak midfield, Wingard should, and I mean should be big, as long as he plays through the midfield. In round seven against West Coast, he had 132 from 34 touches and a goal, however in round 16, he started up forward where he stank it up in the first half, before moving back into the guts and having a normal Wingard game and brought himself up to 66 from about 20 at Half Time. I'm not going to captain him just in case he does play forward however if he doesn't get tagged then he'll be amazing again.
Next Best- Jack Redden, Ollie Wines, Matt Priddis
Ruckmen:
Patrick Ryder- Against Vardy and Petrie this year, he has scores of 131 and 135. I don't even need to explain this one, he'll be huge, and don't hesitate making him your skipper.
Next Best- Nathan Vardy
Forwards:
Travis Boak- Boak has been in some decent recent form, and like Ryder, has good scores againsth the Eagles this season. Maybe not as good as Paddy, but 91 and 111 are good enough to give him a spot up forward. A fairly boring pick, but there isn't much else on offer.
Elliot Yeo- As I'm not a fan of Gray who get past Brad Sheppard (scores of 37 and 76), Yeo is just about the only other fwd that I quite like. He's moved to defence in the last couple weeks for 113 and 84, plus we all know what he did to start the season in the backline. I'm not going to consider his 86 against Port in round 16 because he was playing the midfield/forward role which has affected his scoring terribly in the second half of the season, but against Port in round seven he had a 124. Hopefully Simmo keeps him at half back again where he can go huge, but if you don't think he will, then I quite like Dixon, with scores of 124 and 89 against the Eagles this season.
Next Best- Josh J Kennedy, Charlie Dixon
Feel free to leave any comments below and I'll get back to you! You can find me on twitter @jake_pizzuto. Good luck for your matchday teams!