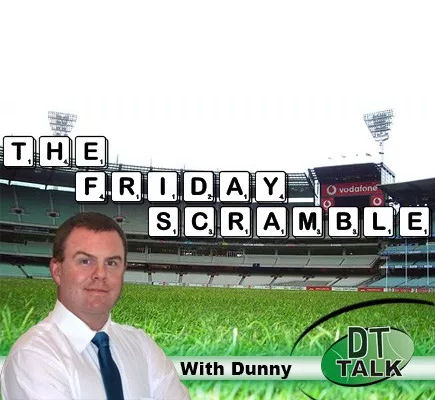 We have made it!  Grand Final Week is finally here. If you have made it all the way to the Grand Final, well done. You clearly know what you are doing and probably don't need my help! But hey, don't tune out, hopefully I have some little bit of advice that might just help give you the edge.
Last week was such a massive scoring week, don't get lulled into a false sense of security. We all know that the Fantasy Gods like to play with us and I will predict that this week will be no exception! So keep your wits about you and make sure you dot every i and cross every t on your way to lockout.
So, for the 23rd and final time this year…… Let's SCRAMBLE!

Click here to subscribe on iTunes.
Grand Final Strategy
There are a million things that you will worry about as you head into the grand final. I guess we all have our own plans, here are a few of the things that I consider.
Go Unique. If you think you are the underdog going into your final then look for a unique that might just have a big one. This is where you would be consulting Cal's Scale of Hardness to see who has the best matchups. A few that spring to mind would be Port against Gold Coast, Richmond v St Kilda, Brisbane v a depleted North Melbourne at home and Essendon v Fremantle. So you may want to consider guys like Ebert, Boak, Ryder, Wingard, Grigg (who was massive last week), Zorko, Beamer (but a lot of teams have him), Heppell or even a Zaharakis. I know that these names aren't generally ones that you would be looking at but they are guys that can pull a big game out of the bag occasionally and they have the matchups to do it this week. But beware, this is a risk and whilst they can put in a great game, they can also put in a real stinker too.
Match off Risks. If you have a look at the matchup and there is just that one player of theirs that worries you and you think the rest of your uniques have them covered, then consider trading out someone in your side and bringing in that unique that they have. This then nullifies that risk and you can hopefully get over the line with the remaining players in your side.
Captain. This one goes without saying. Yet again, have a look at their squad and see what they have and you can make your decision from there. You can look at potentially playing a unique captain.  If you have read Calvin's Captains this week (what am I saying, of course you have) you could take someone a bit further down on his list that your opponent might not have.  For example a Matt Crouch or a Docherty instead of the vanilla options like Titch or Dangerfield.
Supercoach Trading Plan. I know that not all of you play Supercoach, but for those that do, this week offers you a bit of a unique way to get the edge on your opponent. If you have one or two trades left and you don't have to use them at the start of the round to get someone on field because of an omission or an injury. You could look to hold that trade until later in the weekend and then decide where you need to use it. This could be due to your opponent having someone go big and you need to take a bit of a risk, or you might have put someone on the bench to loophole them and you need to take that score but don't have anyone to bring on who isn't playing. By keeping your trade until the last moment you need to use it, you can take advantage and either bring in a unique or you could even bring in a donut to take advantage of that big score on the bench.  This is of course a risky play, but if you are experienced in doing it and confident that by doing it you will get the win, then it might just be a risk worth taking.
Selection Table
I am always nervous about selection for Grand Final week, but it seems things have gone pretty well for us this week thankfully.  Here are a few of my observations about the ins and outs this week:
Taylor Adams has been named despite a number of concerns about his status during the week. I am praying he plays as he is crucial to my draft team, but keep an eye on the teams tonight but also ensure you have cover as I won't be at all surprised if he is a late out. They will give him every opportunity to play.
Grundy returns from Suspension. If you have a luxury trade he could be of interest, he is up against Gawn, but big Max hasn't been in the best of form.
Ziebell is out again, succumbing to injury, this time his foot.
Nic Newman returns, if you traded him out, leave him out.
Dan Hannebery is out with a Hip injury! This is one forced trade for owners.
Jasper Pittard isn't a name I would normally put in this column, but if you are a massive underdog and looking for a bloke that can do the unusual, Jasper might be your man. Just one over 100 this year, but lots in the 90s and 80s. With a GC team that is out of finals, Jasper might just have a field day.
Lachie Neale returns and if a lot of people traded him out when he was injured, he may actually be a bit of a unique this week if you decide to bring him in.
Early readers of the teams may have noticed that the little master, Gary Ablett was named for the Suns, but about two hours later he was withdrawn from the team as his dodgy hammy didn't pass a fitness test at training.  Have we seen the last of him? I hope not, I do love watching him work, however, I am glad he won't be dazzling me against the Power this week.
Things To Remember
If you are a big underdog, take a risk. You may as well go for it if you think you aren't much of a chance of victory.
Don't trust the predicted scores. We all know these things lie, they don't know who will get injured, who will get tagged and who will have a shocker.
Banter. There is no better weekend to get stuck into your mate that you are playing in a GF and have a bit of fun, particularly if you are winning!
It's not over til It's over. Just because you have a player have a shocker on Friday, don't write it off, you never know what may happen. I mean who predicted Grigg's 153 on Sunday afternoon!

Click here to subscribe on iTunes.
There we have it folks, another massive season of Scrambling done. At this stage of the year, there isn't too much advice I can give, for some of us who are struggling for trades (in RDT or SC) or have no cash, we are just hanging on for the ride and hoping for the best. But realistically if you have made it this far and are in a GF, you clearly know what you are doing and are having a great season.
I want to finish this year off by saying a massive thank you to a few people and shoutouts.
Thank you to Roy, Calvin and Warnie for once again letting me write for you guys each Friday, I love bringing this to you all and I really appreciate these boys for allowing me to keep doing it.
Thank you to all the people that I have played against in leagues this year, thanks for the competition, I hope I gave you a bit of competition although I didn't have one of my better years. I did miss out on a cash league final or two at the final hurdle, but thankfully made my cash league GF's in the Draft format.
A bit of a shout out to a group of boys at my Son's school who bring me no end of entertainment, I do love seeing their teams each week as there is usually a player or two that I don't know (well, would never consider for my team) or in some cases, don't want to know, isn't that right Ben? I am sure Luke Brown will get a big score for you one day mate!
But, Most Importantly I want to thank you guys and girls, the readers of this little Friday Scramble each week. Without you, this would be nothing. I thank you all for the support you give me but also for the support you give each other. As most of you know, I don't get a chance on a Friday most weeks to log in and answer questions due to work and then I go straight to my local footy club to coach one of the junior sides and it is after lockout when I get a chance to read comments and what I love most is that you guys all jump in and offer ideas and suggestions to each other. It is brilliant and a big part about what makes DTTalk work.
All the best of luck with your teams this week, whether they be going for Grand Final Glory or just to get your national ranking up a bit higher. I hope you have had an awesome year and I look forward to seeing you all again in the pre-season for 2018!
Cheers
Dunny
(@pkd73)