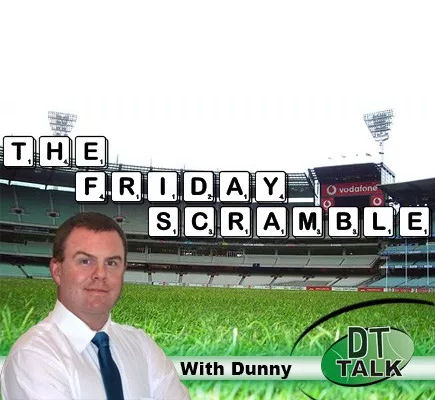 Are you still alive in your leagues? Are you chasing the car? Or are you in line for a hat? Or are you just battling your way through to the end of the season and hoping for the best? Well no matter what you are doing, we have two weeks left to go in the season.
Hopefully you are in a Prelim Final and have one hand on the Premiership Cup! Well, thankfully we don't have the same amount of carnage that we had last week, but that doesn't make it any easier at all. There are still some issues heading into this week and some Scrambling to be done!!

Click here to subscribe on iTunes.
Trades and Strategy
Obviously in AF we have four trades left this week and we need to make sure that we make the most of them. Obviously you want to prioritise any premiums you have out before you do anything else. If you don't have any cash and only one issue, see if you can eek some cash out of your bench players, but if not, then just get the absolute best available.
However, the best available isn't always going to be the player that is averaging the highest. This is where you really need to look at Cal's Scale of Hardness. You would want to be picking players that have a great run home in the last two games. So you want to look at players from Port Adelaide, Richmond or Essendon because Calvin reckons they have the best run home. This makes someone like Dusty high on your shopping list.
Beware of role changes. For example, recently we have had Robbie Gray on fire, but now that Wingard is back, Robbie will more than likely spend more time back up forward again. This is the sort of thing that we need to consider. Also look at who is out in a side and whether that puts a bigger target on the gun you are looking at.
In SC or RDT, obviously we may not have as many trades left (some of you may have already run out). If you have more than two, then yes, you should make some trades this week. If you only have one or two left, then you need to consider whether or not you are likely to win your match up this week. If you think you have the opponent covered, then you can potentially save yourself a trade for the all important Grand Final next week. Having said that though, if you don't make it you can't win it. So do all you can to get there.
Do you remove the risk of your opponent's unique? Or do you go for your own unique? This really depends on where you sit in your matchup. If you think that you are no chance to win, then you may want to pick up someone that can have a massive game, but doesn't do it all the time. This is someone that you may want to take a risk on. If you check Cal's scale of hardness, you may want to make pick a unique star from the teams with the easiest run. If you think you may have the edge apart from one of their stars, you may want to fix that by picking up the star which nullifies your opponent's advantage.
#AskDunny
I did get a few "who should I bring in" tweets, but I am sorry, I did run out of time to fully research them this week to give you a really good answer. Hopefully some of the strategy type discussion above might help you make your decision.
Go the risky captain or safe. My oppenent will likely go Titch so I'm thinking risk it with someone else?

— Michael Berry (@Michaelrberry96) August 16, 2017
This is a common issue this time of year. If you think that your team has the edge on your opponent then you can look at matching off their captain so that nullifies any effect it can have. But, if you are the underdog you may want to take that little risk and go with someone different. It can pay off big time. For me, I would take the safe one normally, but if I need a real long shot to get up, then take the risky one. But make sure you check in with Calvin's Captains to see what he has to say. He looks at a lot of different options and you might just find the left field captain you need.
Hey @pkd73 my issue is I didn't make the prelims. Can you help I don't know what to do

— Levi Pearce (@levipearce93) August 17, 2017
Hi Levi, if you didn't make the Prelim in any of your leagues, then it is just pride and national ranking on the line for you I am afraid. There is no shame in missing the Prelim finals plenty of good coaches do some years (just like Warnie and Roy this season). The other thing you can do is just sit back and watch the footy and not stress over your players, or you can start watching players with your notepad out ready for next season!!
Selection Table
A reasonably quiet night at the selection table.  Here are a few of the highlights and my thoughts….
JPK back finally, for those that held him, he should deliver some points, it is looking wet and cold here in Adelaide tomorrow, he should put on plenty of tackles.
Nic Newman out, omitted. This could be the end of the road this season, have no hesitation in trading him out.
Mitch Wallis out omitted. A concern for those that were riding him after he had a strong return from injury.  Trade
Parfitt out, he was only bench cover anyway, hopefully you have someone else to take his place.
Mumford, Dev Smith and Cameron all back for the Giants. Probably not trade in targets but certainly great for those that held and they will certainly help their draft owners this week
Jaeger O'Meara is back. Will be interesting to see how he goes. For the adventurous among us, he could be at a really good discount next year.
Still no sign of Gary Ablett. If you have held, you need to trade, you can't hold that much cash on the bench at this stage of the season.
Hurley out with a Calf injury, that is a big blow as he has been in some great form lately. Calf injuries can take some time to recover, so don't hesitate in trading him out.
Jobe is being managed for one last game next week I suggest. But his form has been poor for Fantasy owners, so trade him.
Lachie Neale is out with a knee injury, we were worried about this early in the week and here it is. I think you need to trade. There is no reason for the Dockers to risk him next week.
Witherden has been named on the extended bench, we didn't think he would make it back but here he is. I am doubtful he makes the final squad, so don't rely on him being on your field.
Riewoldt and Ziebell both return for their respective sides for their Sunday clash. I wouldn't be trading them in, but for those with them in draft leagues this is a great result.

Click here to subscribe on iTunes.
Things To Remember
Do everything you can to make that Grand Final.
You can't bank trades for next season. So use them up this week in AF. In the other forms, if you have more than 2, use the extras.
Have cover. This time of the year is often when you find teams may get to the last minute and pull a player out.
Just one week before the big one! Hopefully you can get over the line and get yourself to the big dance. To get there though, you may need a little bit of luck, because at this time of the season we all need a bit of that!! Good luck (unless you are playing me of course!) and I look forward to seeing you all back here again next week for our last bit of scrambling for the year before the Grand Final.