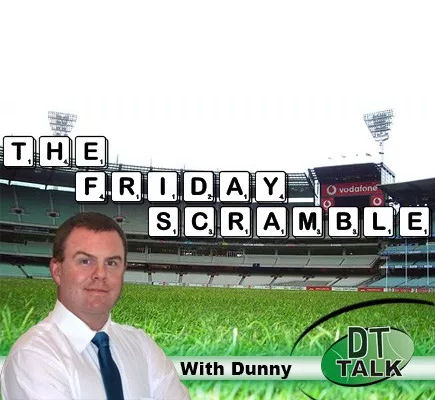 With the Footy Show coming back on last night, this statement hasn't held more true in Fantasy ever before… What a Big Week it has been in Football!!  Wow, injuries and suspensions have dominated this week. And it has come at a terrible time for us coaches as we start to head to the knockout stages of the final series. There are plenty of moves that are forced upon us this week and hence we need to start to Scramble!
What Do I Do Now??
This week is a great example why you don't test the Fantasy gods. If you thought last week that you might just wait on moving on someone that is out for the year and do it this week, well you have a heap of other issues to deal with now. This is just an example as to why, at this time of year particularly, you should deal with issues when you get them.
So with so many people out this week you may need to prioritise your trading since we only have two at most each week (or you may only have one in RDT or SC). For me there is a fairly set order that you do the trades:
Out for the Season. These blokes need to go first. If they have no chance at all of coming back this year, no need to hold them.
Two weeks suspension/injury. With two knockout games to come in the next two weeks you need all the points on the field that you can get, so for example, I would be trading Grundy out this week if you have no cover.
One week. These blokes are last. You know they are back next week so if you have some players out for longer then you trade them first. So if you have Selwood, Grundy and Zach Merrett, I would be trading Selwood and Grundy first.
Exceptions! As with every rule there is always exceptions and other things to consider.
What sort of cover do you have? For example if your only player out is Zach and you have Greenwood sitting on the pine to cover him, given the form of Greenwood you can safely play him on field. So in that circumstance you can keep him. For those in RDT or SC if you are really short on trades and you have Selwood as your midfield issue you could play Greenwood over him and just leave Sel on the bench to save your last trade or two.
The guy was bench cover anyway. If Witherden is your issue that you need to consider, you could look at just leaving him on the bench. He isn't the big high price player in your side and hence you could just leave him sitting on the bench.
No Cash in the Bank. One of the big issues with Selwood is that he has lost a lot of cash for us and if you don't have any money in the bank you may struggle to trade him out. If you do have cover then you may save your trade in RDT and SC. You don't want to be trading in a rookie just because you have no cash.
Overall this is where it is invaluable to have cash left in the bank, if you have no cash in the bank it can be tough to trade out these guys to a big premium players. And in RDT and SC it is always worth just holding on to a few trades because this sort of stuff can happen. However, I don't remember a week like this in recent years with so many premiums being out at once.
Options?
Rather than address specific questions, I have put together a few thoughts on options around the price point of the players. If you have heaps of cash in the bank then simply get the highest averaging player you can afford. Here are some of the cheaper guys you may want to consider. I have done this using AFL Fantasy Pricing.
Jelwood – He is tricky as he has lost a lot of value. However, around his price you can pick up Rocky if you don't have him, Sam Mitchell or even Will Hoskin-Elliott and before you say it, he has actually averaged 83.2 this year.
Grundy – Take your pick. He is one of the highest priced rucks. For me, I would look at Jacobs or Stef. But beware Big Maxy as he has started to hit some form.
Mumford – He is a bit cheaper and you need some cash to get to the big guys, but you can get to Goldy fairly comfortably.
Zach Merrett – If you need to trade him out to avoid a donut, you can't look past the Crouch Brothers. They have been great of late and are around the same price as Zach. Similarly you could go to Neale or Murphy who won't cost you anything in AF.
Selection Table
Well, with all the carnage we have already spoken about there are a heap of changes this week. Here are the ones that I think are important for us this week.
Obviously we have the suspended players and the injured players that we already knew about to contend with like Jelwood, Mumford, Grundy, Zach Merrett, Tom Lynch (GC), Witherden, Duncan and Hawkins.
Toby Greene is back, hopefully he can come straight back out and score for us. If you held him he could be handy unique for you this week. Also great to see Sean Darcy back in the Dockers side after his one week off, that could be a handy backup for those that were carrying Grundy and want to bench him. Danger returns, but there is some concern over him this week given he won't have Joel or Duncan alongside helping him out.
It seems to be a very recurring theme this year, Is Gazza in or is he out? Well this week he is back out again with the Hammy issue. To be honest, if you have the trades, I say move him on. You can't be worrying about him every week like this. He has become very unreliable of late.
Priddis returns to the Eagles side. But Nick Riewoldt didn't come up for the Saints from his concussion so he will be out again this week. Hodgey is back in and will be fired up. As suspected, Cox comes in to replace Grundy, but I would be steering well clear of him as he will be up against Ryder. Over at the Power there are some youngsters coming in and Trengove is out, but the big news from the Power is that Wingard is back in finally, this will certainly boost a few teams.
Overall though, there wasn't anything really that we didn't expect apart from the ones that we already knew about above.
Things To Remember
From here on out there are no second chances. If you were holding trades back for anything this is the time to use them. You can't win a premiership if you get knocked out this week!
Watch late outs on Friday afternoon. Check the AFL site before the first bounce on Friday as who knows what movement there will be during the afternoon.
Check out Calvin's Captains. Calvin doesn't do all that research for his own benefit (well maybe he does) but he shares it with us, so take advantage of it.
While you are waiting for the round to start, check out another post we have on the site as it relates to possible bench position changes in AFL Fantasy next season. We have put some of the options we think would be a good idea to see what you all reckon, it may help us shape any future changes in the game. So give it a read and put in a vote!
Best of luck for you all this week in the second week of our finals. Let's hope that the players out on the field actually help us out this week, and that none of our premiums belt someone this week or ride them into the turf! Not sure my team can take much more of that.
Catch you all next week for the all important Prelim Finals!!