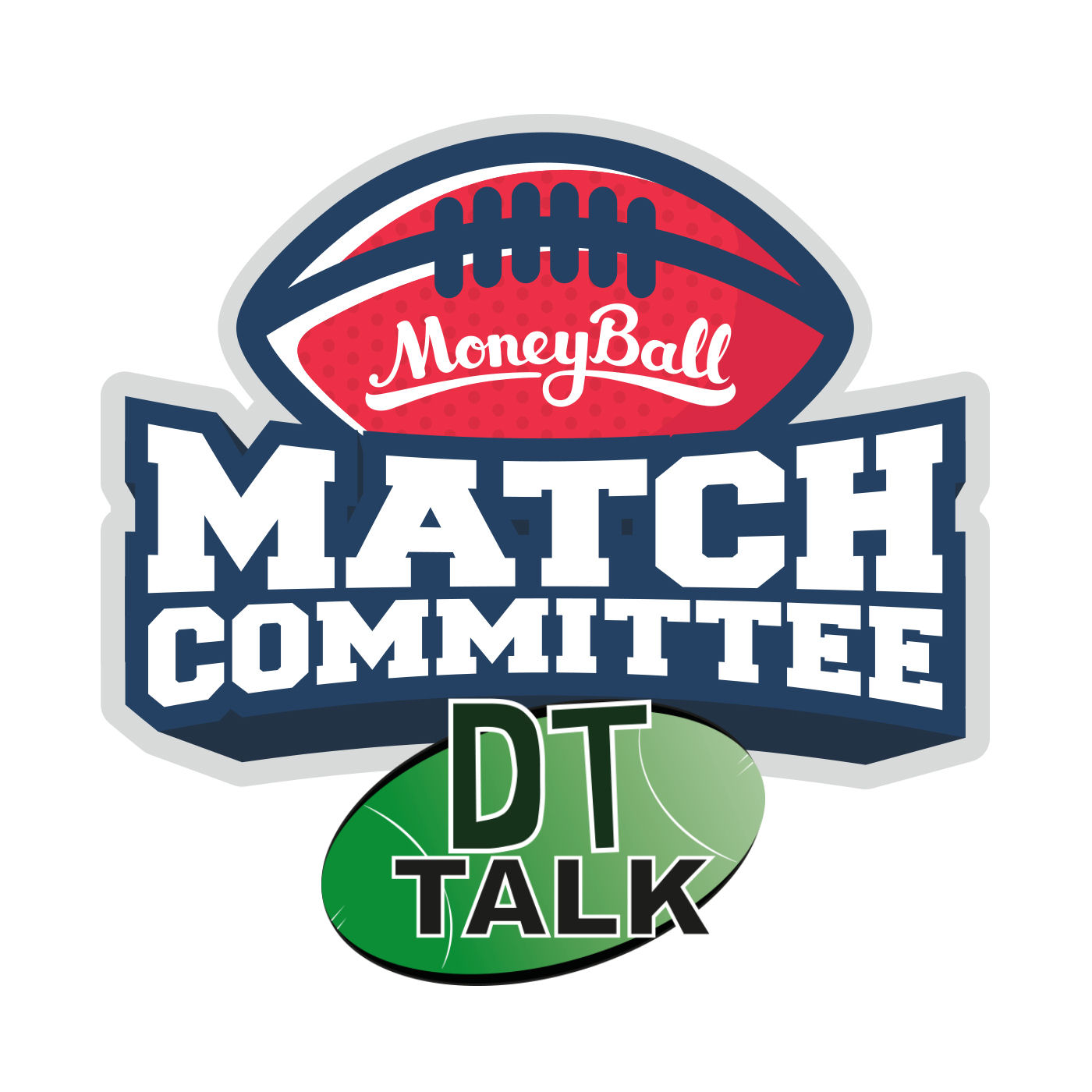 Tbetta here, and welcome to the self-proclaimed top resource for keen Aussie rules Moneyball punters! DFS (Daily Fantasy Sports) is taking off around the world and Moneyball have the perfect platform for you to turn your AFL Fantasy prowess into cold hard cash. Signing up is easy – head to moneyball.com.au and you could be ballin' within minutes.
If you're unsure how DFS works, be sure to head to the 'Help' section for all the info you need to start cashing in on your AFL Fantasy knowledge.
Click here to subscribe on iTunes.
Adelaide vs Sydney
BEST PICK: Josh Jenkins ($7,900 RU)
What do you do when you don't like the ruck situation at either side? Pick a forward instead! For some reason, Jenkins is a ruckman in Moneyball and it's a quirk you can take advantage of if you're smart. I personally don't like the actual rucks because a) the Tippett/Sinclair combo is hard to predict who performs, while b) Jacobs is coming off 68 in what should have been as easy matchup vs Leuey and sets you back $9k. Jenkins boasts scores of 90 (4 goals) and 130 (3 goals) in his last couple and he's actually very consistently good for a key forward.
BEST STAT: Luke Parker ($9,500 MID)
He's back to his high-ceiling best after a slow start to the year where he could only manage to hit triple figures in 2 of his first 12 games. After his awesome 2016, that was a concern that was pretty simply put down to the injury he sustained during last year's Finals. However, the mid-year break did him a world of good and he's averaged 109 since, hitting the magical century mark in 6 of those 8 efforts. A big reason for this has been his increased tackling fervour, laying the 3rd most tackles of all players over the past 7 weeks.
VALUE PICK: David Mackay ($6,200 MID)
Mackay's price sits nice and low due to a 4-point score a couple of weeks ago where he was injured in the first quarter. You take that out, and his last two scores read 88 and 102, returning huge value at his current valuation. He's ticking over at 81 in his last 5 uninjured games, so there's a bit of long-term continuity there – the challenge is now whether he can do it against the rampant Swannies.
Western Bulldogs vs Port Adelaide
BEST PICK: Patty Ryder ($8,600 RU)
Ryder's two best scores this year (119, 131) came against part-timers in Vardy and Giles. Against Roughead, he should find it equally easy.
BEST STAT: Chad Wingard ($8,800 FWD)
Another home game for Wingard meant another big score last week. In fact, over his last 13 games, literally his 6 highest scores were at home and the 7 lowest were away:
Home: 125 avg, lowest score of 98.
Away: 74 avg, highest score of 98.
In my opinion, he's basically unpickable this week as he's playing in Melbourne.
VALUE PICK: Todd Marshall ($3,700 FWD)
SANFL stats are hard to come by, but he's kicked 5 goals in his last two games at SANFL level and 3 the week before that. I don't have huge hopes for a key forward in his first AFL game, but you almost have to take a swing at that price.
Collingwood vs Geelong
BEST PICK: Sam Menegola ($8,800 MID)
As we know, Menegola's scores rocket when the better midfielders ahead of him miss:
Last 4 scores with both Danger/Selwood:  84, 75, 79, 103. (at an 85 avg)
Last 4 scores when at least one missing: 124, 113, 120, 110. (at a 117 avg)
With Selwood out for the remainder of the year, Menegola is on autopick for me.
BEST STAT: Zac Smith ($7,300 RU)
With Stanley injured, Zmith finally gets the solo ruck time he needs to succeed:
Last 5 with Stanley: 66 average, no scores over 90.
Last 5 Without Stanley: 104 average, no scores under 80.
Grundy is a difficult match-up but Smith has shown he's no slouch at ground level either.
VALUE PICK: Matt Scharenberg ($6,200 DEF)
This is strongly form related, producing 98, 96 and 95 over the past three weeks. A big driver of that is the 10 marks per game he's ripping down over the past month – ranked 3rd behind only Sicily/Ryan. Similar backmen for Richmond in Houli & Vlastuin had 18 marks between them vs Geel last week.

GWS vs West Coast Eagles
BEST PICK: Josh Kelly ($10,200 MID)
The Eagles are conceding the most points and most tons (6 per game) over the past 3 weeks.
Meanwhile, the data is potent for Kelly. He scored 111 against Eagles earlier this year; he's produced a lowest score of 91 at Spotless this season; but most of all, I love his ceiling – he's nailed 5 scores over 125 this year (including a 159 and a 162).
BEST STAT: Luke Shuey ($8,500 MID)
Unfortunately for for AFL Fantasy side, Shuey's hit a serious wall in his fantasy production:
Rounds 1-13: 112 avg, 9/11 tons.
Rounds 14-21: 81 avg, 1/8 tons.
He's simply untouchable at that price with a highest score of 102 in his past 8 games.
VALUE PICK: Shane Mumford ($7,900 RU)
Ruckmen vs Eagles over the last 4 weeks:
R18 Grundy – 127, 42 hitouts
R19 Stefan –   113, 50 hitouts
R20 Longer –  112, 51 hitouts
R21 Kreuzer – 111, 33 hitouts
That's insane. Mummy is averaging 103 and 39 hitouts over his past three and that's without the cakewalk of a West Coast matchup to help.
Gold Coast vs Essendon
BEST PICK: Zac Merrett ($10,300 MID)
Gold Coast is Merrett's favourite team to play against over his career on the back of 107, 119 and 127 over his short time in the league. On top of that, Gold Coast ranks #1 for points conceded in the past 5 weeks, including #1 to MIDs. Even last week, Beams and Rocky scored 143 and 123 against the Gold Coast and they're hardly in form – I'm all over Zach this week.
BEST STAT: Aaron Hall ($9,000 MID)
Seems to play much better without Ablett in the side, and given GAJ is injured, I'll let you figure out the rest. Here are the juicy numbers:
Last 4 with Ablett: 65 avg, highest score of 74.
Last 4 without Ablett: 114 avg, lowest score of 92.
VALUE PICK: Keegan Brooksby ($5,200 RU)
With Witts ruled out for the season and Currie freshly injured, it's next man up for the Gold Coast. While he might be a hack, he's actually scored 92 and 101 in the last two games of 2016 on top of his 82 earlier this year. Cha-ching.

Carlton vs Hawthorn
BEST PICK: Jarryd Roughead ($8,100 FWD)
Everyone cut him from their AFL Fantasy teams after a slow start to the year, but old Roughy has found his groove lately with 113, 119, and 94 in his last three. While he's you'd expect his healthy 8-mark average, you don't expect him to have won 20 disposals or more in 5 straight games as a nominal key forward!
BEST STAT: Sam Docherty ($10,800 DEF)
Hutchings ran with Docherty for stretches against the Eagles last week, keeping him to just 9 disposals in the time they were matched up (just over half a game, stat via Freako) keeping him to a season-low score of 78. Now that Hawks have seen Docherty can bleed, will they send someone in for the kill? Howe has done run-with jobs at times this year, keeping Cunnington to 83 last week. Hmmm. I'm avoiding.
VALUE PICK: James Sicily ($7,600 FWD)
We talk about him every week, but he's just getting it done as a backman.
Last 4 scores: 104, 106, 110, 92.
Marks totals: 11, 14, 10, 9.
Once again, we'll rehash the stat of being Ranked #1 for marks per game over the past month with 11. Easy money.
Melbourne vs Brisbane
BEST PICK: Cam Pedersen ($6,700 FWD)
After 5 straight games with 65 or less, Pedo busted out a huge 125 last week (26d, 8m, 6t, 2g) playing as Gawn's back-up once again. While the Brisbane Backline Rule is in effect is the only time we'll recommend a back-up ruck, as Pedo is a great chance to snag multiple goals while scoring in a flurry when he gets moved onto the ball.
BEST STAT: Tom Rockliff ($8,700 MID)
That 123 last week was his first ton since Round 8, which goes to show just how un-Rocky like Rocky has been lately. The silver lining for Rocky only averaging 83 ppg between last week and Round 8 is that his price has dropped to $8,700, so the question is… Do we think he can ton up this week? Melbourne have conceded the 5th most points over the past 5 weeks, plus Rocky's last 7 scores vs Demons reads 134, 130, 119, 125, 120, 110 and 111 for a massive 121 point average.
VALUE PICK: Alex Neale-Bullen ($6,900 MID)
He's managed 100 and 112 in his last two in a MID/FWD rotation and that was with a fully healthy midfield… Surely Viney out helps his creep up his midfield time? Regardless, he's a solid pick with a tantalising ceiling.
St Kilda vs North Melbourne
BEST PICK: Jack Billings ($8,700 FWD)
North have conceded more tons than any other side this year, and it just so happens that Billings has a ceiling that can take advantage of that fact, going over 110 on 7 occasions this season. The numbers stack up well for the young Saint, notching 105 against North earlier this year to go with 119 and 135 in his last two.
BEST STAT: Todd Goldstein ($7,600 RU)
So Goldstein played 84% TOG last week….  Yet ended up with a team-low 32 from 22 hitouts. Something is clearly wrong here and there's no way you can pick him and call yourself a sane person, or at least a fiscally responsible person. It's been a massive fall from grace for the guy who averaged a monstrous 114 points a game just 2 years ago.
Billy Longer (7,300 RU) is averaging 91 from his last 6 and is your undisputed ruck pick for this slate.
VALUE PICK: Luke Dunstan ($8,200 MID)
The form is rich with this one, lodging scores of 107, 116, 100, 110 over the past month of footy. He was almost a full-time midfielder after Stevens went down last week, and that role could continue this week with Koby unable to get up.
Fremantle vs Richmond
BEST PICK: Dion Prestia ($7,600 MID)
With 125 and 117 added to his resume in the past fortnight, it looks like Prestia's finally fit. As we said last week, when he gets to 28 touches he performs: 103, 137, 126 and 117 are what he's produced when he finds the pill, and they also happen to be his only 4 tons for the year. Additionally, Freo have overtaken Hawks as the easiest side the score against this season so the tea leaves are positive for Prestia in this one.
BEST STAT: Harley Bennell ($6,200 MID)
Excited? Don't be. Harley's scores at WAFL level this year are underwhelming, lowly totals of 44, 18, 22 and an apparently eye-popping 65. Playing forward, and Lyon has already confirmed he won't play midfield this week. Given it's been 723 days since his last AFL game, expect absolutely dick all for Bennell this week.
VALUE PICK: Lachie Weller ($7,200 MID)
In Lyon's presser, between all the lies and double talk, he claimed Weller will earn more midfield time with Walters/Neale out. With scores of 99 and 94 within the past 3 weeks, the foundation is there from a half back flank to think that he can hit three-figures once he rolls through the guts.
Always remember to gamble responsibly. If you're having problems with your betting, you can get help at Lifeline or talk to someone at Gambling Help Online.