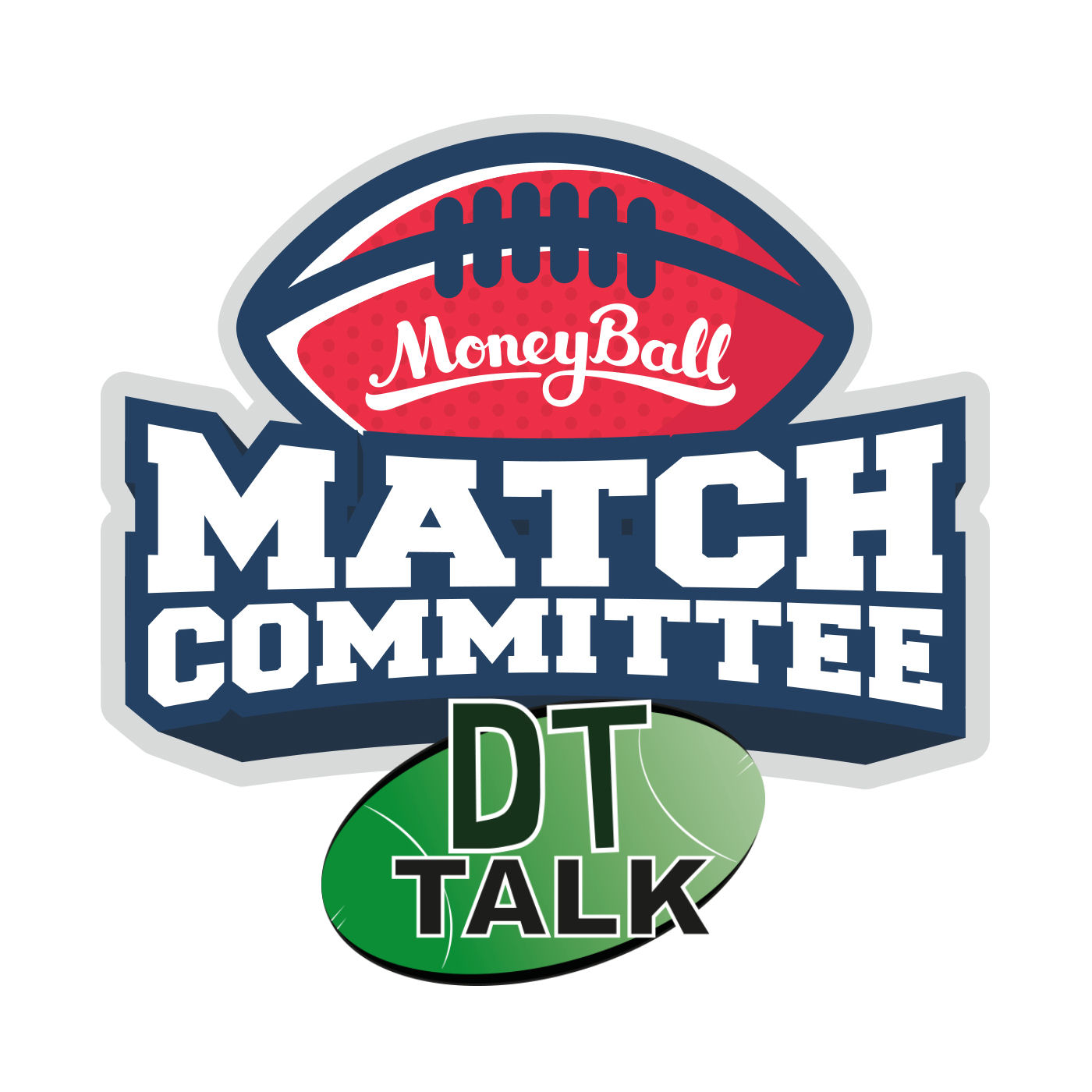 Tbetta here, and welcome to the self-proclaimed top resource for keen Aussie rules Moneyball punters! DFS (Daily Fantasy Sports) is taking off around the world and Moneyball have the perfect platform for you to turn your AFL Fantasy prowess into cold hard cash. Signing up is easy – head to moneyball.com.au and you could be ballin' within minutes.
If you're unsure how DFS works, be sure to head to the 'Help' section for all the info you need to start cashing in on your AFL Fantasy knowledge.
Click here to subscribe on iTunes.
Adelaide vs Geelong
Let's talk about the messy ruck situation in this game, because you gotta pick one of them. Zac Smith and Rhys Stanley both couldn't get past 60 last week, as they unfortunately cockblock each other on a weekly basis. Sam Jacobs ($9,000 RU) is the obvious option and actually a decent ruck play given his form; on the other hand, rucks struggle coming up against the three-headed ruck beast from Geelong.
Enter Mark Blicavs ($7,600 RU), the ruckman-cum-utility who's averaging 103 over the last month. As we talked about last week, a big reason for this is a sharp increase in tackles, notching 6 or better in 4 straight games.
Sam Menegola ($8,700 MID) is a fantasy stud in many respects but it's all about role for the mature-ager. Over his last 5 games, he's played 3 of those alongside Joel Selwood for 65, 85, and 74. On the flip side, he's lined-up Selwood-free in the other two for scores of 124 and 113. Menegola's a ball magnet but it's hard to find endless pill off a forward flank… But with Danger and Scooter in doubt, keep him in mind leading up to lockout.
He's been a popular cheap pick for us since the break but here's an interesting fact about Hugh Greenwood ($5,400 MID): He averages just 67 in wins compared to 108 in losses! That's completely counter-intuitive but the dude obviously thrives off tight contests as evidenced by his 7.7 tackles per game – 4th best in the comp. This will (hopefully) be a competitive game, so I expect that Greenwood will turn it on.
Essendon vs North Melbourne
Ben Cunnington ($7,700 MID) has been one of my regulars this year and I'll be going back to the well again in Round 18 at a modest price due to a quirk in his scoring profile. Lucky for us, outliers have lowered his price with 3 scores under 50 this year dropping his overall average down a chunk – but of the remaining 11 weeks, 10 have been up around 88 or better. North are thin on midfielders and with Ziebell out, Cunnington will sit in the centre square all day.
David Zaharakis ($9,000 MID) is like a pair of fancy Ray Bans; you only take him on a good day. Unfortunately he does his seagull reputation no favours with monster scores in Essendon wins, his last five looking like 120, 137, 113, 121 and 120. As foreshadowed above, North's midfield is a bit of a running joke and that's showing in fantasy, with the Roos giving up the most points to MIDs over the last 5 weeks.
Scores of 113 and 138 leading into this Saturday have put James Kelly ($7,600 DEF) back on the radar as a fantasy option, although we shouldn't have needed reminding of his fantasy pedigree. Pops needs to be considered in that position, at that price, and going into battle against the easiest team to score against lately.
Melbourne vs Port Adelaide
Jordan Lewis ($7,700 MID), as expected, stepped up with Viney, Tyson and Jones all out of the side in the past fortnight, scoring 90 and 103 in the process. If they remained out, I'd be all over the former Hawk stud… But not with Tyson, Viney, Salem and even Trengove all returning to snack on slices of that midfield pie. If you still think he can replicate last week's season-high 33 touches in a backline role then go for it, but I'm not convinced.
Another player worth fading this week is everyone's favourite fair-weather friend in Chad Wingard ($8,700 FWD). Since Round 4, Chad has averaged a massive 126 at home and those scores – like last week's 149 – stick in your mind and have you bullish on his chances every other week. But unfortunately this game is being played in Melbourne and shockingly Wingard hasn't scored a ton away from home this year, ticking over at just 77 from his last 6 games on the road. I'll pass based on those filthy numbers.
Jay Kennedy-Harris ($4,100 FWD) finally brought his insane VFL form straight into the AFL with 102 points last week from 28 touches, 4 marks, 5 tackles last week. However, he's no chance of earning midfield stints with the names they have back (which he had last week), so temper your expectations accordingly. He's still value, but in the 60-80 range.
Western Bulldogs vs Gold Coast
We disrespect Jarrod Witts ($8,600 RU) at times, maybe because he doesn't have a superstar brand, or maybe because he plays at an irrelevant club like the Gold Coast in 2017. Either way, producing a lowest score of 83 in his last 10 games as a ruckman is worthy of a mighty slap on the back and a pack of Ferrero Rochers. The former Pies is swatting 41.5 hitouts per game since the bye (Ranked #1) and comes up against Roughead – who lost the hitouts 50-18 last weekend. Juicy numbers.
Over the last month, Toby McLean ($7,700 FWD) is ranked #2 for tackles and #3 for disposals at the Bulldogs and shows no signs of stopping. The midfield role change is obvious, and he's earned every minute he's getting with scores of 100, 88, 127 and 107 leading into Round 18. Pick with confidence against a Suns side struggling for senior on-ball soldiers.
One kid picking up the slack in there is David Swallow ($7,700 MID), and he deserves your attention in Moneyball this week. 109, 107 and 117 are his last three efforts, all produced without assistance from the majority of Ablett, Hall and Barlow at times with their respective injuries. Add Lyons' ankle to the list of Gold Coast ailments and I'm even more optimistic of yet another Swallow patch-up job.
Sydney vs St Kilda
Keiren Jack ($7,400 MID) started the year really poorly, which was expected due to recovering from hip surgery on the fly in an unfamiliar and unfriendly forward flank role. But he's moved into the midfield more permanently as of late, bumping up his average of 11 possessions between the 50m arcs to a healthy 18 in the last three weeks. His scores in those games? 125, 90, and 112. Cha-ching.
When it comes to the rucks, I've had enough of trying to milk points out of Naismith because he's simply straight up trash as a fantasy guy. Instead, I'm flipping my thinking and capitalising on the scores he's giving up to his opponents, such as Gawn (81), Witts (110) and Mumford (112) over the past few weeks. Billy Longer ($6,200 RU) has had his moments this season and I'll back him reluctantly this week.
While I'm here, I should give a cheeky shout out to Shane Savage ($6,800 DEF) for putting up his hand as a cheapish option. He's produced 94 and 106 since being sent back to the VFL, and seems to be finding a way to co-exist with Roberton.
Fremantle vs Hawthorn
On of my favourite fantasy topics is Connor Blakely ($9,100 MID) and here's why: he's always been a statistical beast, but has just struggled with his minutes (fitness?) and obviously that's capped his scoring. However, check out these splits and tell me whether you think he's solved those issues:
2016: TOG: 62%. Average: 75
2017 Pre-Bye: TOG: 76%. Average: 87
2017 Post-Bye: TOG: 91%. Average: 130  
Looks like Lyon has found a way to maximise Blakely's TOG, producing scores of 107, 135 and 149 in a newly minted halfback role. Say it with me…. Lock!
A well-known forward, Jack Gunston ($7,300 FWD) seemed to fill a backline role last week and scored a healthy 98 from 8 marks. The stats back up the eye test, winning only 2 possessions in the Forward 50 and collecting 56% of his possessions overall in the back half. This is a bit of a blind swing as some value, but it will be very interesting to see if he starts down back again this week as his scoring potential looks good.
Sean Darcy ($4,800 RU) has a lowest score of 80 in his ENTIRE CAREER as a ROOKIE RUCKMAN. If you don't pick him you're either insane or you're betting on an injury, which just makes you a miserable bloke or sheila. The stats are really healthy for Hodor, as only Shane Mumford is averaging more tackles than Darcy (5 per game) in the past month, and he's pulling down the 7th-most hitouts in that stretch. Eat up, big fella.
Richmond vs GWS
Last round, Callan Ward ($9,100 MID) had a 'down' week compared to recent standards with 84… However, I wouldn't be worried. The inside bull still had 33 touches and as massive 15 clearances, which was ranked #1 for Round 17. He'll pick up a few extra under-the-hood stats this week, numbers that have helped him average 116 over the past month.
It looks like Richmond have finally pulled the trigger on their young ruck talent Ivan Soldo ($4,400 RU), which is having a net negative effect on the scoring of Toby Nankervis ($7,400 RU). Soldo suited up as the lead ruck against Lions, winning 21 hitouts to Nank's 14 as a back-up. I can see why the Tigers are opting to develop their back-up, and I can't see why they'd only give him a week to do it. While Nankervis is unpickable if he's predominantly forward, Soldo is worth looking at with 64 last week. He can build on that, just don't expect a Darcy-like effort.
With 93 in his first game back from VFL (24 touches, 8 marks, 4 tackles), Anthony Miles ($7,600 MID) comes into calculations. He's undoubtedly value based on what he's done in the past, averaging high 80's as a Tiger, and pitted against his former side. Revenge ton please mate.
Collingwood vs West Coast
Brodie Grundy ($9,600 RU) comes up against Vardy and the Eagles this week (who concede 3rd most ruck points), and he does it without a Cox-block. As we've talked about in the past, he's miles better without a handbrake – 29 points per game better this season, in fact.
Last week was the first game that Grundy has played without Cox and missed the ton (87) all year, so we can excuse him that one 'blemish'. He'll be huge on Sunday.
After spending the majority of the season stuck in the Mid/Fwd rotation at the Eagles, Liam Duggan ($6,100 MID) has moved back in the past fortnight and his scores are seriously boosted as a result. Over the first 15 rounds, Duggan was averaging just 60 points and never had more than 19 possessions in a game. Fast forward to the past two weeks with his move to the backline, and he's pumped out 86 (22 touches) and 124 (31 touches)! Clearly, defense is his best fantasy position and I'm all over Duggan this week.
Matt Scharenberg ($4,700 DEF) is getting better as the year rolls on, particularly as he becomes more confident in his body and confident with his instincts at AFL level: We're seeing steady improvement from 53, 68, 71 and then finally 82 on the weekend. Typical value pick.
Brisbane vs Carlton
After mouth-watering gifts of 96, 82, 91 in last three, Alex Witherden ($5,200 MID) essentially picks himself this Sunday. He's actually the 2nd-highest averaging player at the Lions over the past three weeks behind Dayne Zorko… and he's just 4 games into his career. He's slotted in like a prostate check and has to be in your side this weekend.
Sam Kerridge ($7,700 MID) often pops up with a bit of relevance each year, and at the moment it's his scores of 107, 111, 91 in the past three weeks (while Curnow sits on the sidelines) that has piqued interest. In fact, Kerridge's possession tallies of 35 and 30 in the last fortnight are his two highest over his entire career. Then when you add in that he top-scored with 139 against Brisbane last season – the only other time he's reached 30 touches in his career – and you'll find it hard to leave him out.
After a slow start last week, Dayne Beams ($8,100 MID) finally got going and churned out 80 points over the last 3 quarters of footy. I have a feeling that this is the start of a return to big-time Beamer, who scored 144, 116, 145 soon after another injury earlier in the year. Risky, but the payoff is huge.
Always remember to gamble responsibly. If you're having problems with your betting, you can get help at Lifeline or talk to someone at Gambling Help Online.