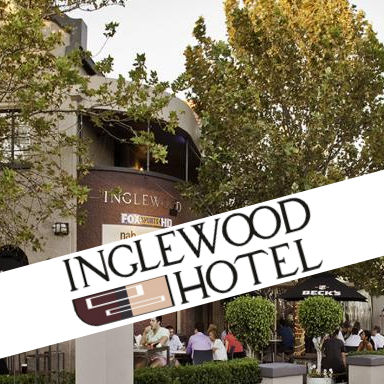 Last Saturday, the boys hit up the Inglewood Hotel for a few brews and footy.
Firstly, this place was the bomb and had everything we needed for a wicked day.
The food was awesome… and old Warniedawg couldn't recommended the Parma enough, in fact, he considered it for lunch and then tea.  MENU HERE
As far as the footy goes, there are heaps of TVs and you can't go wrong. The thing is, all sports is covered and when they roll down the big screen, it's like actually being at the game. Around the big screen there's plenty of seating for you and a crew, or you can even head out the back if you want something a little quieter.
Beers… it's not sport without a froth and at the Ingle they have a wide variety. For us, we play it pretty safe with draught, but if you palette requires something a little more adventurous, they'll have it.
If you are from Perth, or even heading over that way sometime soon (maybe for the Hawks game this weekend), this is certainly a place we highly recommend. Not only for the beers, TVs and footy… but friendly staff as well. Yes, we're pumping up their tyres here and if you go and check it out you'll see why.
For more information, access their website by following the link right here