Moneyball's $5,000 Saturday Slam
Seriously Cal? You won't believe who he has as his "hot tip" of the day.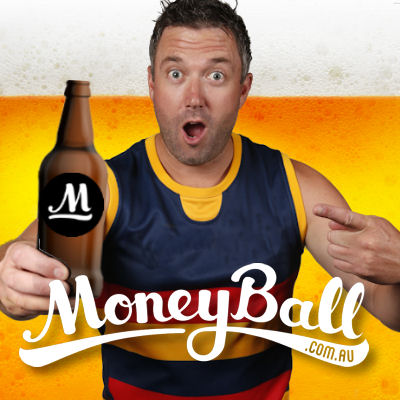 Hi there Moneyballers. Welcome to the big $5,000 Saturday Slam where winning cash is on the agenda for today.
After nailing some ripper last night in my Friday Frothies such as Jenkins (111), Sloane (105), Atkins (102) and Riley Knight (87), my confidence is pretty high right now.
$5,000 with the winner taking $650 and its pays $34.18 right down to 89th
Hawthorn v GWS 1:45pm
Collingwood v Essendon
Sydney v Gold Coast
Brisbane v Geelong
St Kilda v Richmond 7:25pm
Billy Longer (RUC, $6,000)
I'm not going to pay over $8K for a ruckman today, as even the big guns don't give me very much confidence with their match-ups so I'll be saving some coin on Longer.
He'll be shouldering all the ruck load against Richmond and for those who didn't know, Nankervis is a ruckman who is very easy to score against.
Longer scored 91 last week going solo last week with 48 hit outs and should be good for another 90 score today.
Wylie Buzza (FWD, $3,800)
Firstly, there is a small percentage for the reason I'm picking Buzza today, is because of his name… but the main reason is and this trend will continue, they play the Lions.
Brisbane give up so many points it's not funny. In fact, they have given up the most over the last three weeks and in a game the Cats will/should dominate, guys like Buzza can surely improve on the 59 he had last week.
Zach Guthrie (DEF, $3,800)
Ok… 37 last week was potentially 20 less than what we expected, but he can make up for that today. He's named in the back-pocket and if we can 'get away' with a couple of these cheapies, it allows us to chase some of the big guns here that have the potential and the runs on the board to go 150+ today.
Zach Merrett (MID, $11,200)
The biggest of my big dawgs today is Zach Merrett who will be looking to bounce back in a big way after scoring 78 last week.
Against the Pies, he should crack 140 and nudge that with a 137 when he played against them earlier this year. Zach has been amazing this season and is averaging 123 at the MCG where he plays today.
Collingwood do leak points and that's why, I'm more than happy to spend over $11K on this premium jet.
Adam Treloar (MID, $10,400)
My second big midfielder only managed 98 last week, but even with that, he's averaging 112 in his last three games this year.
Last week, Brisbane had 4×100+ scores against the Pies, with Dayne Zorko leading the way with 124.
Treloar's record against the Dons is amazing with previous scores of 144, 129, 102 and 130 so with this in the calculations, he should be good for a nice one again today.
Tom Hawkins (FWD, $6,500)
Calvin? Is this your hot tip of the day? Have you lost your bloody mind?
Yes…. But no I haven't.
Hawkins will be big today. Mark my words as they sit here on your screen and this is why. Brisbane key/tall defenders are horrible. Last week Daniher booted 3.4g against them and before that, opposition player have had a field day.
Let me break it down for you… v Brisbane
Rd. 15 – Daniher 3.4g (61pts)
Rd. 14 – Patton 4.2g (133pts) and Cameron 4.2 (132pts)
Rd. 13 –  Gray 2.4g (117pts), Dixon sucked for 1.0 (59pts)
Rd. 11 – Elliott 4.4g (102pts) and Moore 3.2g (97pts)
That's just a sample if what has been the common trend all year. At $6,500, Tomahawk is good for an easy 100 today (maybe 99) and is a lock in my team. But sh*t… it's Tomahawk, ahhhhh what have I done? Nah he'll be right!
Good luck for today guys and as always, play responsibly and win some ca$h.