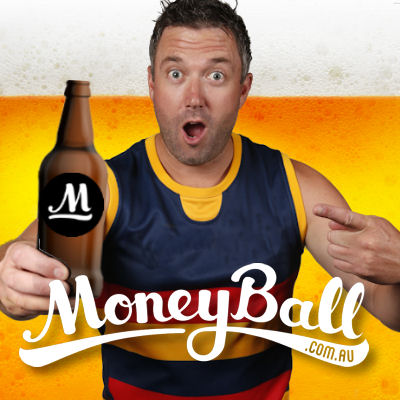 Hi there Moneyballers. Welcome to the big $5,000 Saturday Slam coming to you all the way from old Perth as I sit here in the hotel room crunching numbers for you as we get set for another huge day of footy.
$5,000 with the winner taking $650 and its pays $34.18 right down to 89th
Hawthorn v Geelong 1:45pm
Port Adelaide v Kangaroos
Gold Coast v Collingwood
GWS v Sydney
Melbourne v Adelaide 7:45pm
Steele Sidebottom (MID, $10,300)
Sidey is often over looked in the midfield and his ownership is usually quite low. Lots of Moneyball coaches tend to favour the bigger guns here but with the numbers that Sidey has been having, he should be in that class as well.
He is averaging 118 in his last 5 games and is coming off scores of 104 and 118 against the Gold Coast Suns.  Lock him in for another big one today.
Cam Zurharr (FWD, $3,500)
Look… we might as well.
Zurhaar is a rookie from the Kangaroos who is only averaging 55 in the VFL this year and debuts today. Although I'm not confident, his price is the only thing I like here.
With the big guns that we'll be rolling with today, having a $3.5K rookie is a must.
If he can sneak a 50-60 score for us here, we'll take that, as the big guns around him should make up the difference.
Click here to subscribe on iTunes.
Patrick Dangerfield (MID, $11,400)
Having Zurhaar mean we can get DANGER!
I don't need to tell you, but he's currently ranked #1 in the games over the last 3 weeks with an average of 142. He has been in smashing Brownlow form and this week he's up against the easy Hawks.
Hawthorn have been the easiest team to score against this year, giving up the most 100+ and 120+ scores. This alone is the reason why Danger is my AFL Fantasy captain today and the reason I'll be chasing him hard in Moneyball today.
Expect something over 140.
Dan Houston (DEF, $5,700)
Or should we call him Pittard? Especially after he has basically taken over in the Port backline and stealing the numbers that Jasper used to be getting.
With scores of 91 and 101 in the last two weeks, this defender has been getting it done with a total of 20 marks over this time.
Back home against the Roos, he'll be good to continue the trend today.
Scott Selwood (MID, $7,400)
He's back and apparently he's back to tag Tom Mitchell.
This will effect his score (slightly) but this also means that he'll be right around the ball and laying whoopload of tackles.
In his 4 un-injury effect games this year he has scored 84, 125, 119 and 119 and against the Hawks as I mentioned earlier… he's a sure thing for another ton here.
Josh Jenkins (RUC, $7,900)
Although it is very tempting to go with the big Grundy here off the back off Mason Cox being dropped, I can't justify paying the extra $2,100 when Jenkins' form has been just as good, or even better in the last few weeks.
He has a lowest score of 98 over the last month with scores of 111 and 126 coming in his last two games.
Jenkins has the odd run in the ruck and clocks up a few hit outs but over the last few weeks, he has filled his stat lines with goals (10 in the last 3 games), tackles (17 last 3 weeks) and marks (20 in last 3 weeks).
Good luck for today guys and as always, play responsibly and win some ca$h.