Calvin's Captains – Rd. 16
Ahhh me hearties, Calvin is back with the best Captain coverage in the land for Rd. 16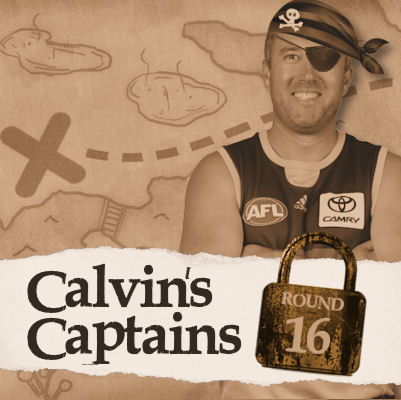 Here we go again. Calvin is back for some hot captain tips and #AFLFantasy advice. https://t.co/4MDB82LrQA

— Calvin (@CalvinDT) July 5, 2017
HISTORY AGAINST DUSTY
This week, Dustin Martin plays against one of his hardest sides in St Kilda.
They are now the only team Dusty hasn't scored 100 against across his career of nine games. He managed 86 on them earlier this year and can't seem to break the St Kilda Curse.
This was the same thing that he had going against the Blues though. A career run of 13 'ton-less' games until this year when he finally went BANG and broke the run with a huge 139.
So can he do it again? It's not like Dusty has automatically become good this year, he's been a gun for a long time now and every year when he meets the Saints, he can't get the job done.
The man is a beast, but making him your captain this week is a risk as he tried to crack triple figure after failing nine times before.
BOUNCE BACK ZACH
Just 78 last week as my #1 captain, Zach Merrett give yourself an upper cut.
Now that's out of the way, let's refocus because Zach will bounce back this week against the 4th easiest team to score on at the moment, Collingwood. But amazingly, although they are giving up points, they rank at #1 for being the hardest to score 100+ against.
Zach scored 137 against them earlier this year and loves playing at the MCG where he has averaged 123 this year from 5 games. Last week, the Hawks had 4 players score over 105 against the Pies and this indicates to me that Zach will bounce back this week, and will reward those who are brave enough after being burnt badly last weekend.
GWS MAKING IT TOUGH AGAIN
The Giants are  by far the hardest team to score Fantasy points against and this week, the pig himself Tom Mitchell tried to get the job done down in Tassie at the UTas Stadium.
Forecast is set to be bloody cold, Tom will be waking up in the morning with the temperature at 0, only for it to warm by the arvo, hitting 12 degrees.
The Giants rank as the #1 hardest team to score against this season and #2 over the last three weeks, behind Carlton who are currently at #1.
Now, Dangerfield didn't struggle last week when he racked up 142, and even Menegola managed 113, they were the only two successfully Cats.
So where does Tom Mitchell sit here? We'll he played against the Giants last year for scores of 75, 98 and 111. Not great! But he does love playing in Tassie where he has scored 132 and 125 this year, but they weren't against the mighty GWS.
Mitchell's form has been amazing though with a lowest score of only 108 this year and 135 and 117 coming over his last two games. In a week where picking a captain is a little tricky, then maybe we just lock in Tom and hope for a simple 100 and move on our merry way.
 
EASY ONE FOR DANGER
After playing the tricky Giants and still scoring 142, Patrick Dangerfield now finds himself up against the easiest team to score against over the last three weeks in the Brisbane Lions.
He scored 112 and 107 in his last two against them but it's his form here which really blows me away and seels the deal. 142, 134, 116, 131, 125 and 156 are his last six games as this $2.15 Brownlow favourite chases another shiny medal.
Danger has been tagged by Mitch Robinson in the past and with no tag coming his way in this one, he'll smash out something big once again.
BLUE BOYS ON FIRE
When will someone go and stand next to Sam Docherty? He's doing as he pleases at the moment coming off scores of 132, 126, 143, 149, 130 and 119. Absolutely insane.
He's the #2 man when it comes to form and had 101 against the Demons already this year and prior to that he had 108 and 106.
If Doch is the #2 man in the game, that makes Bryce Gibbs the #1 man after his 160, 104 and 190 in his last 3. He scored 93 when he met these guys earlier this year and has been on fire. Therefore, is this the week for Bernie Vince to tag someone again?
Surely it must happen at some point, but Vince looks pretty comfortable hanging out in the defensive half at the moment and therefore I'm very doubtful he'll get tapped on the shoulder to do a job this week.

Click here to subscribe on iTunes.
JUST QUICKLY…
Adam Treloar v Essendon @ the MCG – Scored 144 on the Bombers this year and before that he scored 129, 102 and 130. Averaging 112 in his last three, which includes his poor 98 last week. He'll be big here.
Gary Ablett v Sydney @ the SCG – 127 on the weekend and here he is up against one of his all time favourites. 124 and146 are his last two games against them but being at the SCG, this might be a little trickier. I'll back him in again though.
Rory Sloane v Bulldogs @ Adelaide Oval – Only had 83 last week and hasn't scored over 80 in his last 3 against the Dogs. You never know what you'll get with this guy though.
Luke Parker v Gold Coast @ the SCG – Is he back? 148 last week and had 121 in his last game against the Suns.
I'm not jumping on him until I see a few more great games like last weekend.
Josh Kelly v Hawthorn @ UTas Stadium – Only had 95 on the Hawks last year, but they're much easier than what they were, in fact, they rank as the second easiest team to play over the last three weeks.
Taylor Adams v Essendon @ the MCG – 88 this year on the Bombers and 108, 127 and 127 before that.
Josh Kennedy v Gold Coast @ the SCG – JPK scored 124 on the Suns last year.
Dayne Zorko v Geelong @ the GABBA – 124 last week but his numbers on the Cats are disgusting with 65, 89 and 59 coming in his last few. Yuk!
Steele Sidebottom v Essendon @ the MCG – Managed 100 last week, to average 119 in his last three games. Loves the Bombers with previous scores of 90, 144, 91, 109, 124, 126 and 143.
Andrew Gaff v Port Adelaide @ Domian Stadium– Hasn't scored a ton against the Power in his last four games. Passing on Gaff based on this, despite being at home and coming off a ripper last week.
Dan Hannebery v Gold Coast @ the SCG – Absolutely smashes the Suns and if you want a roughie, this is it with previous scores of 115, 117, 133, 106 and 102. His form though… ugly with 51 last week and nothing over 90 in his last 3.
Tom Rockliff v Geelong @ the GABBA – 123, 124 and 140 are his last three against the Cats and although this one is at the GABBA, Rocky hasn't been the pig we love. He'll come good, but we must wait before making him our captain.
ODDS: For those who would like to see the odds for my top 5 for Calvin's Captains for round 16, please follow the link provided right HERE.