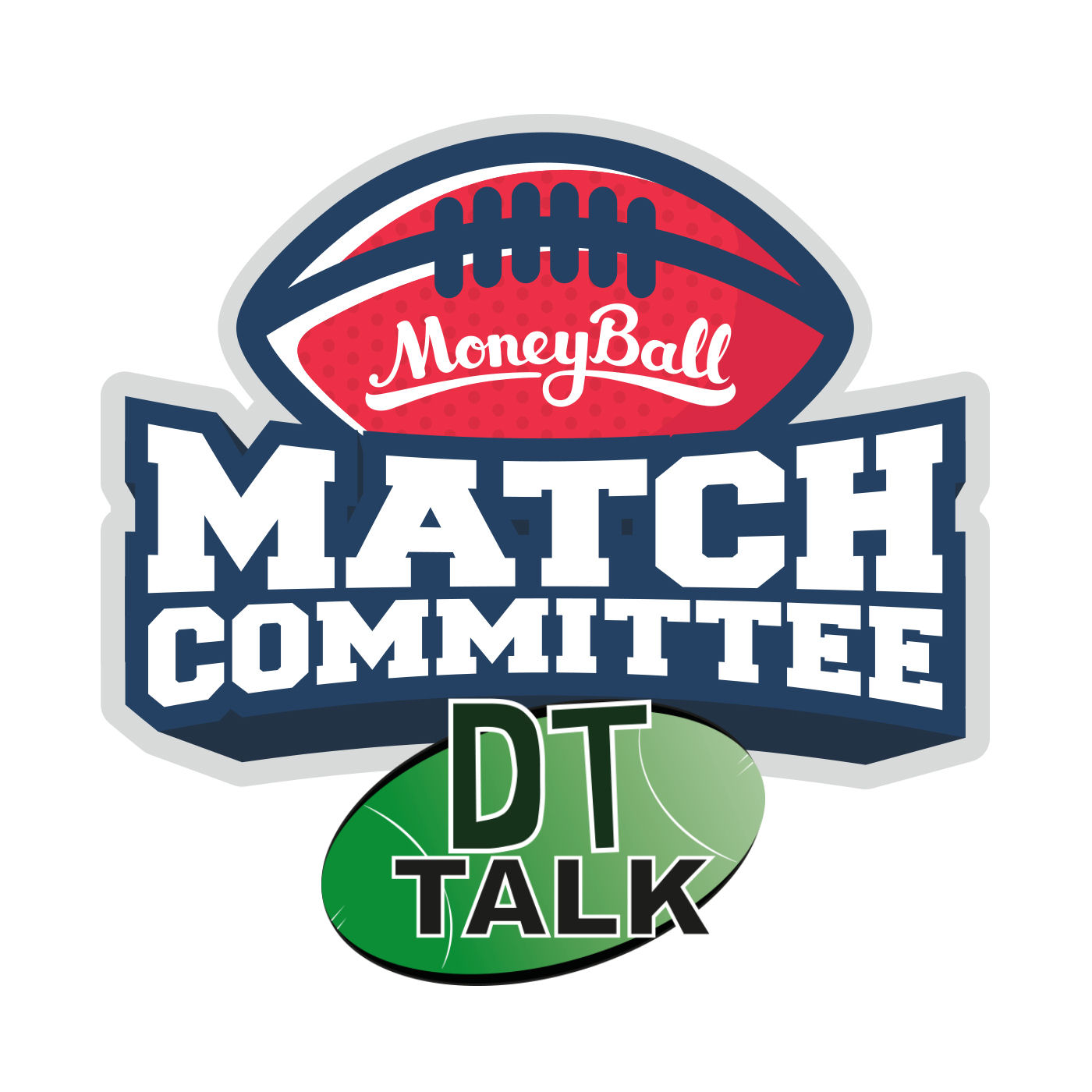 Tbetta here, and welcome to the self-proclaimed top resource for keen Aussie rules Moneyball punters! DFS (Daily Fantasy Sports) is taking off around the world and Moneyball have the perfect platform for you to turn your AFL Fantasy prowess into cold hard cash. Signing up is easy – head to moneyball.com.au and you could be ballin' within minutes.
If you're unsure how DFS works, be sure to head to the 'Help' section for all the info you need to start cashing in on your AFL Fantasy knowledge.
Click here to subscribe on iTunes.
 

Sydney vs Essendon
Averaging 104 over his past 7 games this year, it's hard to scroll past Isaac Heeney's ($8,100 FWD) name while you're picking from a thin forward pool. With only one of those scores below 93, Heeney is taking full advantage of his allotment of midfield minutes – since Round 6, he's the second-highest averaging Swan behind Hannebery. Historically he turns it on for the Bombers, playing Essendon twice in his career for 92 and 119; the latter was last year where he kicked 5 goals and earned himself a tidy 3 Brownlow votes.
Did you know that Nic Newman ($7,100 DEF) is the 3rd-highest averaging defender since Round 8, trailing only superstars in Docherty and Adams? Yes, it feels weird paying $7.1k for someone we see as a 'rookie', but his scores don't lie. He's ticking over at 104 in his last 5 games – including three scores over the magical 110 mark – and it's that ceiling that makes him a tantalising Moneyball pick each week.
VALUE PICKS:
Jake Lloyd ($8,300 MID):

His price is still nice and low due to that 2-point concussion against the Hawks. Remove that score, and his season average of 105 smashes every other Swan (next best Hanners with 101), whilst producing a lowest score of 87 all year. Virtually a must-have, even if you have to put him in the midfield in Moneyball.

Jobe Watson ($8,500 MID):

He always has his hot and cold patches, and Jobe is in a nice warm period now (122, 115) and will be fresh off a break. If you think Bombers win, he's a lock.

Tom Bellchambers ($6,200 RU)/Shaun McKernan ($6,400 RU):

McKernan named as starting ruck… Smoke and mirrors? Bellcho has averaged 88 this year and hasn't done much deserving of a demotion.
Collingwood vs Port Adelaide
Robbie Gray ($7,000 FWD), despite playing predominantly in the forward line last week, notched his highest possession total since Round 5 (21 within his 117 fantasy points) – which also happened to be the last time he scored a ton. For someone who's apparently been battling groin soreness all year, that is super pleasing, even if it was against the infamously leaky backline at Brisbane.
Chad Wingard ($8,100 FWD) also started forward and ground his way to 98 thanks to 3 goals. It's been hard to predict where Gray and Wingard play this season, as they're always carrying an injury or returning from one, but they rarely occupy the same real estate. Gray will always be value if he sticks it out in the guts, so he's my value pick for this week.
This is just your yearly reminder to start phasing Brad Ebert ($9,800 MID) out of your fantasy plans. Over the last three years Ebert has started on fire with 102 points per game from Round 1-13, but that drops harshly to just 86 from Round 14 onwards. Add to that worrying trend the fact that Collingwood is his easily worst team to play against over his career (averaging just 78), and he's hard to commit to this Saturday.
VALUE PICKS:
Brayden Maynard ($6,200 DEF):

I really like Maynard. 85, 96, 92 and 90 in his last four, averaging 16 kicks and  7 marks in that stretch. He's been fantasy relevant for stretches in the past with the right role, and

Smith's

omission is a positive factor.

James Aish ($5,800 MID):

Another midyear rebirth perhaps? Last year, Aish was averaging 50 before being given the axe. After a little break in the VFL, he returned and scored 80 points a game in the next 8 weeks. This year, Aish was averaging 46 before being sent back to the VFL. Then he returned in Round 12 with 104 points against the Demons. It's promising.
Brisbane Vs GWS Giants
Did you know that Dayne Zorko ($10,800 MID) is just one of 3 players averaging over 20 touches and 1.5 goals per game? The other two are Dusty and Danger, so he's in great company. The difference here is that Geelong are 3rd, while Richmond are 6th on the ladder – Zorko is doing this from the team in 18th position!
Key to Zorko's rise has been his tackling prowess, having laid the 4th-most tackles of all players this year at 7.3 per game. With Rocky out of sorts, why wouldn't you surf the wave of the guy averaging 131 over his last five starts
We've talked about this at length before, but once again, the Archie Effect is killing Stef Martin ($9,200 RU).
Average Rounds 1-9 (without Archie): 113, (only one score under 100) and 42 hitouts.
Average Rounds 10-13 (with Archie): 84 (only one score over 70) and 20 hitouts.
In my opinion, Stef is unpickable until Archie is back in the NEAFL, regardless of the actual mechanism of how Archie is sucking points away. I can't quite put my finger on the exact methodology behind Smith's cancerous presence, but the numbers are clear. You simply can't be paying over $9k for someone who's getting cockblocked every second game.
VALUE PICKS:
Ryan Bastinac ($6,600 MID):

107 last week against Port, which could be the start of a famous Bastinac purple patch.

Matt de Boer ($5,600 MID):

85 last week and midfield time only increases with

Kelly

possibly a late out – or at least nursed through. Value.

Matthew Kennedy ($6,200 MID):

Likewise, Kelly's hip likely means more midfield time available. Kennedy has been solid this year, producing under 70 just once in his last 7 games.

Shane Mumford ($7,800 RU):

Easy ruck pick. No handbrake on him, for $1.4k cheaper than Stef.
Western Bulldogs vs North Melbourne
Think it's safe to say Tom Liberatore's ($7,300 MID) worked on what he needs to work on, as he was back with 29 touches and 9 tackles for 109 in his return game. It was his first ton since Round 2, but I think we have a few on the horizon. Huge upside at this price.
After 61 last week, Declan Mountford ($4,800 MID) could be a nice value pick, but I'm more concerned about his tagging efforts and what he might do so someone at the Bulldogs. The second-gamer held Steven to 65 with a tight tag last week, who previously had a lowest score of 87 for the season. So who do we worry about? Marcus Bontempelli ($9,400 MID) is the obvious option, and that's why I'll be fading him in Round 14.
One thing's for sure, you don't bother tagging Luke Dahlhaus ($8,400 MID), while he's basically tagging himself. Shithaus has 3 scores of 75 or under in his last five starts, so it's red flags everywhere! Stick a fork in him, he's done.
VALUE PICKS:
Mitch Honeychurch ($5,700 FWD):

20 touches for 78 in his first game for the year. The kid can play, as his healthy VFL numbers suggest.

Todd Goldstein ($8,700 RU):

Bulldogs give up the 3rd most ruck points this year. Goldy isn't dominating like we're used to, but he's coming up against Campbell this week. Surely!
West Coast vs Melbourne
Finally, the prophesized Dom Sheed ($7,600 MID) break-out has commenced! Averaging 102 in his last five with 126, 112 in his last two, Sheed is capitalising massively on a full-time midfield role lately. Probably the best part of this burst from Dom is that he's actually playing excellent footy – he's not getting lucky stats or junk-time numbers, and that gives me confidence it can continue over the back half of the year.
The Melbourne ruck cohort has been kind to us lately, hasn't it?
Round 6: Bellchambers (91)
Round 7: McEvoy (124)
Round 8: Jacobs (132)
Round 9: Goldstein (148)
Round 10: Witts (97)
Round 12: Grundy (158)
Round 13: Jordan Roughead (116)
But with Max Gawn ($9,500 RU) back though, that trend comes to a grinding halt. Hickey (43) and Kreuzer (70) were Gawn's two victims earlier this year, both well below their averages.
On the other hand, Nathan Vardy ($6,200 RU) is averaging 80 in his last 5, playing the majority in the ruck while Petrie backs him up. He even managed to hit 100 last week, thanks to 15 touches, 31 hitouts and 7 tackles against his old side. However, taking on the reigning All-Australian man mountain and expecting to come out on top might be a bridge too far for the natural forward.
VALUE PICKS:
Cam Pedersen ($7,500 FWD):

Gets smoked in the ruck every week, yet still manages to average 97 for the season off just 14 hitouts a game. What can he do as Gawn's back-up though? If he's not winning taps anyway, that gives me confidence that he can continue with his form. Ultimately though, he simply won't be in the same spots as a forward with Gawn in the side and we might see a little adjustment period ahead for pedo.

Michael Hibberd ($7,500):

4 of his last 5 scores are 98 or better. The Eagles have given up more points to defenders than any team over the past 5 weeks. I love this pick.

Alex Neal-Bullen  ($6,300 MID):

With

Nathan Jones

out, is there more midfield time for ANB? We all saw what he could do earlier in the year, with 4 scores over 90 in the first five weeks.
Geelong vs Fremantle
The value is too good to pass up as a solo ruckman at base price, with Sean Darcy ($3,500 RU) set to be one of the most-picked Moneyballers this week. His basement will be relatively healthy with guaranteed hitouts, and all he needs to do is scrap together a few extra stats to return value. Darcy's averaging 101.5 over his last four WAFL games, (13 touches and 36 hitouts in those games) and given that part-timer Vardy had 100 against the Cats last week, I'm optimistic that he can have a strong debut.
Patrick Dangerfield ($10,800 MID) loves Simonds Stadium! The Brownlow Medallist boasts a lowest score of 107 there (as a Geelong player), at an average of 125 – and that includes scores of 156, 125 and 131 at SS so far this season! Additionally, his last three scores against Freo read 147, 130 and 118, rolling into Rund 14 with a four-round average of 132. How can you NOT pick him and expect to cash?!
VALUE PICKS:
Cam Guthrie ($6,800 MID):

Interrupted pre-season but finally broke out with 111 last week. I've been watching patiently for Guthrie to gain match fitness, and we might finally be there.

Tom Stewart ($4,900 DEF):

He's really found his groove at AFL level, averaging 74 in his last 3.
Richmond vs Carlton
Matthew Kreuzer ($9,600 RU) is now officially the 2nd best fantasy ruckman in the competition, averaging just 2.4 points less per game than Grundy! Cox's heir apparent comes up against Richmond this week, who've casually conceded the second most points to #1 Rucks this year. Kreuz is averaging 128 in the last month, with a lowest score of 112. What a machine.
Bryce Gibbs' ($10,700 MID) 194 last week was the 3rd highest score we've seen since AFL Fantasy officially began in 2000, falling just short of Buddy's 204 and Riewoldt's 200 games. What's more impressive though, is that even though it's just the 16th highest score of all time, it's the 2nd-highest score in history that included less than 9 goals! But back to the present, Gibbs is now averaging a crazy 145 over his last four games and brings in strong historical form of 105 and 127 against Richmond.
VALUE PICKS:
Sam Docherty ($11,200 DEF):

130, 149, 143 in his last three. He's way too good at fantasy, but all the attention over this week could result in a defensive move by Richmond – be warned.

Liam Jones ($4,500 FWD):

You'll need cheap guys like Jones to hit the big dawgs. 72 and 57 so far and he's looked right at home.

Daisy Thomas ($6,300 MID):

Back to back 84's. Like he did at Collingwood, he rides the coattails of better teammates. Now that

Gibbs/Murphy/Doch/Kreuz

are killing it, he feeds on the scraps.

Brandon Ellis ($8,000 MID):

126, 105, 98. Flagged it a couple of weeks ago – he's back.
St Kilda vs Gold Coast
With just one score under 96 in his past 9 games, I call Jarryd Lyons ($9,100 MID) the silent assassin. He's been pumping out points under the radar this year and now that Barlow is injured, more responsibility/midfield time goes onto Lyons' shoulders. St Kilda have conceded 4.4 tons per game this year (ranked #3), so it could even be a little easier for Lyons to hit that mark this week.
Jack Steven's ($9,100 MID) last three games against Suns are underwhelming (59, 100 and 65) and his terrible tagging record is a serious concern each week. Over the last two years, he's produced 58 (Jacobs), 73 (Dumont), 64 (Curnow) and 65 (Mountford) when being tagged, rancid scores at his price point. Now, the good news is that the Suns have only tagged twice this year, Sending Sexton to Scully and using Barlow (now injured obviously) on Selwood, so it would be a drastic change of tactics if they were to single out Steven this weekend.
VALUE PICKS:
Jack Newnes ($8,600 MID):

79 last week was the bad score he was bound to have at some point. Absolutely no hesitations jumping back on again after he ticked over at 117 in the four uninjured games prior.

David Swallow ($6,800 MID):

How many times can he burn us? 86 and 90 in his last two and may benefit from an injured Barlow's minutes.

Jack Billings ($8,600 FWD)

– Scoring is strongly related to the scoreboard pressure he's applying.
0 goals – 76 average
1 goals – 87 average
2+ goals – 124 average
If you think he gets amongst the goals this Sunday, you're onto a winner.
Always remember to gamble responsibly. If you're having problems with your betting, you can get help at Lifeline or talk to someone at Gambling Help Online.