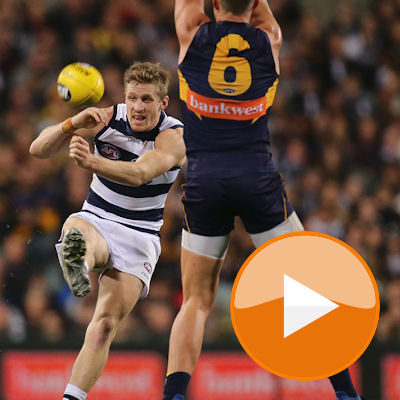 The bye rounds are in the rear vision mirror, but the road ahead isn't clear.
The most traded in player last week will be the most traded out for round 14 as Geelong's Scott Selwood's hamstring injury sees him ruled out of Sunday's game against Fremantle. Up until the third quarter last Thursday night, "Scooter" was putting his hand up as the best mid-season mid-priced pick up of the year.
On Saturday night, Michael Barlow broke his left fibula and the subsequent surgery will mean he has played his last game of the year.
The injured duo have been popular Fantasy selections in recent weeks and they headline the big issues on the Official AFL Fantasy Podcast with The Traders.
Roy, Calvin and Warnie discuss the best options to bring in for the run home.
Also in this week's podcast:
Fantasy news including injuries, suspensions, "Magoos news" and more
Bye round stocktake
Social media questions answered
Click here to subscribe on iTunes. (Please leave a rating and review to help us move up the charts).
SHOP NOW: Tom Mitchell beanie | Tom Rockliff beanie
2017 averages – Fantasy points for and against (season)
| CLUB | PTS FOR | >100 FOR | >120 FOR | PTS AG | >100 AG | >120 AG |
| --- | --- | --- | --- | --- | --- | --- |
| ADE | 1678.5 | 4.5 | 1.1 | 1582.7 | 3.3 | 1.1 |
| BL | 1532.5 | 4 | 1.9 | 1652.4 | 3.6 | 0.9 |
| CAR | 1645.8 | 4.8 | 2 | 1606.8 | 3.8 | 1.3 |
| COLL | 1737.2 | 5.3 | 2.2 | 1601.3 | 3.3 | 0.8 |
| ESS | 1699.8 | 4.2 | 1.7 | 1587.3 | 3.3 | 1.4 |
| FRE | 1528.2 | 2.3 | 0.5 | 1685.6 | 4.2 | 1.3 |
| GC | 1663.4 | 4.3 | 1.3 | 1636.4 | 4 | 1.3 |
| GEE | 1613.3 | 4.1 | 1.3 | 1615.8 | 4.5 | 1.3 |
| GWS | 1618.2 | 3.2 | 0.8 | 1564.3 | 2.7 | 0.5 |
| HAW | 1650.6 | 3.3 | 1.5 | 1719.7 | 4.9 | 1.9 |
| MELB | 1709.6 | 4.2 | 1.3 | 1581.3 | 3.1 | 0.9 |
| NM | 1560.8 | 2.3 | 0.3 | 1626.6 | 4.1 | 1.3 |
| PA | 1641.8 | 3.3 | 1.3 | 1607.4 | 3.8 | 0.9 |
| RICH | 1536.2 | 2.8 | 1.1 | 1610.3 | 3.2 | 1.5 |
| STK | 1664.6 | 4.5 | 1.2 | 1674.8 | 4.4 | 1.2 |
| SYD | 1573.8 | 3.8 | 0.8 | 1668.8 | 3.8 | 1.2 |
| WB | 1640.5 | 3 | 0.3 | 1692.2 | 4.2 | 1.5 |
| WC | 1653.4 | 3.8 | 1 | 1638.4 | 3.8 | 1.1 |