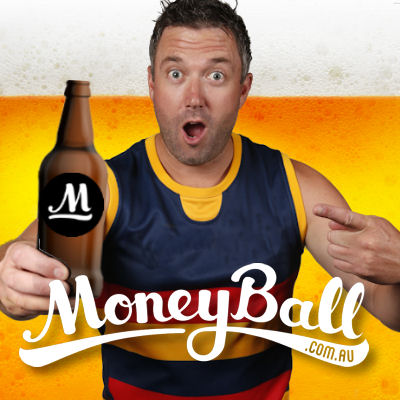 $5,000 with the winner taking $650 and it pays $34.18 right down to 89th
Hawthorn v Gold Coast 1:45pm
Brisbane v Fremantle
Essendon v Port Adelaide 7:25pm
Here we go for another big Moneyball Saturday! Once again, due to the bye rounds we only have a few games to choose from, but as I always say, it's sorts the mice out from the men (or something like that).
I'm predicting a few HUGE scores from some players here and with a few premiums in the mix, I've added some cheapies in there to even it out. All the best!
Dayne Zorko (MID, $10,400)
I'm happy to roll with two big premium Lions this week (Rocky to come) and I can justify it with my hands tied behind my back. Firstly, I'll save my Fremantle stats for the pig at the end of this article, but Zorko is often forgotten about as he lays in the shadows of the pig himself.
Zorko has been in smoking form scoring 124, 119 and 125 in his last three and against Freo in his last 3 he has scored 110, 108 and 132. There is no secret that I think that this game will be a points fest so I'll be cashing in with these guys big time.
Jake Barratt (MID, $5,900)
Oh and another one… as you'll read on to see, the Dockers are very easy to score against at the moment and in a game where I'm tipping the Lions to win, the points will be flowing and therefore, I'm expecting Barrett to continue his hot form.
He has scored 87 and 80 in his last two games and with this one being one of the easier games he's had, this kid might even crack the ton.
James Cousins (MID, $3,500)
After only two scores of 62 and 66, Cousins has proven himself to be a serviceable rookie. We need guys like this in our team today so we can spend the big bucks on players who have the ability to go 150+.
Cousins has been named on the ball and is locked at this bargain basement price.
Tom Bellchambers (RUC, $5,900)
You might as well whip this pony while you can, because when Berger returns, Tom will be out. He has scored 110, 74 and 91 in his last three games and here he's up against the Power.
It will be a little tough though against Ryder, but Belly is averaging 38 hit outs a game and should be good for 70+ under the roof. At his price, he's a steal regardless.
Ryan Burton (FWD, $6,800)
$6.8K is mega cheap for a guy producing the numbers that Burton has. Last week, the 'under the radar' jet scored 118 and prior to that he's knocked out 77, 81, 90 and 94. All those are golden for a player priced like this.
Burton has made people a lot of money in Moneyball this year and although his price is slowly increasing, we need to be on-board for another week.
Tom Rockliff (MID, $11,600)
Expensive but worth every cent for this one today against the 'easy to score against Dockers'. They allowed Collingwood to have 7×110+ scores last week with four players racking up 30+ disposals each.
Not only is this one at the GABBA but his record against the Dockers is nuts with his three previous scores being 142, 154 and 172.
Coming off an injury is sadly something that Rocky has gotten used too. Last year he sat out four weeks and when he returned he carved Carlton a new one for 184pts.
Before being injured on 130, Rocky was smoking along at an average of 136 in his last five and I can not see him going under that in this one.
Everything is pointing at a massive score from the pig here and if he has 160+, then you'll need him to be amongst the money this week.
My prediction: 49 disposals, 12 tackles for an easy 163pts