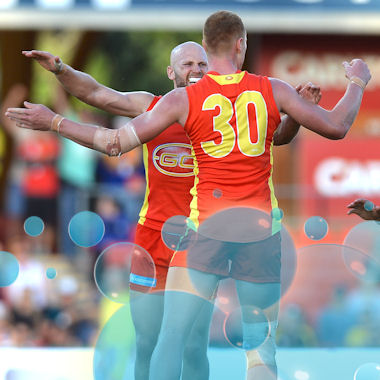 What Round was it this week? I'm not even sure anymore. All I know is it was yet another weekend filled with pain and agony in Fantasy land. I just want to take the opportunity to say I hope the players are really enjoying this week off, because it has to be worth us enduring less scoring, less fun and less football! It's time for the weekend wash-up.
Legends
Ebert (142) – This joke has gone too far now. Brad Ebert is doing his best to keep Port Adelaide Fantasy relevant, and in any other season his average would make him a top 8 midfielder! It's not though. Still, a great pickup for during the byes.
Burton (118) – The one that got away….. Hawks fans I want to know, did you: a) Pull a sneaky one and sneak him into your Fantasy teams without telling anyone or b) Have your head 2 feet up your ass? Rising star.
Dangerfield (131) – For some reason I've been under the illusion that Dangerfield hasn't been at the level he was last season. You could say he loves Skilled Stadium, his 3 Round home average of 137 has taken his season average to 116. When he hits this kind of form he's nearly unstoppable, if you don't own him I'd be making that a Round 13 priority, not that it needs stating.
S.Selwood (125) – Is it bad that my first thought when I saw this score was "Boy oh boy wowee how about that"? Word for word. Anyway, that was a statement from Scooter! He has averaged 110 before and there's no reason why he can't average triple figures this season. I don't think there's much value left in him now that we're trying to build our perfect squads, but some huge price rises are still to come!
J.Selwood (117) – When Joel Selwood was nearly killed during the first quarter, his owners must have feared the worst. He shouldn't have been conscious, let alone walking off the field. Incredibly he was stitched up and back out on the ground to keep scoring before the quarter time siren. Amazing. I need that kind of guts in my squad, what a man.
Greenwood (94) – I usually leave the rookie pump ups to Jeppa, but due to the horrific scoring of our rookies this week Greenwood deserves a knighthood! Not all heroes wear capes, but perhaps Hugh should. Tackling machine.
Sheed (126) – Connor Blakely has been my breakout favourite this season, and Dom Sheed has just stormed onto my 2018 radar. Heck, with a 4 round average of 100 he's still value this season! He has always had the potential and it's great to see him finally stepping up. Now let's hope his team mates can do the same.
Barlow (108) – Anyone doubting Barlow as a top 6 forward is misguided. He will comfortably average 95, if not closer to 100. I only wish I could have afforded him last week! Oh wait I could. Cheers for your only contribution to my squad Mitch Hibberd.
Z.Williams (133) – There must be thousands of salty draft owners around the Country. He's not reliable enough to own in Fantasy, then he decides to go and waste this score during the byes! Painful.
Kelly (159) – Man crush growing, growing, grown! Rockliff's injury was a disaster but it has produced one of my only positive trades this season. Watching Josh Kelly tear it up against Collingwood reminded me of just about every great Dreamteamer. Handball receives like Ablett, tackling like Rocky, gut running +6's like Swanny. His game has it all, so this monster score doesn't surprise me in the slightest. He's having a very similar breakout Fantasy season to Zach Merrett last year, make no mistake he's in the top 8 midfielders. Next season I want to start with Rocky, Mitchell, Merrett, Dangerfield, Martin, Kelly, Treloar and Ablett. Don't really care about the rest of my team.
Martin (164) – How good would it be to own the form player in the competition?! Dusty owners must be loving life every time he decides to rock up and get another 3 votes. It's all or nothing and this performance was everything. He's now on the top of my shopping list after his bye! Hang on, I just remembered I now don't own Rockliff… And I already have 8 premium midfielders. Whoops.
Cotchin (148) – Who are you and what did you do with Trent Cotchin this week?! He wound back the clock with this effort. It's funny, I say that like he's now 32 and well past his prime. He's only 27! Is there still time for him to return to that 2012 form? Marc Murphy says yes.
Prestia (137) – Dion Prestia remembered how to football on Saturday night. Watchlist in Fantasy, browse through the free agents in Drafts!
Sidebottom (127) – Criminally underrated in Fantasy land, Sidey continues to do his thing on a wing and up forward. A couple of 60's have ruined his season average, if you bought him in the last 2 weeks kudos to you!
J.Smith (131) – This is now 3 tons on the trot, do we take Josh Smith seriously? He was an elite draft pick, although once again this score is likely wasted. Hopefully his form is a finally here to stay! Cue a 60 next week.
Treloar (117) – Fun fact: When I haven't owned Treloar this season he has averaged 123. When I have, it's 100. He's nearly dead to me, but is now priced nicely @$613k and becoming a post bye bargain. What comes first, self pride or having a better team? Yep, self pride for sure.
SHOP NOW: Tom Mitchell beanie | Tom Rockliff beanie
Losers
Gray (38) – Robbie I get that you're playing up forward this year, but you're still allowed to touch the football. Just touch it. We'll work on getting a disposal next, baby steps. I can't wrap my head around his scores, this is his third score below 40 this season. Gray is performing like a rookie, and soon he'll be priced like one. I've already got enough players capable of scoring 30's thank you very much.
Pittard (65) – I had a good laugh when I saw this score. We often overthink things in Fantasy, and this is one of those occasions. I won't lie Pittard did come into consideration for my team, that was before I slapped myself in the face and woke the f**k up. Then again, I have Mumford. Play on.
Laird (65) – I'll forgive Rory for this score due to a head knock, but after watching Joel Selwood it comes with a warning. Next time, unless your head has been severed clean from your neck, I expect 80. Big score owed next week.
Otten (40) – There can be no room for special treatment. Andy, you are the weakest link. Goodbye.
Lloyd (34) – Realistically I have a lot weaker links than Otten, Daniel Lloyd tops that pile. What does he do in the NEAFL? Does he look similar to another player who actually finds the footy? Do the statisticians just plug a bunch of randomly generated numbers into a spreadsheet? That's my guess. Unreal. I can't get him to M8 (Or F8) quick enough.
Myers (52) – Remind me David, why did we pay the premium for you? The job security? Perhaps we should have made sure he could score first! In fairness GWS away is about as tough as it gets, next week is a line in the sand game for many Round 13 rookies, Myers is no exception. I hope they play like it.
Zaharakis (66) – Yeaaaahhhhhh… Cash out.
Vickers-Willis (42) – I'd burn him but in reality, did you expect anything else? It's a heartbeat. Barely.
Walters (59) – Ah yes thank you ever so much Ross. Walters was on track for a solid enough score at 3 quarter time playing through the midfield. What happens next? He goes forward in the final term and scores ZERO. ZEROOOOOOO. I now have to decide whether to trade Mumford or Walters this week. Or just delete my team. It wouldn't be a Fantasy article without a shitty deleting team reference!!!
Ryan (36) – Last and definitely least was Luke Ryan's debut. I was genuinely wondering what he looked like deep into the third term. The less said the better, he's straight onto my bench this week and won't be leaving it for the rest of the season. God help me if he does.
Despite the bye pain, the list of legends far outweighed the losers this week. However there was only two clear winners, so for the first time in Stubby history we're going head to head.
Josh Kelly – 38 disposals, 5 marks, 10 tackles, 7 clearances, 10 inside 50's, 1 goal and 159 Fantasy points. Carries a 5 round average of 129.8. North can politely shove their 9 year offer where the sun doesn't shine. My vote. My hero.
Dustin Martin – 38 disposals, 8 marks, 6 tackles, 9 clearances, 9 inside 50's, 2 goals and 164 Fantasy points. Carries a 3 round average of 139.7. The umpires can't miss him, hint hint. 27% of the competition got it right.
So, who gets your vote?!
This Game Sh*ts Me
Rookies. Why do we always have to rely on bloody rookies. We actually got a good run of it at the start of the season. Otten, Hampton, Newman, Marchbank, Williamson, Barrett, Kennedy, Hannan, McGrath, Butler, SPS, SPP, Taranto and lately Stewart have all performed to or above expectations. But who has come through after Round 3? Aaron Black failed miserably. Balic is gone. Lloyd is struggling. Berry can't score. Parsons is holding up Black's spot. Myers was meant to be the great saviour, but he isn't exactly lighting it up. I guess Vickers-Willis is still playing… Thank god for Hugh Greenwood, otherwise we'd be in a state of panic.
It says everything when I'm just glad Scharenberg can junk his way to 53… This game sh*ts me.
The Other Bits and Pieces 
1624. Absolutely diabolical. I'm not even bothering to research what happened in that year, a King probably burned down a City somewhere. I'd say that was going to be my worst bye Round, but with Pickett a plague I can't shake and a recent run of Round 13 rookies I'm not relaxing just yet. I'll have a solid 22 this week, might as well enjoy it while I can!
We have a new batch of DPP's and I'm stoked with them! I've heard some people complaining, but what were you expecting? Dustin Martin forward? Dangerfield? I gave Newnes a shoutout in the Round 10 washup and that was when he was sole mid. He's an absolute lock for me this week. Get on board. Menegola is a nice forward addition also!
As far as trades go it's finally time for me to cash in Preuss, allowing me to get Newnes for Otten. It also gives me a nice kitty for next week, and most importantly the chance to never have to worry about Shane Mumford again. That's up there with my Heritier Lumumba experiment. Unfortunately I'm left with no choice but to get Kreuzer. Help me, because I can't help myself. My best tip to get a decent rank is not to worry about finding that one in ten breakout, just don't be a moron.
Good luck next week, I can see our scores returning to the 21st century!