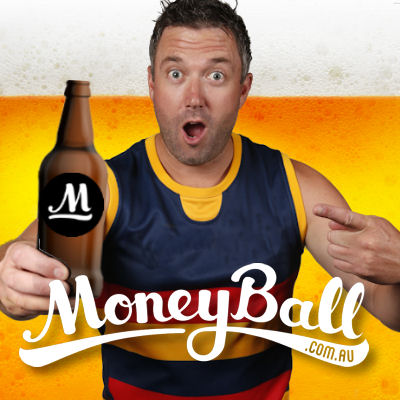 $5,000 with the winner taking $650 and it pays $34.18 right down to 89th
Bulldogs v St Kilda 1:45pm
Melbourne v Gold Coast
Richmond v Essendon
Adelaide v Fremantle 7:40pm
Hi there team. I hope you guys and gals have been following my tips, because I have been on the money! On fire some might say!
This week, we once again only have four games on the Saturday to choose from and I think that's perfect. Once again, I'll be on the hunt for some bargains and some under-priced guns. I've been crunching the numbers hard and today I present to you my top 6, with my happy hour special at the end. Good luck!
Jack Billings (FWD, $8,800)
Over the last three weeks, Billings is averaging 127.
This week, he's up against the Bulldogs who gave the Cats a truckload of points last week. Let me refresh your memory… Duncan 169, Dangerfield 156 and so on… in fact, the top four Geelong scorers averaged 142.
Now, it's not going to look like that again, but even if it's close, we need to make sure we have a few Saints in our teams this week and Billings is possibly the pick of the bunch as a forward.
David Myers (MID, $4,900)
I've talked about Myers over the last few weeks, and now he is starting to find his feet. Although he's only averaging 62 from his three games so far, last week he had his best return of 83pts from 20 touches and 8 marks.
This is more like it from Myers. He has averaged about 80 in the past and I think this is about what we can expect from him today.
Click here to subscribe on iTunes.
Jack Steven (MID, $9,700)
Yes I know… $9,700 isn't actually cheap, but trust me, this is still a bargain.
Over the last four weeks, Steven has found some form that alluded him at the start of the year. He has now scored 4 consecutive 100+ scores and against the Bulldogs last year he had a mild 145. Before that 104, 113 and 142 which makes the Dogs one of his favourite teams to score against.
He's under the roof, and things are perfectly set for Steven to dominate and to continue his hot form against a team that is currently bleeding points.
Mitch Wallis (MID, $7,300)
He's a little bit of a mid-pricer, but after coming back from a broken leg and scoring 97, Mitch Wallis is well and truly on everyone's radar this week.
Wallis has averaged 89 in the past and as a kid, he suffered from leather poisoning more often than not. The Bulldogs rotate players through the midfield possibly more than any other team and therefore, Wallis will be certainly getting his time once again.
Tim English (RUC, $3,900)
Surprise! Tim English gets a game. Out of nowhere really, Tim English pops in for a game, so we might as well jump on him today at his price.
The 205cm monster has been averaging 18 hit outs and 15 touches a game in the VFL for his 83pts. He's named on the ground at CHF and will certain have time in the middle as well.
At this price, we can't expect much… a 60+ would be nice but at the end of the day, English frees us up a fair amount of cash to spend on some of these guns.
Michael Hibberd (DEF, $7,100)
In the past, Warnie's old mate Hibberd has been a long time Fantasy servant who is reliable for any score in between 90-95. His ability to do this has been amazing, but in recent weeks, at a new club, the former Bomber has changed his ways.
Coming off scores of 106 and 107, Hibberd has shown us that he actually does have the ability to crack three figures. Although he still can't tackle (just 1 in the last two weeks), he has averaged 33.5 touches along with 7.5 marks a game over this 'hot streak'.
He's too cheap and too reliable to ignore today against the Suns.
Jarrod Witts (RUC, $7,100)
I'm sorry but today, Witts will be one of the most selected players in Moneyball,
probably for the first and last time ever. Up against the 'ruckless' Demons, Witts will cash in big time, just like others have before him.
R5: Nankervis (131) from 56 hitouts.
R6: Bellchambers (91) from 33 hitouts.
R7: McEvoy (124) from 53 hitouts.
R8: Jacobs (132) from 74 hitouts.
R9: Goldstein (148) from 61 hitouts.
He's in decent form himself over the last few weeks, with score of 96 against the Power and 121 when he met the Cats back in round 8.
Over his last two games, he's found plenty of the pill averaging 18.5 touches but boosts his scores with an average of 38 hit outs and four tackles a game.
Wittsy is basically a 'lock' for a 120+ today and must be in your team if you want to invest your $15 wisely.
Enjoy the weekend and fingers crossed you'll be in the money this week. Good luck!