Calvin's Captains – Rd. 8
NAILED IT! Cal is pretty pumped with his #1 captain option scoring 167 last week, but can he back it up?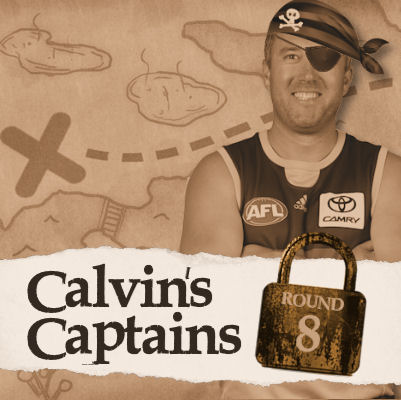 Want some Rocky Ravioli? Cal does. Join him as he chats #aflfantasy Captains and much more https://t.co/B2S50rdPnt

— Calvin (@CalvinDT) May 10, 2017
ZACH TAKES ON THE CATS
A pig crown will surely come his way soon but in the meantime, Zach Merrett continues to get the job done with 124 last week to average 123 in his last three games.
He plays the Cats this week and they are bleeding the 4th most points at the moment and the most 100+ and 120+ scores to opposition players. Wowzers. Last week, the Suns racked up 7×100+ against them with four guys scoring over 120+.
Zach scored 89 and 127 on Geelong last year and should score 120+ here again, without breaking a sweat.
Patrick Dangerfield bounced back last week with 119. He scored 105 and 86 on the Bombers last year but this is the disturbing stat that I do not like. He has scored under 100 twice this year… both games at the MCG where he plays this week. Ek!
Averaging 119 in his last 5 games, Joel Selwood has pleased his 4% of coaches. However last year, he failed to score over 100 against Essendon and while I'm here we better mention Mitch Duncan who has the loudest 1% of coaches I've ever heard.
Yes, his form has been superb with an average of 126 in his last three which ranks him at #4 based on form alone. But would you really make him captain? He scored 102 and 89 on the Bombers last year and blokes like this only fly high for a certain amount of time before crashing back to Earth in a big way.

Click here to subscribe on iTunes.
GAZ IN JIANGWAN
All the way from China on Sunday afternoon, Gary Ablett will be out to put on a show.
He would thrive in a situation like this and as 'one of the greatest players of all time', Gaz will be out to make a name from himself and the AFL brand. The thing is… it might be a little tough and in a game like this, who knows what we can expect.
Firstly, the humidity and conditions could be a complete sh*tstorm add to that the fact that Port are currently the hardest team to score against over the last 3 week and despite Ablett averaging 133 as the #1 in form player in the game, picking Gaz as your captain this week could be a huge hit or miss.
Honestly though, I'm leaning towards the 'hit' side of the fence but it's all the way over there in Shanghai and that my friends is why I'll be passing on him this week, but I won't be surprised either to see a 150 next to his name either.
SLOANE-ING DOWN?
I sat the #1 man Rory Sloane at number 4 last week for a reason. His form alone got him there, but I did express my concern with many other aspects. Either way, not too many people got angry as he only scored 65 which is about half of what he was averaging…
However, this week he will bounce back and if you are an owner, you will be rewarded.
So… he plays the Demons who just happen to be his favourite team to play as he averages 106 on them over his career. He scored 125 last year when they met, and a nice 130 before that.
Back at home, he has scored 155, 143 and 139 in his last runs at the A-Oval and although Melbourne can be 'tough' to score on at times, this will be different. The Crows are coming off a loss and returning home… Rory will be huge!
PIGTOM v PIGTOM
Double the oinks! This Saturday in Launceston, the city will come to a standstill as Tom Rockliff graces the turf of the UTas ground. Fresh off his huge 167 on the weekend, Rocky meets the Hawks who are currently the second easiest team to score points against. They rank #3 in giving up 100+ scores, in fact over the last 3 weeks, they have allowed 14.
Last week Melbourne's onballers like, Viney (145), Jones (123) and Lewis (103) all found the points and this week it's Rocky's turn.
Rocky never played the Hawks last year, but in 2015 he met them in Tassie for a nice big 159.
Up against the pig, is one of the piglets in their own right… Tom Mitchell.
Mitchell has been amazing this year. Carrying scores of 136, 125 and 122 in his last 3 games, this little piggy is shaping up for another feast at a ground he scored 125 at two weeks ago. He scored 106 on the Lions last year and this week, he should continue on from his best score for the year of 136 where he had 31 disposals and 12 tackles.
BLUE BOYS TO FIRE
The Blue-back-duo of Sam Docherty and Kade Simpson sure can rack up big Fantasy numbers between them and this week, under the Etihad roof they will do it again against the Saints.
Docherty would have made my top 6 if I had one this week as he is averaging 123 in his last 3 games and has even posted a 132 under the roof this year. He scored 120 and 114 on the Saints last year and if you're a lucky owner… you'll enjoy this one.
Last week, Heath Shaw had 9 marks and 30 touches on the Saints for 106pts and this just tells me that Simpson will also have a day out. He's averaging 121 in his last 3 games and he even got busy last year when these teams met for scores of 135 and 117.
JUST QUICKLY…
Jack Steven v Carlton @ Etihad Stadium – Since returning in round 5 from two weeks off, Steven has averaged 31 touches and 111pts. Curnow tagged him in his last two games against the Blues for scores of 64 and 92. Coniglio tagged him last week though and couldn't stop him, but I'd be wary of anyone with a tag coming their way.
Andrew Gaff v Bulldogs @ Domain Stadium – Only 82 last week and 98 and 79 on the Dogs last year.
Adam Treloar v GWS @ SPO – Scored 94 on his old team last year and may cop a tag from Coniglio. The Giants are still one of the hardest teams to score against giving in 0x120+ scores on the last 3 weeks.
Taylor Adams v GWS @ SPO – great form with scores of 117 and 148, his record against GWS is great too with scores of 104 and 146 coming in his last two runs.
Scott Pendlebury v GWS @ SPO – 109 and 142 are his last effort but this one will be tougher on the road.
Dusty Martin v Fremantle @ the MCG – Will be huge this week. Dusty has scored 99, 107 and 125 in his last 3 games and loves playing Freo. 107, 100, 142, 111 and 113 are his last five games against them and at the MCG this year he has scored 125, 156, 86 and 139. Mark my words, big game coming from this fella.
Elliott Yeo v Bulldogs @ Domain Stadium – Running bloody hot at the moment with previous scores of 124 and 152. Had 83 on the Dogs last year, and has never scored a ton against them in his career 5 attempts. The string on this yo-yo is staying up, but for how long?
Marc Murphy v St Kilda @ Etihad Stadium – 103 last week and only scored 93 and 87 on the Saints in his last two games. Seb Ross might have him in his sights so approach this one with care.
Brad Ebert v Gold Coast @ the Jiangwan Stadium (China) – had 113 last week and is averaging 119 in his last 3 games. 0x100+ scores against the Suns in his last three games.
Marcus Bontempelli v West Coast @ Domain Stadium – 93 and 125 on the Eagles last year at a career average of 103 against them.
Nick Riewoldt v Carlton @ Etihad Stadium – Injured? The Voldt is sitting deep forward at the moment and only managed 51 last week. Look to trade him, not captain him.
Lachie Neale v Richmond @ the MCG – Richmond are currently the easiest team to score against and Neale is just starting to hit some form with scores of 138 and 114 in his last two games. He even scored 149 on the Tigers last year and with 119 under his belt already from the MCG this year, he'll be great again.
ODDS: For those who would like to see the odds for Calvin's Captains for round 8, please follow the link provided right HERE.