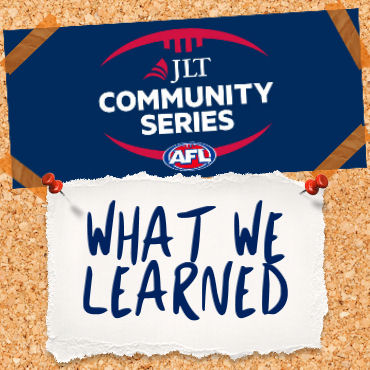 The DT Talk team take a look at each club and what we got out of their performances (or lack of) in the JLT Series over the last four weeks.
By Tom.
IMPRESSING
Injury has frustrated Curtly Hampton (DEF, $204,000) over the course of his career. After crossing to Adelaide from the Giants, Hampton did not play a game for the Crows AFL side in 2016. However with a full, injury-free pre-season under his belt, it's time for the utility to turn it on. Whether he starts in the midfield, down back or up forward, Hampton's breakaway speed and silky skills will be a weapon. If his JLT scores are anything to go by, he is also a Fantasy bargain at $204,000. Hampton managed 89 (74% TOG) against Richmond, 60 (84%) versus Geelong and 80 from 76% against Brisbane. He finished the series with a 0.9 points per minute rate. Owned by 30% of coaches for a reason, he's an obvious selection.
Matt Crouch (MID, $564,000) is one that currently sits in my side. With the Crows midfield in need of natural growth, the brother of Brad will be required to take another step forward after an excellent 2016 season which saw him lead the Crows for disposals. The man is a pure ball accumulator and contested bull. Finished the JLT series with the fourth most overall points, going at 1.13 PPM. Capable of some big scores as he proved in the back half of last year.
START STRESSING
If you are one of the 1.76% of coaches who have Riley Knight (FWD, $241,000), I'd consider disowning him. The running machine looks to be one of the leading options to earn a round one berth at West Lakes. But after scoring 39 points from just under half a game against Geelong, Knight was a late omission from the Crows side that beat Brisbane at Noarlunga with what looked to be an achilles problem. Although it may not be, and hopefully isn't, a major issue, there are certainly a few Crows who will be eagerly wanting to put their hand up for selection. Not sure he's worth the risk as he isn't a big accumulator.
STILL GUESSING
Harrison Wigg (MID, $150,000) currently sits in 13.2% of teams – probably on the bench in the majority of those. He is one of a selection of youngsters keen to break into Don Pyke's set up. Wigg has a menacing kick and last year transitioned from half back to the midfield for Adelaide's SANFL outfit. Was prolific against Richmond in JLT1, scoring 87 from just 67% TOG and good when called upon against Geelong, ending with 37 (58%). Not sure if he is in the best 22 at the moment but I'd say he is given a crack at some stage during the year, making him a worthwhile bench option.
By Matt.
IMPRESSING
Priced at an average of 86, Dayne Beams (MID, $519,000) was always value if fit. What we weren't sure was whether he could return to his glory days of averaging 110+ and becoming a top 8 mid. I think he answered a lot of those questions in the past 2 weeks, scoring 87 from 63% game time in JLT 3, then posting a whopping 127 (79% TOG) in JLT 4. Beamer looks healthy and that's all I needed to see, lock him in!
START STRESSING
You should be more than stressing if you're amongst the 23% of teams that still have Hugh McCluggage (MID/FWD, $246,000) in your Fantasy squads! He has struggled to find enough of the ball in any case, but an ankle injury has ruled him out for the first month. It's likely we won't see him until mid-season, which could be a perfect downgrade for us during the byes. Until then however, he needs to go.
STILL GUESSING
Until JLT 4 Stefan Martin (MID, $538,000) was well out of my plans, purely due to the fact that Brisbane seemed keen to operate with 2 ruckmen. However, it would make sense that Archie Smith got a run at it early in the pre-season to not overload Stef too soon. He was let of the leash last weekend and DOMINATED (125, 19 disposals, 8 marks, 41 hitouts, 82% TOG). He's an easy pick for me at this stage, but Stef will keep us guessing throughout the season. All it takes is one team selection and Martin goes from a 100+ gun to a run of the mill ruckman. There's risk there.
By Roy.
IMPRESSING
Caleb Marchbank (DEF, $205,000) came into his third JLT game as the Blues leading possession winner in the defensive 50, while boasting impressive scores of 85 and 59. In his third hit out, he has all but confirmed his spot in our teams and certainly thrown his hat in the ring for a spot on the ground after collecting 22 possessions and taking seven marks for 88. Although he comes at an inflated price for a 'rookie' he has been in the system for a couple of years, played at the top level and is a walk up for best 22 (In my opinion). The only concern is the high quantity of marks may dry up a little as Docherty and Simpson step up a gear once the season proper begins. In for me.
START STRESSING
We all knew Marc Murphy (MID, $428,000) was going to ease his way into the JLT series and just roll the legs over as he prepares for round one but it wouldn't have hurt him to SHOW SOMETHING over the course of three games where he has scored 66, 59 and 77 in solid but uninspiring returns. On the surface, Murphy is a bargain given that he has proven to be an elite scorer in the past, averaging as high as 111 and he is coming off a great pre season but many coaches needed to see a game, or even a half of domination to justify his awkward price tag. It's a no from me at this stage.
STILL GUESSING
Based on the JLT Series, there should be no guessing about it but there is always an element of risk and doubt when flirting with the idea of selecting Matthew Kreuzer (RUC, $431,000). He looks outstanding and his scoring reflected that over the first two rounds where he pumped out 106 and 87 at 1.06 points per minute. His form didn't drop in the last game either after he went up against big Sandi and held his own around the ground with 17 touches, 15 hit outs, a goal and an impressive seven tackles for 100. Despite his injury concerns over the years, Kruz played 21 games last year and he looks to be priced almost 20 points under what his form suggests.
By Tristan.
IMPRESSING
Taylor Adams (MID/DEF, $622,000) is already the most selected player from Collingwood and given how many centre bounces he attended during the JLT I think it's safe to say he's set to be the highest scoring defender. His scores of 96 and 62 were solid and he barely got out of first gear to get them.
Adam Treloar (MID, $673,000) had scores of 62 and 112, while Steele Sidebottom (MID, $624,000) had scores of 38 and 88. Both did enough to show that they'll continue delivering this year and are solid safe picks.
Brodie Grundy (RUC, $609,000) came out with some solid aggression and it looks like he'll continue rucking almost exclusively with pinch hitting as needed from Cox and Moore. Scores of 91 and 77 show he's ready to keep pumping out the centuries.
START STRESSING
Jamie Elliot (FWD, $330,000) barely saw the field in game one of the JLT and then picked up an ankle injury. Even if he's ruled fit for the season opener he's likely to be underdone and rusty, so consider passing for now and add him to your watchlist.
Matthew Scharenberg (DEF, $234,000) only saw 41% time on ground for the first two JLT matches, for low scores of 25 and 23, and then wasn't selected for game three. It looks like he'll be coming up through the VFL at this stage.
Jordan DeGoey (MID/FWD, $455,000) and Levi Greenwood (MID/FWD $484,000) are also both under an injury cloud and should probably be passed over initially. Watch for them slipping down in a draft though as both are locks for top 22 at Collingwood if they're fit.
STILL GUESSING
Will Hoskin-Elliott (FWD, $230,000) did enough to suggest he'll be in Collingwood's 22 but his scores of 70, 45 and 68 don't inspire a high level of confidence. His price is very low though.
Josh Smith (DEF, $461,000) took full advantage of the extra opportunities shown to him in the JLT and smashed out scores of 93 and 116. We know he can score big but can he do it consistently? He has a really awkward price but is a great selection if you think he'll push up his average by 10+ points.
Tom Phillips (FWD, $391,000) also had great scores of 113 and 108, but had a quiet 56 in the middle when the full list of midfielders were playing. Another awkward price with uncertainty but good potential.
Scott Pendlebury (MID, $641,000) had Achilles soreness before the last JLT match and Collingwood rested him to play it safe. He'll suit up round 1 and play great as always, but there is a risk he'll be protected a bit more and that might cost him points.
By Warnie.
IMPRESSING
Zach Merrett (MID, $710,000) turned many off due to losing FWD status. The kid is a gun and a future pig. He has shown – especially in the last game – that he'll be among the top averaging players this year, even with the returning midfield guns. He's in less than 4% of team.
We couldn't have asked for much better from Jobe Watson (MID, $477,000) this pre-season. Scoring at more than a point per minute, the 'former' Brownlow Medallist ticked over 69 points in his first run and then knocked up 87 and 90 in his final two weeks. He may spend some time forward, but that talk about that being his primary role has been overblown. The freedom is likely to help his Fantasy game. The only issue is whether you have him ahead of some of the other 'roses'.
Finally, buckle up for a new premium defender come round six. Brent Stanton (MID, $574,000) spent both JLT games he played in the back half and should add DEF status. I wouldn't be starting him, but I'd definitely draft him when other MIDs are going in the range of 95-100 averages.
START STRESSING
More than 22% of coaches have No. 1 draft pick Andrew McGrath (DEF/MID, $250,000) in their teams. His scores of 17 (63% TOG), 49 (74%) and 24 (47%) won't justify paying those extra dollars and we're better served with a Marchbank, Hampton, etc back there for cheaper. The same goes for James Stewart (FWD, $227,000) and to a lesser extent, Josh Begley (FWD, $190,000). Both showed some good signs but are very much borderline 22 and the higher price isn't worth paying.
Looks to push James Kelly (DEF/MID, $597,000) down your draft rankings. His importance has definitely dropped since the banned boys returned and his scores are set to nosedive.
STILL GUESSING
Right from the get-go, Dyson Heppell (MID, $548,000) was the go-to discounted Bomber. He has the highest ceiling and as an up-and-coming star of the competition, being priced in the mid-90s made him a bargain and a December lock. With scores of 54 and 88 at 0.9 ppm, is that enough to call him a lock? There's no doubt he is value but I'm probably avoiding from here. Controversial -yes, but a smart move – maybe.
By Anthony.
IMPRESSING
Nathan Fyfe (MID, $595,000) played all 3 JLT matches in an attempt to ease back in to the game after an extended lay off last year. By all accounts I would say it worked, Fyfe hasn't lost any of his game winning ability and was easily in the top few players of every match. Check out this score progression though, 61 points from 84% TOG, 73 points from 89% TOG and finally 147 from 86% TOG. For anyone who watched Fyfe in these games it was easy to see that while his hunger for the ball and contest was as high as ever, he was still adjusting to the speed and dynamics of the modern game. Evident by the fact that the first game and a half were the most I've ever seen Fyfe caught holding the ball or fumbling in recent time. But by round 3 of the JLT all the cobwebs were blown out and he was back to showing signs of his brownlow best. At his price this year he's certainly hard to ignore!
Aaron Sandilands (RUC, $450,000) has had an interesting run this preseason. Before the preseason comp started a lot of coaches had written him off due to age, then he suffered an injury which had most of us put a line through him all together. But his JLT performances have shown the old 211 still has a lot to offer. This could be due to the fact that without a 3rd man up to contend with he'll win the majority of hitouts now as not many can get close to him!
START STRESSING
Is Harley Bennell (MID/FWD, $388,000) Fremantle's new Moribito? We'll hope not as he is a genuine pleasure to watch when he's on song but for now he has us all guessing about if and when we'll see him in Freo colours. I've seen a lot of coaches who are still hopeful and selecting him in draft leagues but for now it seems like he'll be riding their benches for awhile.
If mid priced forward Hayden Ballantyne (FWD, $370,000) was in any of your sides or draft rankings then now is the time to get him out after news this week that he'll be missing a minimum of 10 weeks after requiring surgery on his hamstring.
STILL GUESSING
While Cam McCarthy's (FWD, $211,000) score of 93 last week showed us that he deserves a spot in our team, his scores the previous weeks of 47 and 21 showed us that it should probably be a bench spot. As a key forward we should expect his score to fluctuate week in/out depending on the supply he can get from the Fremantle midfield. No doubt though that he will produce a few high scores this year and will keep you guessing as to when to play him on your field!
By Tbetta.
IMPRESSING
Ever since he walked through the doors at Geelong Patrick Dangerfield ($712k MID) has been impressive and the 2017 JLT series was no exception. Like last year, Danger took part in every pre-season match whilst chugging along at a hefty 1.18 Points Per Minute (PPM), so his fantasy outlook is blindingly bright for the upcoming season. His partner in crime Joel Selwood ($619k MID) was equally as productive in his two matches and is shaping as a quality pick, even if a little unique, as some would argue he lacks the 'sexiness' factor of other midfield options.
One of the biggest bolters this pre-season has been Zach Tuohy ($442k DEF) as he's carved himself out a very Shaw-esque role in the Geelong backline machine. Scores of 107, 97 and 71 put him firmly on the radar as a second-tier pick down back – although there is the definite concern that the Irishman is another 'pre-season special' after disasters in that area of the ground in previous years based on JLT performances such as his.
He hasn't hit the headlines (even in the fantasy world), but I've been impressed with the progression of Darcy Lang ($375k FWD) over the Summer. He travelled at almost 1 PPM over three JLT games and while he's too pricey for your Classic side, he's worth jotting down in your draft blackbook for sliders and sleepers.
Lastly, Andrew Mackie ($451k DEF) deserves a shout out for his body of work this pre-season, pumping out scores of 95 and 104. Many have written off the veteran as past his fantasy prime and they might be right… But with Enright and Bartel out the door, there's touches to be spread around and don't be surprised if Mackie's seniority means he gets the lion's share of it.
START STRESSING
It might be time to cross Jackson Thurlow ($282k DEF) off your Classic list, although that's no fault of Jacko's after a solid JLT series coming back from a year out of the game with an ACL. It's more about the bounty of rookie defenders across the competition – at least in comparison to other lines – and $282k is hard to justify when you can get a basement-priced guy squeezing out similar scores.
Then of course, we have the guys in the casualty ward. Scott Selwood ($380k MID) received huge wraps from teammates after an excellent summer on the track (his first in years), but unfortunately a toe injury ruined any chance of a JLT performance. You'd be nuts to pick him without any exposure.
Zach Guthrie ($150k DEF) might be built like a 14 year-old chess player but he was feisty and busy over the JLT, ticking over at 1.06 PPM. However, he didn't play in JLT4 and given there was no obvious injury to attribute that to, we can probably extrapolate that he's sitting outside the best 22 at the moment.
He was almost a lock a week ago, but Tom Stewart ($172k DEF) was rumoured to have had some kind of hamstring issue before leaving the game 7 minutes into the last quarter in JLT4 and that's thrown our plans into disarray. The coaching staff says it's nothing to worry about – and if it was a Dangerfield type, you'd probably have no hesitations in moving forward with him. But Stewart is a player on the fringe, so it's nervous times heading into Round 1 if you were banking on the mature-ager.
STILL GUESSING
Amazingly, the two most prolific Geelong players over the JLT haven't been mentioned yet, and we've already talked about Danger and Selwood. The mantle goes to George Horlin-Smith ($240k MID) with 1.29 PPM from his two games and he's bolted into not only consideration for Geelong's best 22, but also for fantasy coaches light on midfield fodder. Mitch Duncan ($571k MID) was his runner-up, pumping out scores of 77, 76 and 76 this pre-season, but all from half games. Unfortunately, there are whispers of a hamstring complaint, so he might be one you slide down draft orders slightly.
From the rookies on the fringe, we have Brandan Parfitt ($200k MID/FWD) and Aaron Black ($150k FWD). Parfitt might have done enough to be considered as a small forward, but I would think twice on locking him in even if named. Scoring punch, job security and his premium prices are all serious factors, and I feel the risk is too great.
At basement price, Black is a much more inviting bench option and he showed flashes of form over the pre-season competition to justify our interest. However, the Cats are already so top heavy with their swathe of ruckmen and KPP's – was his absence in JLT4 a foreshadowing of his Round 1 chances?
By The Wiz.
IMPRESSING
JLT is done and dusted and Aaron Hall (MID, $635,000) keeps on doing Aaron Hall things. Amassing 69 disposals & averaging 124 fantasy points across his 2 games. Hall seems to have locked down a spot in the heart of the suns midfield and looks ready to explode in 2017. We all know how high his ceiling is, and with just over 3% ownership he could be your "POD". Of his 16 games in 2016, he cracked the tonne on 11 occasions and had 4 scores in the 90's. HOP ON!!
What is it about Touk Miller (MID/FWD, $493,000) that reminds me so much of Aaron Hall? Is it his exotic dark skin? Maybe, but his end to 2016 shouldn't be shunned. In his last 8 games he averaged 104, and he has continued that waterfall of AFL Fantasy scoring in his JLT. There are no question marks in my mind about the amount of midfield time he will get, as demonstrated in his last JLT. Ablett was back, along with – Hall, Swallow, Barlow, Sexton, Rosa & Lyons. Yet Touk had a team high 20 CBA. He has gone at over 1.05 PPM across his 3 games & my gut feeling is that he is going to be a 95+ type of guy most weeks. All aboard the Touk train.
START STRESSING
Potential – "Having or showing the capacity to develop into something in the future" maybe this is Kade Kolodjashnij's (DEF, $437,000) middle name? In just his 2nd year of AFL he averaged an honest 83, yet the following year he deflated all of our fantasy balloons with a poor return of 72. Across his JLT series, again- he was up and down. With scores of 66, 35 & 87. He is going at just under 0.7 PPM, which just isn't enough for us to justify spending our precious salary cap on. Even with his new diet consisting of high fibre meals and Greek yoghurt, I am still saying "αντιο" (Greek for goodbye) to KK in 2017.
STILL GUESSING
In recent times Gary Ablett (MID, $611,000) has been one of our first picked midfielders and an absolute no brainer. This year things are a little different. Question marks surround the Brownlow medallist. The negatives… will his body hold up for 20 games this year ? Does he even want to be there? The positives… His first game back against the Dogs, he went back to being, well gaz. 84 points with 81% TOG wasn't pig like, but it was a start. We know Gary doesn't get up for JLT games, nor does he need to, so come RD 1 against the Lions he will be ready to go. There is no doubting that he will spend some time forward this year but it won't be as much as people think. He will be in the guts, doing things only Gary can do. Whilst I won't be starting with him, I couldn't begrudge anyone who does.
There is only 1 thing that has us guessing about Michael Barlow (MID, $583,000)… HIS ROLE! Only if Rodney Eade could just come out this week and say that Mickey would be in the guts 100% of the time and there would be no tagging role for him this year, Then he would be an absolute lock. There is no doubting that the 29 year old is an accumulator, averaging at least 25 disposals and 5 tackles since 2010. He has averaged the magic fantasy number of 110 in the past & if his JLT is anything to go by, he might just do it again ( role permitting ). He is going at over 1.1 PPM & in his last two JLT games has collected 60 disposals & averaged 106.5. Please Rodney, release Mickey to be the fantasy beast we know he can be!
By Griff.
IMPRESSING
Selected at pick number 2 in last year's draft, Tim Taranto (MID/FWD, $248,000) has shot into round one calculations due to an impressive pre-season and more importantly, putting it together in games. Tim has scored 97, 66 and 67 in his three games of the JLT series from restricted game time. When the club announced that Brett Deledio (FWD, $553,000) would not be ready in time for round one, that pretty much locked Tim into the team. With Stephen Coniglio (MID, $625,000) now also unavailable, it means he won't even be lowest on the pecking order. Tim presents as a good rookie you should be able to start on the field across two lines, who has enough cash to downgrade if or when a cheaper option comes along.
START STRESSING
When he's up and running, Brett Deledio (FWD, $553,000) is one of the best players to watch in the competition, and he is a proven scorer, averaging more than 91 his past five seasons (at an average of nearly 98). But his move to GWS has not been as smooth as we'd like, and with a calf injury wiping him out for the entire JLT series as well as round one, even when he's up and running there's still concern about his 'old man calves'. Give him a few weeks to settle into the Giants before settling him into your forward line.
STILL GUESSING
Josh Kelly (DEF, $542,000) has really shown growth in this JLT series. He has scored 128, 69 (from a half!) and 85 from his game against North Melbourne (where the Giants full engine room returned). Much of his score increase comes from his move into the centre square in the first two games, however there's no telling how long that move will last. Yes, Coniglio's out until at least round four, but Hopper is due back soon, and is Kelly really a guy Leon Cameron will want under packs when he could have him on an open wing? If you start him, you'd want a decent return on his starting price after averaging 90 last season. As good as he looks; the jury is still out.
By Sparksy.
IMPRESSING
There are three Hawks who are pretty much must haves and played almost to perfection throughout the JLT Series. Tom Mitchell (Mid $638,000), Jaeger O'Meara (Mid $364,000) and Jarryd Roughead (Fwd $373,000) did not put a foot wrong all series and should be strong considerations for a spot in your side, if not padlocked with the key thrown away, at least until bye rounds for the latter two.
Titch may be awkwardly priced but I honestly think he is priced unders and could be up around the $700,000 mark by the end of the season. If you put some thought into it, Titch had an on again, off again relationship with Horse throughout his whole Sydney career, whether it was him not playing or him tagging that effects his value. Clarko has no such moronic tendencies however and this means Titch should be above and beyond what he has always been which is a scary thought.
The other two are arguably the most valuable mid-pricers in the league, both priced under 65 and both looking at 85+ averages. That makes them an easy player to upgrade at the byes with a 20+ point increase which translates to at least a $150,000 gain. If you have a decent reason for not picking these guys I'd love to hear it because I just can't think of a negative. Lock and load.
START STRESSING
PoD semi-premium Forward Isaac Smith (Mid/Fwd $538,000) was one of two players who I thought would step up with the exit of Mitchell and Lewis but hasn't quite done enough for me yet. The new VC has always been a decent Fantasy player but his average makes his price tag a bit awkward, knowing he can pump a 120 but is more likely to sit somewhere between 70-90 and you're paying a very similar price to what you would for Luke Dahlhaus. I wouldn't be touching him personally, purely because he's not great value and will be that awkward thorn stuck in your side.
The one other thing that makes me stress about the Hawks, as much as I hate to have a small dig at my side, is that we have a few new guys coming in and are trying to blood some youth which could mean Hawthorn slide a little which would most likely affect their Fantasy scoring. I must say it does cause my heartrate to rise when I think about it but maybe that's just because I don't want my club to stop being successful.
STILL GUESSING
The question that's been on everybody's lips since we all started making our DT Talk Drawing Board teams; who gets the final spot in Hawthorn's 22? Ryan Burton (Def/Fwd $260,000) has pretty much locked down a spot in the Hawks' forward line but doesn't score enough to be relevant anymore, but with one spot left it's a three-horse race between Kade Stewart (Fwd $307,000), Teia Miles (Mid/Fwd $150,000) and Kieran Lovell (Mid/Fwd $195,000). I've watched the boys play all three JLT games and each of these players have pushed their case to the coaching and selection panel. I don't think we're any closer to working out who will take it, I personally think Kade is the front runner which is bad for us because he's not consistent enough to warrant his price. Teia is probably second as far as I'm concerned, especially with Hodgey giving him a big old name drop to the boys a few weeks ago. However, BIG BUYER BEWARE – with Luke Hodge being sat out for Round 1 after not including Clarko and the boys on the invite list to his brother's birthday party there is a big chance that two of these players will probably be picked for Round 1 before one is dropped for Round 2. Pick them at your own peril, they have huge scoring potential but job security and consistency could be a big worry for any owners.
By Nic.
IMPRESSING
His scores mightn't have been particularly great during the JLT Series, but Christian Petracca (MID/FWD, $409,000) is set for a massive year and is super tempting at that price. He dished up two scores in the 50's, but we saw all we needed to when he produced 96 from 69 per cent game time against Carlton. The former number two draft pick should average 80-odd this year.
Jordan Lewis (MID, $623,000) also doesn't look like he's missed a beat moving to the Dees and should be just as good a pick as ever.
START STRESSING
Max Gawn (RUC, $642,000) seemed like the easiest pick only a few weeks ago, but with Jake Spencer looking like he'll be lining up round one, Gawn all of a sudden becomes a tough pick, especially at that price. You're a brave coach if you start him round one with all the other ruckmen you have to choose from.
STILL GUESSING
Michael Hibberd (DEF, $428,000) seemed good value coming into the season, but an Achilles injury coupled with a score of 39 from 77 per cent game time in his only JLT appearance makes him tough to pick. The Dees are still hopeful he'll be available for round one.
By Nic.
IMPRESSING
Ed Vickers-Willis (DEF, $150,000) may have only produced scores of 72, 50 and 38, but he's all but a certainty to play round one and give us some much needed defensive rookie coverage.
Mitchell Hibberd ($DEF, $150,000) is probably less likely to play round one, but has also impressed across the JLT Series with a top score of 64 from his only full game.
START STRESSING
Look, North aren't very Fantasy relevant this year and there isn't really anything to 'stress' about except for whether Brayden Preuss (RUC, $150,000) will play round one. The Roos surely can't play him, Goldstein and Daw in the same side, but Preuss has done everything possible to put his hand up for round one.
STILL GUESSING
Every freaking year Shaun Higgins (FWD, $484,000) does something to put himself on the Fantasy radar and every year it ends in disaster. He averaged 93 points across his two full JLT Series games and North will be relying on him more than ever this year given the state of their list.
By Dunny.
IMPRESSING
Sam Powell-Pepper (MID, $216,000) has been highly touted as one of the top rookies this year and the most important thing is he looks to be cementing a spot in the best 22. He scored 40, 56 and 48 across the three games playing between 65 and 75% game time across the three.  His fend off of Shaun Burgoyne in the final JLT was impressive for a first year player.  He should be locked on your mid bench.
Also on your bench you should be looking at Brett Eddy (FWD, $150,000).  He has worked his way into the JLT booting 5 goals in the last game scoring a very nice 94 points.  His first two game were a little quiet, but the Power need a player like him to take the place of Schulz.  He is on the rookie list and needs to be upgraded to the senior list.  There are two open spots available, one should be very comfortably his.
START STRESSING
Hamish Hartlett (DEF/MID, $474,000) was someone we were looking to place down back after a poor year last year.  Scores of 55, 67 and 60 are not what we were hoping for.  He needed to do more than that to prove that he is over the issues he had last season.  He played over 73% of game time in each game (the first and third were over 80%) which tells me that he had plenty of time out there to get a far better score.  At this stage I wouldn't be putting him into your side.
STILL GUESSING
Chad Wingard (FWD, $432,000) has been considered under-priced and a move to the midfield may cause a points jump.  However, his 79 from 85% TOG in JLT1 and 31pts from 61% TOG which included a cork to the leg after which he did not return in JLT2.  He didn't play in JLT3 which means we are unsure of his status and his previous two performances albeit one injury affected, doesn't give us much to go on.
Paddy Ryder (RUC, $411,000) built slowly into the JLT series with 33, 48 then a 99.  Importantly that last game didn't include Matthew Lobbe.  If this is the way that the Power intend to head going forward then Ryder will be worth a spot in your side.  But if they do go back to the model of having the two ruckmen, I think we can see that this wouldn't assist Ryder's scoring.  Watch selection for round 1 to see what they plan on doing.
By Calvin.
IMPRESSING
Every man and his dog and locking in Toby Nankervis (FWD, $365,000) as their second ruck and it's easy to see why. Fresh from a move from the Sydney Swans, Nank chased greener pastures and has surely secured the #1 ruck role.
Over his three JLT games, Nank scored 85, 94, 72 at an average of 84.7. He's a monster and 31% of Fantasy coaches can't be wrong.
Josh Caddy (FWD/MID, $516,000) is another guy who chased the greener grass and hasn't put a foot wrong with his new club. Caddy has averaged as high as 90 with the Cats and looks set to exceed that in 2017. Over the JLT, he scored 77 and 70 in his first two games with a 46 in the final run.
I believe he's done enough for coaches who think he can be back to his best at an average of 90+.
START STRESSING
After scoring just 33 in the final hit out in the JLT Community Series, Dan Butler (FWD, $150,000) could create chaos if he is/isn't named on Thursday night when Richmond play Carlton in the opening game of the season.
With rookie options very thin, coaches are looking to Butler for a little relief, but I fear we won't be getting any. Butler only averaged 59 (14 games) in the VFL last year and despite a solid 74 in JLT1, I'm very sceptical.
The dilemma will be… if he is named, do you play him on the ground as you will not know which other rookies will be playing? Start stressing people.
STILL GUESSING
Will Dustin Martin (MID, $646,000) get forward status and therefore, should be promoted up Draft orders? My vote is 'YES'.
Dusty topped scored for the Tigers in the final pre-season game with 106 and slotted 3 goals which suggests, when round six comes around, Dusty could be selected alongside Macrae and Riewoldt in your forward line
Bachar Houli (DEF, $563,000) only played one pre-season game and did so in style with 96 but will he actually step-up to the level of a top premium defender. He's only owned by 1.7% of coaches but has a high ceiling as he proved with some big games last year.
Before only playing 12 games last year, Bachar was durable as he only missed 2 games in the five years leading in. He averaged 93 last year from limited games and at times he looked amazing. Is he back and could he produce what he has been promising for some time?
By Tom.
IMPRESSING
Jack Steven (MID, $630,000) looks primed for a big season. He posted scores of 80 (40%), 80 (64%) and 81 (79%) during the pre-season matches to end with a very impressive 1.26 points per minute. Since the start of the JLT series, Steven's ownership has increased to 10.6% at the time of writing – making him one of the most popular premium midfielders. Most coaches will remember his scintillating 2015 campaign where he averaged 111 from 22 games, improving on his previous best average by 13 points. Will he handle a tag better this year?
Former number three draft pick Jack Billings (MID/FWD, $479,000) has always showed he has plenty of Fantasy potential but is yet to really prove it. Averaged 79 last year and 84 the year before. Impressed in his three JLT matches, scoring 83 (84%), 103 (77%) and 81 (81%). Is 2017 the year he takes his average to 90+? 5.7% coaches seem to think so.
START STRESSING
Unfortunately we did not see Leigh Montagna (DEF, $592,000) in action throughout the pre-season games. The 33 year old is battling a calf strain and faces an uphill battle to be ready for the opening weekend. However the Saints plan on unleashing him in an internal trial this Friday (17/3). Monty is no guarantee to front up against Melbourne at Etihad Stadium. That match may be crucial given both sides will be targeting a long-awaited return to September footy.
STILL GUESSING
Any ideas when Nathan Freeman (MID, $150,000) will make his debut? The pick 10 from 2013 always seems to be considered for a bench spot at this time of year. But Freeman was not able to play a JLT game – hinting that a debut may still be a little while off. The guy has undoubted talent and Fantasy potential so here's hoping he can crack the best 22 sooner or later.
By Tom.
IMPRESSING
The plan with Callum Mills (DEF, $441,000) was always that he would move to the midfield. After all, he was drafted primarily as a midfielder. But that move to the centre may be fast-tracked with the departure of Tom Mitchell and illness to Isaac Heeney. It remains to be seen whether this move will increase his Fantasy output considering he earned all of his points last year off half back. Did himself no harm over the three pre-season matches with scores of 110 (78%), 94 (78%) and 34 (48%).
Despite Mills' likely improvement, Zak Jones (DEF, $333,000) is arguably a better pick up in my opinion He was brilliant in the JLT games, finishing as the fourth highest scoring defender thanks to hauls of 98 (85%), 56 (87%) and 101 (86%). Played in the midfield virtually the entire time and impressed with his dash, hard edge and potent skills. I smell a breakout!
START STRESSING
For starters, there isn't a lot of stressing to be done at Sydney. But Jarrad McVeigh (DEF, $499,000) has been swept under the rug in the past year or so. He currently has a side strain and will miss the first two round of the year. But the former Fantasy premium may not even find himself in the best 22 once he returns to full fitness. A lack of pace is something the Swans will be hoping to add this year and McVeigh doesn't posses a great deal of that. Did score five tons last year for an average of 81 to remind us all of what he can do. His time in the midfield will be very, very minimal and that's if he can get a senior game.
Just quietly, superstar midfielder Dan Hannebery (MID, $655,000) didn't exactly light up the park during the pre-season games, managing 54 (78%), 57 (78%) and 58 (79%). I wouldn't be too concerned though as getting some meters into the legs was clearly the priority.
STILL GUESSING
Despite making it all the way to Grand Final day last year, the Swans have a couple of youngsters who will be pushing for selection. Darcy Cameron (RUC/FWD, $156,000) is perhaps the most likely of them all. He is capable of playing up forward and in the ruck and scored 76 (85%), 35 (31%) and 33 (44%) from his three games. Has to be a lock for your bench. Jordan Foote (MID, $195,000) and Robbie Fox (MID, $150,000) both played all three matches. However expect them to spend most of the year continuing to develop in the NEAFL. Draftees Oliver Florent (MID/FWD, $230,000) and Will Hayward (FWD, $210,000) both provide x-factor but will need time. Key position defender Lewis Melican (DEF, $150,000) is one to watch. Nic Newman (DEF, $150,000) looks unlikely given he played just one JLT match for 63 points.
By Anthony.
IMPRESSING
While all of West Coast seems to be benefiting from the new game style and inclusion of Sam Mitchell (as evidenced by the fact that they were the highest scoring fantasy side in the JLT) it is Andrew Gaff (MID $564,000) who looks to be improving his average the most. With his elite running ability allowing him to get involved in more handball chains when West Coast are looking to retain possession and getting himself on the outside of Sam Mitchell, Gaff has shown us that this could be the year he pushes into Uber Premium territory.
Sharrod Wellingham (DEF $367,000) has certainly impressed this preseason with his price and defender status making him hard to put a line through. West Coast's newly adopted Bulldogs style game plan is a high possession, high fantasy scoring that will see the ball in Wellingham's hands a lot more often as they look to set up run off the half back line. While his JLT scores were impressive I'd like to advise that we temper our expectations. I would even suggest removing his round 1 JLT score from the equation. In round 1 West Coast took on GWS with a severly inexperienced line up which saw Wellingham play the majority of the game as a centre square midfielder. While JLT 2 and 3 still saw him attend 5 and 6 centre bounces respectively, these numbers were still well down on his involvement in JLT 1 and are more reflective of what we can hopefully expect from him this year.
START STRESSING
With the inclusion of Vardy and Petrie rotating forward, coupled with Mark LeCras playing a lot closer to goal than last year, it seems Jack Darling (FWD, $420,000) has gotten a bit lost. His average so far has been well down on his usual output in a forward line that is flourishing with goal kickers.
Also with news his dislocated shoulder could see him missing up to 20 weeks at worse case, it's time to put a line through Scott Lycett! (RUC/FWD, $484,000) If you've already drafted him though (looking at you Warnie) then you're going to want to find some cover for him asap. However if you're looking at West Coast rucks to handcuff him with, the we're…
STILL GUESSING
I know that was a terrible segue but it is true. Picking which ruckman West Coast will be using is as hard to pick now as it was before the JLT. With Lycett injured they have Petrie, Giles, Vardy and McIness to choose from.
McIness can possibly be ruled out as he is still developing and will struggle against a Todd Goldstein type (who West Coast happen to play in round 1)
Giles didn't play in the JLT but was dominant for East Perth on the weekend and showed last year against Jacobs that he can certainly hold his own as a standard ruckman.
Petrie played 2 JLT matches and certainly impressed but as of yet has not been elevated from the rookie list. Playing his old side first up may be a factor in him being selected though.
Lastly, Vardy played every JLT match and stamped himself on the game in JLT 3 against Melbourne. Important to note that Vardy also kicked 2 goals which was a major factor in West Coast picking him up. They wanted a ruckman who could make an impact on the scoreboard when resting forward. For this reason I think that Vardy is the best bet for round 1 but it is still just a guess.
Lastly for me it's Elliot Yeo (MID/FWD $477,000) who has me guessing.
Last year many of us thought we'd see him breakout after showing a heap of potential in 2015. Unfortunately like a lot of Eagles 2016 it was a lacklustre affair.
Return to present day and everything seems to be lining up for Yeo to finally deliver on previous expectation. He's smashed all his PB's in the preseason and is getting a lot more ball due to West Coast's high possession style. Scores of 69, 75 and 112 are all encouraging but it's his in game role which has us guessing. If Adam Simpson continues to play Yeo as a 'stopgap' type utility player then we may never see the consistency we're hoping for and it will be another year of 'Yeo-Yeo' scoring.
By Sparksy.
IMPRESSING
Premium Forward Luke Dahlhaus (Mid/Fwd $557,000) has been using the JLT Series to show everybody why he should be set and forgotten at their F1 or F2 spots. He played 2/3 of the Doggies JLT games and went 115, DNP, and 100. Last season Dahl went below 75 once and that was in Round 12 when he had an injury effected 32, that's one score below 75 in 17 games plus four Finals. He's the Sam Docherty of our Forward lines and I can't think of a reason not to have him this season.
Fellow $550k-$600k Forward option Jack Macrae (Mid/Fwd $596,000) is doing pretty much exactly what has been expected from him and, although his hype-train picked up momentum extremely quickly, I feel like he will be just as good as Dahl albeit slightly more expensive, and will definitely be a Top 6 Forward come the end of the season. He's a class player, always has been, and he is quite prominent so watching him play makes you feel good that you have him, he doesn't go under the radar and always makes an impact. I'd personally take Dahlhaus over him purely because of the price difference but you can expect similar things from both.
START STRESSING
Reigning Norm Smith medallist Jason Johannisen (Def $563,000) has me very concerned about his output this year. I understand it is only the pre-season but when players like Laird, Docherty, Simpson and Shaw are tearing it up and the bloke in your team is going at less than 1:1 ratio of Fantasy points to TOG it's very difficult not to panic about it. We know what he's capable of clearly as he tore apart the Grand Final but I think his scores of 62 (86% TOG), DNP, and 60 (84% TOG) warrant a rethink on his selection, especially as Laird is only $20k more and there are a few cheaper guys who could save you a buck for similar scores.
STILL GUESSING
Luke Beveridge has kept us extremely confused about the future role of a certain ruck/forward who lit up the scene late last year. Tom Boyd (Ruc/Fwd $347,000) has been in and out of plenty of teams this pre-season and the JLT Series has done next to nothing to help us make a decision about him. After the last round of the pre-season comp it looks like Timothy English (Ruc $214,000) is going to have to wait to make a debut despite injuries to the Bulldogs other two first choice ruckman. However, in the Doggies' first two games Boyd stunk it up, putting off even his most dedicated admirers to the point where he wasn't even being talked about as an option anymore. I don't know what we can expect; will English play? Will Boyd ruck solo? How long will Roughead actually be out for? And does Boyd have the ability and consistency to put up 70+ every week like he needs to? He's high risk, medium reward I'd say and I'm still going to stay away from him but he could end up being a great pick with all the ruck carnage we have going on.