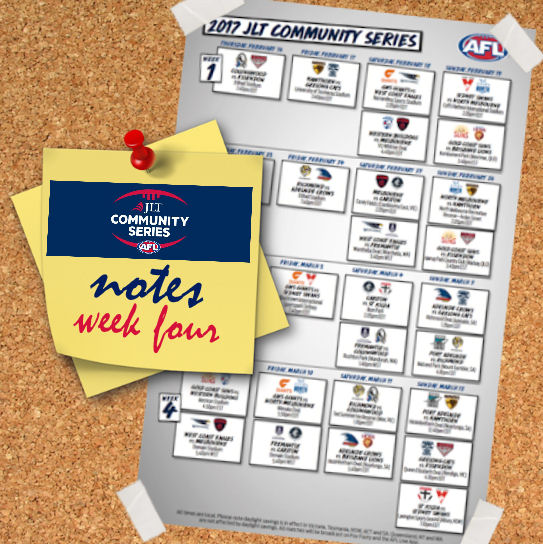 The DT Talk team will update each game of the final weekend of the JLT with our notes.
Gold Coast v Western Bulldogs – Metricon Stadium
Thursday 9 March – By Warnie
Click here for DT Live stats/scores.
Before we get into the Fantasy stuff, the Suns looked awesome for most of the game – and then the Dogs turned it on, kicking 2.7.3 (63) in the final term to win by 21 points. Huge!
JLT4 is going to see pretty much close to full strength sides and this is exactly what we got from this game – even to the point of both sides keeping their stars out there in an attempt to win the match.
All eyes were on Gary Ablett (MID, $611,000) who started forward, kicked the first goal of the game – two for the quarter – before hitting up time in the midfield and racking up 22 disposals, three marks and importantly four tackles for 84 points (81% TOG). Yep, the forward thing is real… but he did spend plenty of time in the midfield. One JLT game probably isn't enough to give me a full read on his role, but firstly, I won't be starting with him and whether he warrants FWD status at round six or even at 12 isn't too much of a drama yet due to the Suns having the round nine bye and we'd be looking at him following that anyway. Ablett attended 15 centre bounces.
With plenty of other relevant players from both sides, here's a quick look.
Aaron Hall (MID, $635,000) has an incredible Fantasy game. That was on show tonight with 36 touches, seven marks and three tackles (121 points, 87% TOG). He played through the midfield for the whole lot, covering plenty of ground as he went. That's his role and we'll see him grab plenty of the ball this season… hopefully Rocket looks after him. Also with a midfield role was Michael Barlow (MID, $583,000). I would choose the former Docker over Hall on price. We have to remember his ceiling – 2014 average of 110.7 – and his price reflects a sporadic role last season. Get on board. 10+ point increase based on his Fantasy friendly role throughout the pre-season.
Forward Tom Lynch (FWD, $520,000) kicked six goals to finish with 'just' 98 points (94% TOG). I think he is 90+ again, but that didn't fill me with hope – especially when thinking drafting.
We saw the Kade Kolodjashnij (DEF, $437,000) we wanted to tonight, but the first two JLT games have probably turned us off. Touk Miller (MID/FWD, $493,000) is growing in popularity (currently in 10% of teams) and according to the Freako, attended a team high 20 centre bounces. He ran well, spending plenty of time forward. On first impressions, I thought this was his role.
I'm still happy to start with David Swallow (MID, $355,000) as my M8 (yes, M8) based on tonight. He has played all three games and his body is looking fine. Swallow has played a fair bit on the outside over the JLT but just lock and load. (EDIT: Freako tweeted that he played inside for 14 CBAs).
Not sure on the rookies – Will Brodie (MID, 234,000) 8 points form 15% TOG, Ben Ainsworth (MID/FWD, $244,000) 28 from 60% TOG or Jack Bowes (MID/FWD, $232,000) 45 from 60% TOG – and whether they'll be there round one or not… and more importantly, their scoring for the premium prices.
Jarrod Witts (RUC, $328,000) was on my consideration list, but with Nankervis a better option for just a few dollars more, I'll avoid. 69 from 75% TOG looks alright and I am fairly confident that he'll be the No. 1 man come round one. Maybe worth grabbing late in Draft.
Gold Coast @AFLFantasy grades:
GAJ ??
Touk ✅
Lynch ?
Barlow ???
Hall ??
Swallow ?
Lyons ?
Witts ??‍♂️
Brodie ?‍♂️⏱
Bowes ?
Fiorini ?
Kolo ?

— Tbetta (@Tbetta9) March 9, 2017
For the Dogs, Marcus Bontempelli (MID, $595,000) played his first game of the pre-season after an ankle injury has interrupted his training load. He was great racking up 25 disposals and 83 (86% TOG). If you were keen pre-JLT and turned off by lack of games, there is no worries jumping back on.
Matt Suckling (DEF, $469,000) loaded up with his superboot kicking three supergoals and another snags on his way to 113. Don't be fooled… but consider him a Draft slider after his less than stellar season in 2016. Also – Jake Stringer (FWD, $397,000) managed to kick a supergoal and three 'normal' goals for 105. Again, one to bump up your draft order considering his lower than expected average last year.
The Dogs forward to lock and load – Luke Dahlhaus (MID/FWD, $557,000) and Jack Macrae (MID/FWD, $596,000) – were great. 100 (77% TOG) and 77 (80% TOG) did all they needed to. I have had Dahlhaus in every make up of my team and if you were only choosing one, tonight justified that choice. But – go with both!
Tom Boyd (RUC/FWD, $347,000) was the main man in the ruck which excited Calvin. 83 (89% TOG) came from 27 hitouts. I would have thought Tim English (RUC, $214,000) would have got a chance with all regular rucks out, but it just shows that the beanpole might need to wait for a debut despite opportunity being there.
Western Bulldogs @AFLFantasy grades:
Bont ??
Macrae ✋??
T Boyd #️⃣1️⃣?❓
Suckling ?
Stringer ?
Dahlhaus ✅
M Boyd ?
Johannisen ?
English ?

— Tbetta (@Tbetta9) March 9, 2017
West Coast v Melbourne – Domain Stadium
Thursday 9 March – By Anthony
Click here for DT Live stats/scores.
There was a fair bit of heat in this one, both in the players intentions early on and in the weather. Both factors really took it's toll on the players and it was noticeable in seeing the sting well and truly out of the game by the end of the third quarter. With neither team fielding any rookies of note tonight it is safe to say these were very close to the best 22 sides we'll be seeing in round 1.
For the Eagles it is Andrew Gaff (MID $564,000) who lead all players. 145 points from 84% TOG. His elite running ability was on complete show again tonight as he just keeps getting to every contest. Whether it is through the middle or getting deep to help in defence the West Coast players never hesitate to get the ball into his hands. Still only 3 tackles for the game which has been the only knock on his scoring potential.
Sam Mitchell (MID $602,000) has not missed a beat in switching teams. Scored an impressive 123 points tonight from a very lopsided kick to handball ratio. 28 handballs and only 11 kicks. This is across the board for West Coast who look to be emulating the handball happy game style which lead the Bulldogs to success last year.
I have to say 'Don't Yeo There!' when it comes to Elliot Yeo (MID/FWD $477,000) again this year. Even after a decent 112 points tonight in a high half forward type role I still can't trust him. Last week he spent the first quarter tagging Fyfe and the next in defence so until I watch a few games in a row of Yeo finally playing one position I'm afraid he'll still burn us.
With 99 points tonight Sharrod Wellingham (DEF $367,000) may be another Eagle to consider when finalising your defence just due to price. He has strung together a decent JLT series and played an effective sweeping quarterback role tonight.
Final thoughts on a few more Eagles from tonight is that Mark LeCras (FWD $498,000) who is finally back at home as a permanent forward could be a cheeky steal in draft rounds, Luke Shuey (MID $597,000) and Matt Priddis (MID $623,000) disappeared during the third quarter and never came back while Lewis Jetta (MID/FWD $322,000) was barely sighted. Also I'm just going to put a few $ on Josh Kennedy (FWD $536,000) to snag his 3rd Coleman!
West Coast @AFLFantasy grades:
Mitchell ?‍♀️✅
Gaff ??
Shuey ?
JJK ?
LeCras ?
Wellingham ?
Redden ?2️⃣2️⃣⏱
Vardy ?
Sheed ?
Masten ⛓⬆️
Yep ?⬆️

— Tbetta (@Tbetta9) March 9, 2017
On the Melbourne side of the fence there is a giant obstacle named Jake Spencer (RUC $281,000) who all but seems to have carved his name into the round 1 team after kicking another 3 goals while 'resting' forward. While he isn't very fantasy relevant on his own, sharing the ruck duties with big Max Gawn (RUC $642,000) is severely hampering his scoring potential. Gawn only scored 54 points from 81% TOG. With Spencer in the side I can't trust Gawn in mine.
One kid who really impressed me tonight was Jayden Hunt (DEF $342,000). While I'm not sure he'll score consistently enough for fantasy he could certainly be a steal in the draft game. Loves to use his pace to break the lines and was damn enjoyable to watch. With 107 points tonight this kid showed that he could breakout to something special eventually.
Speaking of something special, Clayton Oliver (MID $416,000) looks like he's shaping up for a big year. He was a contested beast tonight and looks plays with a lot more confidence than a second year player should, definitely not scared to take on opposition to get his way out of congestion. Finished with 126 points from 84% TOG.
Christian Salem (DEF $383,000) is another Melbourne player who could be worth a gamble in our defence considering he seems to be spending a lot of his time in the midfield. At 83% disposal efficiency it's easy to see why the Demons players love his kick and seem to look for him at most opportunities.
While a score of 76 doesn't inspire great confidence, noticing that his TOG was limited to 71% then has Jack Viney (MID $611,000) looking a lot more appealing. From an on ground point of view it looked like the co-captain mantle couldn't have gone to a better player. Absolutely lead his team from the front and was one of the few players still running by the end of the game. At his price point he'll certainly be a POD player if you choose him.
Jordan Lewis (MID $623,000) looks at home patrolling across the halfback line but he's not looking like he'll be scoring back there at a rate fitting of his price. Keep an eye on the positional changes during the year though because if he can pick up defender status and keeps this average he'll certainly be worth the mid year inclusion.
Unfortunately two players who I've been considering this year were absolutely no where to be sighted through most of the game. From 85% and 86% TOG respectively it is safe to say Christian Petracca (FWD $409,000) and Bernie Vince (MID/DEF $554,000) had every opportunity to score tonight but just couldn't find it.
Melbourne @AFLFantasy grades:
Viney ??
Lewis ✅
Gawn ⏰??
Petracca ?
Spencer ?⚙️
Oliver ?
Salem ?
Vince ?❄️
Hunt ⚡️
Tyson ??

— Tbetta (@Tbetta9) March 9, 2017
GWS Giants v North Melbourne – Manuka Oval
Friday 10 March – By Roy
Click here for DT Live stats/scores.
Old Headache Heath is once again living up to his name… but for a good reason, with many coaches asking themselves how they can justify starting without Heath Shaw (DEF,$614,000). He was outstanding for the star studded Giants with 33 touches and 16 marks for a whopping 146 and may even be better than last year as the Giants go up another gear.
Toby Greene (FWD, $614,000) has flown under the radar this pre season, but he certainly reminded everybody that he can score with the best of them after an impressive 118 including five goals.
I liked the look of Devon Smith (FWD, $483,000) in the second half where he lifted his intensity and scored at will, eventually finishing on 94. He would be a gutsy and interesting unique option that certainly could pay off. Certainly under priced.
Stephen Coniglio (MID, $625,000) got off to a sensational start, absolutely dominating the first half to the point where I wouldn't be surprised if his ownership rose during the long break. Unfortunately he went off injured at the start of the third and will need to be closely monitored following his 70 from just 48 per cent game time.
Tim Taranto (FWD/MID, $248,000) has done enough to earn a start in round one. He looks worth every bit of his inflated price tag after another good performance including 17 possessions and five tackles for 66.
GWS Giants @AFLFantasy grades:
Shaw ??
Greene ?
Smith ⚡️?
Kelly ?
Coniglio ☠️
Taranto ?✅
Johnson ?
Mumford ?

— Tbetta (@Tbetta9) March 10, 2017
Kayne Turner (FWD, $216,000) finally stepped up and showed why there was some pre season hype surrounding him at that price. Although I feel he is still out of flavour in Fantasy circles, he put his hand up late with six tackles and three goals for 88.
Nathan Hrovat (FWD/MID, $380,000) did enough to confirm his break out status with the Roos, scoring 68 despite not hitting the scoreboard as he has in previous JLT games.
As long as Todd Goldstein (RUC, $582,000) plays as the sole big man, he looks set to return to a triple figure average. He just rolled the legs over with 26 hit outs, and 67 but Daw and Preuss did nothing to suggest he will be sharing the hit out duties.
Shaun Higgins (FWD, $484,000) had another impressive pre season game to add to his extensive collection, scoring 45 from 14 touches in just 41 per cent game time. He is certainly one to watch as a slider in draft as the forwards dry up very quickly.
Lets cut to the chase, there are only two Roos we really care about:
Ed Vickers-Willis (DEF, $150,000) remains a concern for any coaches wanting to sit him on the ground after scoring 38 from 12 possessions and 84 per cent game time. Let's just say it wasn't his best performance but he will still be in the mix for a round one berth.
Mitchell Hibberd (DEF, $150,000) was interesting. I thought the dream was over at half time when he hadn't hit the park, but he had a sensational second half with 10 touches and four marks for 48 from 45 per cent game time. Must have if named round one.
North @AFLFantasy grades:
Turner ?
Dumont ?❓
Goldy ?3️⃣?
Hrovat ⚓️
Daw ?
Simpkin ?
Hibberd ??‍♂️
Higgins ?✅
Vickers-Willis ?
Preuss 2️⃣2️⃣❓

— Tbetta (@Tbetta9) March 10, 2017
Fremantle v Carlton – Domain Stadium
Friday 10 March – By Dunny
Click here for DT Live stats/scores.
This last game of the JLT for the Dockers and Blues served up a couple of things.  Plenty of niggle between the two sides as well as a hell of a lot of man buns!  I reckon there were at least 6 of them out there.  Anyway, on to the footy.
Only the one major injury out of the game and that was to Ballantyne.  Whilst not a key for classic, those of you playing deep draft leagues he would have been on your radar in those very late rounds.  Cross him off for now as he did hurt his Hammy and didn't look happy as he came off.  Could be out for a while.
After a couple of broken legs, Nat Fyfe ($595k mid AF, $584,900 mid RDT) was back to his brownlow best form.  He was amazing racking up 147 points from 38 possessions, 6 tackles and he snagged 2 goals.  At his price, he is an absolute must in your side this year.  He had all of his trademark run and strong marking back again and seemed to be at every contest, he even had about 3 or 4 don't argues thrown in there too.   His midfield mate Aaron Sandilands ($450k ruck AF, $295,800 ruck RDT) also looked great and showing no ill effects on his previous injury issues.  He scored 56 points from 6 possessions and he had 37 hitouts with a couple of tackles.  But he did only have 65% time on ground and he sat out the last quarter.  Once again, he is another player that has a good discount over what he can actually produce (particularly in RDT, lock and load in that format) and with only Griffin as his backup as Clarke is out injured, he should ruck all day.  He won't get you 110 plus each week, but in a season where we need to find a lot of value he is someone you should seriously consider as your R2.
Fremantle @AFLFantasy grades:
Neale ??
Fyfe ???
Sandilands ???‍♂️
Mundy ?↕️?❓
Walters ?
S Hill ?
Logue ⏱?‍♂️
McCarthy %?
Ballantyne ☠️

— Tbetta (@Tbetta9) March 10, 2017
The opposite ruck of Matthew Kreuzer ($431k ruck AF, $424k ruck RDT) had a good night out as well.  100 points from 78% time on ground against the monolith that is Sandi is no mean feat.  He got there with 17 touches to go with is 15 hitouts and one goal.  A sweetener on the deal was that he did lay 7 tackles.  If he can stay injury free he could have a great season.  Not sure I if trust him in my ruck in classic forms of the game, but he has moved up my draft board a little bit.
On the subject of value.  Cam McCarthy ($211k fwd AF, $207,600 fwd RDT) is another player many are considering in the forward line.  He did have a good night with 93 points.  However, he did kick 6 goals in that.  My concern is that he won't kick that many goals each week against better opposition, but at his price he doesn't need massive scores to gain you some nice cash.  He had just 11 possessions but that won't be enough to get a big score without kicking a few goals to go with them and that is what worries me.  However, at this stage I would look at starting him on your bench as a quick generating cash cow.  Speaking of cash cows, Caleb Marchbank ($205k def AF, $237,600 def RDT) was another player of some value that I was interested in seeing and he didn't let me down.  He had 22 possessions and seemed to get the job done well.  If he can put up 80+ points each week he will be a player that you should certainly consider in your side.  However, in the same boat as McCarthy, I will be worried when he comes up against stronger opposition.  I would say he should be good for around 50-65 most weeks.  He is priced above a standard rookie, but with a performance like this he should be in the best 22 so he should get a game each week.
Jarrod Pickett ($150k mid/fwd AF, $132,400 mid/fwd RDT) had an impressive game for a youngster too with 3 goals and 12 touches in a low 58% time on ground.  His 73 points is more than enough to see from his price point.  If he is selected on the Thursday night I can see him making his way into a lot of teams.
He doesn't present as much value, but Patrick Cripps ($601k mid AF, $590,100 mid RDT) shook off all concerns that we had about the injury he suffered early in the pre-season.  He racked up 26 possessions, but he could have scored much better as he had 22 handballs vs 4 kicks in that number.  I don't expect his ratio to be so handball heavy each week though.  The real positive was that he did all of that in just 61% time on ground.  So he missed more than one quarter, that won't happen every week so he should be good to go 100+ comfortably.
Lachie Neale ($671k mid AF, $659,200 mid RDT) picked up where he left off last year.  Even with a fit Fyfe dominating the midfield, Neale found plenty of the footy with 37 touches, five tackles and a fantasy score of 133.  It looks like he relished the open space as more focus went onto Fyfe from the opposition.
Marc Murphy ($482k mid AF, $473,300 mid RDT) and Bryce Gibbs ($636k mid AF, $625,300 mid RDT) didn't show enough against Freo to be any chance to make my team.  Yes Murphy provides some value but with just 27 touches and 77 points in 80% time on ground, that isn't enough.  Gibbs fared a little better with 27 touches but 96 points from his 76% tog, but at his price that is nowhere near enough to seriously consider him.  If I was to look at any of the Carlton midfielders, Cripps would be the only one I would seriously consider.
Carlton @AFLFantasy grades:
Cripps ??
Murphy ?
Kreuzer ??
Simpson ✅
Docherty ??
Pickett ?❓
Marchbank ??
Weitering ??
Gibbs ?

— Tbetta (@Tbetta9) March 10, 2017
The other big pair from the Blues, Docherty ($609k def AF, $599,100 def RDT) and Simpson ($611k def AF, $599,900 def RDT) showed why they are in a lot of teams at this time of the year.  They were solid and had a heap of work to do down back.  It's going to be a long season for the Blues and there will be plenty of the ball for them to share amongst themselves.  Doc put up 96 points in his 87% of game and Simpson top scored for the Blues with 102 points from 32 touches in 90% time on ground.  These two guys will once again be in the top 6 defenders come the end of the year (barring any injuries of course) and you should be either looking to start with them or have a plan to bring them into your side at some stage during the season.
For those looking for a draft bargain in a late round, look no further than Brad Hill ($417k mid/fwd AF, $409,900 mid/fwd RDT).  He looked great tonight with plenty of the footy early and just showed his class.  He did put up 97 points in his 85% tog and if you were looking for a cheaper player of difference in your forward line you could take a punt on him.  Also in draft comps, look at Jacob Weitering ($347k def AF, $340,500 def RDT) to gain forward status.  He played up there all night and got enough of it.  If this was truly a dress rehearsal for the proper season and this is where Bolts is heading with him, he could be a sneaky pick up there, can certainly take a grab and didn't look lost at all.
I was disappointed not to see Luke Ryan out there for the Dockers as I know he is locked into a lot of backlines, and this now worries me as to whether or not he will play round one.
Overall it was a fairly scrappy game at times, but the Dockers did put some great run and carry through the midfield together at times which was certainly a factor of having Fyfe back out on the park.
Richmond v Collingwood – Ted Summerton Reserve, Moe
Saturday 11 March – Sparksy
Click here for DT Live stats/scores.
Without Captain Pendles the Pies headed over to Moe to play Richmond with both teams having a close to full strength side. With a few Fantasy relevant players in this one it was an interesting watch and it provided a few answers and a lot more questions which is the last thing we need less than a fortnight out of Round 1! There were some huge Fantasy numbers as both teams generally score well and give up a lot of points.
Dustin Martin (Mid $646,000) top scored for the Tiges with 106 Fantasy points from 81% TOG and proved to everybody that he should be considered, not only for his scoring potential but for the even juicier prospect of DPP. Dusty was named on and started at Centre-Half Forward and he was so impressive up there whilst having an occasional run through the guts. One problem I do have with this is that Richmond probably won't be one of the better teams in the league this season so will lack of opportunity starve Dusty up forward? Either way, keep a very close eye on him this season, could be slider in draft leagues too potentially.
Jack Riewoldt (Fwd $476,000) was solid, working around the ground picking up 12 disposals and 10 marks for 88 points from 89% TOG. I'm never sold on key forwards in my classic team but Jack seems to be playing up a bit higher, sort of like his cousin, which could create more Fantasy scoring opportunities for him. He did roll his ankle with about a minute left so watch what comes from that but, depending on the depth of your draft league, he could be a real surprise pick up this year.
Bachar Houli (Def $563,000) no thanks. Bachar reached the ton with the third last disposal of the game I believe and did it from just 79% TOG. He's on my burn list and I think there are so many better options at that price but, despite his inconsistencies, we all know Bachar is capable of enormous scores. The best part about it is I actually didn't notice him all that much throughout the game and was a bit taken aback when I saw he'd tonned up with 25 disposals. He's not the worst option in the world but expect the lows to come if you pick him.
After being recruited from the Gold Coast, slightly underpriced Dion Prestia (Mid $561,000) put a solid performance in for the black and gold, managing 82 points from three quarters worth of game time. I remember he was a huge talking point earlier this year and I think the answer to whether you pick him or not is still the same, he's a strong injury risk. He has the talent but his body has never held up well and there are similar priced options in Nat Fyfe and Dayne Beams who probably present better scores and value. Risky but could be effective.
Fellow not quite top-dollar Midfielders Brandon Ellis (Mid $540,000) and Trent Cotchin (Mid $585,000) failed to impress me. Fantasy-wise they were alright racking up 81 (84% TOG) and 68 (78% TOG) respectively but they weren't very damaging for the team nor is that really enough score to justify their price-tags. One small upside to them is that Ellis did play back a bit and Cotchin up forward but I don't think it would be enough to get DPP unfortunately.
Bottom-pricer Mabior Chol (Def/Fwd $150,000) was pretty amazing in the first half, a sole shining light for the Tigers, but dropped off majorly in the second half. I can't see him getting a game over Griffiths nor can I see him scoring like he did today (54 points from 75% TOG) so even if he is picked I would stay away but sometimes desperation calls.
Similar things can be said about bottom-priced speed demon Dan Butler (Fwd $150,000). Butler had 33 points from 80% TOG and personally I don't think he's likely to be picked come Round 1 either although I can't think of a replacement for him off the top of my head. If he does get a game I would certainly pick him over Chol but there are better options, go give Jeppa's Juniors a read.
Finally, the player we all had locked in our teams and were keen to see finish the JLT series on a high note, then enter Ivan Soldo (Ruc $150,000). Soldo was insanely impressive from just under a quarter of play he managed 47 points from 22% TOG and played in the ruck for pretty much the whole last quarter. Lucky for us Soldo is listed as a Category B rookie and shouldn't get a game, but either way his presence didn't have much of an effect on Toby Nankervis (Ruc/Fwd $365,000) who lazed his way to 72 Fantasy points from 82% TOG and a spot at R2 in everybody's teams.
Richmond @AFLFantasy grades:
Cotchin ?
Martin ?
Ellis ?
Nankervis ?
Conca ?
Butler ??
Houli ?✅
Chol ?
Caddy ⚓️?
Prestia ??
Stengle ⏱?‍♂️

— Tbetta (@Tbetta9) March 11, 2017
Collingwood doctors will be stretched thin treating their team for leather poisoning after 11 players had 23+ disposals. Without Scotty Pendles the three big Mids Adam Treloar (Mid $673,000), Taylor Adams (Def/Mid $622,000) and Steele Sidebottom (Mid $624,000) all went mental with 29, 29 and 25 disposals earning them 112 (80%), 96 (75%) and 88 (86%) points respectively. We all know what we can expect from these three, the same as last season and the season before etc. Two talking points from me are; is Adam Treloar worth the extra cash over somebody like a Tom Mitchell or a Jack Steven? And will Taylor Adams' body hold up? The latter is an absolute lock in the backline, pretty much a sure thing to be D1 at the end of the year, however he needs to play the whole season. Even today he managed to slice open his chin which needed a few stitches before half-time. If you have an answer to either of those questions please let me know.
Ben Reid (Def $442,000) was clearly watching ex-Magpie Heath Shaw on Friday evening and did his best to emulating him today notching up 26 disposals and 18 marks on his way to 122 Fantasy points from 83% TOG. I wouldn't expect this every week as the Tigers' entries into forward 50 were pretty woeful but it was pretty impressive to watch after Heater's performance last night!
Mid-pricers Tom Phillips (Mid/Fwd $391,000) and Jackson Ramsay (Def $383,000) continue to push their case for selection, more-so Phillips in the Classic format of the game, but I just think their price-tags are a bit steep for what they provide. Phillips had 108 from 81% TOG but, with Pendlebury to come back into the team, I worry that his midfield time might go down a bit much to warrant selection. Ramsay would be a solid pickup late in Draft leagues as he seems at home in the Pies defense, managing 103 points from 85% TOG, however I'd probably leave him out of your Classic team with so many cheaper options with only mildly less output than what Jacko had today.
Midfield slow-developers Jack Crisp (Mid $507,000) and James Aish (Mid $384,000) scored well today but I feel it was due to the lack of opposition for the first two and a half quarters rather than the fact they actually played all that well. Crisp had 101 from 81% TOG and Aish with 92 from the same amount. With both players due for a breakout at some point in their careers this year could be their year but it would be extremely risky to pick them.
Defender Josh Smith (Def $461,000) saw a heap more midfield time without Pendles and benefitted hugely converting 29 disposals and 8 marks into 116 Fantasy points from 87% TOG which is extremely impressive for a sub-$500k player. I can definitely see Smith getting more midfield time this year but probably not to the extent he did today.
Will Hoskin-Elliot (Fwd $230,000) has made his way into a fair amount of Fantasy teams despite a probably below-par output this pre-season. I must say, when he did have the ball WHE looked very good but he was just a bit quiet for my liking. He's currently at my F6 and a late spurt to get him to 68 points from 77% TOG settled my nerves about him a bit but he certainly doesn't have that position locked down in my team by any means.
Last but not least Brodie Grundy (Ruc $609,000) came out like a mansion on fire before slowing down in the second half and then, worst of all, cramping up in his calf with five minutes left. The big man got back up which lifted my doubts about him and found a strong last couple of minutes to end with 91 points from 77% TOG. I feel with all the Ruck carnage we've experienced in the last two weeks we will really need to persevere with the ones we choose and Grundy is the choice for me.
Collingwood @AFLFantasy grades:
Treloar ?
Grundy ?
Adams ??
Phillips ??
Ramsay ?❓
Hoskin-Elliott ??
Pendles ⛑
Sidebottom ✅
Reid ??
Smith ?

— Tbetta (@Tbetta9) March 11, 2017
Adelaide v Brisbane Lions – Hickinbotham Oval, Noarlunga
Saturday 11 March – Nic
Click here for DT Live stats/scores.
Well… Dayne Beams' ($519,000) AFL Fantasy ownership percentage has probably jumped up a little bit in the last fortnight. Last week he delivered 87 points from 64 per cent game time and looked as good as ever, but the new Lions skipper went all-out in the final JLT match, scoring 127 points from 79 per cent game time. This doesn't mean he'll play 22 games without injury, but it's a great sign that you can trust him to perform early in the season.
The other massive tick for the Lions was Stefan Martin ($538,000) who reminded fans (and old pal Justin Leppitsch) how good he is when he rucks alone. He racked up 41 hit-outs and 19 disposals, dominating Sam Jacobs ($534,000) and Riley O'Brien ($340,000) who scored 73 and 22 respectively. Jacobs is probably a reliable option for a ruck slot in your side, but with Martin virtually the same price, it's hard to go passed him.
Matt Crouch ($564,000) was the best of the Crows with 107 points and is standing up in the absence of Scott Thompson, Rory Sloane, Brad Crouch and Cam Ellis-Yoleman. Adelaide has midfield depth issues, but that could benefit Crouch's scoring. Rory Atkins ($441,000) is the only other Crow who cracked the 100 barrier and it's a shame he doesn't have backline status otherwise I'd be all over him. He only averaged 73 points last season, but he's only played 32 games and could be a star further up the ground in time.
Adelaide Crows @AFLFantasy grades:
M Crouch ?
Atkins ?❓
Laird ?
Otten ??‍♂️%?
Jacobs ✅
Hampton ?
Kelly ?
Lynch ?
Gallucci ?2️⃣2️⃣

— Tbetta (@Tbetta9) March 11, 2017
Curtly Hampton ($204,000) rightfully came into this game as the most selected player from either team and he ticked the final box with 80 points from 75 per cent game time. There's no question he'll make Adelaide's round one side. Everyone will have him; don't be that guy who doesn't. Jake Barrett ($150,000) is the second most popular Lions selection behind Beams and he scored 63 points from 78 per cent game time. He didn't stand-out by any means, but he showed enough to hopefully be in the frame for round one. Andy Otten ($150,000) is also in a lot of teams and he was serviceable with 73 points from 76 per cent game time. However, I can't see him cracking the Crows' round one team unless Jake Lever is unavailable and even then, it's no certainty.
Tom Rockliff ($very large number) only scored 76 from 71 per cent game time, but if you're picking Rockliff, you're probably not too concerned about what he scores in the pre-season. Fellow Lion Matthew Hammelmann ($200,000) looked very promising in the Brisbane side and seemed to slot it nicely. He scored 67 points from a full game and we'll have to wait and see if that's enough for a round one birth. Dayne Zorko ($640,000) was quiet, but did enough last week to show what he's capable of this year. I wouldn't be reading much into his 63. Sam Mayes ($405,000) has popped his head up as a potential option down back with scores of 98 and 77 in the last two games, but he did also produce a 50 in the first game from over 80 per cent game time. He'll probably be an inconsistent scorer – pass. Eric Hipwood ($290,000) looks like a player who the Lions should be building their forward line around this year. He's not going to be a great Fantasy scorer (only managing 45 this week), but he'll play most weeks.
Rory Laird ($584,000) was as good as ever with 97 points and is about as safe a pick down back as you'll get this year. Josh Jenkins ($483,000) scored 104 points, but the Crows' forward line had their way with the Lions and that's certainly not an indication of his scoring potential. Mitch McGovern ($345,000) and Taylor Walker ($453,000) also scored in the 90's as proof of the dominance. Jordan Gallucci ($222,000) unfortunately only managed 17 points from 60 per cent game time and was barely sighted.
Others like Daniel Rich ($494,000), Tom Bell ($417,000) and Richard Douglas ($453,000) scored well, but stay strong and stay away from them.
Brisbane Lions @AFLFantasy grades:
Martin #️⃣1️⃣??
Beams ??
Rockliff ?
Barrett ??
Hammelmann ?
Zorko ❄️
Bewick ?
Mayes ?❓
Rich ?
Cox ??‍♂️

— Tbetta (@Tbetta9) March 11, 2017
Port Adelaide v Hawthorn – Hickinbotham Oval, Noarlunga
Sunday 12 March – Calvin
Click here for DT Live stats/scores.
Where do I start? Let's start with Tom Mitchell (MID, $638,000) and Jaeger O'Meara (MID, $364,000) who were both simply brilliant and a lock in your Fantasy teams. They both finished the day on 103 and 98 respectively and didn't put a foot wrong.
Will Langford (MID, $427,000) topped the scoreboard and he would have impressed his 0.45% of owners with his 122. Isaac Smith (MID, $538,000) cemented himself in my team with 97 that came from 25 touches.
Jarryd Roughead (FWD, $373,000) continued his impressive pre-season with 96 and with Burgoyne and Birchall sitting this one out, even James Frawley (DEF, $354,000) got amongst the points with 78.
I was keen to see Teia Mills (FWD/MID, $150,000) and I believe he has done enough now to feature in round one. The question is, can you start him on your field? He scored 63 which is about what you'd expect.
Warnie's mate Taylor Duryea (DEF, $415,000) was average with 56 but what else would you expect?
Hawthorn @AFLFantasy grades:
Mitchell ?
O'Meara ???
Rough ?
Stewart ?❓
Miles ??
Vickery ?
Shiels ?
Smith ✅
Langford ?
Hodge ?
McEvoy #️⃣1️⃣?

— Tbetta (@Tbetta9) March 12, 2017
As for the Power, I was really keen to see Chad Wingard (FWD, $432,000) as a possible replacement for Heeney. He didn't play (insert sad face).
Brett Eddy (FWD, $150,000) played though and dominated with 94 with 5.4 goals (all in the second half) in windy conditions. He scored a massive 56 in the third term. Don't expect this each week though, but he does work hard and will be in Port's best-22 come round one. With the Hawks missing a few defenders, he did have it his own way but might find it tougher against the Swans at the SCG in round one. He was great, but still only a bench option. Let's not get carried away here.
Ruckman Patty Ryder (RUC/FWD, $411,000) turned up and has put his hand up for your R2. He knocked up 99 with 35 hit outs and looked great on his approach to round one.
As for the rookies, Sam Powell-Pepper (MID, $216,000) was good and although he locked himself a round one debut, he only managed 48. It was a loud 48, but mainly due to the commentators talking up his 'big body'. SPP had 23 touches (16 by hand) and if he can take a few marks around the ground (he had 0) he should be boosting his score up a lot more than what he produced.
Fellow recruit Joe Atley (MID, $188,000) managed just 35 and looks doubtful. Dan Houston (FWD, $150,000) started well scoring nearly half of his score in the first quarter. He finished the day on 48.
Port Power @AFLFantasy grades:
Ryder ??
Wines ?
Eddy ?2️⃣2️⃣
Trengove #️⃣2️⃣?
Lobbe ⚰️
Hartlett ??
Powell-Pepper ???
Houston ?‍♂️
Atley ?‍♂️

— Tbetta (@Tbetta9) March 12, 2017
Geelong v Essendon – Queen Elizabeth Oval, Bendigo
Sunday 12 March – Warnie
Click here for DT Live stats/scores.
In the second last game of the JLT Series, Patrick Dangerfield (MID, $712,000) locked himself hard into my team. Not that he hasn't been there for the last month, but he reinforced that he is unlikely to go backwards in 2017 and even if he does, it will be ever so slightly and we won't be able to afford to upgrade to him anyway. Just start the Brownlow Medalist and enjoy scores like 135 (81% TOG). I will confess that I drafted today in the DT Shiva – with pick four – and opted for Gawn over Danger (I panicked knowing how important a ruck is… Danger was the correct answer).
Joel Selwood (MID, $619,000) racked up 32 touches for 128. He is definitely one that is sliding in Drafts but I'm not considering in Classic. Also consider bumping Andrew Mackie (DEF, $451,000) up your rankings… scores of 98 and now 104 in the JLT are well above his current drafting range. He is given a free run as many of the Cats defenders have had over the JLT.
Eyes were on Zach Tuohy (DEF, $442,000) as his popularity has grown over the last four weeks. Still running off half-back, he managed 71 (92% TOG) thanks to 25 touches. If his 107 and 97 turned you on, then this shouldn't turn you off too much. But understand the risks associated.
As basically a rookie priced player, George Horlin-Smith (MID, $240,000) has to be on your radar if you're considering those first year players with a price premium. 98 and then backing up with 76 (from just 63% TOG), if named round one, then it's worth jumping on as M8. Probably better output than SPP?
Speaking of great points per minute and Draft value, Mitch Duncan (MID, $571,00) scored 76 from 42% TOG. Wowee! 21 touches in less than a half is epic! I hardly noticed him to be honest.
I've decided that Jackson Thurlow (DEF, $282,000) gets the chop from my training group (55 from 73% TOG) as Tom Stewart (DEF, $172,000) is locked into their 22. We might have to monitor his health, but if he's fit, he'll be playing round one and should be a member of your back six in Fantasy Classic. As a mature ager, he's ready to go.
Geelong @AFLFantasy grades:
Dangerfield ??
Selwood ✅
Tuohy ??
Stewart ?
Horlin-Smith ??
Mackie ?
Thurlow ?
Parfitt ?‍♂️
Taylor ??

— Tbetta (@Tbetta9) March 12, 2017
My Bacon Cup draft team copped it this weekend. Firstly I lost Scott Lycett who dislocated his shoulder in the WAFL, then by back up ruckman Matthew Leuenberger (RUC, $440,000) went down on 10 with a hamstring injury. It's waiver wire time. The rookie listed Shaun McKernan (FWD, $436,000) took advantage of his absence winning 19 hitouts and scoring a team high 108 (71% TOG). Don't go near him in any format though.
Zach Merrett (MID, $710,000) is a chance to be awarded pig status this year. Being MID-only and the returning players has turned a lot off – he is in just 3.6% of teams – even though he was the second highest scoring player last season. He scored 102 (70% TOG) and while I believe he'll be in the top few, I will risk it by not starting him.
I will however consider Jobe Watson (MID, $477,000) priced at 80. He looked fantastic in his third JLT game with 90 from 75% TOG. The hard thing is that there are arguably too many 'roses' available and there is more upside in the likes of Beams and of course O'Meara. How many of these 'types' can we have? Dyson Heppell (MID, $548,000) was a pre-JLT hype boy but has probably been crossed off a few lists. Still, 88 from 80% is solid considering he is priced in the mid-90s.
Brent Stanton (MID, $574,000) once again played down back. He's a lock for DEF status in round six in my opinion. I am toying with the idea of starting with him, but maybe he won't score enough – even at his discounted price. I'll back it in that he will be at least this price, if not cheaper, come round six. It's a shame that I will miss his Anzac Day game.
As for the cheapies, Andrew McGrath (DEF/MID, $250,000) played just 47% of game time for 24 points and I doubt will be scoring enough to justify his price tag. He is likely to be managed a little as well. James Stewart (FWD, $227,000) may get opportunity and his two goals were impressive as well as his 66 from 87%, but we'll go for other options ahead of him. I do think Stewart will play over Josh Begley (FWD, $190,000) as a bit of a target up forward, who scored 34 from 69% TOG.
Essendon @AFLFantasy grades:
Watson ?
Heppell ?✅
Stanton ??
Parish ✋??
Leuey ☠️
McKernan ⚡️#️⃣1️⃣?
Z Merrett ??
Kelly ❄️
Begley ?2️⃣2️⃣

— Tbetta (@Tbetta9) March 12, 2017
St Kilda v Sydney Swans – Lavington Sports Ground, Albury
Sunday 12 March – Tom
Click here for DT Live stats/scores.
An intriguing JLT series concluded in Albury tonight with the Swans getting the job done over St.Kilda in what proved to be a close encounter. Both sides have some very Fantasy relevant options, particularly Sydney, and fielded strong sides. Lets get stuck into the wrap up.
Luke Parker (MID, $663,000) put up 75 points in the first half but faded a bit after the main break. Still finished with 108 Fantasy points from 79% time on ground. Rest assure, he will be up there amongst the top echelon of midfielders. As will Dan Hannebery (MID, $655,000). Although Hanners was a little bit quiet today, ending with an under-par 58 (79%). Don't stress, Dan will be looking for an average of 110 in 2017. But it may be worth swapping him with Parker or fellow midfielder Josh Kennedy (MID, $653,000). JPK was typically workmanlike today. Ended with 81 from 78%. And it could have been more if not for a lopsided kick:handball ratio of 8:20. A second-half of the season specialist.
The forward stocks are certainly a little depleted this year but Lance Franklin (FWD, $569,000) is evidently one of the leading options. He looked a class above, forming a potentially match-winning partnership with the injury-prone Sam Reid (FWD, 294,000). Buddy was very busy, kicking 2 goals 4 behinds and pushing up the ground whenever possible. 106 points (90%) for the big unit. He'll be a top six forward, at least before the DPP's are added. Kurt Tippett (RUC, $510,000) enjoyed a solid game. Was used as a pure forward in the first quarter before being deployed in the ruck as the game went on. Was well beaten by Hickey but Tippett's strong hands in marking contests were a feature. Not one many will be looking at him, but should be good for a 90+ average. Ended the game with 75 from 82% TOG.
Jake Lloyd (DEF/MID, $521,000) was busy early and collected 14 touches and 6 marks before HT. His ball use was a little bit wayward at times but is a good accumulator across half back who provides run and carry. He scored 104 from 87%. Callum Mills (DEF, $441,000) was not as good today as he was in the first two games. Still scored 34 (48%). His day ended early with what looked to be a slight hamstring injury. I'd say this is just precautionary. Nevertheless, he looks set for a big 2017.
The best on ground for me had to be Zak Jones (DEF, $333,000). He was sensational, displaying the dash, hard edge and ball winning we saw during the finals series. Played the whole game in the midfield tonight and looks likely to play there during the season proper. I really like him as an option at $333,000. Looks's like Titch's replacement in the middle. Jones managed 26 disposals and 6 tackles, resulting in 101 points (86% TOG). Stayed tuned for a more in-depth look at Jones in this weeks versus article.
Oliver Florent (MID/FWD, $230,000) showed glimpses for his 47 points (60%). He looks a very classy player but will be given plenty of time to develop. Darcy Cameron (RUC, $156,000) played just 44% of the game but still scored 33. Looks capable up forward as well as the ruck and will be considered for a round one debut, making him worth while on the bench. Robbie Fox (MID, $150,000) and Jordan Foote (MID, $195,000) are other maybe players. They finished with 21 (73%) and 30 (69%) respectively. Don't think we'll see either of them early unfortunately unless injuries kick in. Both looked a little lost when thrust into the centre but will provide toil away in the NEAFL one would think. One I was particularly impressed with was key defender Lewis Melican (DEF, $150,000) who played a really solid game. One of a few $150k defenders who are strongly in the mix for round one. Spent time on Bruce. Job security obviously a worry but one to keep on the watchlist. Provides Sydney with key position depth. Melican concluded a promising JLT series with 46 points off 76%. To be honest, there's only a handful of Swans players who aren't Fantasy relevant. It'll be interesting to see who Longmire calls upon for their opening clash with Port Adelaide.
Sydney @AFLFantasy grades:
Parker ?
Hanners ?
JPK ?
Mills ??
Jones ?❓
Lloyd ✅?
Buddy ?
Cameron ?2️⃣2️⃣
Florent ?‍♂️
Fox ??‍♂️
Melican ?‍♂️

— Tbetta (@Tbetta9) March 12, 2017
On to the other mob now, and it was ruckman Tom Hickey (RUC, $471,000) who led the scoring. He had a very big impact on the game around the ground and finished with 29 disposals, 3 marks, 7 tackles, 39 hit-outs and 141 Fantasy points. He's one to watchlist but I don't recommend progressing further than that. Nankervis looks the better options if your after a mid-priced ruckman.
Nick Riewoldt (FWD, $667,000) pretty much did what he pleased on the wing. Will outrun anyone over the course of the match. A top six forward but many are overlooking him because of his price tag – making him the most expensive forward by $70k. 24 touches, 7 marks and 93 points (83%) for the big roo who is an out and out wing-man now. He has a big ceiling, consistency and seems to be getting better with age.
16 disposals in the first half for Jack Steven (MID, $630,000). Ended with 28 and 81 points from 79%. Never really got out of second gear. Is becoming a popular M4. The potential tag is the only downside. Caps of a very good pre-season. I seriously doubt Seb Ross (MID, $594,000) will improve on his brilliant 2016 season but a potential bargain late in a draft. Was a solid today. A good third term meant he racked up 77 from 74% time on ground. Pardon the completely unintentional pun, but former Giant Jack Steele (MID/FWD, $432,000) is shaping as one of the steals of the off-season. Four tackles in the opening quarter. Loves the hard stuff and is a beast on the inside. Could he be the next Lenny Hayes at Moorabin? His handballing whilst being tackled was a highlight. 28 disposals, 3 marks, 12 tackles and 120 points from 77% time on ground. It is definitely time to consider Steele.
Remember this guy? Jack Newnes (MID, $535,000) was a popular choice in 2015 and has since become a pure mid. Tackling was excellent early. Potential for a 90+ average as the Saints look to surge into the finals. David Armitage (MID, $518,000) was industrious as always. He managed a big haul of 113 from 73%. Fairly cheap this year but I would prefer Menegola for a similar price.
It's worth noting that Koby Stevens (MID/FWD, $517,000) did not take part, instead returning to Victoria for personal reasons. He is one of the three mid-priced Saints forwards who look interesting. Could average 90 having completed his move from the Western Bulldogs. Jack Billings (MID/FWD, $479,000) was terrific last match and solid again today with 81 points from 81% time on ground. At $479,000, he presents himself as a cheaper alternative to more talked about premiums such as Macrae, Dahlhaus and Greene. I can't see many rookie-priced players getting a crack early for the Saints. Nathan Freeman (MID, $150,000) may be the best player to never play yet. Hopefully his injury-riddled past is behind him. Next stop, round one!
St Kilda @AFLFantasy grades:
Steven ???
Stevens ?
Steele ⚡️?
Armitage ?↕️?❓
Riewoldt ?
Billings ??
Hickey ???‍♂️
Carlisle ?
Roberton ?

— Tbetta (@Tbetta9) March 12, 2017