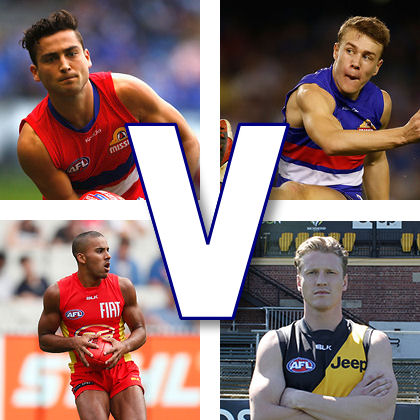 Tom is back putting players head-to-head in Versus. Today he focuses on four popular forwards.
Jack Macrae ($596,000) v Luke Dahlhaus ($557,000)
It came as a surprise, but Fantasy coaches have loved the addition of Macrae's forward status. The Western Bulldogs premiership player was taken with pick 6 in 2012. He was a star for Central-Melbourne based Oakleigh Chargers  in his under-18 year , but in recent times Macrae has formed a formidable partnership with fellow midfielders Marcus Bontempelli, Luke Dahlhaus, Tom Liberatore and Mitch Wallis. Although his 2016 output wasn't quite up to the standards of previous years. He averaged 104 Fantasy points in 2014 and 2015 but dropped to 98 last year. It started well though with 107 against Fremantle before two sub-100 scores in rounds 2 and 3. Jack managed 26 disposals, 5 marks, 6 tackles and 101 points a week later. Highlights from the remainder of the year included a 114 Fantasy point outing against North Melbourne, however his influence on the game was not at its usual level. 139 points from 32 disposals, 6 marks and 10 tackles against Collingwood was his highest scoring game of the season and was backed up with 126 against West Coast at Etihad Stadium. The Eagles and Bulldogs would later meet in first week of finals. Unfortunately, an untimely hamstring injury kept Macrae sidelined for the final month of the home and away season. He returned to action for the start of what would prove to be one of the greatest finals campaigns of the modern era and was typically influential for the side from Melbourne's west in the second half of the do-or-die clash with then-reigning premiers Hawthorn. His inside-outside accumulation and constant running proved to be a threat for Sydney in the big dance. Although he has a relatively high ceiling, Macrae did toss in the odd 70. His bye round (11) is shared with other premium forward options Dahlhaus, Riewoldt and Franklin along with mid-pricers Jack Billings and Isaac Heeney which is a slight issue, but not enough to totally prevent you from picking him. At $596k, Macrae is the second most expensive forward but, with some added consistency, will no-doubt be a top three prospect.
Luke Dahlhaus has gone from being a fringe small forward to one of the bulldogs best in and under midfielders. A member of their mosquito fleet, Dahlhaus has been progressively spending more time in the midfield each year since debuting in 2011. Dalh had maintained a steady average of around 70 until 2014 where he broke out, averaging 87 for the year. He confirmed his premium status in 2015 with a career best average of 97. His creativity both with and without the ball, intense tackling, accumulation and new-found consistency made him a standout. As mentioned before, increased midfield time brought about a disposal average of 26 (5 up on his career average) but, at the same time, saw him hit the scoreboard just eight times. After scoring five tons, two 90's and three 80's in the first twelve games of the year, Dahlhaus suffered a knee injury against Port Adelaide at the Adelaide Oval. It was later revealed that he had suffered damage to a medial ligament and was forced to sit out the next five matches. Dahlhaus scored just one more ton after returning to the big time but continued to pump out regular 80's. Unfortunately the 32 points scored before injury struck significantly dented his season average, but he was still able to end the home and away season with an average of 91 points, making him the fourth highest averaging forward. We have been stripped of some of the better forward options this year with the likes of Zorko, Gray, Montagna and Merrett all loosing dual position status. Therefor we don't really have many options. There's Riewoldt who is deemed by many as a touch too expensive at this stage, Macrae who looks an obvious choice, Franklin and a few touch and go options, but after that it falls away. This has led to many coaches picking mid-pricers such as Miller, Caddy or Heeney at F2. To me, despite the lack of options, this could still be a touch weak and Dahlhaus looks the best bet after his teammate. He has consistency, durability and the ability to go big on his day. As is the case with Macrae, the popular round 11 bye is annoying but Dahlhaus should be a top six forward come the end of the season.
Verdict: In the battle of the Bulldogs, I just lean towards Macrae as he is more likely to average 100 than Dahlhaus. Although Luke will still be one of the top forwards, I predict his average will be closer to 95. Both players spent time out of the premiers side in 2016 and will be looking to return their averages back up to the levels of 2015. Can see why many, myself included, are currently rolling with both.
Josh Caddy 

($517,000)

v

Touk Miller ($493,000)
Now at his third club, Josh Caddy will be hoping Punt Road is his final resting ground. Despite having never averaged over 100 Fantasy points in any season, Caddy has only played all 22 games once (in 2012 when at the Gold Coast). A first round selection in 2010, Caddy immediately left his mark on the competition, averaging 72 points in his debut year at Metricon Stadium. Caddy was touted as a star of the future when he headed south to Geelong ahead of the 2013 season, however he hasn't reached that mark yet. This can be put down to injury, but also being deployed across half forward with only short stints through the midfield. With the likes of Dangerfield, Selwood and Duncan occupying the centre, there simply wasn't enough opportunity for Caddy to consistently display his crash and bash nature. Caddy still averaged 69, 89 and 85 during his three years in country Victoria but guaranteed midfield time at Richmond was simply too good to resist. He will join new recruits Toby Nankervis, Dion Prestia in a midfield already possessing Cotchin, Martin, Miles and Grigg. It looks a threatening bunch, so much so I doubt we've seen the end of Caddy spending time at half-forward. Caddy's price makes him a potentially valuable option in 2017. At $517,000, he is up to $70k less than the likes of Macrae and Dahlhaus and looks to be a popular choice at F2 – a position which seems to either be occupied by Dahl, Miller, Heeney or Caddy. A positive of Caddy spending time in the Cats forward line was his regular scoreboard impact (18 goals in 2016). Between rounds 6 and 9, Josh scored 120, 105, 99 and 96 – totals coaches will be hoping he replicates week in week out in the famous yellow and black. He scored 94, 99 and 94 in three of his four trips to the MCG, the ground where he will play 11 games at this season. Richmond have a round 12 bye this year which also adds to his appeal, given many other higher priced forwards take a break a week earlier. Last Friday, Caddy collected 21 disposals, 6 marks, 1 tackle and 77 Fantasy points from 68% TOG against the Crows in a near full strength side – a promising start. With another change of scenery, a potentially full-time midfield role and affordable price tag, its now or never if Caddy wants t push his average to 90+.
Touk Miller has been one of the 2017 pre-season hype players. A second round draft pick in 2014, Miller wasted no time in getting his career underway. He played every game in his debut season and finished with a very respectable average of 70 Fantasy points. The 178cm tackling machine is not afraid to throw his weight around in the contest but can also damage the opposition on the outside with his clean, precise foot skills. Miller first emerged as a genuine Fantasy option late in 2016 where he flourished with the added midfield experience. His Fantasy scores in the past two and a half months of the year included 135, 111, 139, 105 and 98. And when Prestia and O'Meara disembarked on voyages back home, Miller was one of the candidates most likely to replace them. However the Suns managed to acquire Barlow, Hanley and Lyons in the trade period, picked up Will Brodie and academy prospect Jack Bowes at the draft and already boast the likes of Ablett, Hall, Swallow, Fiorini and Rosa. Suddenly things don't look as clear-cut. I'm not entirely sure who the Suns will opt for in the midfield for round one, but I would think Ablett, Lyons, Hall and Miller all spend time rotating off half forward. This comes despite Rocket Eade declaring Miller would spend the majority of his time in the centre. Although coaches would love to see this, as it will likely translate into more Fantasy points, natural improvement should see his average move into the 90's anyway. Miller has the early round nine bye due to their much-anticipated holiday into Asia, but I'm not so sure this is necessarily a bad thing. Admittedly it will require you to either use a trade or cover him on the bench, however those who hold him will be greatly rewarded as he is available during all the regular bye rounds. Every coach will have their opinions, tactics and plans for the round nine bye. At $493,000, Miller is very affordable and should end up being a quality F4/5 towards the end of the year.
Verdict: A lot of Fantasy coaches will front up to round one with at least one of Caddy or Miller. Both are cost effective options and are eyeing off increased midfield time. After analysing both the Tigers and Suns midfield, I'm unsure if either option will end up spending added time there in 2017. Nevertheless, there is plenty of water still to go under the bridge until the opening bounce. I'd go for Miller.