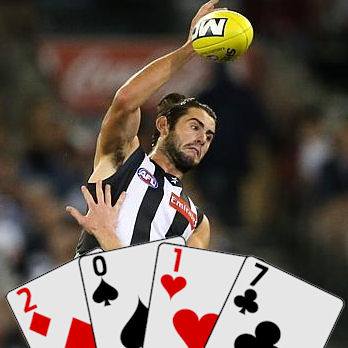 Name: Brodie Grundy
Team: Collingwood
Position: Ruck
AFL Fantasy: $609,000
Bye Round: 13
2016 Average: 101
2016 Games Played: 21
Predicted Average: 105
Click here for DT Live profile.
Why should I pick him?
After playing 19 games in 2015 to average 91, Grundy stepped it up another level last year and averaged a huge 101. But what really impressed me about Grundy was the way in which he finished the season… averaging 119 in his last five games. That's numbers like a pig.
In fact, his first half of the year was rather slow where he only clocked up 3×100+ scores in his first 11 games. He ended the year with 9×100+ scores in his last 11 games at an average of 113.5. Did you hear that? 113.5 in the last half of the year.
Everyone raves on about how Max Gawn ended the year and how he is a 'must have' from the word go in 2017. Max and Grundy ended their last 10 games at the same rate, and if you want to get picky and right down to the dirty digits… Grundy averaged 0.1 more.
By selecting Grundy over Max, you'll be unique.
31% of coaches currently have Max Gawn in their teams. 23% have Stef Martin and only 15% are currently rocking with Grundy.
You'll be saving yourself $33,000 by going with Grundy over Max and based on their end of the season form… they'll score roughly the same.
Did you know that before today I had Gawn and Stef locked in as my rucks? You probably did, most people do.
Did you know they share the same round 11 bye?
That's concerning my friends and that's why I'll be saving $33,000 and rolling with a Brodie/Stef combo. Please be advised: This may and most likely will change.
Have a look at who Grundy will be competing against in the opening seven rounds.
Round 1 v Campbell/Roughead (Bulldogs)
Round 2 v Nankervis  (Richmond)
Round 3 v Naismith (Sydney)
Round 4 v Hickey (St Kilda)
Round 5 v Leuenberger (Essendon)
Round 6 v Smith (Geelong)
Round 7 v Kreuzer (Carlton)
Talk about easy pickings for a gun like Grundy. After seven rounds… he'll be averaging more than Max… oh big call. SNAP! Oh this is lit.
Why shouldn't I pick him?
I'll struggle to find reasons here as… he's a great pick and no one can bag you for going with him. He ticks all the boxes.
Only small issue might be, unlike 2016, he may have to share some rucking duties from time to time with Lachie Keeffe… and that's a huge MAY.
Bucks took over Twitter the other day and was asked by a good bloke called Brenton, "You've been trialling Lachie Keeffe up both ends this off season. Where do you see him lining up for Round 1?"
we know Keeffey can play down back if required but our depth charts indicate he may be a better chance of playing senior footy as a Fwd/2nd Ruck. He has trained really well and will be ready when called upon. Came back very fit."
I read into this two things….
'playing senior footy as a Fwd/2nd Ruck' , ummmm interesting…
'ready when called upon' – he's a long shot to even get this gig
Clutching at straws sorry… there are no bad reasons as to why you would pick up Grundy.
Deck of DT Rating.
KING – Reluctantly… I'll call him a king although, he probably could be an ACE. Net year when we do the Deck of DT, if he is able to replicate what he did in 2016, then it's a no brainer.
Loading ...
FOLLOW ME ON TWITTER: @CalvinDT for all thing AFL Fantasy (and more). Got something to say about the deck? Use the hashtag… #DeckofDT.