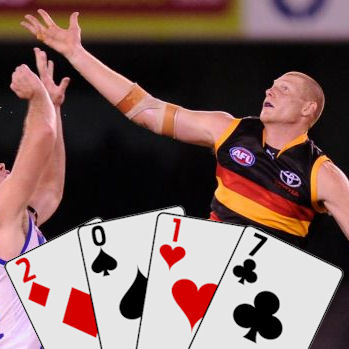 Name: Sam Jacobs
Team: Adelaide
Position: Ruck
AFL Fantasy: $534,000
Real Dreamteam: $523,800
Bye Round: 13
2016 Average: 88.3
2016 Games Played: 20
Predicted Average: 93
Click here for DT Live profile.
Why should I pick him?
Jacobs had a down season last year, however, I am expecting him to bounce back.  He is clearly the number one ruck at Adelaide and will remain so this season.  Also on his side is the demise of the third man up.  His hit out numbers were down by 156 and his disposal count was down by 41 and he took 27 less marks.  He was clearly out of sorts from day one.  What this tells me is that he is underpriced for season 2017.  The two previous years he averaged over 95 and there is no reason the he can't return to that level again this year.  I have been a little conservative by suggesting 93 for him.
The other key is that he hasn't played less than 19 games in a season since crossing to the Crows.  This means that he is a prime candidate for you to have him as a set and forget ruckman.  Whilst he probably won't be one of the top two scoring rucks at the end of the season, he is also $75k cheaper than Grundy and $108k cheaper than Gawn in Fantasy, these are valuable dollars that you can use elsewhere.
He has the last bye round of the season, this means that if you are looking for some cash early, you can bring him in your starting squad, then wait for round 12, after Gawn's bye and hope that he has dropped in price and then sideways swap him if you must have Gawn but can't afford to start with him.
Lastly, between rounds 3 and 10, the Crows only play one other finalist from last year and that is North Melbourne.  He could certainly build some cash quickly.
Why shouldn't I pick him?
Last season does worry me.  He should have done better.  The drop off in hit outs is the biggest concern, as well as the drop in marks around the ground.  Whilst the removal of the third man up situation should see those numbers increase again, I am not completely sold that he can return to the numbers he had in his best averaging year.  He isn't getting any younger, but his opponents are.
He could find himself under a bit of pressure from some of the younger more mobile talls at Adelaide including Josh Jenkins and Tom Lynch.  Both of these guys can happily play up forward and may be a preferable option against some of the more mobile rucks of opposition teams despite not being designated ruckmen.  Certainly not advocating that this will happen, but it may be a chance if he finds himself out of form for any period of time.
I think the biggest risk of picking Jacobs and planning to hold him for the entire season is his ceiling.  He won't bring you the massive scores that Gawn is likely to get you.  Whilst he did have two scores of 120+ last season, he only cracked the 100 point barrier on 6 occasions compared to Gawn's 15 and Grundy's 11.  So he will score ok, but he just won't compete with these big boys.
Deck of DT Rating.
QUEEN – Jacobs isn't the most sexy selection as a ruckman this year, he is no Gawn or Grundy, but he is a workmanlike performer who rarely has a terrible game (just two poor ones last year, one he was injured and the Crows poor game against West Coast in R23).  The great run that they have early on should see him score well and rise in value.  He is likely to be a bit of a unique in a lot of your matchups this year and if he does perform then he could win you a few games.
Priced at least 5 points below the previous two seasons average he simply presents some good value.  In draft competitions when the ruck run hits, he is likely to be among the top 5 rucks off the board.
Loading ...
FOLLOW ME ON TWITTER: @pkd73 for all thing AFL Fantasy (and more). Got something to say about the deck? Use the hashtag… #DeckofDT.