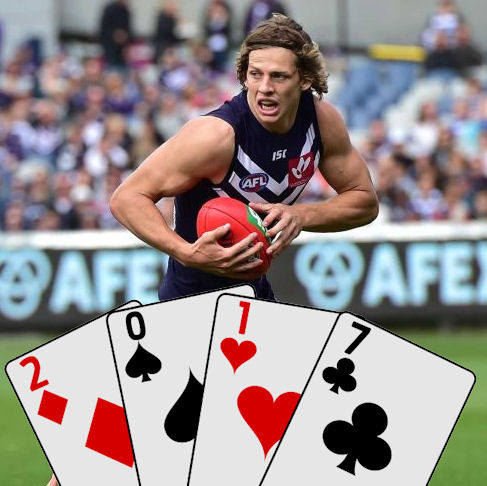 Name: Nat Fyfe
Team: Fremantle Dockers
Position: Midfield
AFL Fantasy: $595,000
Bye Round: 13
2016 Average: 98.6
2016 Games Played: 5
Predicted Average: 105
Click here for DT Live profile.
Why should I pick him?
Nat Fyfe is a gun. We all know he's a gun. The last full home and away season he played he won the Brownlow medal and averaged 105 Fanatasy points. He looked like he was gearing up for a ripper season last year as well with scores of 121, 122 and 137 before he unfortunately re-injured his leg. He seems to have great starts to the year, and it looks as if he only scores low due to injury.
Fyfe certainly hasn't been holding back in preseason training. According to assistant coach Marc Webb, Nat Fyfe is going a "100 miles an hour", and he hasn't missed a pre-season target. Also looking at preseason training notes I noticed he finished in the top 5 for his team in the clubs time trial, which bodes very well for his injury recovery, and general fitness too! There is also every indication at this point that they will give him a run in the preseason competition which is also a great sign.
He is traditionally more of a super coach favorite as he is super efficient with the ball, but he certainly can rack up the scores in Fantasy. He usually sits in between 100-120 regularly when fit, and exploding for the odd huge score of 130+. Price wise he is slightly under if he can get back to that kind of form. Fremantle has really missed Fyfe, indeed it can easily be argued that Fremantles poor season last year was significantly influenced by Fyfe being missing. He comes back into a depleted midfield, where they will be short of Barlow, and we be able to give much needed support to Neale and Mundy, and Fyfe looks the favorite to be given captain this year as well. There is no doubt Fremantle will throw Fyfe to where the ball is.
Why shouldn't I pick him?
Ah, the obvious injury cloud issue. The 25 year old hasn't played a game since round five of last season after he re-injured his broken leg against Carlton. This was a recurrence of his fractured left fibula and he somehow managed to damage the inserted plate – surgically repaired after a stress fracture gave way to a break in 2015's preliminary final. How did he break his leg twice? Well according to one physiotherapist in 2015 round 15 Fyfe received a massive corky to his quad, and as a result he over compensated leading to micro-trauma or stress fractures, which resulted in a weakness and eventual break under stress. His second break believed partially due to being rushed back round 1 last year a bit too soon. You have to be concerned that this could occur again, especially since it seems to be constant stress on that part of his body due to his high intensity play style. This could also lead to fremantle taking it easier with the star and even resting him more, which could affect his score potential.
Also call me a cynic, but I am always a bit skeptical of in house reports of him fairing well. If I was Freos staff I'd be saying that too, he's their best player and expectations are high! I have been burnt by in house reports before (I chose Gaz a couple of years ago almost solely on an in house report that he was training as strong as ever).
However, sportsmen these days do have the absolute best medical personal and facilities available and he has been given every opportunity this time around to be rehabilitated, and at the very least he hasn't had any obvious set backs, and as stated above he is training very well.
Deck of DT Rating.
KING – Nat Fyfe IS an undisputed king in AFL. If he hadn't suffered such a serious injury last year, he not only would have been an Ace here, he quite possibly would have given even Dangerfield a run for his money for the Brownlow. (Fyfe and Dangerfield also go head to head round 1!). I would make sure to pay very close attention to his form during the preseason competition and practice matches mostly to see if he gets through unharmed. If he gets through without looking too proppy you have to genuinely consider him as a starter.
Loading ...
FOLLOW ME ON TWITTER: @Shagbaggers for all thing AFL Fantasy (and more). Got something to say about the deck? Use the hashtag… #DeckofDT.