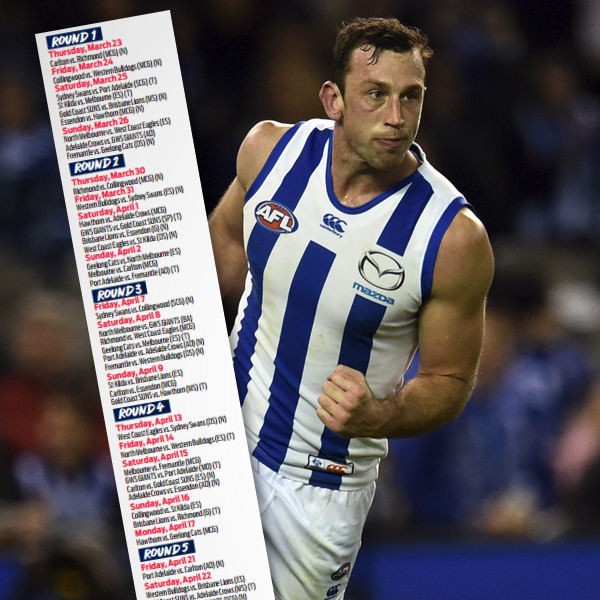 Hi DT World – The Wiz here.
As a long time DT tragic, I love to get into the DT spirit nice and early. There is nothing that I love more than sitting down at night with a nice cup of English breakfast, a notepad and my computer.
When it comes down to which premium player you should splurge your precious salary cap on, or when you're down to 2 or 3 players – you really need to make the right choice. The way that #AFLFantasy works these days is that if you don't get on the right premium player at the right time you can be forced to chase the game. So getting an edge on your mates & the competition is vital!
The stats that I think are most relevant when picking these players for round 1 are as follows
The first 5 fixtures for each premo
Last 3 scores against that team
Where they're playing & their average @ that ground ( I've kept it to the last 2 years for relevancy)
How they start off a season (some players like JPK start slowly, so you might play a wait and see game )
Below are some examples on how to use the table and also some of the findings I found from my research.
Example #1, Slow Starters – Mr Pig himself Tom Rockliff as we all know can put some monster scores on the board, but in recent times the start of the season is so furious that his body cannot cope. Thus causing him to pick up little injuries – which has brought his first 5 round average down to 71 in the last 2 years. So instead of splurging over $700k on someone who has a high risk for an injury at the start of the year, you could go with someone like Jordan Lewis. JL in recent times gets off to a flyer ( 115 avg ) this, mixed with the Dees favourable opening 5 rounds, means you can save $$$ and also save you a DT headache ( worse than a migraine ). Then when Rockliff starts to get his mojo you can hop on him at the right time and more importantly – the right price. ( Beware: Rocky could average 130 from start to finish this year )
Example #2, Slow Starters – In the last 2 seasons, JPK has finished with an average of 108. But when you read into his numbers you will find that he only averages 94 in his first 5 rounds. This is a prime example of someone who gets going halfway through the year. So instead of paying his max price of $653k for round 1, you could wait until his train leaves the station before hopping on!
Example #3, Home Ground ADV – Patty Dangerfield & his mates at Geelong play at ES 3 times out of 5. Where the Dangerman averages 124 under the roof in the last 2 years. This block of fixtures also includes the cats round 1 game against Freo @ DS. A place where patty averages an outrageous 136 & has previous scores of 147 & 130 in his last 2 games against the men in purple.
Example #4, Home Ground ADV – The Saints play under the roof in 4 out of their first 5 games. This is a place where ROO averaged 122 in 2016, and averages 113 in his last 2 years. Picking him at his price of $667k may seem crazy given his age, but after reading this I sit comfortably knowing I can spend my money on a guy who can & will score big at the start of the year.
This table shouldn't be the number one thing to look at when picking your premium options, you should trust your gut and back yourself in first and foremost. BUT sometimes you can't deny history, patterns and past stats, so to find a little edge when picking someone to always helps if you know what you're looking for.
In closing – There is almost nothing like the feeling of picking a premo from round 1 who turns into a gun and is a set and forget type player. These are the players who you never forget and you will always have a soft spot for. For me it's Pendlebury. He is a player who I can always lock and load, & know that he is going to do the right thing by me. Being comfortable & assured is one of the best things in life, like unloading a dump at your mates house knowing that no judgement will be made.
So don't be the person who says " ah I knew that would happen, why didn't I get on " OR " I love DT but I don't know enough " All the information is right here ! And if you've got any questions ask the boys at DT Talk or you can find me on twitter – @keegan728 – aka The Wiz.
Good luck for the upcoming DT season everyone!
Fast Starters 2017 – 1.6mb