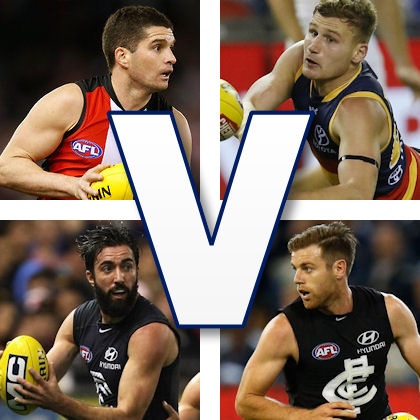 Tom is back putting players head-to-head in Versus. Today he looks at premium defenders.
Leigh Montagna ($592,000)

V

Rory Laird ($584,000)
Leigh Montagna used to be a key figure in the Saints midfield and was instrumental in the seaside club making back-to-back Grand Final appearances in '09 and '10. Fast forward a handful of years and Montagna is still passing on his knowledge and experience at Moorabin. Despite boasting MID/FWD Fantasy status in 2016, Monty was deployed off half-back where he averaged 26 disposals, 3 rebound 50's and 483 meters gained (ranked 9th in the AFL). The high number of rebounds and meters gained in addition to the average of 20 uncontested possessions summed up his role well, where his is given a license to roam off the back flank, setting up play with his precise foot skills and decision making. The 271-game veteran showed no signs of slowing down his Fantasy ability either, in 2016. He averaged 99 points for the year which included impressive hauls of 160, 129 and 126 – proving he still has a ceiling barely matched by any other defender. However, despite these big scores, Monty was unfortunately prone to the odd shocker, as his owners would be well aware of. His 36 against the Crows a clear example of this. Fast forward to 2017 and Montagna is available as a defender only, priced at $592,000. At first glance, Montagna's age may put off some coaches, however it wasn't an issue last season and there's no reason why it should hinder his year this time around. Given the Saints are likely to be pushing for the top 8, Monty may be given a rest against lesser oppositions, should his team find themselves finals bound, however don't let this put you off. There is absolutely no reason why Montagna can't average 100 in 2017.
Crows half-back Rory Laird churned out another impressive season in 2016. In a year where the club was not expected to make the finals given the irreplaceable loss of superstar Paddy Dangerfield, Rory and his teammates outplayed expectations to finish 6th overall. A small but tough defender, Laird holds nothing back and is consistently one of Adelaide's best each game. Interestingly he conceded just 19 goals to direct opponents – highlighting his valuable ability to rebound without becoming a liability defensively. Laird finished third at the club for disposals with 521 (averaging 27 per game) – all whilst kicking at 83% efficiency. A former back-pocket whose sole responsibility was to shut down the oppositions small forward, Laird's role was changed after Matthew Jaensch went down with a severe knee injury early in the 2015 season. Laird flourished and went on to average 88 Fantasy points and back it up with 96 in 2016. This average could well have been higher, potentially over 100 if his season was not broken up by injury. He started with 9 marks and 90 points against North Melbourne in the opening round. A week later, Laird managed 136 points in the Showdown victory. Scores of 76, 88 and 89 came in the next three games before he injured his toe against the Dockers at Adelaide Oval. Minor surgery was required but he made his return against St.Kilda in round 11, scoring 96 from 30 disposals – not bad after missing a month of footy. He pumped out three tons in the next month of games before sitting out the Collingwood win through injury. Laird concluded the season with four hundreds in six games to finish with 8 triple figure scores for the year from 17 games . At the end of the season, Rory was rewarded for another quality year with selection in the 40-man All-Australian squad along with the APA Best 22 Under 22 side. Laird is a safe option in defence, perhaps at D2, minus the $600k+ pricetag. Expect an average of around 96, hopefully pushing towards 100.
Verdict: It's slightly unusual to have such an abundance of premium defenders available for purchase this year. Both Montagna and Laird are excellent Fantasy players, capable of an 100 point average however the likes of Adams, Docherty, Simpson, Johannisen, Boyd and Shaw are also in the same boat. Adams seems to be a lock already, for good reason, however it's a real toss up for the next premium defender spot. For me, out of Laird and Montagna, it has to be Monty. Despite his age, the Saints man has a higher ceiling than Laird, more proven Fantasy pedigree (take a look at his past season averages) and regularly pumps out midfielder-like scores. There has been some talk amongst the Crows ranks of Laird potentially spending more time in the midfield in 2017 so watch out for his role throughout the pre-season games.
Kade Simpson ($611,000)

V

Sam Docherty ($609,000) 
There's no disputing, Kade Simpson has been a great warrior for the Blues. Built with competitiveness and courage, Simpson has been a regular fixture on the wing and off half-back for Carlton since his debut way back in 2003. The 31-year-old lead the blues for bounces last year, showing that his teammates still well and truly trust him with ball in hand. An excellent ball user and smart rebounder, Simpson averaged 27 disposals in 2016 along with 7 marks, 2.5 tackles and 101.1 Fantasy points. His season started on a positive note, collecting 31 disposals and 10 marks on his way to 118 points in the tight loss to close rivals Richmond on the opening night. Gold Coast managed to restrict the vice-captain to a measly 57 points at Metricon Stadium. On this occasion, Simpson's run, carry and reading of the play were sorely missed and no-doubt contributed to the loss. Simpson recovered well though and posted back-to-back hundreds in the next fortnight. From this point on, his only slip up came against the Hawks in Launceston where he could only manage 67. In the end 2016 proved to be Simmo's second best of his career, Fantasy wise. He was as consistent as anyone, posting 12 hundreds and 7 90's and there's no reason why he can't do it all again this time around. The Blues continue to import new talent, both through the draft and via GWS. I expect them to improve this year which can only help Kade's cause. One of only a handful of defenders who you can expect to ton up most weeks.
2016 proved to be a breakout year for dashing defender Sam Docherty. Although the Blues were inconsistent at times throughout the year, Docherty was not. He averaged 100 Fantasy points for the first time in his career, largely helped by his twelve tons, only scoring under 80 twice (62 v Fremantle and 74 v Brisbane). On top of this rare consistency, Docherty also showed Fantasy coaches he has a high ceiling with scores of 140, 134, 122 and 120. In his two seasons at Carlton prior to 2016, Docherty managed averages of 78 and 82 and seemed to have strong Fantasy potential without truly showing it on a regular basis. The jump up to a triple figure average may of been as a result of a role which allowed him to collect plenty of the ball off the half back line, it is from there that the Doc set up so many of the Blues attacks in partnership with the aforementioned Simpson. His neat foot skills and ability to read the play are assets a rebounding half back must have these days. These same attributes were identified first by the Lions, who drafted Docherty with pick 12 in the 2011 national draft. He was traded to his native Victoria after just two years up North in exchange for the draft pick that would net the Lions Tom Cutler, who plays a similar role to Docherty. Carlton's best and fairest winner for 2016 has emerged as one of the best Fantasy defenders going around and is a model of consistency.
Verdict: Same Club, similar price and similar role. It's not easy to split these two – just 0.14 points separates their averages. This comparison has become a perennial debate. In 2016, both cracked the ton on 12 occasions, however Simpson scored 90 seven times to Doc's 3. However Docherty has improved every year he has played and is a chance to further increase his output. Simpson, however, I don't believe will improve on his average.