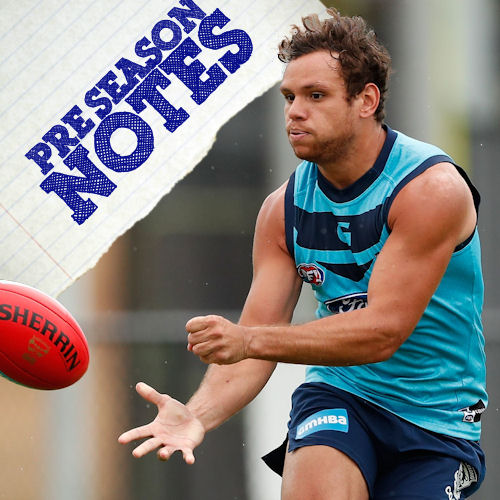 Every week of the pre-season, we will post our take on any news that comes through. We'll get sucked in by who's burning up the track, getting more midfield time and those who are locks even though we are weeks away from locking our teams in. This is anything goes and we'll be updating the rolling blog regularly. Come back, have a read and get involved in the discussion in the comments.
Click here for details on creating your pre-season Fantasy Classic team and join the discussion.
LAST UPDATE: Friday 20 January, 2017.
Roughead is Hawthorn's captain
Best. News. Ever.
What a story. Good luck in 2017 Roughy, the whole footy community will be behind you! As well as plenty of coaches keen to jump on at $373K. A great price for a forward who, with captaincy, should now be set to play most games you would think.
CAPTAIN ROUGH. ?

Full details: https://t.co/qwoY9dMsnt#StrongAsOne pic.twitter.com/RIHK9rhGcJ

— Hawthorn FC (@HawthornFC) January 19, 2017
Cripps firms for round one
Not sure you can start with him in Classic, despite being priced low enough for an expected breakout, but Patrick Cripps is firming for a round one start as he overcomes a back injury. If you're bullish on him in Draft, then this is positive news.
Gaz racks 'em up
Yep, Gary Ablett is as fit as ever, dominating match simulation at training. We all know he is a magnet… but it is probably even easier if you're wearing the orange cap to show you can't be tackled. Still, we need to keep tracking him over the pre-season as he is a jet. Ablett is expected to resume full contact training in the coming weeks.
Jarryd Lyons played through the midfield and spent time forward. Pearce Hanley hurt his ankle but won't miss any training.
Gaz averages 34 disposals, 2.2 goals, 143 #SuperCoach and 122 #AFLFantasy points in Rnd 1 games as a @GoldCoastSUNS player.

— Fantasy Freako (@FantasyFreako) January 9, 2017
Stanton open to new role
Without saying it in this article, it is looking more and more like Brent Stanton will be playing in the backline. It has been mentioned by coaches that he is likely to be spending a fair bit of time off half-back. Good for coaches who wish to draft him a bit earlier in the hope he will be a DEF/MID by round six.
Bennell to play a great deal of football
Harley Bennell hasn't played a game for his new club yet, but after getting his ongoing calf problems sorted, he is back running and looking sharp. There is no set date on a return as yet. Also of note is the pre-season performance of new recruit Cam McCarthy who is cheap, as well as Nat Fyfe who is returning from a broken leg. Aaron Sandilands is ticking all of the boxes as well.
Who knows with the Eagles rucks
With Nic Naitanui most likely sidelined for the season and Scott Lycett predicted the return in the first few weeks of the season, who takes the number one ruck role for West Coast? Jon Giles is my guess who is apparently having a great pre-season following surgery. Nathan Vardy has been very good however he copped a knock to his knee and just walked laps and jogged this week. He is expected to train fully next week. Dean Cox said Drew Petrie has been fantastic. All of the talls will get their chance to stake their claim during the JLT Community Series.
I won't be touching any of the Eagles' rucks for Fantasy Classic… and I will avoid in my Drafts as well.
Western Bulldogs price reveal
Calvin has posted his article on AFL.com.au along with the prices for the Dogs.

Click here to subscribe on iTunes.
Rocky might still captain the Lions
Attention journos who had it in for our pig, put that in your pipe and smoke it.
What a surprise! Rocky training and leading well during Lions Pre Season… who would have thought… Eat pig sh*t haters #AFLFantasy #?

— Adam Roy Davey (@RoyDT) January 17, 2017
Knee surgery for Bellchambers
Returning banned Bomber Tom Bellchambers will be out of action for a month and then will be part of the rehab group for another month after knee surgery. He will be touch and go to play in round one. Meanwhile, Joe Daniher is also battling with a knee complain.
Mitch Wallis back running
After breaking his leg in round 18, Mitch Wallis – who has MID/FWD status this year – is running. He is unlikely to start the season, but he will be worth keeping an eye on as he progresses.
Hrovat good on the track
The Roos had a match simulation training run last Friday and Nathan Hrovat impressed. He played up forward and rotated through the midfield. At $380,000, the MID/FWD could be a bargain buy up forward this year at he looks to be a permanent fixture at the Roos. Judging by the video below, he looks like he'll be in the 22 without too much doubt. My only concern if how much time he may play forward.
Motlop seeks more midfield time
After a down year, Steven Motlop's training has been consistent and he has been willing to improve his game and conditioning. At $499K and with a lot of premium forwards losing their DPP, Motlop could be a sneaky choice up forward this year.
"For me, I want to play a bit more midfield this year. I didn't play too much last year, so obviously just building my fitness and being able to play those roles [is the goal]," Motlop told Cats Media.

"You need a variety of guys going through there so I've been doing a bit in training and that's where I want to play this year."

"I've obviously played forward a lot as well and I'll keep working on my craft on that side of my game but hopefully spend more time midfield than forward this year."
Collingwood practice match
Continuing to tick the boxes this pre-season is under-priced forward Jamie Elliott who has been mentioned a few times in these pre-season notes. The 24-year-old who will set you back just $330K was one of the notable players in the three 'quarter' hit out, said to have covered the ground well. Also mentioned was Scott Pendlebury who was classy as always with Adam Treloar racking up the touches.
Back training + in new roles – https://t.co/Zm4avCAsbK @AlexFasolo and @TLGold6 made noteworthy progress in match simulation this morning. pic.twitter.com/OZRtGQZTZZ

— Collingwood FC (@CollingwoodFC) January 16, 2017
Majak Daw could return for round one
In last week's pre-season notes we reported the news that Majak Daw would be going in for surgery on his knee and could miss the early part of the season. The reports following the surgery are quite positive which will see him involved in full training in four weeks. He is expected to play during the JLT Community series and be ready to go for round one. The Todd Goldstein fans may not be quite as excited now
Sydney Swans price reveal
Roy has posted his article on AFL.com.au along with the prices for the Swans.

Click here to subscribe on iTunes.