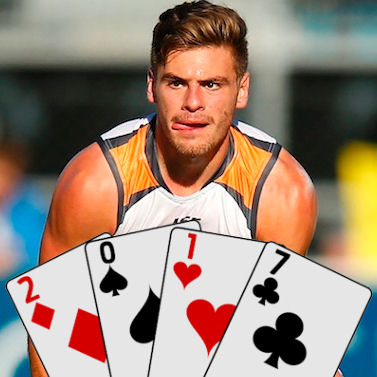 Name: Stephen Coniglio
Club: GWS
Position: MID
AFL Fantasy: $624,000
AFL Dream Team: $613,000
Bye Round: 13
2016 Average: 103
2016 Games Played: 21
Predicted Average: 110
Click here for DT Live profile.
Why Should I Pick Him?
Firstly, let's wind back the clock to Coniglio's early years. In the NAB Under 18 AFL Championships he averaged 96 DT across five games which was the second highest amount, beating Taylor Adams, Ollie Wines, Toby Greene, Brandon Ellis, Jaeger O'Meara and Tom Mitchell just to name a few current day players with potential.
Quick-Fire Stats:
In Coniglio's debut season he averaged 79 points from 12 games, including three hundreds.
In the 2013 season he averaged 81 points from 18 games.
He averaged 84 points in the 2014 season, however his average boosts up to 94 removing his two green vest games. He only dropped below the 20 possession barrier twice out of 12 games that year.
He averaged 91 in 2015. Surprisingly he was handed the green vest in round one. Taking out this clearly affected score, his average jumps up to 94.
Last year 'Cogs' averaged 103 from 21 games. He scored over 100 fourteen times, scored in the 80-99 range four times and in the under 80 range only three times of which all these scores were in the 70s.
Coniglio surpassed the 30 possession mark eleven times as well. In addition he averaged three marks, six tackles and a goal a game. But what I love about Coniglio is his fantastic work rate. Watching him closely towards the end of last year I would've thought Cogs got at least a point at every stoppage whether it'd be a tackle, kick or handball. I love the way he goes about his game and shares a lot of common aspects in his game with Rockliff. He has an extremely high work rate which is a fantastic underlying stat in DT.
Coniglio's average is obviously in an upwards trend. Based on his previous averages the trend tells me that he should average around 111 next year. That is a nice number and is even pushing captaincy selection.
Coniglio should be very unique as well, finishing the season on an ownership of only 5% of the comp. He is a consistent dream team scorer and has a high ceiling as well, which would fill you with satisfaction if he busts out a 140+ score, which I think he is well and truly capable of.
Why Shouldn't I pick him?
You could argue that there are better options around his price range. Fyfe is cheaper, Beams is about 100k cheaper. This is the biggest concern and worry for picking Coniglio.
In addition you are paying a **** ton of money for a guy who may not be a captaincy option if he doesn't increase/maintain his average.
Coniglio is a ball magnet. Could this factor potentially require attention from opposing teams?
Deck of DT Rating:
QUEEN – The only reason that he isn't rated as a king is because of the potentially better options above, around or below his price.
Coniglio seriously could be an awesome option but you'd have to have pretty big balls to start with him.
However the likes of Zach Merrett, Jason Johanissen and Lachie Neale had insane starts last year and were all relatively unique, so maybe Cogs could follow this route?
Will be watching him very close in the pre-season.
Loading ...
Follow me on Twitter @BenjoDT for AFL Fantasy suggestions and more! Got something to say about the Deck? Use the hashtag #DeckofDT