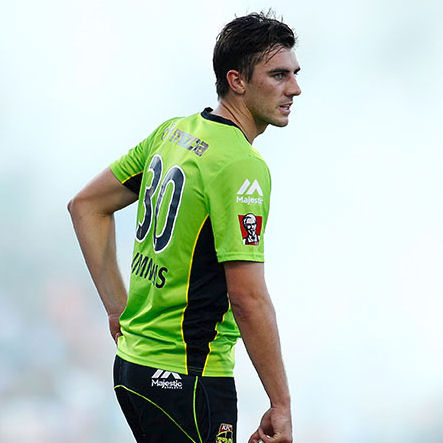 When it comes to any kind of Fantasy game, the key to success is finding players who are going to score above their initial price tag. BBL Fantasy is one of those games where a player's initial value means virtually nothing outside of form 12 months ago. From young players who should get good opportunity to the guns who are, somehow, priced well below their worth, here are some under-priced gems to consider for your BBL Fantasy team.
Click here for BBL Fantasy for beginners.
Click here for projected XIs.
Click here to to join the dreamteamtalk.com group.
Peter Nevill (WICK, $30,000)
After being omitted from the test team, Nevill comes back in for the Renegades and considering he only played three games last season, he is dirt cheap. As far as bench cover goes, he's pretty handy, but watch out for his spot in the batting order. He could bat as low as seven and average 15 all season, not making you any money.
Kumar Sangakkara (BAT, $30,600)
No, no you're eyes aren't deceiving you. That's his actual price. Kumar Sangakkara is effectively rookie price and is cheaper than Mark Steketee. If you don't know why he's so cheap, it's because the legend actually had a terrible BBL|05. He averaged 21 points and only 13 runs per game. Coming into this season, even if he performs at a similar output, he's still pretty handy bench cover! He's also a lock to play every game you'd assume.
Andrew Fekete (BOW, $30,800)
Okay, Andrew Fekete isn't quite a 'gem', but considering the Brisbane Heat's bowling stocks, he's pretty much a guarantee to get a game every week. That makes him adequate bench cover for his pricing and considering he'll be given opportunities most weeks, he could still average a decent score.
Gurinder Sandhu (BOW, $30,900)
Sandhu had a very forgettable BBL|05 and by the end of it, found himself out of the Thunder's best team. You'd think he'd get the chance to redeem himself early on this season and if he does, he'll double his value. He is safe bench cover at the very least.
Callum Ferguson (BAT, $38,300)
After a knee injury last season, Ferguson missed the entire tournament. Now he finds himself ousted from the test team after one game, which gives you the chance to be much smarter than the Australian selectors (not hard) by picking Ferguson for you bench cover. He should bat in the top four for the Renegades and score well.
Pat Cummins (BOW, $48,200)
Cummins has been named in the Australian squad for the New Zealand ODI series, which means he'll be playing Big Bash from day one. At that price, he's slightly above what you'd want for bench cover, but at the same time, if he gets going, he'll be more than worth it. He's also handy with the bat.
James Faulkner (DPP, $52,900)
Faulkner is another one who had a poor tournament last season. He only played the five games, taking one wicket and making 55 runs. Already established as one of the best short form cricketers in the country, it's a safe bet he'll bounce back this summer and even if he's selected for international duties next year, he's still too cheap to ignore at the start of the season. He just hit a tonne in the Sheffield Shield too, so he's seeing them well.
Mitchell Marsh (DPP, $53,000)
Marsh being removed from the test picture makes him pretty much a must-have for BBL Fantasy. The all-rounder is basically the definition of what you're looking for in this game as he bats high up the order, has a good strike-rate and bowls. At that price, get right around him.
Joe Burns (BAT, $57,300)
Burns is in the same boat as Marsh considering it's very unlikely we'll see him at test level again this summer. He's now a prime BBL Fantasy pick up as he'll bat in the top three for the Heat. He's no lock by any means, but he's certainly cheaper than he should be.
Kieron Pollard (DPP, $60,000)
After missing the entire of last season with injury, Pollard comes back in for the Strikers at a discounted price. The West Indian all-rounder is excellent value at $60,000 and you'll probably see him in the majority of teams this season.
Those are my picks for 10 under-priced players for BBL|06 and there are quite a few more floating around so try to vary your team up and make sure you have a good spread of teams in your squad.
Feel free to hit me up on Twitter with any BBL Fantasy questions (@NicNegrepontis) and I'll try to answer them for you… or at least I'll try to try.