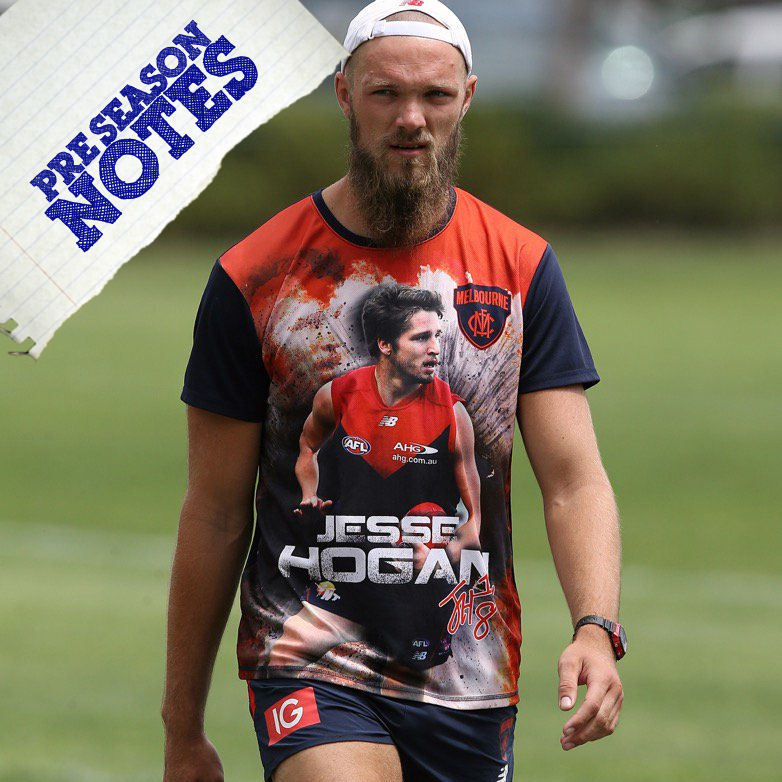 Every week of the pre-season, we will post our take on any news that comes through. We'll get sucked in by who's burning up the track, getting more midfield time and those who are locks even though we are weeks away from locking our teams in. This is anything goes and we'll be updating the rolling blog regularly. Come back, have a read and get involved in the discussion in the comments. This is basically the 'My Team' of the pre-season.
LAST UPDATE: Friday 25 November, 2016.
Bennell strains calf… again, Neale has knee surgery
Yet to play a game at the Dockers due to an ongoing calf injury, Harley Bennell has suffered a minor calf strain in his left let, the opposite to the one that gave him trouble in 2016. The 24-year-old will head to Germany to consult a Doc and the club is positive about him being available for selection in round one.
Also in the article reporting on Bennell is the news that Lachie Neale has had a minor procedure on his right knee and will resume training in early January.
Cripps to miss twelve weeks
Superstar Blue Patrick Cripps will be sidelined for up to three months after suffering a stress reaction in his lower back. Carlton are confident he will be ready to play in the pre-season competition, however this still rings alarm bells for those Fantasy coaches considering him in their 2017 squads.
The 21-year-old has played three seasons in the AFL, averaging 86.1 from 20 games in 2015 and then a very respectable 99.4 from 21 games this season.
The Carlton bargain to keep an eye on is Marc Murphy who played just ten games this year. He will be priced at his 2016 average of 79.8 – a long way from his PB in 2011 of 111.4 and well below his career average of 94. I'm sure we'll be hyping him a fair bit in the next couple of months.
Patrick Cripps has suffered an injury setback: https://t.co/o2l1CGsBSl pic.twitter.com/zUYDyWplmw

— Carlton FC (@CarltonFC) November 24, 2016
Game Over for the artist formerly known as Harry O?
It sounds like Herritier Lumumba will be hanging up his boots.
PBs everywhere at Essendon
In the 2km time trial around Princes Park, it seems every Bomber hit a personal best. Patrick Ambrose, Brent Stanton, David Zaharakis, Alex Morgan and Travis Colyer were the top five over the line. Morgan has impressed, but his VFL fantasy numbers aren't that flash from this year, an average of just 40 from his ten games.
Jobe Watson and Matthew Leuenberger also ran PBs.
Neal-Bullen runs PB
20-year-old Alex Neal-Bullen has run third in the 3km time trial for the Demons. Yep, yada, yada… the thing is, as he heads into 2017, coming off an average of 51.4 from four games, his VFL numbers are pretty sick. ANB played 18 games in 2016 for an average of 112 and went at 100 from his six matches in 2015. There's a Fantasy game there… let's hope we get to see it soon!
Neal-Bullen averaged 29 disposals and 110+ #AFLFantasy and #SuperCoach points in the VFL. Finished 3rd in the 3km time-trial.

— Fantasy Freako (@FantasyFreako) November 23, 2016
Hill wins Freo time trial
Former Hawk Bradley Hill won the Dockers' 3km time trial with 2016 Fantasy pre-season hype guy Tommy Sheridan finishing second. Sheridan's aveage was just 67.9 despite promising so much, meaning the door is open for a breakout.
Nat Fyfe came fifth signalling he is all good following his broken leg that saw him sidelined after five games. His average of 98.6 will possibly be discounted making him a bargain midfield selection. Fyfe's two seasons prior saw him return 102.2 and 104.8.
Yarran released from Tigers
Chris Yarran will return to Western Australia after being released from his contract with Richmond due to mental health issues.
Power players to return after Christmas
Both Angus Monfries and Charlie Dixon will return to full training after Christmas following surgeries. Monfries has undergone shoulder surgery due to an injury at training last week. As one of the banned Bombers, the forward could be a good option whether he gets a discount or not based on his 2015 average of 64.4, a long way from the 81.4 he averaged in his first year at the Power. If you're considering Dixon, don't. Not only due to his ongoing ankle problems but because he doesn't tick any boxes for Fantasy.
Third man up to go?
Apparently the third man up could be on the way out. There is a rules summit in Sydney on Friday and according to Stevo, we might see more one-on-one ruck contests. This would, as he tweeted, be a good thing for the big solo ruckmen.
Rules summit Sydney on Friday, third-man up could be scrapped … https://t.co/VS8pn4DAKq

— Mark Stevens (@Stevo7AFL) November 21, 2016
Teams with traditional ruck monsters will be clearly advantaged if third man up scrapped …

— Mark Stevens (@Stevo7AFL) November 21, 2016
More hit the training track
It seems that all players from clubs who didn't make the eight are officially on the pre-season training track. Other clubs have started up and over the next couple of weeks or so they will all be back into it.
Some tidbits from Monday.
Taylor Walker, Rory Sloane and Curtley Hampton came back two weeks early to Crows training. Hampton is of interest due to not playing a senior game at his new club. He played the second half of the season in the SANFL (following an injury lay off) for an average of 70 from 11 games. Hampton should be discounted to under $200K as could Riley Knight who won the 2km time trial.
Calling his 2016 season very disappointing, Daniel Rich has a spring in his step and is keen to improve. I've been a sucker for Rich for many years, but I'm not sure he improves enough on his 81.8 average to make me want to pick him… despite having the ability to average more than 90 if things go his way (tags, role, etc).
The little master didn't start training with the Suns today. Gary Ablett has been granted an extra week of leave for his honeymoon.
Jaeger O'Meara was back at Waverley Park but was on limited duties. His knee was strapped as he participated in stationary handball drills. O'Meara will be a bargain in AFL Fantasy Classic, but we'll have to be pretty sure of his knee before making a commitment on him despite his heavily discounted price.
The Prince, Herriter Lumumba, is still battling issues with concussion from early in the season and he hasn't hit up the training track as yet. Jack Viney is in the rehab group and won't join the main group until after Christmas. Clayton Oliver ran laps of the oval.
For the Tigers, Dion Prestia is being eased into pre-season training as is Chris Yarran who has a tailored program to help get him back to full fitness. Neale Balme said that it will be a long process.
Jordan Foote played one game for the Swans for 43 points and today he was the fastest in the 3km time trial. Now, we love our NEAFL numbers and we have to post this one. Foote averaged 105 from 17 games this year.