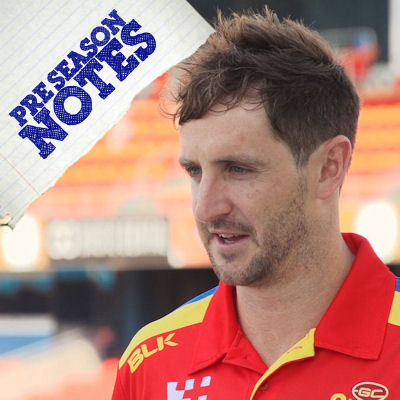 Every week of the pre-season, we will post our take on any news that comes through. We'll get sucked in by who's burning up the track, getting more midfield time and those who are locks even though we are weeks away from locking our teams in. This is anything goes and we'll be updating the rolling blog regularly. Come back, have a read and get involved in the discussion in the comments. This is basically the 'My Team' of the pre-season.
LAST UPDATE: Friday 11 November, 2016.
Jobe hands back his Brownlow
Not Fantasy relevant… the whole situation just sucks. Jobe was as classy as ever.
Rockliff primed for 2017
The Fantasy Pig, Tom Rockliff, was on SEN this morning and is excited about the season ahead. Rocky is keen to for a fresh start that the club will have with the new coach Chris Fagan and wants to "improve on past performances". If he's talking Fantasy, an improvement on last year (116.6 average from 17 games) would be great to make him value… and if it's an improvement on his world-record 2014 when he averaged 134.7 Fantasy points, then BOOM! We're excited.
Will Dusty be MID only?
This is more of a comment following reading about Justin Leppitsch as Richmond's forward coach. He is asked if Dustin Martin will find himself inside 50 more often.
"Obviously with the midfield mix with [Josh] Caddy and [Dion] Prestia coming in that is going to add some complexity. We haven't spent a long time talking about how that will look yet but I am sure that will mean an extra midfielder spending some time down in the forward line," Leppitsch said.
Doesn't give us much, but my thoughts are that he will be MID only. Looking at Dusty's heat map, he has 61% in defensive half, 39% forward half and the hot spot right in the middle. The more defensive numbers mirror how the Tigers played this year (ie. Brandon Ellis looked like a defender, but he was a wingman pushing back). Dusty lines up on the half forward flank a lot and this might help he retain FWD/MID status. If he doesn't have FWD status to begin with, he would be one player to monitor over the season when DPP is handed out in rounds six, 12 and 18.
Will Dusty lose DPP status, dropping FWD and being MID only in 2017? #AFLFantasy

READ: https://t.co/pD5rxyA4Wm pic.twitter.com/LRWp6Z6BEg

— Adam 'Warnie' Child (@WarnieDT) November 10, 2016
Jesse Palmer: more midfield time
Here it is, a more midfield time article. 20-year-old forward Jesse Palmer is looking to get more midfield time next year. He played the last three games of 2016 following 16 games in the SANFL at an average of 76 Fantasy points. His three games from round 21 saw him score 51, 55 and 62 meaning he will be fairly cheap. One to watch, but he'll want to turn it on in the pre-season to be considered for Port Adelaide's best 22 let alone out Fantasy sides as he'll most likely come in at over $200K.
The Cannon is reloaded
The Herald Sun had an article today about how Trent McKenzie is back training early in a bid to reignite his AFL career. He is an inaugral Sun and pumped out averages of more than 70 in his first four years of his career with a high of 80.8 in 2013. This year he played seven games at 41.1 and should be priced around $230,000 or less. If the Cannon is fit, then he could easily slot in as D5 or D6 at that price.
Bennell back training
After being traded to Fremantle last year, Harley Bennell failed to play a senior game in 2016. Not due back to training until November 21, Bennell was back this week with his calf strapped – the reason why he didn't suit up in his new colours this year. The former Sun has to be on our radar as we may lose quite a few premium forwards with position changes ahead of the new season. Bennell averaged 92 Fantasy points from 15 games in 2015 following on from a very solid start to his career going 84.9, 85.4 and 85.4 from his sophmore year. He should get a discount, but there will be plenty of risk as he has only played 22 games in one season with his five others being 15 games or less.
.@HarleyBennell training hard and excited about our new recruits ?: https://t.co/qwChZOT8xo pic.twitter.com/cJ68Sc4Sru

— Fremantle Dockers (@freodockers) November 9, 2016
Barlow a Sun
Gold Coast signed Michael Barlow as a delisted free agent on a two year deal. The 28-year-old was cut by the Dockers after seven seasons when he was picked up as a mature-aged recruit and had a thumping debut season average of 109.8. Old mate Ross Lyon had him in and out of the side, having a sporadic role week-to-week. It looks likely that Barlow will be MID-only in 2017, but as he will be priced at 96.5, he could be a bargain as a Sun where he will have every opportunity in the midfield that has lost both Prestia and O'Meara. We all know how good he can be, so he's definitely one to be watching over the next couple of months.
Henderson a Hawk
After a big trade period, Hawthorn has added another new name to their squad, former Adelaide defender Ricky Henderson. The 28-year-old averaged an impressive 80.2 points in 2013 from 14 games but hasn't set the world on fire across his seven year career. Henderson played nine games this season, following a delayed start due to injury. He managed to average 79.7 with some decent scores including 112 and 91. Depending on role – and what other defenders are available – he could be in the mix… at least as a late round draft pick in Elite. If he gets a gig running off half back, or even up on the wing, Henderson will be in some Fantasy conversations in 2017.
10 clubs start pre-season training
For the ten clubs who didn't make the finals, the 2017 campaign started on Monday. Most of the returning clubs had their younger players (typically first to fourth years) back on the track with a few extra faces. Some notes below:
COLLINGWOOD: Skipper Scott Pendlebury was there along with Jamie Elliott who didn't play a game this year due to a back injury. Matt Scharenberg who also missed this season started day one. Pies will definitely be a team to watch over this pre-season with some potentially cheap players.
ESSENDON: The banned Bombers returned with the young players, with just Heath Hocking the only member of the 10 absent due to a wedding.
OTHER BANNED DONS RETURN: Port had Angus Monfries and Patty Ryder on the track while Jake Melksham and Michael Hibberd were training with the Demons straight up.
RICHMOND: We might see a cheap Chris Yarren back to his best as the former Blue looks keen to put a troublesome year behind him. In 2016 he struggled with calf issues and had foot surgery on the eve of the season. The 25-year-old then stepped away from the game completely.
Setting PBs, burning up the track, more midfield time – it has started… and we love it! #AFLFantasy pic.twitter.com/XNKLWQRaNp

— DT Talk (@DTTALK) November 7, 2016
Beware of a limited pre-season
This is an article worth referring back to – 'State of play: Your club's injury list for the off-season'. We always talk about being mindful of selecting players coming off limited pre-season, well, here's how it is looking for each club. It's interesting to note who had surgery and when some players will resume. Stay tuned to the weekly rolling pre-season notes blog for updates and other news.