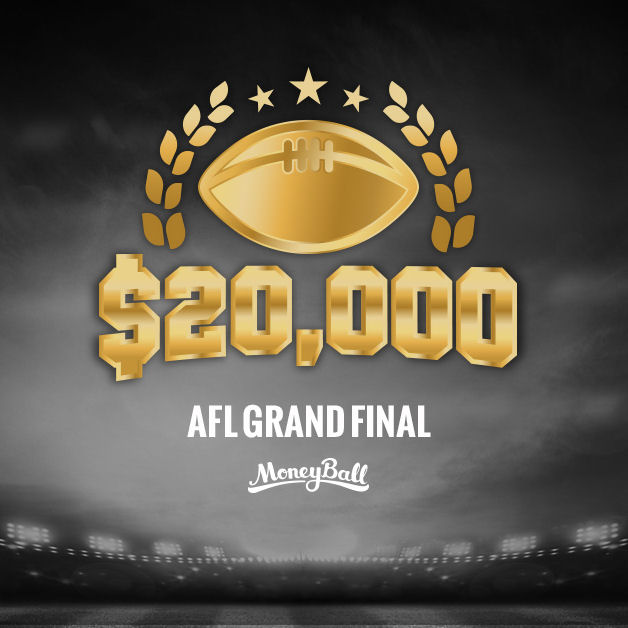 Tbetta here, and welcome to the self-proclaimed top resource for keen Aussie Rules Moneyball punters! DFS (Daily Fantasy Sports) is taking off around the world and Moneyball have the perfect platform for you to turn your AFL Fantasy prowess into cold hard cash. Signing up is easy – head to moneyball.com.au and you could be ballin' within minutes.
If you're unsure how DFS works, be sure to head to the 'Help' section for all the info you need to start cashing in on your AFL Fantasy knowledge!
Let's start Ballin' by checking out the excellent Match Committee Podcast below, starring your favourite DT Talk lads and brought to you by the legends at Moneyball:
Click here to subscribe on iTunes.

RISKY:
Sam Naismith ($4,600 RU) – It's hard to talk up Naismith too much while he's been ceiling-capped by Tippett/Nankervis sucking away some of his value in the past, but he was at least serviceable with 74 MB last week. Biggest positive for Naismith is that he's a playing Cheapie – you almost need him in your side because of how tight the salary cap is this weekend.
The other option is Jordan Roughead ($6,100 RU) after Moneyball finally changed him from a DEF into a RUC, but he's iffy with a bung eye and quite a jump up price-wise. Besides, if you can afford a bona-fide Premium MID with Roughy as your ruckman, then you're a better coach than me. Try it – it throws team balance way out.
Jason Johannisen ($8,300 DEF) – has 3 scores of 119+ in the past 5 weeks, but I just don't think you can afford him, particularly when there are other value options in the DEF line. Plus, you can get Hunter/Mitchell for $8.2k in the midfield instead, with less risk attached.
Jeremy Ladier ($4,100 DEF) – if you're looking to free up cash, you can try to take advantage of the Bulldogs' leakage to defenders and hope that Laidler (54, 70 last two) is able to cash in on the switches. I don't love it, but it's a unique pick that could swing things your way if it comes off.
Tom Liberatore ($6,600 MID) – Libba's form has been horrible with 4 scores under 60 in his past 5, but he's very cheap compared to his best work and pumped out 89 MB against the Swannies last time.
SMOKEY:
Ben McGlynn ($6,700 FWD) – Mighty Mouse has been a Moneyball gem for a few weeks now – averaging 101 MB over his past 4 games after previously struggling to cement his place in the side – so you'd be crazy not to look at him. Playing that hybrid HFF role is normally hit and miss depending on the flow of the game, but the fact that he's nailing 2.5 goals a game over that stretch is great news for prospective owners. If he does get locked down in a pocket, at least he's hitting the scoreboard.
Isaac Heeney ($7,500 FWD) – The Genie is up $600 on last week, which is what happens when you've just smashed out scores of 127 and 135 in the last two weeks. In the interest of completeness, I have to mention that he only managed 39 MB against the Bulldogs last time, but I would write that off given that so much has changed for Heeney since then; specifically, he's slotted into a sneaky half-back role of late which has seen him win 73% of his touches over the past fortnight in the back half. The biggest lock in the biggest game of the year.
Nick Smith ($5,800 DEF) – I watched Smith closely last weekend and I'm convinced he's had a role change (or at least extra offensive responsibility heaped on him) over the past month or so. Check out these splits:
     First 21 games this year: 13 disposals and 60 MB
     Last   3 games this year:  20 disposals and 86 MB
It's visually obvious that he's being utilised in the switches a lot more and, as we say every week, the Bulldogs were the 2nd easiest side for DEFs to score against in 2016 so there's some built-in value there already. Ultimately, he's a huge win for you if he makes it to even just 70 MB in terms of the salary he can free up for you elsewhere.
Clay Smith ($6,500 MID) – Clay will set you back about $1.2k more than you paid for him last week, but what do you expect? He was easily BOG against the Giants with 26 touches, 8 tackles and 4.1 for 136 MB, a huge effort considering the amount of time he spent forward. Obviously a massive game from someone who's not really a household but I'm loathe to label it a fluke, as he'd been very consistent with scores of 88 and 92 leading in. Smith will never let you down, because if he's not racking up the pill or slotting sausage rolls from everywhere, he's still averaging 9 tackles in his last 3 games which helps to bring him up to an acceptable score in the worst case scenario.
Caleb Daniel ($6,800 FWD) – The helmet started slow last week but came home strong with a 62- point 2nd half and one salivates at the thought of a four-quarter effort from the little fella. His form in strong with 100, 86 and 88 on the recent scores list; but with Heeney a lock, do you pick Daniel or McGlynn, or even opt for a big dog like Buddy instead? Decisions.
PREMIUM:
Buddy Franklin ($8,500 FWD) – Speaking of Buddy, let's take a look at the Finals veteran. His last 4 scores are solid (155, 92, 91 and 90) as you would expect from Buddy, however, the real promising aspect is what he did to the Bulldogs last time. He dismantled their defence, kicking 5.4 for 134 MB and 3 Brownlow votes. The obvious logic here is that while the Bulldogs' team defence is excellent, they don't have a KPD can go with Buddy in the 1v1's that Sydney will force them into. He's a big chance to have another team-shouldering performance and push the 110 MB mark and beyond.
Josh Dunkley ($7,200 MID) – The Swans didn't want him, but I guarantee you will as a Moneyball coach. Dunks has been under-the-radar solid for a while now (averaging 99 over the past 10 weeks),but he's found another gear in the past fortnight with scores of 117 and 125 – despite spending the bulk of his time on a forward flank. How do you say no to that kind of output? I promise you, if Sydney had their time again, they'd be putting in a bid for the underrated Pup.
Luke Dahlhaus ($7,800 MID) – We called it last week – Dahl was way too underpriced to ignore and he ultimately repaid the faith with a huge 129 MB from 32 touches and 9 marks. Now, Dahlhaus didn't play against the Swans last time… However, three midfielders from the Bulldogs went big (Bont 133, Hunter 127, Picken 117) and what did they all have in common? They won at least 12 Contested Possessions apiece. Then we look at Dahlhaus who, in the past three games, has collected CP totals of 16, 12 and 14 – proving that he does his best work where the Swans are their most vulnerable. I'm all in on Dahl this week.
Luke Parker ($9,200 MID) – Fresh off a massive Brownlow effort, Parker is the player to target this week (and for $300 less than JPK) if you're sold on his sore knee. #26 for the Swans smashed the Bulldogs last time, clearing 158 MB from 34 touches, 10 tackles and 3.2 in a coaches wet dream.